Crafts to Do With a Water Bottle – Step-by-Step Guide!
Water bottle crafts are a fabulous way to upcycle used containers into fun and functional items.
Some craft ideas include designing a bird feeder, creating a sensory bottle, making a fairy house, or even producing your own DIY watering can.
Water bottles, particularly plastic ones, are versatile materials for various craft projects. It is an excellent way to repurpose and recycle used water bottles.
Not only can these crafts save you money, but they also help reduce waste and are fun to create.
Bird Feeder: One of the easiest crafts to do with a water bottle is to convert it into a bird feeder, providing a cheap and effective way to feed local wildlife.
Sensory Bottle: Filled with various small items and colored water, a sensory bottle can be a great play tool for young children.
Fairy House: With a bit of creativity, a water bottle can turn into a magical fairy house, perfect for imaginative play or as a garden decoration.
DIY Watering Can: By poking holes in the cap of a water bottle, you can create your own watering can, ideal for tending to houseplants or small gardens.
Upcycling water bottles into crafts is not only an environmentally-friendly activity but also a creative habit.
It's a fantastic opportunity to show children the importance of recycling and reusing while also sparking their imagination and creativity through various craft projects.
10 Craft Names: Crafts To Do With A Water Bottle
| Craft Name | Required Materials | Steps |
| --- | --- | --- |
| Water Bottle Bird Feeder | Empty Water Bottle, String, Bird Seed, Wooden Spoon | Cut holes, insert spoon through holes, fill with seed, hang with string. |
| Water Bottle Wind Chime | Empty Water Bottle, Paint, Strings, beads | Paint bottle, attach strings with beads, hang up. |
| Water Bottle Flower Craft | Empty Water Bottle, Paint, Scissors | Cut bottle into flower shape, paint, let dry. |
| Water Bottle Snow Globe | Empty Water Bottle, Glitter, Detergent, Figurine, Hot Glue Gun | Glue figurine inside bottle cap, fill bottle with water, glitter and detergent, seal. |
| Water Bottle Terrarium | Empty Water Bottle, Small Plants, Soil, Pebbles, Activated Charcoal | Cut bottle, add pebbles, charcoal and soil, plant the plants, water lightly. |
| Water Bottle Lantern | Empty Water Bottle, LED Candle, Stickers | Decorate bottle with stickers, put LED candle inside. |
| Water Bottle Fish Craft | Empty Water Bottle, Construction Paper, Googly Eyes, Glue | Cut and glue construction paper fins and tail, glue googly eyes. |
| Water Bottle Mini Greenhouse | Empty Water Bottle, Seeds, Soil | Cut bottle, add soil and seeds, put top cap back on. |
| Water Bottle Rocket | Empty Water Bottle, Pump, Water, Stopper | Fill bottle with water, insert stopper, pump air in, release. |
| Water Bottle Jellyfish Craft | Empty Water Bottle, Colored Plastic Bags, String, Googly Eyes | Cut plastic bags into strips, glue inside bottle cap, attach string, glue googly eyes. |
10 Craft Names: Crafts To Do With A Water Bottle
Key Takeaway
Repurposing water bottles can be a fun and resourceful way to engage in craft activities, offering both entertainment and environmental benefits.
Water bottle crafts can range from simple designs, suitable for kids, to complex projects that can be used as functional pieces of home decor.
It is a budget-friendly hobby as the majority of the materials needed are already present in our daily waste.
The crafts made from water bottles not only serve as a good decor piece but also help in spreading the message of recycling and reusing waste material.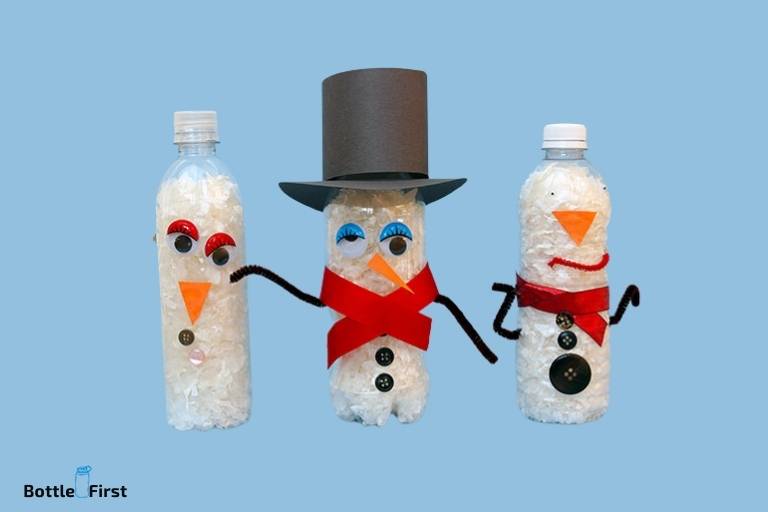 Five Facts About Fun and Creative Crafts To Do With A Water Bottle
Water bottles can be repurposed into a variety of crafts: from flower vases to bird feeders, wind chimes, ornaments, and more. You're only limited by your creativity. (Source: DIY Network)
This fun activity also offers a practical way of teaching children about the importance of recycling and showing them how to turn trash into treasure. (Source: thesprucecrafts.com)
Not only does it helps in reducing the amount of plastic waste that goes into the landfill, but also, it forms a basis for a DIY cost-effective project, reducing the need to buy new items. (Source: National Geographic)
Crafting with water bottles is not only budget-friendly, but it can also be a source of income. Some people turn their bottle crafting hobbies into small businesses by selling their creations at local craft fairs or online platforms. (Source: Etsy)
The transformation process from water bottles to crafts is a fine example of 'upcycling', a process where waste materials are transformed into something more useful or of greater environmental value. (Source: Waste Management World)
Introduction: Repurpose Your Water Bottles For Fun And Sustainability
The Environmental Impact Of Plastic Water Bottles
Plastic water bottles have a significant environmental impact that cannot be ignored.
Here are some key points to consider:
Production: The production of plastic water bottles requires the extraction of fossil fuels, which contributes to greenhouse gas emissions and climate change.
Waste generation: Millions of plastic water bottles end up in landfills every year, taking hundreds of years to decompose. This waste not only occupies valuable land space but also contributes to pollution.
Ocean pollution: When not properly disposed of, plastic water bottles can make their way into water bodies, polluting the oceans and harming marine life.
Resource depletion: The production of plastic water bottles requires a significant amount of water and energy, contributing to resource depletion.
The Importance Of Recycling And Repurposing
To mitigate the environmental impact of plastic water bottles, recycling and repurposing play a crucial role.
Consider the following points:
Conservation of resources: Recycling plastic water bottles helps to conserve natural resources as it reduces the need for raw materials in the production of new bottles.
Energy saving: Repurposing water bottles into new products requires less energy compared to manufacturing from scratch, helping to conserve energy resources.
Waste reduction: Recycling and repurposing water bottles reduces the amount of waste sent to landfills and minimizes the environmental pollution associated with plastic bottle disposal.
Economic benefits: Recycling and repurposing water bottles are essential for creating a sustainable economy by generating jobs within the recycling industry.
How Crafts Can Contribute To Sustainable Living
Crafts provide an excellent opportunity to repurpose water bottles creatively.
Here's how they contribute to sustainable living:
Encourages creativity: Crafts inspire individuals to think creatively and find new ways to repurpose water bottles, reducing the need for single-use alternatives.
Promotes sustainability mindset: Engaging in crafts that involve repurposing water bottles raises awareness about sustainability and encourages people to adopt eco-friendly practices in their daily lives.
Reduces consumption: By repurposing water bottles into useful items, crafts help reduce the need for buying single-use products, ultimately reducing waste and consumption levels.
Builds a sense of community: Crafts that involve repurposing water bottles can be a great way for communities to come together, share ideas, and promote sustainable living practices.
Remember, opting for recycled products and repurposing items like water bottles contributes to a greener future and a more sustainable way of living.
So, let's embrace our creativity and transform these everyday objects into something extraordinary while playing our part in protecting the environment.
Transform Your Water Bottle Into A Decorative Vase
Upcycling everyday items not only reduces waste but also allows us to get creative and add a personal touch to our homes.
One such item that can be transformed into a beautiful decorative piece is the humble water bottle.
Don't throw away those empty bottles just yet! In this section, we will show you how to turn a water bottle into a stunning vase that will add a unique flair to any space.
Get ready to unleash your creativity!
Materials Needed For The Craft:
To get started on this diy project, gather the following materials:
Empty water bottle (choose one with an interesting shape, such as a tall and slender bottle)
Craft knife or scissors
Acrylic or spray paint
Paintbrushes
Assorted decorative materials (such as beads, ribbons, or lace)
Hot glue gun or craft glue
Step-By-Step Instructions For Crafting A Unique Vase:
Now that you have your materials ready, follow these simple steps to transform your water bottle into a decorative vase:
Start by rinsing and drying the water bottle thoroughly to remove any residue.
Carefully cut off the top of the bottle using a craft knife or scissors. The length of the cut will depend on how tall you want your vase to be.
Smooth any sharp edges created by the cut with sandpaper to ensure safety.
Apply a base coat of acrylic paint or use spray paint to cover the entire surface of the bottle. Choose a color that complements your home decor or go for something vibrant to make a statement.
Let the paint dry completely before moving on to the next step. This may take around 1-2 hours, depending on the type of paint used.
Once the base coat is dry, unleash your creativity! Use different paintbrushes and colors of acrylic paint to add unique designs, patterns, or even a simple hand-painted motif.
Allow the paint to dry thoroughly. You can speed up the process by using a hairdryer on a low setting.
Now it's time to add some embellishments! Grab your hot glue gun or craft glue and attach beads, ribbons, or lace to the vase. Let your imagination run wild and create a beautiful design that reflects your personal style.
Creative Ideas For Decorating The Vase:
When it comes to decorating your upcycled water bottle vase, here are some creative ideas to inspire you:
Wrap the vase with twine or jute for a rustic touch.
Use metallic paint for an elegant and modern look.
Apply a layer of glitter for a touch of glam.
Paint your favorite quote or a meaningful symbol on the vase for a personalized touch.
Tips For Displaying Your Upcycled Vase:
Now that your upcycled water bottle vase is complete, it's time to put it on display!
Here are a few tips to show off your creation:
Place your vase on a mantel or shelf to add a pop of color and interest to the area.
Mix and match different sized vases to create an eye-catching centerpiece for your dining table or coffee table.
Group a few vases together and fill them with fresh flowers or artificial blooms for a stunning floral arrangement.
Arrange your vases in a decorative tray or basket for an organized and cohesive display.
Now that you have all the knowledge and inspiration to transform your water bottle into a decorative vase, it's time to get started!
Happy crafting and enjoy the satisfaction of giving a second life to something that would have otherwise ended up in the recycling bin.
Let your creativity bloom!
Create Fun And Functional Water Bottle Planters
Exploring The Benefits Of Indoor Gardening
Indoor gardening has become increasingly popular in recent years, and for good reason.
Whether you have limited outdoor space or simply want to bring a touch of nature inside, indoor gardening offers numerous benefits.
Here are a few key advantages to consider:
Enhances air quality: Plants release oxygen and filter out toxins, improving the air quality in your home.
Boosts mood and reduces stress: Surrounding yourself with greenery can have a calming effect and help reduce stress levels. Indoor plants have also been shown to improve mood and increase productivity.
Adds visual appeal: Indoor plants can act as a beautiful and eye-catching addition to any room, adding color, texture, and natural vibrancy.
Improves acoustics: Certain plants have the ability to absorb sound and reduce noise levels, making them ideal for spaces where noise reduction is desired.
The Versatility Of Using Water Bottles As Planters
Water bottles are often overlooked when it comes to gardening, but their versatility as planters should not be underestimated.
Here are some reasons why water bottles make great diy planters:
Cost-effective: Water bottles are readily available and inexpensive, making them a budget-friendly option for plant enthusiasts.
Upcycling opportunity: Repurposing water bottles as planters is a great way to reduce waste and give new life to single-use items.
Easy to customize: Water bottles can be easily cut, painted, or decorated to match your personal style or to create a unique design for your indoor garden.
Portable and compact: The small size and lightweight nature of water bottles make them perfect for small spaces or for those who want to move their plants around as needed.
Step-By-Step Instructions For Making A Water Bottle Planter
Creating your own water bottle planter is a simple and rewarding diy project.
Follow these steps to get started:
Gather materials: You will need a clean and empty plastic water bottle, scissors, potting soil, and your choice of plant or seeds.
Prepare the water bottle: Using scissors, carefully cut off the top one-third of the water bottle. This will serve as the planter.
Create drainage holes: On the bottom of the planter, poke several small holes to allow for proper drainage.
Add potting soil: Fill the planter with potting soil, leaving enough space for your plant's roots to fit comfortably.
Plant your chosen greenery: Gently place your plant or seeds into the soil, covering the roots with additional soil if necessary.
Water and care: Give your newly planted water bottle planter a thorough watering and place it in a location that receives the appropriate amount of sunlight for your chosen plant.
Maintain moisture levels: Regularly check the moisture level of the soil and water your plant accordingly. Be careful not to overwater, as this can lead to root rot.
Recommended Plants For Water Bottle Planters
While almost any small indoor plant can thrive in a water bottle planter, some varieties are particularly well-suited for this type of gardening.
Consider the following plants for your water bottle planters:
Succulents: These hardy plants require minimal care and can withstand dry conditions, making them perfect for beginners.
Herbs: Basil, thyme, and parsley are just a few examples of herbs that can be grown in water bottle planters, adding flavor and fragrance to your indoor space.
Spider plants: Known for their air purifying abilities, spider plants are easy to care for and can thrive in water bottle planters.
Pothos: With their trailing vines and heart-shaped leaves, pothos plants are low-maintenance and can bring a touch of greenery to any room.
Maintenance Tips To Keep Your Plants Thriving
Proper care is essential to keep your water bottle planters and the plants within them thriving.
Consider the following tips for maintenance:
Watering: Make sure to water your plants according to their individual needs. Avoid overwatering by allowing the soil to dry out slightly between waterings.
Sunlight: Place your water bottle planters in an area that receives adequate sunlight for the specific plants you have chosen.
Fertilizing: Depending on the type of plants you have, occasional fertilization may be beneficial for their growth. Follow the instructions on the fertilizer packaging for the appropriate amounts and frequency.
Pruning: Trim any dead or yellowing leaves from your plants to promote healthy growth and prevent the spread of disease.
Pest control: Keep an eye out for pests such as aphids or spider mites, and take appropriate measures to control and eliminate them. This can include using organic pest control methods or introducing natural predators.
With a little creativity and care, water bottle planters can be a fun and eco-friendly way to bring the beauty of nature into your home.
So why not give it a try and enjoy the benefits of indoor gardening firsthand?
Craft A Stylish And Useful Water Bottle Organizer
In today's fast-paced world, staying organized is essential to maintaining a productive and stress-free lifestyle.
From keeping track of our belongings to maximizing space in our homes, organization plays a crucial role in our daily lives.
One creative and eco-friendly way to achieve this is by repurposing water bottles to create a stylish and useful water bottle organizer.
The Importance Of Organization In Daily Life
Organization leads to improved efficiency and productivity.
It helps reduce stress and promotes a sense of calm.
Being organized saves time and allows for better decision-making.
Repurposing Water Bottles For Organizational Purposes
By repurposing water bottles, you'll not only reduce waste but also create practical organizers for various items.
Water bottles can be transformed into pencil holders, makeup brush organizers, or even small storage containers for tiny objects like buttons or beads.
Repurposing plastic bottles is an eco-friendly alternative to buying new organizers.
Step-By-Step Guide To Creating A Personalized Organizer
Gather the materials: A clean plastic water bottle, scissors, decorative paper or fabric, glue, and any desired embellishments.
Measure and cut the bottle: Start by cutting off the top section of the water bottle, leaving the bottom part as the main organizer.
Personalize the organizer: Wrap the bottle with decorative paper or fabric, securing it with glue. Add any embellishments such as stickers, ribbons, or buttons to make it unique.
Divide the sections: Depending on your needs, create divisions within the organizer by cutting slits or using additional bottles. This will help keep different items organized and easily accessible.
Ideas For Using Your Organizer In Different Settings
In the home office: Keep pens, markers, and other stationery items organized on your desk.
In the bathroom: Store makeup brushes, toothbrushes, or even hair accessories neatly.
In the kitchen: Use it as a utensil holder or a place to store small spice jars.
In the craft room: Keep your art supplies organized, such as paintbrushes, scissors, and glue sticks.
In the nursery: Store pacifiers, small toys, or baby essentials.
Tips For Maintaining An Organized Space
Regularly declutter and donate any items you no longer need or use.
Use labels to identify the contents of your water bottle organizer.
Allocate specific places for different items and encourage everyone in your household to return items to their designated spots.
Clean and dust your organizer regularly to ensure it remains functional and aesthetically pleasing.
Remember, the key to staying organized is consistency and establishing a routine.
Give your old water bottle a new lease on life by transforming it into a stylish and useful organizer.
Whether you're looking to declutter your desk, tidy up your bathroom, or keep your craft supplies in order, repurposing water bottles can help you achieve a more organized and eco-friendly space.
So, next time you finish a water bottle, think twice before you toss it away and get ready to create a practical and personalized water bottle organizer.
Upcycle Your Water Bottles Into Artistic Wind Chimes
The Calming Effect Of Wind Chimes In Outdoor Spaces
Wind chimes have long been admired for their soothing and melodic sounds, which can create a tranquil atmosphere in any outdoor space.
Whether it's a garden, patio, or balcony, the gentle tinkling of wind chimes can bring a sense of peace and serenity.
The soft notes that resonate through the air have a calming effect on the mind and can even help to drown out unwanted noise, leaving you feeling relaxed and refreshed.
If you're looking to add a touch of tranquility to your outdoor oasis, consider upcycling your water bottles into artistic wind chimes.
How Water Bottles Can Be Transformed Into Unique Wind Chimes
Did you know that those empty plastic water bottles lying around your home can be transformed into beautiful and unique wind chimes?
Upcycling is a great way to give new life to items that would otherwise end up in the landfill.
By repurposing your water bottles, you can create stunning wind chimes that will not only add visual interest to your outdoor space but also produce enchanting melodies.
With a little creativity and some simple materials, you can turn your trash into treasure and enjoy the satisfying experience of crafting your own wind chimes.
Here are a few benefits of using water bottles for wind chimes:
Accessibility: Water bottles are readily available and can be sourced from your own home or collected from recycling centers.
Lightweight: Compared to traditional wind chime materials like metal or glass, water bottles are lightweight, making them easy to hang and less likely to cause damage if knocked around by the wind.
Versatility: Water bottles come in various shapes and sizes, allowing you to experiment with different designs and create truly unique wind chimes.
Eco-friendly: By upcycling water bottles, you're reducing waste, minimizing your carbon footprint, and contributing to a more sustainable planet.
Step-By-Step Instructions For Crafting Your Own Wind Chimes
Creating your own wind chimes with water bottles is a fun and rewarding diy project.
Follow these simple step-by-step instructions to get started:
Gather your materials: You'll need clean, empty water bottles, scissors, string or fishing line, beads, bells, or other decorative elements, and a hook or sturdy branch to hang your wind chime from.
Cut the bottles: Remove the labels from the water bottles and carefully cut off the bottom of each bottle. You can also experiment with cutting different sections of the bottle to create varying lengths for the chimes.
Decorate the chimes: Get creative and add your personal touch by decorating the water bottle chimes with colorful beads, small bells, or any other decorative elements that catch your eye. This is where you can unleash your creativity and make each chime truly unique.
Attach the chimes: Using the string or fishing line, tie the decorated chimes to the branch or hook in a staggered pattern, ensuring they are evenly spaced apart. Leave enough length on the string to allow the chimes to move freely in the wind.
Hang your wind chime: Find the perfect spot in your outdoor space to hang your newly crafted wind chime. Consider areas where it will catch the breeze and create beautiful melodies. It could be on a porch, near a tree, or even suspended from a pergola.
Enjoy the calming sounds: Sit back, relax, and let the wind do its magic. As the breeze gently blows, your upcycled water bottle wind chimes will produce enchanting sounds that soothe the soul and create a peaceful ambience in your outdoor sanctuary.
Ideas For Personalizing And Adding Flair To The Wind Chimes
While transforming water bottles into wind chimes is a creative endeavor in itself, you can take it to the next level by personalizing and adding flair to your wind chimes.
Consider these ideas to make your wind chimes even more unique:
Paint the water bottle chimes with vibrant colors or intricate designs.
Use different sizes and shapes of water bottles to create a layered effect.
Incorporate other materials like seashells, driftwood, or colorful ribbons into your wind chime design.
Experiment with different lengths of string or fishing line to create a cascading effect.
Add small charms or trinkets that hold personal meaning to you.
The possibilities are endless, and by infusing your personality and creativity into your wind chimes, you'll have a one-of-a-kind piece of art that reflects your style and brings joy every time the wind blows.
Placement Tips To Enhance The Sound And Visual Appeal
To maximize the sound and visual appeal of your upcycled water bottle wind chimes, consider these placement tips:
Hang your wind chime in an area with good air circulation to ensure they catch the breeze.
Experiment with different heights and positions to find the best spot for optimal wind chime performance.
Avoid placing your wind chime too close to structures or vegetation that may obstruct the movement of the chimes.
Consider the background as well. Hang your wind chime against a contrasting backdrop to make it visually striking.
Regularly clean your wind chime to remove dust and debris, which can affect the sound quality.
With a little creativity, time, and effort, you can turn discarded water bottles into captivating wind chimes that add a touch of artistry and tranquility to your outdoor spaces.
So, gather your supplies and get ready to indulge in the soothing melodies and visual delight brought by your very own upcycled water bottle wind chimes.
Conclusion: Embrace Creativity And Sustainability With Water Bottle Crafts
Recap Of The Various Crafts Using Water Bottles
Jeweled vase: Transform a plain water bottle into a stunning vase by gluing colorful gems or stones onto its surface. This craft adds an elegant touch to any room and is perfect for displaying flowers or artificial arrangements.
Bird feeder: Create a simple bird feeder by cutting out holes near the bottom of a water bottle and filling it with bird feed. Hang it outside and enjoy watching the feathered visitors as they delight in their newfound treat.
Piggy bank: Teach kids the importance of saving money by turning a water bottle into a piggy bank. Cut a slot into the bottle's side, decorate it with paint or stickers, and watch as their savings grow.
Herb garden: Use a water bottle as a mini planter to start an indoor herb garden. Fill it with soil, plant the herbs of your choice, and place it near a sunny window. This craft allows you to have fresh herbs at your fingertips for cooking.
Water bottle bracelets: Create fashionable accessories by cutting plastic water bottles into strips and reshaping them into bangles. Decorate with paint, beads, or ribbon for a personalized touch.
Encouraging Readers To Utilize Their Creativity While Being Environmentally Conscious
By engaging in water bottle crafts, you not only tap into your creative side but also contribute to a sustainable lifestyle.
Here's why you should embrace creativity while being environmentally conscious:
Reduce plastic waste: Repurposing water bottles reduces the amount of plastic waste that ends up in landfills or oceans. By finding new uses for them, we give these bottles a second life and minimize their impact on the environment.
Engage in upcycling: Upcycling is all about transforming waste materials into new products of higher value. Crafts using water bottles allow us to practice upcycling by turning something disposable into something functional and aesthetically pleasing.
Save money: Crafting with water bottles can be a cost-effective way to spruce up your space or create useful items. Instead of buying new décor or accessories, you can use what you already have and save money in the process.
Teach sustainability: By participating in water bottle crafts, you educate yourself and others about the importance of sustainable practices. It's an opportunity to spread awareness and inspire others to adopt similar habits.
The Importance Of Spreading Awareness About Upcycling And Repurposing
Environmental impact: Spreading awareness about upcycling and repurposing helps people understand the detrimental effects of single-use plastic. By offering creative solutions, we encourage others to reduce their consumption and make a positive impact on the environment.
Mindset shift: Promoting upcycling and repurposing helps shift our mindset from a throwaway culture to one that values resourcefulness and sustainability. Encouraging others to rethink what they consider waste opens up possibilities for innovative solutions.
Community engagement: By sharing water bottle crafts and talking about upcycling, we foster a sense of community. People can exchange ideas, collaborate on projects, and support each other in their efforts to reduce waste and create meaningful change.
Future generations: Spreading awareness about upcycling and repurposing ensures that future generations understand the importance of sustainable practices. By instilling these values early on, we empower them to make conscious choices and contribute to a greener future.
Embrace your creativity and join the movement towards a more sustainable and environmentally friendly lifestyle by exploring the world of water bottle crafts.
Start repurposing and upcycling today to make a positive impact on the planet while unleashing your inner artist.
FAQ About Crafts To Do With A Water Bottle
What Can You Make With An Empty Water Bottle?
You can make a flower vase, a bird feeder, a piggy bank, a pen holder, and a diy sprinkler with an empty water bottle.
How Can I Reuse Plastic Water Bottles?
Reuse plastic water bottles by creating a self-watering planter, a storage container, a homemade funnel, a craft organizer, or a portable herb garden.
What Are Some Easy Crafts To Do With A Water Bottle?
Create a sensory bottle, make a bubble blower, construct a marble run, design a wind spinner, or paint a colorful pencil holder with a water bottle.
Can You Recycle Water Bottles Into Crafts?
Absolutely! You can recycle water bottles into crafts such as plastic bottle bracelets, lanterns, wind chimes, bird feeders, and even keychains.
Where Can I Find Ideas For Water Bottle Crafts?
Explore online tutorials, diy blogs, pinterest boards, or watch youtube videos to find a plethora of creative and unique water bottle craft ideas.
Conclusion
The possibilities are endless when it comes to crafting with a water bottle.
From decorative planters to creative organizers, these diy projects not only provide a fun way to repurpose plastic bottles but also contribute to reducing waste and promoting sustainability.
Whether you're a seasoned crafter or just starting out, these water bottle crafts offer a budget-friendly and accessible way to unleash your creativity.
Remember to gather all the necessary supplies, follow the step-by-step instructions, and have fun exploring different variations and personalizing your creations.
By indulging in these crafts, you not only create beautiful pieces that can be showcased and admired, but also play a small part in making the world a better place.
So go ahead, grab a water bottle, and let your imagination soar as you embark on this eco-friendly crafting journey.
Happy crafting!