Different Water Bottle Sizes: Complete List!
Water bottle sizes can vary considerably, with common sizes ranging from the smaller 8 oz. bottles to 12 oz., 16 oz., 33 oz., 1 liter, and even up to 1.5 liters. The size you choose depends on your hydration needs, convenience, and lifestyle requirements.
Different water bottle sizes serve various purposes based on individual needs and activities.
While 8 oz. bottles are compact and portable, suitable for kids and short trips, larger sizes like 1 liter or 1.5 liters are ideal for long journeys, intense workout sessions, or for people who prefer not to refill frequently.
The 12 oz. and 16 oz. bottles strike a balance between portability and adequate hydration.
8 oz. water bottles are lightweight, easy-to-carry, and perfect for children or light hydration needs.
12 oz. and 16 oz. water bottles offer a middle ground – not too small, not too large, suitable for office use or moderate physical activities.
33 oz. water bottles are excellent for people engaging in high-intensity workouts needing more hydration.
1 liter and 1.5-liter water bottles are ideal for camping, long journeys, or for those who prefer infrequent refills.
Choosing the right size water bottle can greatly impact your hydration habits. Small bottles are convenient and encourage frequent sips, while larger sizes can be a reminder to consume a substantial amount.
It's always important to consider your personal needs, lifestyle, and the convenience factor when selecting a water bottle size.
Different Types and Sizes of Water Bottles: Pros & Cons
| Bottle Size | Typical Use | Pros | Cons |
| --- | --- | --- | --- |
| 8 ounces (237 ml) | Short trips, lunchboxes | Lightweight. Easy to carry. | Doesn't hold much water. Not ideal for long periods of time. |
| 16 ounces (473 ml) | Everyday use, short workouts | Compact. Holds enough water for short periods. | May not be enough for longer workouts or hot days. |
| 24 ounces (710 ml) | Gym, office | Good capacity. Versatile. | Can be bulky to carry. |
| 32 ounces (946 ml) | Hiking, long workouts | Holds a lot of water. | Can be heavy when full. |
| 64 ounces (1.9 L) | Camping, all-day events | High capacity. Ideal for long periods outside. | Large and heavy. Not as portable. |
Different Types and Sizes of Water Bottles: Pros & Cons
Key Takeaway
Different water bottle sizes cater to the varying hydration needs of individuals.
Standard water bottle size can widely vary from 8 oz to 1 liter, with many sizes in between.
The water bottle size choice often depends on the specific purpose, like for exercise, hiking, or daily hydration goals.
Larger water bottle sizes can often motivate individuals to drink more water and stay hydrated throughout the day.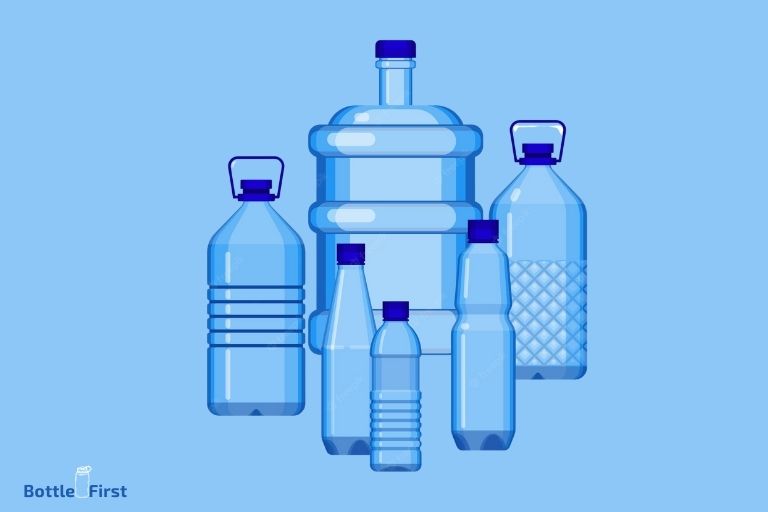 Five Facts About Water Bottles
There is no 'standard' water bottle size. However, the most common size for water bottles sold commercially is typically around 16.9 oz. or 500 ml.
For athletes or those doing high-intensity workouts, a 32 oz. water bottle is often preferred as it holds sufficient water for their hydration needs.
There are also smaller water bottle sizes like 8 oz. or 12 oz. which are suitable for kids or for people who prefer smaller, more portable bottles.
Large water bottles, like 1 liter or even gallon-sized bottles, are becoming increasingly popular. They are often used by people to keep track of water consumption throughout the day.
There has been a trend in recent years for double-walled insulated water bottles, which can maintain the temperature of the water (hot or cold) for many hours. These types of bottles often come in larger sizes, from 16 oz. up to 64 oz.
Understanding The Importance Of Choosing The Right Size
So you're looking to purchase a new water bottle, but have you ever stopped to consider the importance of choosing the right size?
The size of your water bottle can greatly impact your hydration, and it's worth taking the time to understand the factors to consider when making your decision.
Factors To Consider When Choosing A Water Bottle Size:
Portability: One of the key factors to consider when choosing a water bottle size is portability. Think about your daily activities and how you will be carrying your water bottle. If you're always on the go and need a bottle that can easily fit in your bag or backpack, a smaller size may be more suitable. However, if you have access to a larger bag or prefer to keep your water bottle on your desk, opting for a larger size may be more practical.
Hydration needs: Everyone's hydration needs are different, and it's essential to consider your personal requirements when selecting a water bottle size. If you're someone who tends to drink a lot of water throughout the day or engages in intense physical activity, a larger size bottle can ensure you have an ample supply of water to stay hydrated. On the other hand, if you prefer sipping water occasionally or have limited access to refill stations, a smaller size can be more suitable.
Environmental impact: Another vital factor to consider is the environmental impact of your water bottle. Opting for a smaller size bottle can help reduce your plastic waste as you will likely need to refill it more frequently. On the other hand, choosing a larger size bottle may mean fewer refills and potentially less plastic waste over time.
How The Size Of Your Water Bottle Impacts Hydration:
Water availability: The size of your water bottle can influence the availability of water throughout the day. A smaller size bottle may require more frequent refills, ensuring you always have access to fresh water. On the other hand, a larger bottle may provide a sufficient water supply to last a longer duration, especially during activities where refilling may not be readily available.
Reminder to hydrate: A larger water bottle can serve as a visual reminder to stay hydrated. Seeing a full bottle can prompt you to drink more water throughout the day. However, some people may find it more convenient to carry a smaller bottle and rely on frequent refills as a reminder to drink.
Fluid intake regulation: The size of your water bottle can also impact your fluid intake regulation. For those who have trouble regulating their water intake, a smaller bottle can provide a sense of accomplishment as it allows for more frequent monitoring and tracking. On the other hand, a larger bottle may allow you to space out your water consumption more evenly throughout the day.
Choosing the right size water bottle is a decision that should be based on your lifestyle, hydration needs, and environmental considerations.
By taking these factors into account, you can ensure you have a water bottle that not only meets your daily requirements but also contributes positively to your overall well-being.
Small Water Bottle Sizes: Perfect Portability
Compact And Lightweight Options For On-The-Go Hydration
Staying hydrated while on the move is essential, and small water bottle sizes offer the perfect solution for portable hydration.
Whether you're an adventurer always on the lookout for a new hiking trail or a cyclist exploring scenic routes, compact water bottles are designed to meet your needs.
Here are the key benefits of opting for smaller water bottles when engaging in activities like hiking and cycling:
Benefits Of Small Water Bottles For Activities Like Hiking And Cycling:
Convenience: Small water bottles are incredibly convenient due to their compact size. They can easily fit into backpacks, pockets, or even bike bottle holders, allowing for easy access to hydration whenever you need it. No more bulky and cumbersome bottles getting in the way of your adventure!
Portability: With their lightweight design, small water bottles are perfect for activities that require you to carry extra gear. They won't weigh you down, allowing you to move freely and comfortably during your outdoor pursuits. Say goodbye to lugging around heavy water bottles!
Hydration on the go: Hiking and cycling can be physically demanding, making it crucial to stay hydrated throughout your journey. Small water bottles ensure you have a convenient and accessible supply of water to keep you replenished and energized along the way.
Less waste: By opting for a smaller water bottle, you can minimize the amount of waste produced. It's easier to finish the entire contents of a small bottle rather than wasting larger quantities of water. Plus, it's more environmentally friendly to carry a compact bottle and refill it whenever necessary.
Fits in tight spaces: Compact water bottles are ideal for situations where storage space is limited. Whether you're backpacking and need to make use of every inch of space or cycling and need to fit your bottle in a crowded bike bag, small bottles provide a practical solution.
So, if you're someone who loves to explore the great outdoors, invest in a small water bottle for your next adventure.
Embrace the convenience, portability, and hydration benefits that these compact options offer. Stay refreshed, keep moving, and enjoy your exhilarating activities without sacrificing the essentials.
Medium Water Bottle Sizes: Versatility And Convenience
When it comes to water bottle sizes, medium-sized bottles are a popular choice for everyday use. These versatile and convenient bottles are ideal for various settings such as work, school, and travel.
Whether you're heading to the office, hitting the gym, or embarking on a weekend getaway, medium-sized water bottles are the perfect companion.
In this section, we will explore the popular water bottle sizes for everyday use and why medium-sized bottles offer versatility and convenience.
Popular Water Bottle Sizes For Everyday Use
Medium-sized water bottles are available in different capacities, typically ranging from 16 to 24 ounces.
Here are the key points to consider:
Adequate hydration: Medium-sized bottles provide enough capacity to keep you hydrated throughout the day. With a capacity of 16 to 24 ounces, you can easily meet your daily water intake goals.
Portability: These bottles strike a balance between being compact enough to fit in most bags or backpacks while still providing a sufficient amount of hydrating water. This makes them perfect for carrying around during your daily routines.
Versatile use: Medium-sized bottles are suitable for various activities, whether you're going to work, attending classes, or running errands. They can fit in most cup holders, making them convenient for use during your commute.
Easy to refill: With a medium-sized bottle, you can easily refill it throughout the day when you have access to clean water. This saves you from constantly buying single-use plastic bottles and helps reduce plastic waste.
Temperature control: Many medium-sized bottles come with insulation features, allowing you to keep your drinks cold or hot for extended periods. This means you can enjoy cold water during hot summer days or keep your coffee hot during chilly mornings.
Environmental impact: By opting for a reusable medium-sized bottle instead of single-use plastic bottles, you contribute to reducing plastic waste and minimizing your environmental impact. It's a small step towards a greener lifestyle.
Medium-sized water bottles offer versatility and convenience for everyday use. Whether you need hydration at work, school, or when you're on the go, these bottles provide the perfect balance between capacity and portability.
With features like easy refillability and insulation, they are an excellent choice for those looking to stay hydrated while minimizing their environmental footprint.
So why not invest in a medium-sized water bottle and enjoy the benefits it brings to your daily routine?
Large Water Bottle Sizes: Hydration For Extended Periods
When it comes to staying hydrated during prolonged activities or travel, large water bottles offer several benefits.
Whether you're hiking in the wilderness, embarking on a long road trip, or participating in intense physical activities, having a large water bottle by your side ensures that you can quench your thirst without running out of water.
Here, we will explore the benefits of large water bottles for prolonged activities or travel and the important considerations when choosing the right size.
Benefits Of Large Water Bottles For Prolonged Activities Or Travel
Large water bottles are a great choice for individuals engaged in extended periods of physical activity or travel.
Some key benefits include:
Ample hydration: With a larger capacity, these water bottles provide a generous supply of water, allowing you to stay hydrated for longer durations. You won't have to worry about constantly refilling your bottle, enabling you to focus on your activities or enjoy the journey.
Convenience: Carrying a large water bottle means fewer trips to refill it, saving you time and effort. This is particularly useful when engaging in activities where water sources may be limited, such as hiking or camping in remote areas.
Practicality: Large water bottles often come with structures designed for easy handling and portability. Features like sturdy handles, carabiner clips, or strap attachments make it convenient to carry them during physically demanding or outdoor activities.
Versatility: Apart from water, these bottles can also accommodate other beverages like electrolyte drinks or juices. This versatility allows you to meet your hydration needs during prolonged periods while keeping your favorite beverages at hand.
Considerations When Choosing A Large Water Bottle Size
While large water bottles offer numerous advantages, it is crucial to consider certain factors when selecting the appropriate size:
Activity duration: Assess the duration of your activities or travel. If you're embarking on shorter trips or engaging in activities of moderate durations, a medium-sized bottle might be sufficient. However, for longer journeys or physically demanding adventures, opting for larger capacities is advisable.
Weight and portability: Keep in mind that larger water bottles tend to be heavier, even when empty. Consider your ability to carry the bottle comfortably throughout your activity or journey. If weight is a concern, look for lightweight options or consider collapsible bottles.
Storage and space: Consider the available space in your backpack or sports bag. Be mindful of how the large water bottle will fit in with your other essential items. Some bottles are designed to be collapsible, ensuring they are more space-efficient when not in use.
Insulation requirements: If you anticipate extreme temperatures during your activities or travel, consider opting for insulating water bottles. These help maintain the temperature of your beverages, keeping them cold or hot for longer periods.
By carefully evaluating your needs, activity duration, and storage limitations, you can select the ideal large water bottle size to ensure continuous hydration during extended periods of physical activity or travel.
Remember that staying hydrated is essential for your overall well-being, and having a reliable large water bottle by your side can make a significant difference in keeping you refreshed throughout your adventures.
Customizing Water Bottle Sizes: Innovative Options
When it comes to water bottle sizes, there are several innovative options available for customization.
Whether you need a bottle to fit in your purse or one to keep you hydrated during an intense workout, there's a perfect size for every need.
Customizable water bottle sizes can enhance your experience, providing convenience and functionality.
Let's dive into the unique water bottle sizes for specific needs and how they can make a difference.
Unique Water Bottle Sizes For Specific Needs
Compact and portable: For individuals on the go, a compact water bottle size is ideal. These smaller bottles can easily fit into a purse, backpack, or even a pocket, ensuring hydration is always at hand. Some popular compact sizes include 12 oz, 16 oz, and 20 oz.
Gym and sports-friendly: When you hit the gym or engage in intense physical activities, staying hydrated is crucial. Water bottles designed specifically for these activities often come in larger sizes like 32 oz or 40 oz. These bottles are durable, leak-proof, and easy to grip, making them perfect for the rigors of a workout.
All-day hydration: If you're someone who prefers to have your water intake covered for the day, larger water bottle sizes will be your best bet. Sizes like 64 oz or even 1 gallon are great options for those who want to track and meet their hydration goals without constant refilling.
Kids-friendly sizes: Children have different hydration needs, and their water bottle sizes should reflect that. Smaller sizes like 8 oz or 10 oz are perfect for little hands, ensuring they can stay hydrated throughout the day, whether it's at school, during extracurricular activities, or at home.
How Customizable Water Bottle Sizes Can Enhance Your Experience
Tailored to your lifestyle: Customizable water bottle sizes allow you to choose a bottle that suits your specific lifestyle and preferences. Whether you need a bottle to slot into your car cup holder or one that fits perfectly in your gym bag, customization provides the option to select the ideal size for your needs.
Portability and convenience: By customizing your water bottle size, you can ensure it is easy to carry around, reducing the hassle of lugging a heavy bottle or dealing with one that takes up too much space.
Hydration goals made achievable: Customizable sizes enable you to set and achieve your hydration goals effectively. By choosing the right size, you can track your water intake and ensure you're drinking the recommended amount daily.
Environmentally friendly: Opting for reusable water bottles in customizable sizes is an eco-conscious choice. By using fewer disposable plastic bottles, you contribute to reducing plastic waste and promote sustainability.
Customizing water bottle sizes allows you to have a bottle tailored to your specific needs, whether it's for convenience, fitness, or personal preference. With a wide range of options, finding the perfect size is now easier than ever.
So, go ahead and enhance your hydration experience with a customized water bottle that fits you just right.
Why Do Different Water Bottles Have Different Logos?
Water bottle logo lists vary because each brand aims to establish its unique identity and stand out from competitors. These logos display distinctive design elements, colors, and typography that resonate with a brand's values and target audience. Whether to communicate eco-friendliness, durability, or sleekness, water bottle logos serve as a recognizable symbol that helps differentiate brands and foster consumer loyalty.
FAQ About Different Water Bottle Sizes
What Are The Different Water Bottle Sizes Available?
You can find water bottles in various sizes like 12 oz, 18 oz, 24 oz, 32 oz, and 64 oz.
Which Water Bottle Size Is Ideal For Everyday Use?
The ideal water bottle size for everyday use varies, but a 24 oz bottle is commonly recommended.
What Factors Should I Consider When Choosing A Water Bottle Size?
Consider factors like how much water you drink daily, portability, and where you'll be using the bottle.
Can I Use A Small Water Bottle For Workouts?
Using a small water bottle for workouts might require frequent refills, so a larger bottle is more convenient.
Are There Water Bottles Larger Than 64 Oz Available?
Yes, you can find water bottles larger than 64 oz, but they are less common and may be harder to carry around.
Conclusion
Water bottle sizes play a crucial role in our everyday lives. Whether you're heading to the gym, going on a hike, or simply staying hydrated at work, having the right size water bottle is essential.
From compact 12-ounce bottles for easy portability to larger 32-ounce bottles for all-day hydration, there is a size to suit everyone's needs.
Choosing the right water bottle size depends on factors such as the duration of your activities, your personal water consumption, and your comfort level carrying the bottle.
It's important to strike a balance between convenience and functionality to ensure you stay hydrated throughout the day.
By understanding the different water bottle sizes available, you can make an informed decision that suits your lifestyle.
So whether you prefer a small bottle for short outings or a larger one for extended adventures, there is a water bottle size that fits your needs.
Prioritizing your hydration is a simple yet effective way to maintain good health and ensure you have the energy to tackle any challenge that comes your way. Stay hydrated and stay fabulous!