Diy Bidet Spray Bottle: Step-by-Step Guide!
A DIY bidet spray bottle is a homemade solution to personal hygiene that involves converting a regular spray bottle into a functional bidet.
This innovation is cost-efficient and easy to make, providing an accessible way to maintain cleanliness, particularly for those who cannot afford traditional bidets.
The concept of a DIY bidet spray bottle is simple and ingenious. A spray bottle, typically used for watering plants or cleaning purposes, is repurposed into a manually operated bidet.
The pressure of the spray can be adjusted according to personal preference, providing an easy and convenient alternative to toilet paper or traditional bidet systems.
Cost-efficient solution: Making a DIY bidet spray bottle is significantly cheaper than purchasing a conventional bidet system.
Easy to make: With just a few simple modifications, a regular spray bottle can be converted into a functional bidet.
Adjustable pressure: The pressure of the spray can be regulated according to personal comfort.
Portable and travel-friendly: Due to its compact size, the DIY bidet spray bottle can be easily carried around while traveling or camping.
Creating a DIY bidet spray bottle not only promotes personal hygiene but also fosters an environment of sustainability.
By repurposing a regular spray bottle, we are reducing waste and encouraging resourcefulness.
Furthermore, this solution aligns with the growing trend of seeking sustainable and cost-effective alternatives to everyday products.
In this case, the DIY bidet spray bottle proves that personal hygiene does not have to come at a hefty cost.
Step-by-Step Process of Using a DIY Bidet Spray Bottle
| Materials Needed | Step-by-Step Process | Safety Measure |
| --- | --- | --- |
| Spray Bottle | 1. Purchase a clean, new spray bottle. | Always ensure the bottle is clean and new. |
| Water | 2. Fill the spray bottle with lukewarm water. | Do not use hot water as it can cause burns. |
| Epsom Salt (optional) | 3. If preferred, add 1 to 2 tablespoons of Epsom salts. | Always, dilute epsom salt in water, do not apply directly. |
| Essential Oils (optional) | 4. For a fragrance, add a few drops of your favourite essential oil. | Essential oils should be properly diluted and used sparingly, as they can sometimes lead to skin irritation. |
| | 5. Tighten the spray bottle lid and shake well. | Ensure the lid is on firmly to prevent any spillage. |
| | 6. Spray directly onto the area or onto toilet paper. | Always spray from a safe distance and avoid contact with eyes. |
Step-by-Step Process of Using a DIY Bidet Spray Bottle
Key Takeaway
Diy Bidet spray bottles are an affordable, portable alternative to traditional bidet fixtures.
They offer the same functionality for personal hygiene without the need for plumbing modifications.
These spray bottles promote personal hygiene and are environmentally friendly as they reduce the use of toilet paper required.
Diy bidet spray bottles can be easily made using simple materials like a good-quality spray bottle, warm water, and homemade gentle cleansing solution.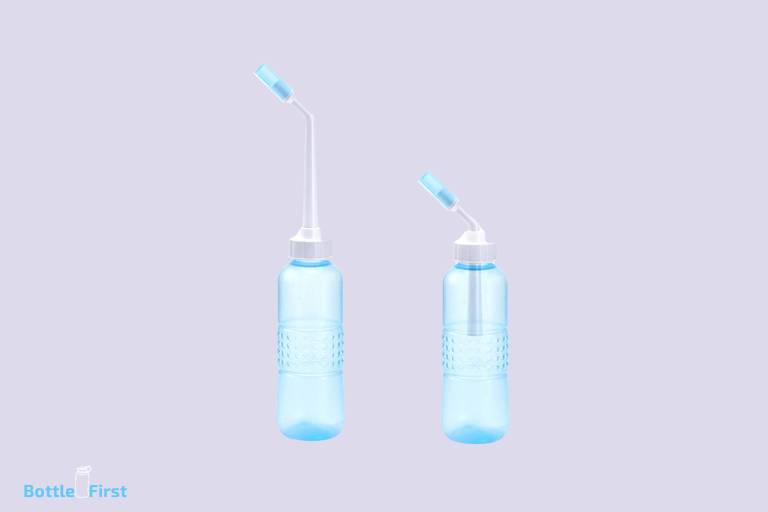 Five Facts About Using a DIY Bidet Spray Bottle
Diy bidet spray bottles are becoming popular as they are easy to use, cost-effective, and portable. You can use them at home or carry them in a travel bag without hassle. The size of these bottles can vary depending on personal preferences.
A bidet spray bottle reduces the need for toilet paper, thus reducing the environmental footprint. Toilet paper manufacturing emits approximately 15 million tons of CO2 per year, according to a study published in Environmental Science & Technology (1).
Personal hygiene is greatly increased by using a bidet spray bottle, as they provide a gentler and more thorough cleaning than dry toilet paper. They can also assist those with limited mobility who may struggle with traditional bidet fixtures.
There is a range of recipes for homemade cleansing solutions for a Diy bidet spray bottle that cater to different skin types and preferences. A basic recipe might include water, mild soap, and natural additives like aloe vera or essential oils to soothe the skin.
Diy bidet spray bottles are versatile and can also function as a personal cooling device or a tool for cleaning baby diapers and pets.
Why Bidet Spray Bottles Are Trending In The Diy Community
Bidet Spray Bottles: The New Hygiene Solution
Bidet spray bottles have seen a surge in popularity within the diy community, and for good reason.
As people become more conscious about their personal hygiene and environmental impact, bidet spray bottles offer a practical and eco-friendly alternative to disposable wipes and toilet paper.
Let's explore why bidet spray bottles are trending and how they are revolutionizing personal hygiene routines.
The Environmental Impact Of Disposable Wipes And Toilet Paper
Disposable wipes and toilet paper have long been the go-to options for maintaining personal hygiene after using the bathroom.
However, these products come with significant environmental consequences.
Here's a breakdown of their impact:
Toilet paper waste: Each year, millions of trees are cut down to produce toilet paper, contributing to deforestation and habitat loss.
Water consumption: Manufacturing toilet paper requires large amounts of water, adding strain to already stressed water resources.
Plastic pollution: Many disposable wipes are made from non-biodegradable materials, contributing to the global plastic pollution crisis.
Sewer system issues: Flushing wipes can lead to clogged pipes and sewer backups, resulting in expensive repairs.
The Rise Of Diy Bidet Solutions
Amid growing concerns about sustainability, hygiene-conscious individuals are turning to diy bidet solutions, with the spray bottle being one of the most popular choices.
Here are the key reasons behind their rise:
Cost-effective: Bidet spray bottles provide a cost-effective alternative to installing a full bidet system, making them accessible to a wider audience.
Versatility: Spray bottles can be used by people of all ages and are easily portable, making them suitable for travel or outdoor activities.
Environmental impact: By reducing reliance on disposable wipes and toilet paper, bidet spray bottles significantly reduce waste and contribute to a greener planet.
Hygiene benefits: Bidet spray bottles offer a more thorough cleansing experience compared to traditional methods, promoting better personal hygiene.
Bidet spray bottles have gained popularity in the diy community as an eco-friendly and practical solution for personal hygiene.
By avoiding the environmental impacts of disposable wipes and toilet paper, individuals can embrace a more sustainable approach to bathroom routines.
With their cost-effectiveness, versatility, and hygiene benefits, it's no wonder bidet spray bottles have become a trending topic in diy circles.
So, why not join the movement and revolutionize your own hygiene routine with a diy bidet spray bottle today?
How To Make Your Own Bidet Spray Bottle At Home
Easy Steps To Create A Diy Bidet Spray Bottle
Creating your own bidet spray bottle at home is an easy and affordable way to enhance your bathroom experience.
With just a few simple steps, you can transform an ordinary spray bottle into a convenient and hygienic bidet alternative.
Here's how to do it:
Choose the right spray bottle:
Look for a spray bottle with a comfortable grip and a sturdy nozzle that can provide a strong and steady stream of water. Opt for a larger capacity bottle to minimize the need for frequent refills.
Gather the essential materials:
To create your diy bidet spray bottle, you will need the following materials and tools:
A spray bottle with a capacity of at least 16 ounces
Warm water
A small funnel
Liquid soap (optional)
Essential oil (optional)
Prepare the spray bottle: Start by thoroughly cleaning the spray bottle to ensure it is free of any residue or impurities. Wash it with warm soapy water and rinse it well. Allow it to air dry completely before proceeding.
Mix the solution: If desired, you can add a few drops of liquid soap or a few drops of your favorite essential oil to the spray bottle. This will help create a refreshing and cleansing experience. Remember to use essential oils that are suitable for topical use.
Fill the bottle: Use a small funnel to fill the spray bottle with warm water. Leave some space at the top to avoid spillage when screwing on the nozzle. Make sure not to overfill the bottle as it may cause leakage during use.
Secure the nozzle: Screw on the nozzle tightly to ensure a proper seal. Test the spray bottle to make sure there are no leaks. Adjust the nozzle to achieve the desired water pressure.
Usage instructions: To use your diy bidet spray bottle, simply hold it at a comfortable angle and squeeze the trigger to release a gentle stream of water. Adjust the water pressure by varying the intensity of the squeeze. After each use, rinse the nozzle and air dry the bottle.
Remember to keep the spray bottle in a easily accessible location within your bathroom for maximum convenience.
Creating your own bidet spray bottle is not only a cost-effective solution but also a great way to promote hygiene and cleanliness in your daily routine.
Benefits Of Using A Diy Bidet Spray Bottle
Enhanced Hygiene And Freshness
Using a diy bidet spray bottle can offer several benefits when it comes to hygiene and freshness.
Here are the key points to consider:
Effectively cleanses: Bidet spray bottles provide a more thorough cleaning compared to using toilet paper alone. The spray of water helps to remove residue and bacteria, leaving you feeling clean and fresh.
Reduces odors: Proper cleansing with a bidet spray bottle helps to eliminate potential odors associated with inadequate cleaning. By removing bacteria and waste, you can enjoy a more pleasant and odor-free bathroom experience.
Promotes feminine hygiene: Bidet spray bottles are especially beneficial for women's hygiene. They help in maintaining proper cleanliness during menstrual cycles and can reduce the risk of infections.
Soothes discomfort: For individuals suffering from conditions such as hemorrhoids or anal fissures, using a bidet spray bottle can provide relief and help soothe discomfort.
Versatility: Bidet spray bottles are versatile and can be adjusted to provide a gentle or powerful spray, depending on personal preference. This flexibility ensures that each individual can find their ideal level of comfort and cleanliness.
Cost-Effective And Sustainable Solution
Implementing a diy bidet spray bottle in your bathroom routine not only provides enhanced cleanliness but also brings cost-effectiveness and sustainability to the table.
Here's why:
Low cost: Bidet spray bottles are considerably more affordable compared to installing a full bidet system or purchasing expensive electronic bidet attachments. You can create your own bidet spray bottle using everyday items, saving you money in the long run.
Eco-friendly: By reducing the dependence on toilet paper, bidet spray bottles contribute to environmental sustainability. These devices help decrease toilet paper consumption, which ultimately reduces deforestation and saves water, as bidets require minimal water usage.
Easy installation: Installing a diy bidet spray bottle is a straightforward process that can be done without professional help. You can easily attach the spray bottle to your existing toilet and adjust it as needed.
No electricity required: Unlike electronic bidets or bidet attachments, bidet spray bottles operate without electricity. This not only lowers your energy consumption but also eliminates the risk of electrical malfunctions.
Reducing Plumbing Issues And Toilet Paper Waste
Using a diy bidet spray bottle brings additional benefits beyond hygiene and cost savings.
Consider the following points:
Minimizes plumbing problems: Bidet spray bottles help reduce plumbing issues such as clogged toilets. By minimizing the amount of toilet paper flushed, you can prevent potential blockages and expensive plumbing repairs.
Less toilet paper waste: Bidet spray bottles significantly decrease the consumption of toilet paper. This reduction in waste not only benefits the environment but can also result in long-term cost savings.
Suitable for all ages: Bidet spray bottles are suitable for people of all ages, including children and the elderly. They offer a gentle, customizable cleansing experience that can be easily adapted to individual needs.
Convenient and easy to maintain: Bidet spray bottles require minimal maintenance. Regular cleaning and occasional refilling of the water bottle are all that's needed to keep the system running smoothly.
Incorporating a diy bidet spray bottle into your bathroom routine can enhance hygiene, freshness, and contribute to a sustainable lifestyle.
Enjoy a thorough cleanse, save money, reduce plumbing issues, and minimize toilet paper waste with this simple yet effective solution.
Common Concerns And Solutions For Diy Bidet Spray Bottle
Water Pressure And Temperature Control
Maintaining the right water pressure and temperature is essential for a comfortable and effective diy bidet spray bottle experience.
Here are some key points to consider:
Water pressure:
Adjust the water pressure to a level that is comfortable for you by squeezing the spray bottle trigger gently or firmly, depending on your preference.
Test different pressure levels until you find the one that provides optimal cleansing without causing discomfort or irritation.
Be cautious not to use excessive pressure, as it may cause unnecessary mess or splashing.
Water temperature:
Fill the spray bottle with warm water for a soothing and refreshing experience.
Use lukewarm water to avoid any discomfort or potential burns.
Test the water temperature before each use to ensure it's suitable for your needs.
Avoiding Unnecessary Mess And Spills
When using a diy bidet spray bottle, it's crucial to take precautions to prevent mess and spills.
Consider these practical tips:
Aim and distance:
Position the spray bottle at an appropriate distance from your body to avoid creating unwanted mess or splatter.
Aim the stream of water accurately by directing it towards the desired area, ensuring efficient cleaning without unnecessary mess.
Proper grip and control:
Hold the spray bottle firmly to maintain control and prevent accidental spills.
Use your hand to adjust the angle of the bottle to achieve better aim and control over the water spray.
Towel or wipes:
Keep a towel or wipes nearby to quickly clean up any potential spills or excess water.
Wipe the bottle dry after each use to avoid water residue and potential leaks.
Hygiene Considerations And Cleaning Tips
To ensure optimal hygiene and cleanliness when using a diy bidet spray bottle, follow these essential considerations and cleaning tips:
Personal use only:
Avoid sharing your diy bidet spray bottle with others to prevent the spread of bacteria and potential infections.
Each individual should have their own dedicated spray bottle for personal hygiene purposes.
Cleaning routine:
Regularly clean and disinfect the spray bottle to maintain hygiene and prevent the buildup of bacteria.
Empty and rinse the bottle after each use, and periodically sanitize it with a mild disinfectant solution.
Allow the spray bottle to air dry thoroughly before refilling.
Nozzle maintenance:
Pay attention to the nozzle of the spray bottle, ensuring it remains clean and free from any debris or clogs.
Check the nozzle periodically and use a pin or toothpick to unclog any potential blockages.
Remember, while a diy bidet spray bottle can be a convenient and cost-effective solution for personal hygiene, it's important to practice proper hygiene and cleanliness to ensure a safe and pleasant experience.
Eco-Friendly Alternatives To Diy Bidet Spray Bottles
With the rising popularity of bidet spray bottles, it's clear that people are becoming more conscious about their hygiene practices and reducing their reliance on toilet paper.
However, if you're looking for eco-friendly alternatives to diy bidet spray bottles, there are several options worth considering.
In this section, we'll explore bidet attachments for your toilet and compare manual bidet solutions for sustainability and comfort.
Other Diy Bidet Options To Consider
Plant-based flushable wipes: Using toilet paper alternatives, such as plant-based flushable wipes, can provide a gentle and effective cleansing experience while minimizing environmental impact.
Peri bottles: Peri bottles, originally designed for postpartum care, can also be repurposed as a diy bidet option. Simply fill the bottle with water and use it for cleansing after using the toilet.
Portable bidets: Compact and easy to carry, portable bidets offer a convenient and eco-friendly solution. These devices function by providing a gentle stream of water, ensuring a thorough cleanse without the need for excessive toilet paper usage.
Squeeze bottles: A common household item, the squeeze bottle can also be transformed into a diy bidet spray bottle. Fill it with water, making sure to adjust the nozzle for a comfortable water flow, and it's ready to use.
Exploring Bidet Attachments For Your Toilet
Bidet attachments are a popular choice for those wanting a more permanent and integrated solution. These attachments can be easily installed on your existing toilet, providing a steady stream of water that cleanses more effectively than traditional wiping.
They typically come with adjustable water pressure settings, allowing you to customize your bidet experience. Additionally, some models offer additional features such as temperature control and oscillating sprays.
Bidet attachments are hygienic and easy to use. Once installed, they require minimal maintenance and allow for a more thorough cleanse, improving overall hygiene while reducing the use of toilet paper.
Comparing Manual Bidet Solutions For Sustainability And Comfort
Handheld bidets:
Also known as shower sprayers or muslim showers, handheld bidets are versatile and provide a gentle cleansing experience.
They are typically attached to the toilet water supply and offer adjustable water pressure options. Along with being environmentally friendly, handheld bidets also provide comfort and cleanliness.
Cloth toilet paper:
While it may sound unusual, cloth toilet paper is gaining popularity among individuals seeking a zero-waste lifestyle.
This method involves using reusable and washable cloth wipes instead of disposable toilet paper.
While it may require more effort in terms of cleaning, cloth toilet paper is an eco-friendly solution that reduces waste.
Toilet tissue alternatives:
Bamboo toilet paper or recycled toilet paper can be used as a sustainable alternative to traditional versions. These options are biodegradable, making them a more environmentally friendly choice.
As you can see, there are several eco-friendly alternatives to diy bidet spray bottles.
Whether you opt for bidet attachments, manual bidet solutions, or explore other options, these choices promote sustainable practices while ensuring cleanliness and comfort.
By making these small changes in our daily routines, we can contribute to a greener and more eco-conscious future.
FAQ About Diy Bidet Spray Bottle
What Is A Bidet Spray Bottle?
A bidet spray bottle is a handheld device used for personal hygiene, providing a gentle stream of water for cleaning.
How Does A Diy Bidet Spray Bottle Work?
A diy bidet spray bottle works by filling it with water, then squeezing or spraying the water onto the desired area for cleaning.
Is A Bidet Spray Bottle Hygienic?
Yes, a bidet spray bottle can be hygienic as long as it is properly cleaned and sanitized after each use.
Can A Bidet Spray Bottle Be Used By Everyone?
Yes, a bidet spray bottle can be used by people of all ages and genders for a more thorough and convenient cleaning experience.
How To Make A Diy Bidet Spray Bottle?
To make a diy bidet spray bottle, you will need a clean empty bottle, water, and optionally, a nozzle or spray attachment for better control of the water flow.
Conclusion
With the rising popularity of bidets as an alternative to conventional toilet hygiene, a diy bidet spray bottle is a practical and affordable option for those looking to try out this fresh and clean method.
By following the simple steps outlined in this blog post, anyone can create their own bidet spray bottle using common household items.
The benefits of using a bidet spray bottle include improved cleanliness, reduced toilet paper usage, and increased comfort.
Plus, the ability to customize the water temperature and pressure adds an extra touch of luxury to the experience.
So why not give diy bidet spray bottles a try?
Not only will you be doing your part to reduce waste, but you'll also be enjoying a more hygienic and refreshing bathroom experience.
Upgrade your toilet routine today and discover the wonders of a diy bidet spray bottle.