10 Diy Water Bottle Crafts Ideas!
DIY water bottle crafts are a fun and creative way to recycle plastic bottles and convert them into useful or decorative items.
This activity is not only eco-friendly but also provides a cost-effective solution for creating home decor, gardening tools, or children's play items.
DIY Water bottle crafts involve the repurposing of plastic bottles rather than disposing of them, thereby lessening the waste materials that pollute the environment. It's a practical and accessible craft as plastic bottles are readily available in most households.
The diversity of crafts that can be made is limitless, ranging from wall decorations to bird feeders, thereby encouraging creativity and problem-solving skills.
Eco-friendly and promotes recycling.
Cost-effective as it utilizes household waste.
Encourages creativity and enhances problem-solving skills.
Provides a diverse array of possible crafts and utilities.
DIY water bottle crafts are not only a great way to recycle and conserve our environment, but they also allow individuals to tap into their creativity.
By transforming these ordinary objects into something beautiful or useful, we bring out our resourcefulness and ingenuity.
Whether it's a colorful flower holder or a whimsical wind chime, the possibilities are endless with DIY water bottle crafts.
10 DIY Water Bottle Crafts Name & Materials
| Craft Name | Materials Needed | Difficulty Level |
| --- | --- | --- |
| Bottle Vase | Water bottle, Paint, Brushes | Easy |
| Bottle Terrarium | Water bottle, Soil, Small Plants | Medium |
| Bottle Bird Feeder | Water bottle, String, Bird Seeds | Medium |
| Chandelier | Multiple water bottles, String, Light Bulbs | Hard |
| Beach in a Bottle | Water bottle, Sand, Miniature Beach Decor | Easy |
| Bottle Jewelry Holder | Water bottle, Paint, Glue | Medium |
| Bottle Piggy Bank | Water bottle, Paper, Glue, Paint | Easy |
| Bottle Snow Globe | Water bottle, Miniature Decor, Glitter, Glycerin | Medium |
| Bottle Plant Holder | Water bottle, Paint, Soil, Seeds | Easy |
| Bottle Wind Chime | Several water bottles, paint, string | Hard |
DIY Water Bottle Crafts Name & Materials
Key Takeaway
DIY water bottle crafts provide a creative and beneficial way to re-use old plastic bottles, promoting recycling and sustainability.
These crafts can serve multiple purposes, such as home decoration, storage solutions, garden accessories, and even children's toys.
Engaging oneself in DIY water bottle crafts can not only ignite creativity but also foster mindfulness and relaxation.
Even children can take part in simple water bottle crafts, which supports their motor skill development and understanding of environmental responsibility.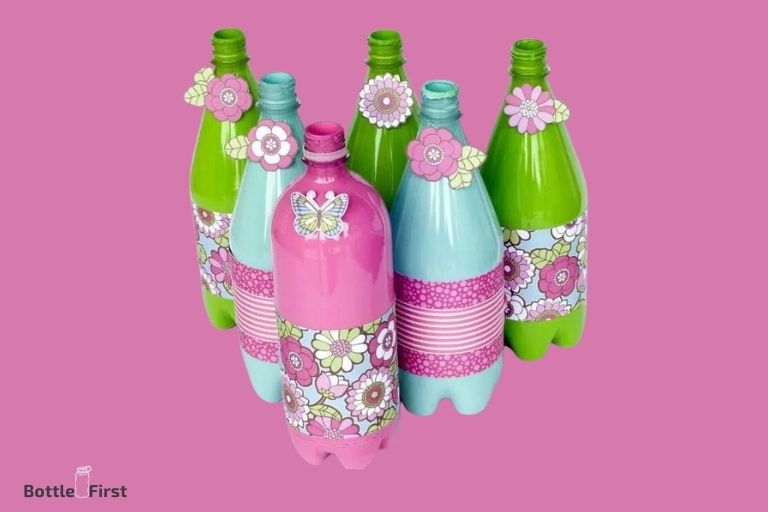 Five Facts About Diy Water Bottle Crafts
DIY water bottle crafts make use of plastic bottles that might otherwise end up in landfills, contributing to reducing waste. The EPA estimates that only about 9% of plastic waste is recycled (source: EPA).
Some ideas for these crafts include bird feeders, planters, beautiful decorative lanterns, and even functional storage containers (source: DIYCraftsy).
Apart from being a sustainable practice, the creation of these crafts can serve as a therapeutic activity, helping to reduce stress and anxiety, and enhance mood (source: American Art Therapy Association).
One of the most popular DIY water bottle crafts for children is making a sensory bottle, which can aid in their emotional regulation (source: Child Mind Institute).
DIY water bottle crafts not only help in reusing plastic but also in saving money, as most of these crafts require minimal or no additional material, reducing the need for store-bought items (source: MoneyCrashers).
Why Diy Water Bottle Crafts Are Trending
Water bottle crafts are becoming increasingly popular as more people realize the potential of upcycling and repurposing everyday items.
With a little creativity and some simple supplies, you can transform used water bottles into beautiful decorative pieces or functional items.
But why exactly are diy water bottle crafts trending? Let's explore the key reasons:
Environmentally Friendly Crafts
Recycling and reducing waste: Diy water bottle crafts help divert plastic bottles from landfills, contributing to a cleaner and healthier environment.
Promoting sustainability: By repurposing single-use plastic bottles, you are reducing the demand for new materials and supporting a more sustainable lifestyle.
Raising awareness: Engaging in these crafts can serve as a reminder of the impact of plastic waste on our planet, inspiring others to make greener choices.
Cost-Effective Creativity
Budget-friendly: Water bottle crafts require minimal financial investment, making them an excellent choice for those seeking affordable creative outlets.
Accessible materials: Water bottles are widely available and can be easily sourced, making them convenient for diy projects.
Multifunctionality: From vases to storage containers, water bottle crafts offer a wide range of possibilities for practical household items at a fraction of the cost of store-bought alternatives.
Unique And Personalized Designs
Customization: Crafting with water bottles allows for endless possibilities of personalization. You can paint, cut, or decorate them to match your individual style and preferences.
Handmade charm: Diy crafts add a touch of uniqueness and originality to your space, setting it apart from mass-produced items.
Gift options: Creating one-of-a-kind water bottle crafts presents an opportunity to make thoughtful and personalized gifts for loved ones.
So, if you're looking for an eco-friendly, cost-effective, and creative way to spend your time, diy water bottle crafts are definitely worth exploring.
Whether you're a seasoned crafter or just starting, the endless possibilities and positive impact on the environment make them a trending choice.
So, grab those empty water bottles and let your imagination run wild!
Essential Supplies For Diy Water Bottle Crafts
Diy Water Bottle Crafts
Are you looking for a fun and creative way to upcycle your old water bottles? Look no further! In this section, we will explore the essential supplies you'll need for your diy water bottle crafts.
From gathering the right tools to selecting the perfect water bottles, we'll cover everything you need to know to get started.
So, let's dive in!
Gather Your Tools
Before you begin your water bottle crafting journey, it's essential to gather the right tools. Here are some must-haves for your diy projects:
Scissors: A pair of sharp scissors will come in handy for cutting and shaping your water bottles.
Craft knife: For more intricate designs and precise cuts, a craft knife is a valuable tool to have.
Glue gun: A glue gun is perfect for securely attaching different materials to your water bottle creations.
Paintbrushes: If you plan on painting your water bottles, a set of paintbrushes of various sizes will be your best friend.
Hole punch: If you want to add decorative holes to your water bottles, a hole punch is a quick and easy way to achieve that.
Marker pens: Having a set of marker pens will allow you to add colorful designs and details to your diy crafts.
Selecting The Right Water Bottles
Choosing the right water bottles is key to the success of your diy projects.
Here are a few important factors to consider:
Plastic type: Look for water bottles made from pet plastic. Pet plastic is durable, easy to cut, and safe to use for crafting purposes.
Size and shape: Consider the size and shape of the water bottles based on your intended craft. Different projects may require different bottle sizes and shapes.
Transparency: If you plan on incorporating lights into your crafts, opt for transparent or semi-transparent water bottles. These will allow the light to shine through beautifully.
Additional Materials For Extra Flair
To take your water bottle crafts to the next level, consider adding some extra flair with additional materials.
Here are a few ideas:
Beads and sequins: Adding beads and sequins can provide a touch of sparkle and elegance to your creations.
Ribbons and fabric: Use ribbons and fabric pieces to create bows, adornments, or to wrap around the bottle for a decorative touch.
Buttons and charms: Buttons and charms can be attached to your water bottles to add personality and charm.
Glitter and gemstones: For a dazzling effect, sprinkle some glitter or glue gemstones onto your crafts.
Craft wire: Craft wire can be shaped and attached to your water bottles to create interesting patterns and designs.
With these essential supplies in hand, you're all set to begin your diy water bottle crafts. Get creative and let your imagination run wild as you transform ordinary water bottles into unique and beautiful works of art.
Happy crafting!
Creative Diy Water Bottle Crafts Ideas
Looking for creative ways to repurpose those empty water bottles lying around? Diy water bottle crafts are a fantastic way to reduce waste and unleash your creativity at the same time. From upcycled planters to stylish jewelry, there are endless possibilities to explore.
Join us as we dive into some inspiring ideas for diy water bottle crafts.
Upcycled Planters
Transforming water bottles into unique planters is a fun and eco-friendly way to bring a touch of nature into your home.
Here are some key points to consider:
Cut the top portion of the water bottle to create a planting vessel.
Decorate the outer surface with paint, washi tape, or decoupage for added flair.
Fill the planter with soil and plant your favorite herbs, succulents, or small flowers.
Hang the planters using twine or arrange them on a windowsill or shelf.
Stunning Vases
Give your water bottles a new lease on life by turning them into beautiful vases. Here's what you need to know:
Cut the bottom portion of the water bottle to create a stable base for your vase.
Experiment with different designs by painting, wrapping with colorful fabric, or gluing on decorative elements.
Fill the vases with fresh flowers, artificial blooms, or even use them as unique centerpiece holders.
Stylish Jewelry
Accessorize with one-of-a-kind jewelry made from recycled water bottles.
Check out these tips:
Cut the water bottle into thin strips, then shape and mold them to create unique pendants, earrings, and bracelets.
Add color and texture by painting or wrapping the strips with fabric, yarn, or metallic tape.
Combine different-sized strips to make layered pieces or incorporate other materials like beads or charms for additional flair.
Fun Games And Toys
Turn playtime into a sustainable and enjoyable experience with diy water bottle crafts for games and toys.
Here are some ideas:
Create a bowling set by filling water bottles with a little water or sand to add weight. Paint them and use a small ball to knock them over.
Make a sensory bottle by filling a water bottle with colorful liquids, glitter, or small objects that move around when shaken.
Construct a diy water rocket by attaching fins and a straw nozzle to a water bottle. Fill it with water, give it a good squeeze, and watch it soar into the sky.
Useful Organizers
Keep your space neat and organized with homemade organizers crafted from water bottles. Consider the following:
Cut water bottles in different sizes to create storage containers for pens, makeup brushes, or art supplies.
Customize the containers with paint, fabric, or decorative paper to match your decor.
Stack and arrange the containers to maximize space utilization and keep everything within easy reach.
Unleash your creativity and make a positive impact on the environment with these diy water bottle craft ideas.
From upcycled planters and stunning vases to stylish jewelry, fun games, and useful organizers, the possibilities are endless. Start transforming your empty water bottles into something extraordinary today!
Step-By-Step Instructions For Diy Water Bottle Crafts
Prepping Your Water Bottles
Before you embark on your diy water bottle crafts, it's important to prep your water bottles to ensure they are clean and ready for transformation.
Follow these steps to get started:
Gather your materials: Empty water bottles, dish soap, warm water, and a sponge or brush.
Remove any labels or stickers from the water bottles.
Fill a sink or basin with warm water and add a few drops of dish soap.
Place the water bottles in the soapy water and let them soak for a few minutes.
Use a sponge or brush to scrub the inside and outside of the water bottles, removing any dirt or residue.
Rinse the water bottles thoroughly with clean water to remove any soap residue.
Allow the water bottles to dry completely before moving on to the next step.
Cutting Techniques And Safety Tips
Now that your water bottles are prepped, it's time to unleash your creativity by cutting and shaping them into various forms.
Follow these techniques and safety tips to ensure a successful and safe diy water bottle craft session:
Choose the appropriate cutting tool depending on the desired outcome. Scissors are great for simple cuts, while craft knives or utility knives are ideal for more intricate designs.
Always cut on a stable surface such as a cutting mat or sturdy table to prevent accidents.
Start cutting from the bottom of the water bottle and work your way up, as this will provide stability.
Slow and steady wins the race – take your time and make careful, precise cuts.
If you're working with children, adult supervision is crucial to ensure their safety.
Dispose of any sharp edges or discarded plastic properly to avoid any injuries.
Assembling And Decorating
With your water bottles prepped and cut, it's time to assemble and decorate your diy creations. Follow these steps to bring your ideas to life:
Arrange the cut water bottle pieces according to your desired design, ensuring they fit together properly.
Use a hot glue gun or strong adhesive to secure the pieces in place. Apply the adhesive sparingly, as too much can create a messy appearance.
Get creative with paints, markers, or decorative elements to add life and color to your water bottle craft. Let your imagination run wild!
Allow the paint or glue to dry completely before moving on to the next step.
Finishing Touches And Design Tips
Now that you've assembled and decorated your water bottle craft, it's time to add those finishing touches and finesse.
Consider these design tips to elevate the overall look of your creation:
Experiment with different textures, such as adding fabric accents or using spray paint for a unique finish.
Incorporate other materials like ribbons, beads, or buttons to enhance the visual appeal.
Create patterns or designs by layering different colored water bottle pieces.
Play with lighting by puncturing small holes in the water bottle craft, allowing light to shine through for an ethereal effect.
Consider the purpose of your water bottle craft and design accordingly – whether it's a vase, lantern, or pencil holder, tailor the finishing touches to its intended function.
With these step-by-step instructions for diy water bottle crafts, you're now ready to unleash your creativity and transform simple plastic bottles into unique and awe-inspiring creations.
Remember to have fun, stay safe, and let your imagination guide you as you embark on this eco-friendly craft adventure.
Happy crafting!
Tips And Tricks For Diy Water Bottle Crafts
Are you looking for a fun and creative way to repurpose your empty water bottles? Diy water bottle crafts are not only environmentally friendly but also a great way to unleash your creativity.
Whether you're a seasoned crafter or just starting out, these tips and tricks will help you make the most out of your diy projects.
Cleaning And Maintaining
When it comes to water bottle crafts, proper cleaning and maintenance are essential to ensure your creations stay durable and last longer.
Here are some key points to keep in mind:
Start by thoroughly washing and drying the water bottles before you begin your craft project.
Use warm soapy water and a bottle brush to clean the inside of the bottles, and rinse them thoroughly.
To remove any stubborn residue, consider using a mixture of baking soda and vinegar.
Avoid using harsh chemicals or abrasive materials that may damage the plastic.
Regularly clean and dust your finished crafts to maintain their appearance and prevent dirt buildup.
Exploring Different Techniques And Designs
One of the best things about diy water bottle crafts is the endless possibilities for creativity. Here are some ideas to help you explore different techniques and designs:
Experiment with painting the bottles using acrylic or spray paint for a variety of vibrant colors.
Try cutting the bottles into different shapes and sizes to use as planters, vases, or storage containers.
Incorporate various crafting supplies like glue, glitter, beads, or ribbons to add texture and decoration to your projects.
Explore different crafting techniques such as decoupage, stenciling, or heat embossing to create unique designs.
Don't be afraid to think outside the box and let your imagination run wild with the possibilities.
Showcasing Your Diy Water Bottle Crafts
After putting in all the effort and creativity, it's time to showcase your diy water bottle crafts. Here are some tips to display and present your creations effectively:
Consider creating a dedicated space in your home to showcase your crafts, such as a shelf or a display cabinet.
Take high-quality photographs of your finished projects and share them on social media platforms or craft-related websites.
Participate in craft fairs or local community events to exhibit and sell your water bottle creations.
Make sure to properly label and describe your crafts to help others understand the unique features and techniques you've used.
Getting Inspired By Others' Creations
If you're feeling stuck or looking for new ideas, there's no shortage of inspiration when it comes to diy water bottle crafts.
Here's how you can find motivation from others' creations:
Explore online craft communities, blogs, and social media platforms dedicated to diy crafts using recycled materials.
Join online forums or groups where crafters share their water bottle creations and techniques.
Attend local craft workshops or join crafting classes to learn from experienced crafters.
Visit local art galleries or museums for inspiration beyond the craft world.
Potential Mistakes To Avoid
While diy water bottle crafts are fun and rewarding, there are a few common mistakes you should steer clear of.
Here are some potential pitfalls and how to avoid them:
Using overly sharp tools or not handling them safely can lead to injuries. Always prioritize your safety and use appropriate tools with caution.
Neglecting to clean or dry the water bottles thoroughly may result in mold or mildew growth on your finished crafts.
Rushing through the crafting process without proper planning and preparation may lead to mistakes or unsatisfactory results. Take your time and enjoy the creative process.
Using low-quality or incompatible materials can undermine the durability and longevity of your crafts. Invest in quality supplies to ensure the best results.
Missing out on opportunities to innovate and experiment with new techniques may limit your creativity. Don't shy away from trying something new and pushing your boundaries.
So, with these tips and tricks in mind, get ready to unleash your creativity and embark on your diy water bottle craft journey. The possibilities are endless, and your imagination is the only limit. Happy crafting!
What Are Some Easy DIY Ideas for Decorating Mineral Water Bottles?
Looking to add a personal touch to your mineral water bottles? Here are some easy diy mineral water bottle steps for decorating. Transform them into unique vases by wrapping them with colorful yarn or twine. Create a coastal-themed centerpiece by filling the bottles with sand, seashells, and small driftwood pieces. Get creative with paints and stencils to add intricate designs or opt for a simple ombre effect using spray paint.
FAQ About Diy Water Bottle Crafts
How Do You Make Diy Water Bottle Crafts?
To make diy water bottle crafts, gather empty plastic bottles, clean them thoroughly, and use them creatively to create various craft projects. Paint, glue, and scissors are also recommended tools.
What Are Some Easy Diy Water Bottle Craft Ideas?
Some easy diy water bottle craft ideas include making a bird feeder, a flower vase, or a pencil holder. You can also create a decorative lantern or a piggy bank using recycled plastic bottles.
What Materials Do You Need For Water Bottle Crafts?
To make water bottle crafts, you'll need empty plastic bottles, scissors or craft knife, glue, paint or markers, and any other decorative materials you want to use, such as beads or ribbons.
Can I Recycle Plastic Water Bottles For Diy Crafts?
Yes, you can recycle plastic water bottles for diy crafts. Instead of throwing them away, reuse them creatively to reduce waste and make unique and eco-friendly crafts.
How Can Water Bottle Crafts Be Beneficial For Kids?
Water bottle crafts can be beneficial for kids as they promote creativity, improve motor skills, and encourage recycling. These activities also provide a fun and productive way to engage children during their free time.
Conclusion
Whether you're looking to minimize waste or just get creative, diy water bottle crafts are an excellent way to repurpose and have fun.
These crafts offer endless possibilities for creating unique and practical items using plastic water bottles. From colorful flower vases to imaginative planters, there is something for everyone.
Not only are these crafts a great way to add a personal touch to your home, but they also promote sustainability by reducing plastic waste.
By engaging in diy water bottle crafts, you can tap into your artistic side while also making a positive impact on the environment.
So, why not give it a try? Start collecting those empty water bottles, gather some art supplies, and let your creativity flow. Transforming something as simple as a water bottle into a functional piece of art has never been more rewarding.
Get crafting today and unleash your inner artist!