How to Answer Sell Me This Water Bottle? 8 Easy Steps!
Welcome to the art of selling – a skill that requires a blend of persuasion, understanding, and a knack for highlighting the unique qualities of a product.
Today, we embark on the journey of selling a seemingly simple yet essential item: the water bottle. In a world of choices, convincing someone to buy a water bottle involves more than just showcasing its physical attributes.
It's about understanding the customer's needs, presenting practical benefits, and creating a connection that goes beyond the product itself.
Join me as we explore the steps to successfully answer the challenge: "Sell me this water bottle." Let's dive into the art of persuasion and salesmanship.
Key Takeaway
Understanding the key features and benefits of the water bottle is crucial in effectively selling it.
Craft compelling stories and scenarios that showcase the unique features and value of the water bottle, such as keeping drinks cold during hikes and reducing plastic waste.
Use persuasive language and techniques to emphasize the innovative technology, sleek design, and eco-friendly nature of the water bottle.
Close the sales pitch with a strong call to action, highlighting the benefits of staying hydrated, reducing plastic waste, and the convenience of the water bottle for an on-the-go lifestyle.
Crafting a Persuasive Pitch – Selling the Water Bottle
Step 1 – Highlight Unique Features:
Begin by showcasing the water bottle's distinctive features. Whether it's a sleek design, durable material, or a special lid mechanism, emphasize what sets it apart from others in the market.
Step 2 – Address Practical Benefits: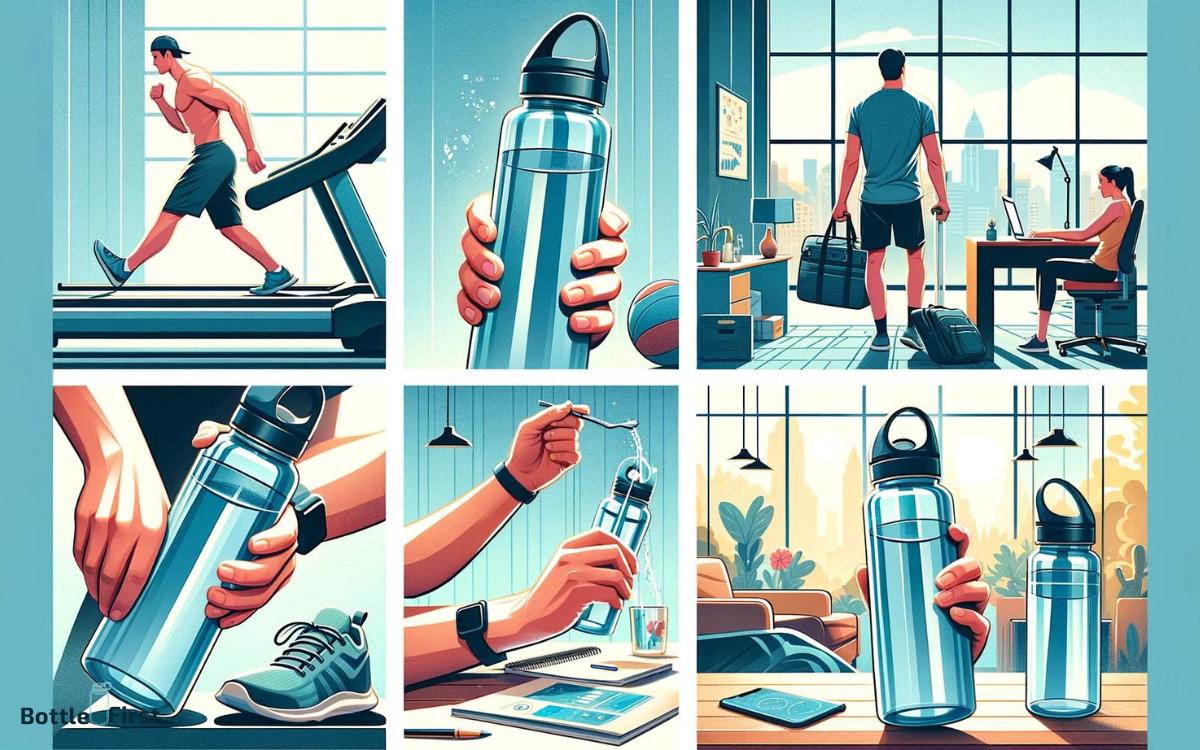 Connect the features to practical benefits. For example, if the bottle has double-wall insulation, emphasize how it keeps beverages cold for an extended period, making it perfect for on-the-go hydration.
Step 3 – Know Your Customer: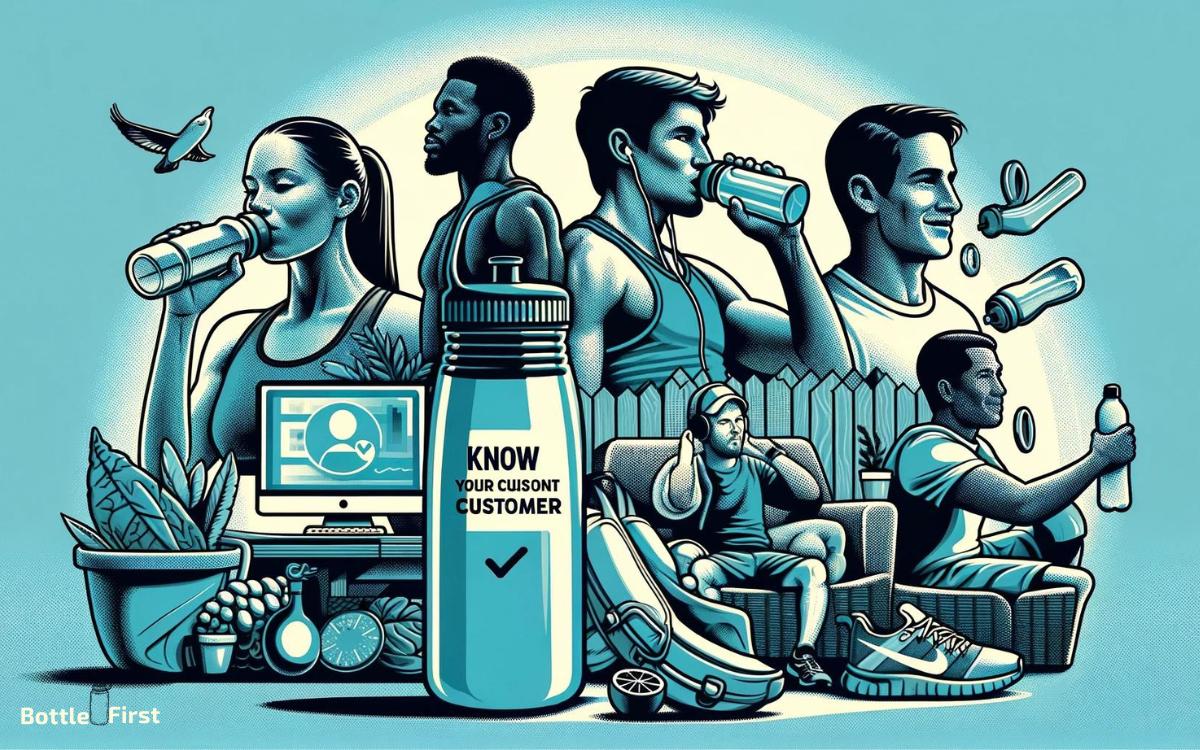 Understand the customer's needs. If they value sustainability, emphasize the bottle's eco-friendly materials. If they prioritize convenience, highlight the bottle's spill-resistant design or easy-to-carry features.
Step 4 – Create a Personal Connection: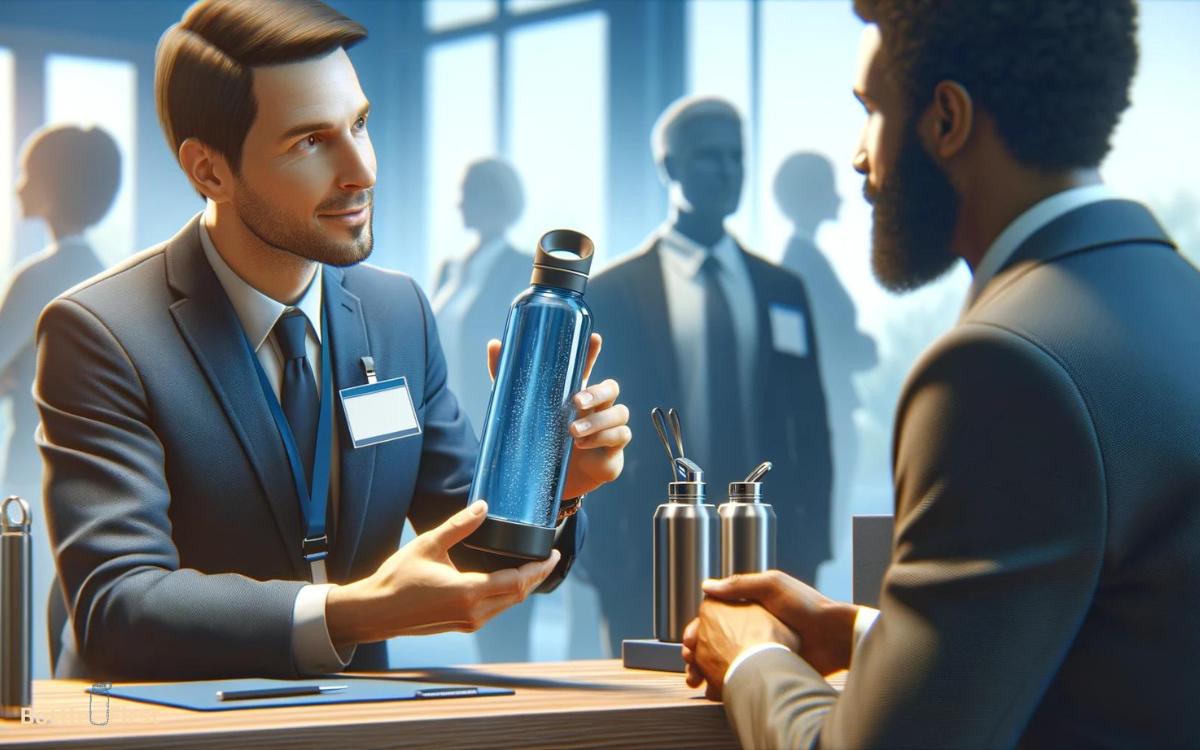 Share a personal anecdote or a story about the water bottle. This could be about how it has positively impacted your own hydration routine or how it's a favorite among other satisfied customers.
Step 5 – Address Concerns Proactively: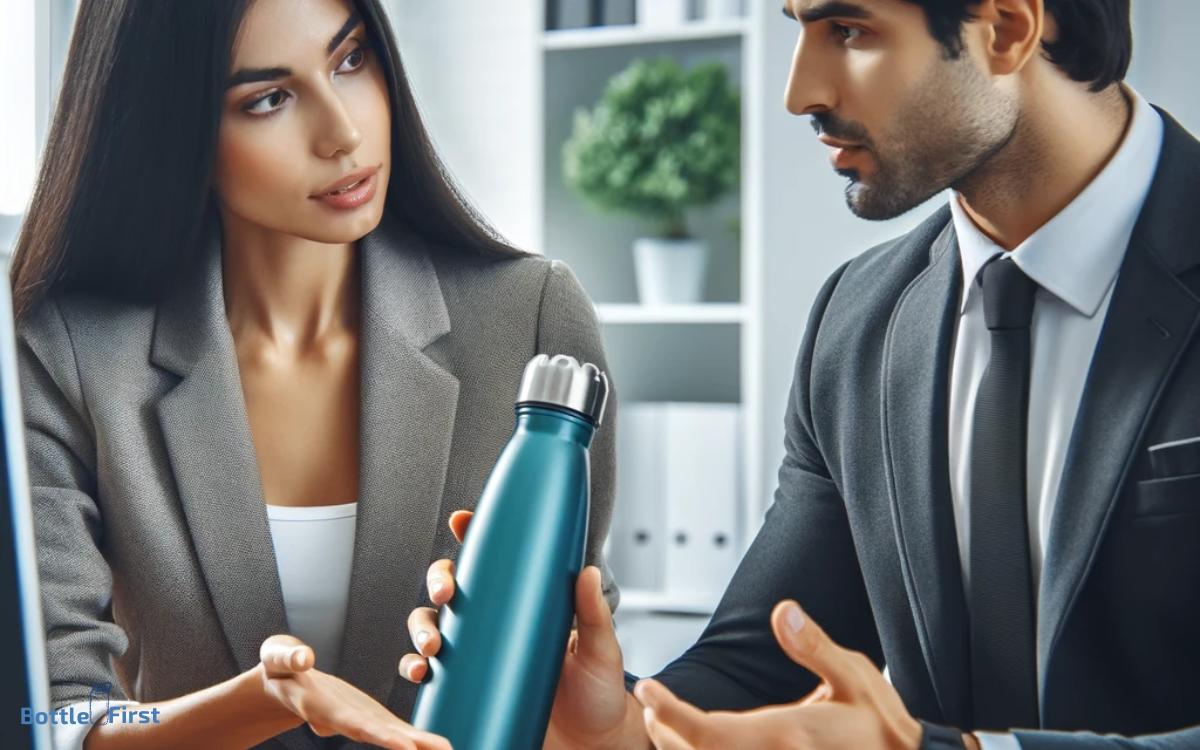 Anticipate potential concerns the customer might have, such as price or comparison to other brands. Be prepared to explain the value they're getting and how it outweighs any potential drawbacks.
Step 6 – Demonstrate Usage:
Physically demonstrate the water bottle. Show how easy it is to open and close, highlight any unique functionalities, and allow the customer to feel the quality of the materials.
Step 7 – Offer a Special Deal: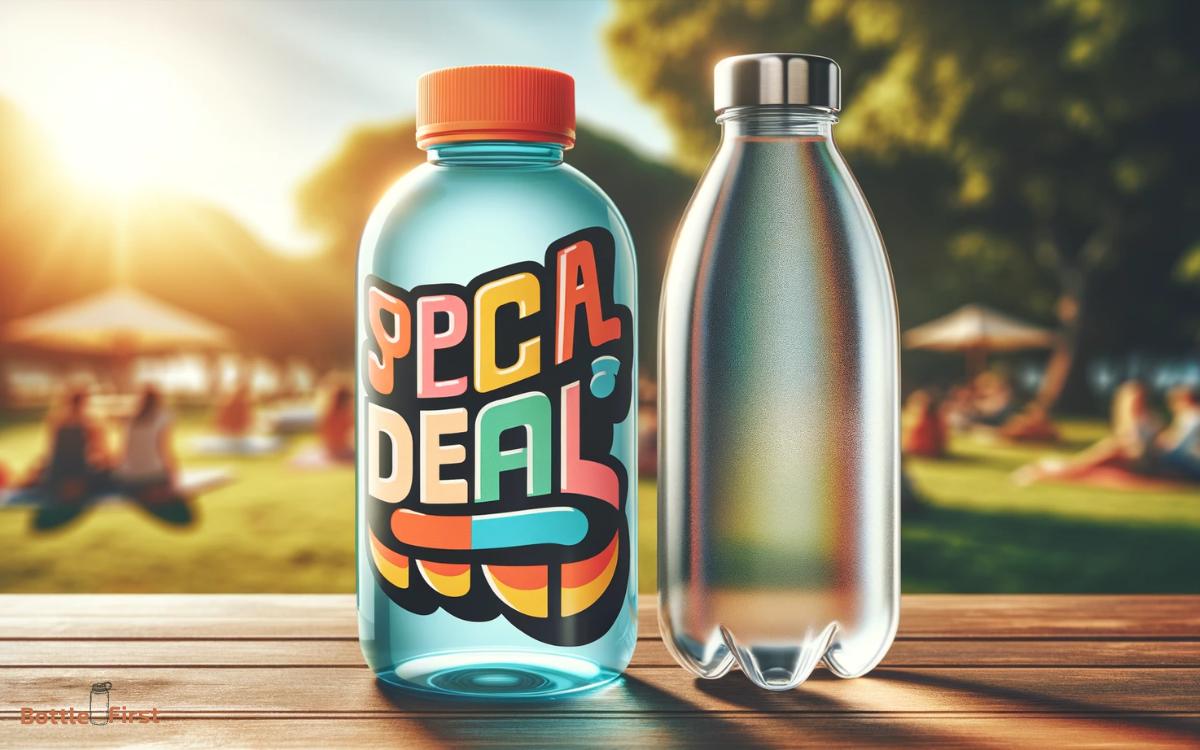 Sweeten the deal by offering a limited-time discount, a buy-one-get-one promotion, or any other special offer. This creates a sense of urgency and encourages the customer to make a decision.
Step 8 – Close with Confidence:
As you conclude, express confidence in the product and its ability to meet the customer's needs. Ask for the sale directly and be prepared to address any final questions or hesitations.
Understand the Product's Unique Features
To effectively answer the prompt 'Sell me this water bottle,' it is crucial to have a comprehensive understanding of the product's distinctive attributes.
This water bottle is not just an ordinary container for hydration; it is a revolutionary innovation designed to meet the needs of the modern, health-conscious individual.
With its sleek and ergonomic design, this water bottle is not only aesthetically pleasing but also practical and convenient.
The bottle is made from high-quality, BPA-free materials, ensuring the safety and purity of the water you consume.
Its double-walled insulation keeps your drink cold for hours, making it perfect for those on the go. The leak-proof lid and wide mouth offer easy access and hassle-free sipping.
Identify the Customer's Needs and Desires
To effectively identify the customer's needs and desires when responding to the prompt 'Sell me this water bottle,' it is essential to understand their preferences and requirements.
Innovation is key when it comes to appealing to an audience that desires innovation. Start by asking questions to gauge their lifestyle and activities. Are they an athlete, a traveler, or someone who prioritizes sustainability?
Understanding their specific needs and desires will allow you to tailor your approach and highlight the features of the water bottle that are most relevant to them. For example, if they are an athlete, emphasize the durability and spill-proof design. If they are a traveler, highlight the compact and lightweight nature of the bottle.
Highlight the Benefits of Using the Water Bottle
Continuing the discussion from the previous subtopic, let us now delve into the benefits that arise from utilizing this water bottle.
This innovative water bottle offers numerous advantages that cater to the needs and desires of our discerning customers.
Firstly, its ergonomic design ensures a comfortable grip, making it easy to carry around during workouts or while traveling.
Secondly, the bottle is made from high-quality, BPA-free materials, ensuring the safety and purity of the drinking water.
The bottle's leak-proof seal prevents any spills or leaks, providing convenience and peace of mind. The bottle is equipped with a built-in filter that purifies the water, removing impurities and enhancing its taste.
Lastly, the sleek and modern design of the bottle adds a touch of sophistication to any setting.
With these compelling benefits, our water bottle stands out as the perfect choice for those seeking innovation, functionality, and style.
Create a Compelling Story or Scenario
Crafting a compelling story or scenario is an essential skill in sales. By using storytelling techniques, salespeople can engage their customers on an emotional level, making the product more memorable and desirable.
Impactful scenarios for selling the water bottle could include describing how it keeps drinks cold during a hike on a scorching summer day or how it helps to reduce plastic waste by encouraging reusable alternatives.
Storytelling Techniques for Sales
One effective storytelling technique for sales is to create a vivid and engaging scenario that highlights the benefits of the water bottle.
Imagine yourself on a hiking trip in the wilderness, surrounded by breathtaking landscapes and fresh air. As you climb higher, your thirst intensifies, and you reach for your trusty water bottle.
The innovative design keeps the water cool and refreshing, quenching your thirst instantly. Its durable material withstands the rugged terrain, ensuring it won't break or leak.
With a convenient built-in filter, you can confidently drink from any water source, knowing it's clean and safe. This water bottle is not just a hydration tool, but an essential companion on your adventurous journey.
It embodies innovation, reliability, and convenience, providing you with the ultimate outdoor experience.
Impactful Scenarios for Selling
To further enhance the sales pitch for the water bottle, it is essential to create impactful scenarios that captivate potential customers and demonstrate the product's value.
By presenting compelling stories or scenarios, we can effectively showcase the innovative features and benefits of our water bottle.
Here is an example of how our product can make a difference:
| Scenario | Customer Benefit |
| --- | --- |
| Imagine you're hiking in the mountains on a hot summer day. The scorching sun is draining your energy, and you're desperately in need of hydration. Suddenly, you remember that you have our water bottle with you. Its double-walled insulation keeps your drink ice-cold, refreshing you instantly. You take a sip, feeling revitalized and ready to conquer the trail ahead. | Stay hydrated and refreshed even in the most challenging outdoor situations. |
Impactful Scenarios for Selling
Crafting Compelling Narratives
A compelling narrative can be created by illustrating the transformative power of our water bottles in real-life situations.
Imagine yourself on a challenging hike, feeling exhausted and dehydrated. Suddenly, you come across a crystal clear stream, but you have nothing to drink from. That's where our innovative water bottle comes in.
With its advanced filtration system, it allows you to safely drink from any water source, turning contaminated water into clean, refreshing hydration.
Not only does it keep you hydrated, but it also eliminates the need for single-use plastic bottles, reducing waste and protecting the environment. Picture yourself in a crowded airport, surrounded by overpriced bottled water.
With our water bottle, you can confidently fill it up at any water fountain, saving money and staying hydrated on your journey.
Our water bottle is not just a container, it's a tool for empowerment, convenience, and sustainability.
Use Persuasive Language and Techniques
When attempting to sell a water bottle, it is essential to employ persuasive language and techniques to effectively convince potential buyers.
To evoke an emotional response in the audience, consider the following bullet points:
Hydration Reinvented: Our water bottle features innovative technology that keeps your drink cold for up to 24 hours, ensuring a refreshing experience even in the hottest weather.
Sleek and Stylish Design: Our water bottle combines form and function, with a sleek and modern design that will make a statement wherever you go.
Sustainable and Eco-Friendly: By choosing our water bottle, you are making a conscious choice to reduce single-use plastic waste and contribute to a greener future.
Convenience at Your Fingertips: With a leak-proof lid and easy-to-carry handle, our water bottle is designed for your on-the-go lifestyle, ensuring you stay hydrated wherever you are.
Close the Sales Pitch With a Call to Action
To effectively close the sales pitch and prompt potential buyers to take action, it is crucial to provide a compelling call to action that highlights the benefits of purchasing our water bottle.
Our innovative water bottle is designed with cutting-edge technology that keeps your water cold for up to 24 hours and hot for up to 12 hours.
By investing in our product, you are not only ensuring that you stay hydrated throughout the day, but also reducing your carbon footprint by eliminating the need for single-use plastic bottles.
Don't miss out on the opportunity to experience the convenience and sustainability our water bottle offers.
Take action now and join the growing number of individuals who are making a positive impact on the environment while enjoying the benefits of our innovative product.
Conclusion
In conclusion, by understanding the unique features of the water bottle and identifying the customer's needs, desires, and benefits of using it, one can create a compelling story or scenario using persuasive language and techniques.
By applying these strategies, one can effectively sell the water bottle, leaving the customer with a strong call to action.
The persuasive and knowledgeable style of writing used in this process ensures a successful sales pitch.