How to Clean a Cirkul Water Bottle
A Cirkul water bottle is a fantastic companion for staying hydrated on the go, but to keep it in top shape and ensure the purity of your drinking water, regular cleaning is essential.
In this guide, we'll walk you through the simple and effective steps to clean your Cirkul water bottle.
By following these instructions, you can maintain the cleanliness and freshness of your water bottle, providing you with a continuous supply of safe and delightful hydration.
Let's dive into the process of cleaning your Cirkul water bottle for a worry-free and enjoyable drinking experience.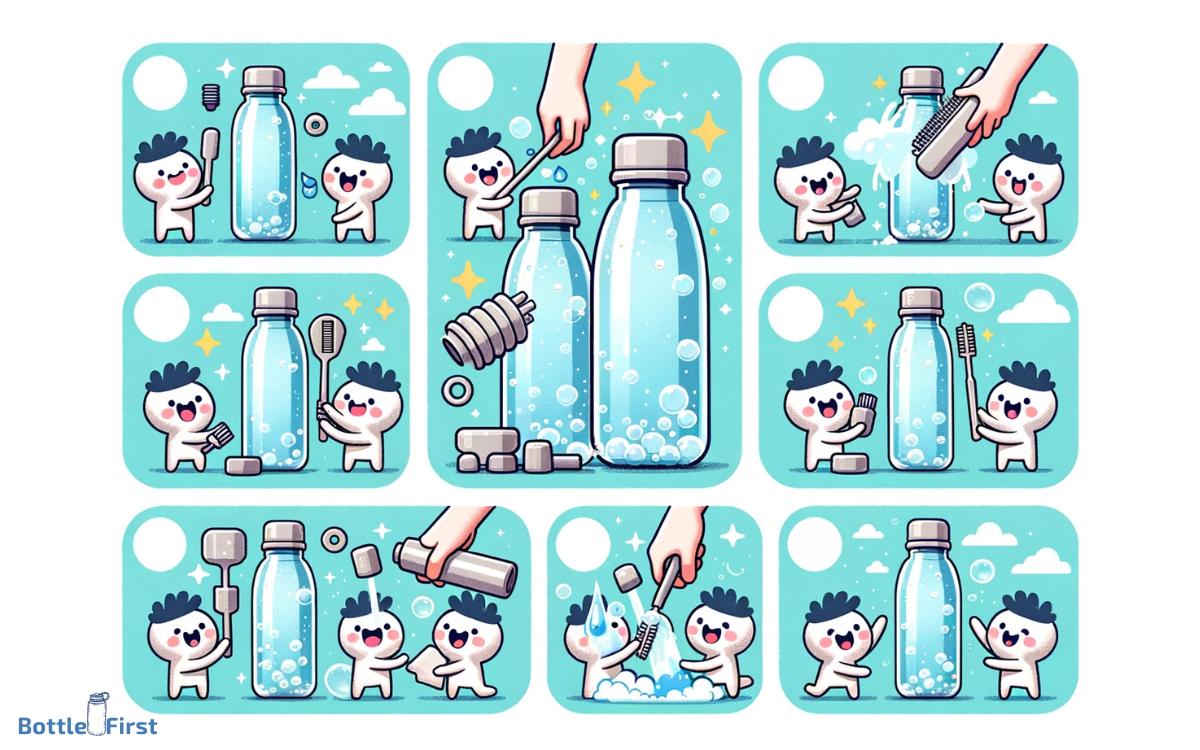 Essential Steps to Clean Your Cirkul Water Bottle
Step 1: Gather Your Supplies
Before you begin, make sure you have the following items ready:
Cirkul water bottle
Dishwashing liquid
Warm water
Cleaning brush or bottle brush
Dish rack or drying rack
Step 2: Empty the Bottle
Ensure that your Cirkul water bottle is empty. If there's any remaining liquid, pour it out safely and dispose of it.
Step 3: Disassemble the Components
If your Cirkul water bottle has multiple components, such as a filter or straw, disassemble them according to the manufacturer's instructions. This will make it easier to clean each part thoroughly.
Step 4: Rinse with Warm Water
Rinse the bottle and its components with warm water. This helps remove any loose debris and residue from the interior and exterior of the bottle.
Step 5: Create a Soapy Solution
Fill a basin or your sink with warm water and add a few drops of dishwashing liquid. Mix the solution to create soapy water.
Step 6: Scrub the Bottle
Use a cleaning brush or bottle brush to scrub the interior of the Cirkul water bottle. Pay special attention to areas that are harder to reach. Don't forget to scrub the cap, mouthpiece, and any other components as well.
Step 7: Rinse Thoroughly
After scrubbing, rinse all parts of the water bottle and its components with warm water. Ensure that no soap residue remains.
Step 8: Air Dry
Place the Cirkul water bottle and its components on a dish rack or drying rack to air dry completely. Make sure it's dry before reassembling and using it again.
Regularly cleaning your Cirkul water bottle using these steps will help keep it free from germs and ensure that your water stays refreshing and safe.
Always follow the manufacturer's guidelines for specific cleaning instructions, and enjoy your clean and healthy hydration on the go.
Tips for Maintaining a Cirkul Water Bottle Hygiene
Regularly cleaning and maintaining your Cirkul water bottle is essential for ensuring that it remains hygienic and safe for use.
Proper hygiene practices help prevent the growth of bacteria, mold, and other harmful substances that could cause odors or pose health risks.
Rinse your bottle after every use
Clean the bottle, lid, and sipping attachment thoroughly
Dry each component separately
Store the bottle properly
Sanitizing Tablets or Solutions (if applicable)
Sanitizing tablets or solutions are valuable tools for maintaining hygiene and cleanliness in a variety of environments.
These products come in the form of tablets or liquid solutions and are designed to kill or inhibit the growth of bacteria, viruses, and other harmful microorganisms.
They are widely used in healthcare facilities, restaurants, and households to sanitize surfaces, equipment, and even water.
These sanitizing agents are essential for preventing the spread of infections and ensuring a safe and healthy environment.
Sanitizing tablets and solutions are used to eliminate harmful microorganisms, including bacteria and viruses.
They are available in tablet form, as concentrated solutions, or ready-to-use formulations.
Common applications include sanitizing surfaces, utensils, and equipment in healthcare settings, restaurants, and homes.
Some sanitizing solutions are also used to treat drinking water and make it safe for consumption.
Effective against a wide range of pathogens, sanitizing agents help prevent the spread of infections.
Common active ingredients in sanitizing solutions include chlorine, hydrogen peroxide, and quaternary ammonium compounds.
Proper usage and concentration are critical for achieving effective sanitization without harm to humans or the environment.
Boiling Water Method (if applicable)
The "Boiling Water Method" is a straightforward technique used in various contexts, primarily in the kitchen, but also in science experiments and everyday tasks.
This method involves heating water until it reaches its boiling point, which is 100 degrees Celsius (212 degrees Fahrenheit at sea level).
Here's a brief paragraph and a bullet list outlining the key points of the Boiling Water Method:

The Boiling Water Method is a fundamental process that entails heating water until it reaches its boiling point, typically at 100 degrees Celsius (212 degrees Fahrenheit at sea level).
This method is widely employed in cooking, scientific experiments, and various household activities due to its simplicity and versatility.
Boiling water is a crucial step in preparing countless dishes, such as pasta, rice, and vegetables, and it is also utilized to sterilize equipment, conduct scientific experiments, and make hot beverages like tea or coffee.
Boiling water is a fundamental technique involving the heating of water to its boiling point.
The boiling point of water is 100 degrees Celsius (212 degrees Fahrenheit at sea level).
Widely used in cooking to prepare items like pasta, rice, and vegetables.
Essential for sterilizing equipment and utensils in laboratories and healthcare settings.
Boiling water is a key component in scientific experiments involving phase changes and chemical reactions.
Used for making hot beverages, including tea, coffee, and hot chocolate.
It plays a crucial role in many household tasks, such as cleaning and sanitizing.
Conclusion
In conclusion, cleaning and maintaining a Cirkul water bottle is easy and important for safe and healthy hydration.
By regularly washing the bottle with soap and water, disinfecting it with bleach or vinegar, and keeping it dry and odor-free, users can prevent harmful bacteria and mold from forming.
Additionally, using Cirkul's cleaning tablets and replacing the filter as needed can further ensure the cleanliness and longevity of the bottle.
By practicing these simple steps, Cirkul water bottle owners can enjoy fresh and safe hydration every day.
FAQ
How often should I clean my Cirkul Water Bottle?
You should clean your Cirkul Water Bottle at least once a week with warm, soapy water and then rinse well with clean water.
What kind of soap should I use to clean my Cirkul Water Bottle?
You should use a mild dish soap that is free of fragrances and chemicals to clean your Cirkul Water Bottle.
Can I put my Cirkul Water Bottle in the dishwasher?
No, it is not recommended to put your Cirkul Water Bottle in the dishwasher as it may cause damage to the bottle.
How should I dry my Cirkul Water Bottle after cleaning?
After cleaning with soap and water, you should dry your Cirkul Water Bottle with a soft, lint-free cloth or paper towel.
Do not place the bottle in the microwave to try to speed up the drying process.