How to Cut Open a 5 Gallon Water Jug? 6 Easy Steps!
To cut open a 5-gallon water jug, you will need a sharp utility knife or a box cutter, safety gloves, and goggles.
Here are some quick steps:
Clean the jug thoroughly to remove any residues or contaminants.
Place the jug on a stable, flat surface.
Mark the line where you want to cut with a permanent marker.
Wear safety gloves and goggles to protect your hands and eyes.
Carefully score the marked line with the utility knife, applying even pressure.
Continue scoring along the line until you've cut through the plastic.
Smooth out any rough edges with sandpaper if necessary.
Cutting open a 5-gallon water jug can be done for various purposes, such as creating a storage container, a planter, or a tool caddy.
Transform your 5-gallon water jug with precision and safety, repurposing it into a useful item in just a few steps.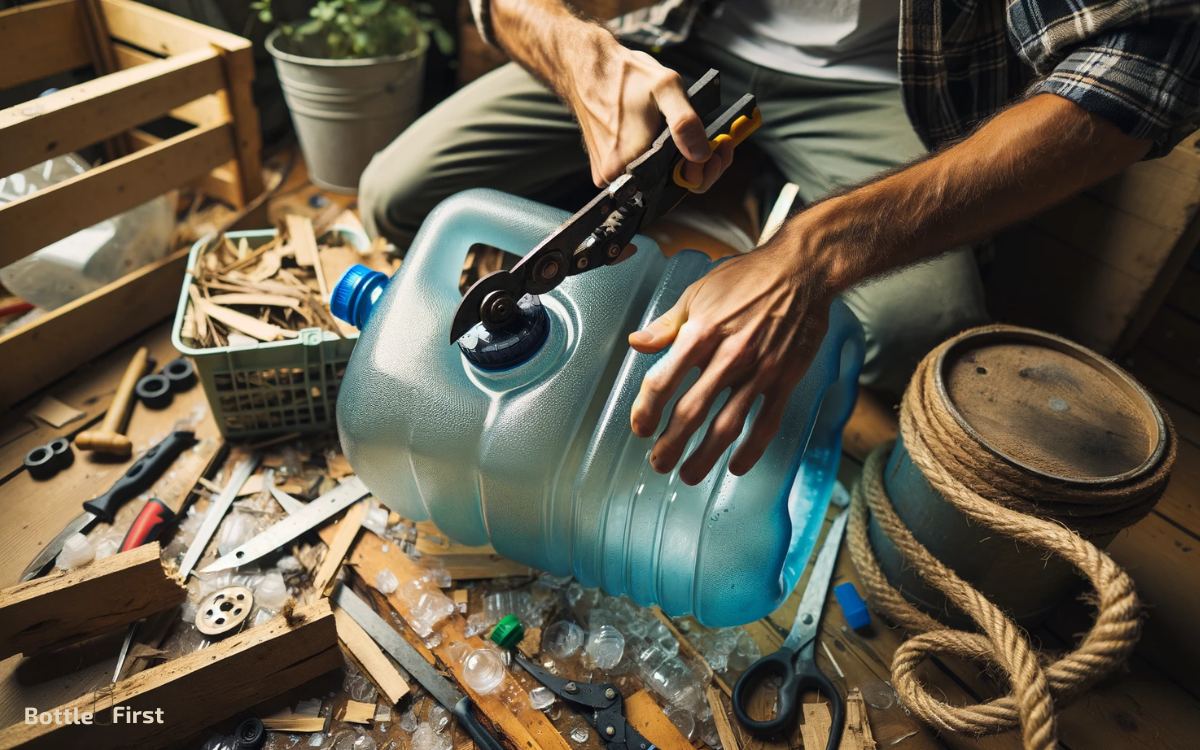 Key Takeaway
Gathering the necessary tools and materials is essential before starting the cutting process.
Preparing the 5-gallon water jug by inspecting, cleaning, and drying it ensures a safe and effective cutting process.
Choosing the right cutting method based on the material of the jug and prioritizing safety is crucial.
Cutting along the marked lines with a steady hand and applying consistent pressure helps achieve a smooth and even cut.
Gather the Necessary Tools and Materials
You'll need to gather up the tools and materials before you can start cutting open a 5-gallon water jug. First, grab a utility knife with a sharp blade to ensure a clean cut.
Make sure to have a sturdy pair of gloves to protect your hands from any sharp edges. Additionally, have a marker on hand to outline the cut you'll be making.
It's also essential to have a measuring tape to ensure accurate dimensions for your cut. Lastly, have a flat surface to work on, such as a workbench or table, to provide a stable and secure area for cutting.
Step 1: Prepare the 5 Gallon Water Jug for Cutting
To prepare the 5-gallon water jug for cutting, follow these steps:
Inspect the Jug: Check the jug for any cracks, leaks, or damage that may affect the cutting process.
Clean the Jug: Wash the jug thoroughly with soap and water to remove any dirt, debris, or contaminants.
Dry the Jug: After cleaning, ensure the jug is completely dry before proceeding to cut it open.
With these preparations, you'll be ready to safely and effectively cut open the 5-gallon water jug.
Step 2: Choose the Right Cutting Method
How can you determine the most suitable cutting method for opening the 5-gallon water jug after ensuring its cleanliness and dryness?
The cutting method you choose will depend on the type of material the jug is made of.
For plastic jugs, a utility knife or box cutter works well. Simply score the jug along the marked lines and then apply pressure to cut through.
For glass jugs, a glass cutter or rotary tool with a diamond cutting wheel is recommended. Score the jug along the marked lines, and then carefully apply pressure to make a clean cut.
Always prioritize safety when selecting a cutting method, and be sure to wear protective gloves and eyewear, especially when dealing with glass jugs.
Once you've chosen the appropriate cutting method, you can proceed to cut along the marked lines.
Step 3: Cut Along the Marked Lines
Using a utility knife or box cutter, score the jug along the marked lines, and then apply pressure to cut through if you're dealing with a plastic jug. This will ensure a clean and precise cut along the intended lines.
Here are some additional tips to help you achieve the best results:
Maintain a steady hand: Keep the knife or cutter aligned with the marked lines to prevent any deviation during the cutting process.
Hold the jug firmly in place: This will provide stability and prevent any unnecessary movement while cutting.
Apply consistent pressure: Gradually increase the pressure as you cut along the marked lines to ensure a smooth and even cut.
Step 4: Smooth and Refine the Edges
Smoothing and refining the edges of the cut 5-gallon water jug can be achieved by sanding the rough areas with fine-grit sandpaper.
After cutting along the marked lines, you may notice some sharp or jagged edges. To make the edges safe to handle and give your project a more professional look, use sandpaper to smooth them out.
Hold the sandpaper firmly and work in a circular motion, focusing on the areas that are the roughest. Keep sanding until the edges feel smooth to the touch. Be careful not to apply too much pressure, as this could cause the plastic to warp.
Once the edges are smooth, wipe away any plastic dust and your 5-gallon water jug will be ready for use.
Step 5: Consider Safety Precautions
When handling the cut 5-gallon water jug, ensure that you wear protective gloves to prevent any accidental cuts or injuries. This simple precaution can go a long way in ensuring your safety.
In addition to wearing gloves, consider the following safety precautions:
Eye Protection: Always wear safety goggles to protect your eyes from any flying debris or plastic particles during the cutting process.
Stable Work Surface: Place the jug on a stable and secure work surface to prevent any unnecessary accidents or spills.
Proper Tools: Ensure that you use the appropriate tools for cutting, such as a sharp utility knife or a fine-toothed saw, to minimize the risk of accidents due to using the wrong equipment.
Step 6: Repurpose Your Cut-Open Water Jug
After considering safety precautions, you can now explore creative ways to repurpose your cut-open water jug.
One clever idea is to turn it into a DIY watering can for your garden. Simply attach a spout to the opening you cut and voila! You have a functional and eco-friendly watering can.
Another option is to repurpose it as a storage container for pet food, birdseed, or even as a makeshift compost bin.
If you're feeling crafty, you can transform it into a bird feeder by adding perches and filling it with birdseed.
Alternatively, you can repurpose it as a container for collecting rainwater, which can then be used to water your plants.
The possibilities are endless, so get creative and give your cut-open water jug a new lease on life!
Conclusion
Now that you've learned how to cut open a 5-gallon water jug, you can unleash the potential within it like cracking open a treasure chest.
With the right tools and methods, you can transform a simple jug into something new and useful.
So go ahead, grab that jug, and let your creativity flow as you repurpose it into something amazing!