How to Grow Weed in Water Bottle? The Ultimate Guide
To grow weed in a water bottle, you primarily need a healthy cannabis seed, a clean water bottle, purified water, nutrients, and a grow light.
The simplified steps involve germinating the seed, placing it in the water bottle, adding nutrient solution, maintaining optimal light and temperature conditions, and monitoring the pH of the water regularly.
Growing weed in a water bottle is a form of hydroponics, which is a technique of cultivating plants without soil. This method uses water enriched with nutrients as the medium for plant growth.
It's a space-saving and resource-efficient way to grow cannabis, especially for personal use.
It allows better control over various growth parameters leading to higher yields and faster growth than traditional soil cultivation.
Hydroponic method reduces the risk of soil-borne diseases and pests.
Water bottles serve as an efficient and cost-effective container for plant growth.
Nutrients are directly absorbed from water leading to faster growth.
pH of the water needs to be regularly monitored and adjusted for optimal plant health.
When you grow weed in a water bottle, you are essentially utilizing the principles of hydroponics.
The plant's roots are submerged in a nutrient-rich water solution, providing all the necessary elements for growth directly.
This method not only accelerates the growth process, but it also increases the yield due to more efficient nutrient absorption.
It's important to remember that maintaining the correct pH and nutrient levels in the water is crucial for the plant's health and productivity.
Steps for Growing Weed in a Water Bottle
| Steps | Description |
| --- | --- |
| 1. Preparation | Make sure you have all the necessary items: water bottle, marijuana seeds, rockwool cubes, net pot, nutrient solution, light source, and pH level tester. |
| 2. Cleaning the Bottle | Clean the water bottle thoroughly to avoid contamination. |
| 3. Filling up the Bottle | Fill the bottle with nutrient solution. Make sure to leave some space at the top. |
| 4. Preparing the Seeds | Germinate your marijuana seeds in the rockwool cubes until they sprout tiny roots. |
| 5. Inserting the Seeds | Insert the sprouted seeds in the net pot and place the net pot on the top of the bottle. |
| 6. Lighting | Provide your plant with the right amount of light. Generally, it needs 18 hours of light and 6 hours of darkness each day. |
| 7. Monitoring pH Level | Regularly check the pH level of the solution. It should be around 5.5 to 6.5. |
| 8. Observing Growth | Observe the growth of your plant. In about 3-4 weeks, it should enter the vegetative stage. Keep monitoring until the flowering stage. |
| 9. Harvesting | Depending on the strain, you can harvest your plant after 8-12 weeks of flowering. |
Steps for Growing Weed in a Water Bottle
Key Takeaway
Growing weed in a water bottle is a possible method of cultivation which uses limited space and resources, making it an accessible approach for beginners.
This method involves hydroponics, a cultivation approach that substitutes traditional soil with nutrient-rich water, leading to faster plant growth.
It's crucial to use the right nutrients and maintain the correct pH levels in the water to ensure the healthy growth of the weed.
Regular monitoring and adjustment are required as the plant consumes the dissolved nutrients and alters the pH of the water.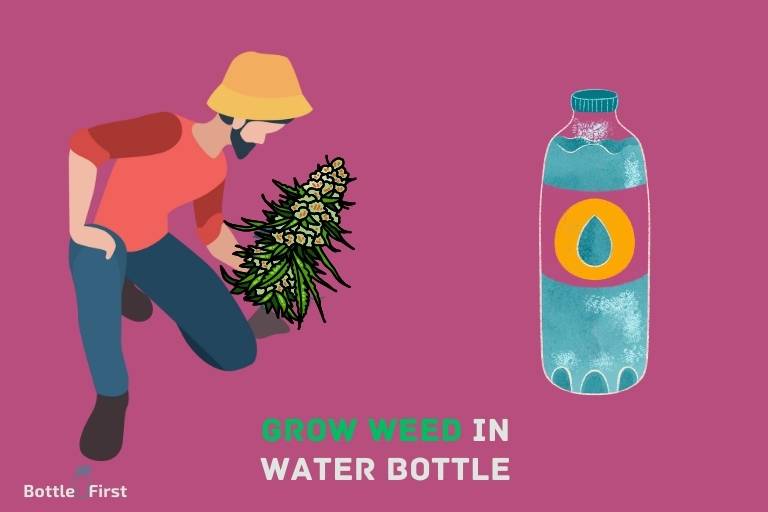 Five Interesting Facts About Growing Weed in a Water Bottle
Hydroponics, the method used to grow weed in a water bottle, can result in quicker growth and higher yields compared to traditional soil-based cultivation. (Source: Maximum Yield)
The method suitable for growing weed in a water bottle is known as the 'Deep Water Culture' (DWC) system. Here, the plant roots are suspended in nutrient-rich, oxygenated water. (Source: High Times)
Dissolved oxygen is a critical component for the growth of weed in water, with poor oxygen levels leading to the slow growth of the plant and possible diseases. (Source: Leafly)
The pH level of water for growing weed should ideally be between 5.5 to 6.5. An imbalance in the pH can cause nutrient deficiencies, leading to stunted growth. (Source: The Weed Blog)
The key to successful growth is a balance of light, temperature, nutrients, and pH level. This method of growth needs careful supervision and regular adjustments. (Source: Grow Weed Easy)
Choosing The Right Water Bottle For Growing Weed
Growing weed in a water bottle can be an inexpensive and convenient way to cultivate your own plants. However, not all water bottles are suitable for this purpose.
To ensure successful growth, it's important to choose the right water bottle that meets the specific needs of your plants.
Here are some key points to consider when selecting a water bottle for growing weed:
Consider The Size And Shape Of The Water Bottle
Size matters: The size of the water bottle will determine how many plants you can grow and the available space for their root systems. A larger bottle will allow for more plants, but it may also require more maintenance and nutrients. Consider the space you have available and the number of plants you intend to grow before selecting the size of your water bottle.
Shape considerations: The shape of the water bottle can also impact the plant's growth. A cylindrical bottle provides more surface area for the roots to spread, while a square or rectangular bottle may restrict the root growth. Think about the available space and choose a water bottle shape that optimizes the root development of your plants.
Look For A Bottle With A Wide Opening
Easy access: When growing weed in a water bottle, it's important to have easy access to the plants for watering, pruning, and other maintenance tasks. Look for a bottle with a wide opening to facilitate these activities. This will not only make your gardening experience more enjoyable but also promote healthy growth for your plants.
Proper ventilation: A wide opening also allows for better airflow within the water bottle, which is crucial for the overall health and longevity of your plants. Adequate ventilation helps reduce the risk of mold or mildew growth and ensures that your plants receive enough fresh air.
Room for light exposure: A bottle with a wide opening allows natural or artificial light to reach the plant's leaves, ensuring proper photosynthesis. Light exposure is essential for the plant's growth and the production of healthy buds. Choose a water bottle with a wide opening to provide ample room for light penetration.
Ensure The Bottle Is Made From A Safe Material
Safety first: It's crucial to choose a water bottle made from a safe material to prevent any chemical leaching that could harm your plants. Avoid bottles made of plastic that contains harmful chemicals like bpa. Look for bottles labeled as bpa-free or choose alternative options such as glass or stainless steel.
Consider transparency: Opt for a transparent water bottle that allows you to monitor the water level and the root growth of your plants without the need to open the bottle. Being able to observe the roots will help you make informed decisions about watering and nutrient requirements.
Durability and reusability: Select a water bottle that is durable and can withstand regular use. This will ensure that your plants have a stable environment throughout their growth cycle. Additionally, choosing a reusable water bottle is an eco-friendly choice that reduces waste.
By considering the size and shape, opting for a bottle with a wide opening, and ensuring it is made from a safe material, you can choose the right water bottle for growing weed.
Remember, the success of your plants relies on a suitable environment, so make an informed choice when selecting your water bottle.
Happy growing!
Preparing The Water Bottle For Growing Weed
Growing weed in a water bottle can be a convenient and cost-effective way to cultivate your own supply.
When it comes to preparing the water bottle for growing weed, there are a few key steps you need to follow to ensure success.
In this section, we'll walk you through the process, covering everything from cleaning the bottle thoroughly to decorating it to prevent light exposure.
Clean The Water Bottle Thoroughly
Before you begin growing weed in a water bottle, it's important to clean the bottle thoroughly to create a clean and hygienic environment for your plants.
Here are the key points to keep in mind:
Use hot, soapy water to wash the bottle inside and out. Make sure to remove any labels or stickers.
Rinse the bottle thoroughly to remove any soap residue.
Sanitize the bottle by soaking it in a mixture of one part bleach to ten parts water for about 10 minutes.
Rinse the bottle again to remove any traces of bleach.
Allow the bottle to air dry completely before moving on to the next step.
Create Drainage Holes In The Bottom Of The Bottle
Proper drainage is essential for the health of your plants, as it prevents water from accumulating and causing root rot.
Here's how you can create drainage holes in the bottom of the bottle:
Using a sharp knife or scissors, carefully pierce several small holes in the bottom of the bottle. Aim for about four to six evenly spaced holes.
Make sure the holes are large enough to allow excess water to drain out but small enough to prevent soil from escaping.
It's a good idea to place a tray or saucer underneath the bottle to catch any water that drains out, preventing mess and water damage.
Decorate The Bottle To Prevent Light Exposure
Light exposure can disrupt the growth cycle of your plants and negatively affect their development. To prevent this, you can decorate the bottle to block out light.
Consider the following:
Use black or opaque paint to cover the outside of the bottle, ensuring that no light can penetrate through.
Alternatively, you can wrap the bottle in aluminum foil or black duct tape.
It's important to cover the entire bottle, leaving no gaps or areas exposed to light.
Remember to leave the top of the bottle uncovered to allow for air circulation.
By following these steps, you'll be well on your way to preparing your water bottle for growing weed.
From cleaning the bottle thoroughly to creating drainage holes and blocking out light, these measures will help create an optimal environment for your plants to thrive.
So, roll up your sleeves and get ready to embark on your water bottle weed-growing adventure!
Creating An Ideal Growing Environment In The Water Bottle
Growing weed in a water bottle may sound unconventional, but it can be an effective and affordable way to cultivate your own plants.
To ensure successful growth, it's crucial to create an ideal growing environment within the bottle. Paying attention to factors such as soil, seedlings, and lighting will help your plants thrive.
Fill The Bottle With Nutrient-Rich Soil Or Growing Medium
Choose a high-quality soil or growing medium that is rich in nutrients. This will provide the necessary foundation for your plants to flourish.
Ensure that the soil is well-draining to prevent waterlogging, which can lead to root rot.
Use organic options whenever possible to promote healthier growth and minimize the use of artificial chemicals.
Fill the water bottle halfway with the soil or growing medium, leaving enough space for root development and adequate water circulation.
Plant The Weed Seeds Or Seedlings In The Bottle
Start with either weed seeds or seedlings, depending on your preference and expertise. Seedlings offer a head start, while seeds provide a more hands-on experience from the beginning.
Create small holes in the soil or growing medium using your finger or a small tool, making sure they are deep enough for proper root growth.
Place the seeds or seedlings gently into the holes, carefully covering them with soil or growing medium.
Water the newly planted seeds or seedlings to ensure proper hydration. Avoid overwatering, as excessive moisture can negatively impact growth.
Provide Adequate Lighting For The Growing Plants
Place the water bottle in a location where it will receive sufficient light for the plants to thrive.
If natural sunlight is limited, consider using artificial lighting, such as fluorescent or led grow lights.
Ensure that the lights are positioned at the proper distance from the plants to avoid heat damage or light burn.
Maintain a consistent light schedule for your plants, providing them with around 18 hours of adequate lighting each day during the vegetative stage. Once they enter the flowering stage, reduce the lighting period to around 12 hours.
Monitor the temperature around the water bottle to prevent overheating or extreme cold, as both can negatively impact plant growth.
Creating an ideal growing environment within the water bottle is crucial for the successful cultivation of weed plants.
By filling the bottle with nutrient-rich soil or growing medium, planting the seeds or seedlings properly, and providing adequate lighting, you are setting the stage for healthy and bountiful growth.
Keep a close eye on the plants and make adjustments as needed to create the optimal conditions for your cannabis cultivation.
With patience and care, you'll be rewarded with your very own homegrown stash.
Maintaining The Water Bottle Garden
A successful water bottle garden requires proper care and maintenance to ensure the healthy growth of your weed plants.
By following a few key steps, you can ensure that your plants receive the necessary care and attention they need to thrive.
Water The Plants Regularly, But Avoid Overwatering
To keep your water bottle garden flourishing, it is essential to provide adequate water to your weed plants.
Here are important points to keep in mind:
Monitor soil moisture: Use your finger to check the moisture levels of the soil. Water the plants when the top inch of the soil feels dry to the touch.
Watering schedule: Establish a regular watering schedule to maintain consistency. Consider watering the plants every 2-3 days, adjusting the frequency based on the specific needs of your plants.
Proper drainage: Ensure that your water bottles have drainage holes at the bottom to prevent waterlogging. Excessive moisture can lead to root rot and other plant diseases.
Optimal watering technique: Water the root area directly to give your plants access to essential nutrients. Avoid watering the foliage or the stems as this can invite pests and diseases.
Monitor The Temperature And Humidity Levels Inside The Bottle
To create a favorable environment for your weed plants, you need to maintain suitable temperature and humidity levels within the water bottle garden.
Consider the following:
Ideal temperature: Weed plants thrive in temperatures between 70-85°f (21-29°c). Ensure that your water bottle garden is placed in a location that provides consistent, moderate temperatures.
Humidity control: Aim for a humidity level of around 50-60% in the water bottle garden. You can use a hygrometer to monitor the humidity levels and make adjustments as necessary.
Ventilation: Proper airflow is crucial to prevent the growth of mold and mildew. Place the water bottle garden in a well-ventilated area, allowing fresh air to circulate.
Prune And Train The Plants To Promote Healthy Growth
Regular pruning and training of your weed plants are vital for encouraging healthy growth and maximizing your harvest.
Here's what you need to know:
Pruning: Remove any dead or yellowing leaves to maintain the overall health of the plant. Additionally, trim crowded areas to improve air circulation and prevent the spread of diseases.
Training techniques: Consider using techniques like topping, bending, and tying to promote lateral growth and a fuller canopy. This helps maximize the number of bud sites and increases overall yield.
Remember, creating a successful water bottle garden requires dedication and consistent care.
By following these guidelines for regular watering, maintaining optimal temperature and humidity levels, and practicing proper pruning and training techniques, you'll be well on your way to growing healthy and robust weed plants in your water bottle garden.
Harvesting And Enjoying Your Homegrown Weed
Growing your own weed in a water bottle can be a rewarding and cost-effective way to enjoy your favorite strains.
In our previous sections, we discussed how to set up your diy hydroponic system and nurture the plants to maturity.
Now, it's time to learn about harvesting and enjoying your homegrown weed. Let's dive in!
Monitor The Plants For Signs Of Readiness To Harvest
Observe the trichomes: The trichomes, tiny crystals on the buds, will change in color as the plant nears readiness. Use a magnifying glass to examine them closely. When trichomes turn from clear to milky or amber, it's time to harvest.
Check the pistils: The pistils are the hair-like structures on the buds. They will change color from white to a reddish-brown as the plant matures. Harvest when at least 50-70% of the pistils have darkened.
Inspect the buds: Mature buds will appear dense, fully developed, and sticky to the touch. Look for well-formed colas with vibrant colors. Avoid harvesting prematurely to maximize potency and yield.
Cut And Dry The Harvested Weed Properly
Prepare your tools: Before harvesting, gather a pair of clean, sharp scissors or pruners, as well as gloves to protect your hands. Ensure your tools are sanitized to prevent contamination.
Harvest the plants: Carefully cut the branches just above the main stem, leaving a small amount of stem attached. Avoid touching the buds excessively to prevent trichome damage.
Trim excess foliage: Remove any large leaves that surround the buds. This will enhance airflow and promote even drying.
Hang the branches: Hang the branches upside down in a dark, well-ventilated area with low humidity. Maintain a temperature of around 60-70°f (15-21°c) for optimal drying.
Dry thoroughly: Allow the buds to dry for 7-14 days or until the stems snap when bent. Proper drying enhances the flavor and prevents mold growth.
Store The Weed In A Secure And Appropriate Container For Future Use
Choose the right container: Opt for airtight containers made of glass or ceramic. Avoid plastic containers that may affect the taste and potency of your weed.
Remove excess air: Fill the chosen container with the harvested buds, leaving a small amount of space at the top. Seal the container tightly to minimize air exposure.
Store in a cool, dark place: Keep your container in a location away from direct sunlight, heat, and humidity. A cool, dark cupboard or drawer works best for long-term storage.
Monitor for moisture: Regularly check the container for any signs of excess moisture or mold. If necessary, remove the buds, allow them to air dry, and then return them to the container.
Enjoy responsibly: Remember to consume your homegrown weed responsibly and in accordance with local laws and regulations. Start with small doses and gradually increase if needed.
Growing weed in a water bottle can be a fun and rewarding experience.
By carefully monitoring the plants, harvesting at the right time, and properly storing your harvest, you can enjoy the fruits of your labor for months to come.
Happy growing and happy toking!
Can the Same Method Used to Grow Plants in Water Bottles be Applied to Growing Weed?
When it comes to growing weed, some may wonder if the same method used to grow plants with water bottles can be applied. While it is possible to utilize water bottles as a growing medium for plants, growing weed involves specific requirements and techniques. Therefore, it is not advisable to apply the exact same method to grow weed using water bottles.
FAQ About How To Grow Weed In Water Bottle
Can You Really Grow Weed In A Water Bottle?
Yes, you can grow weed in a water bottle using a hydroponic system. It's a simple and effective method.
How Do You Set Up A Hydroponic System In A Water Bottle?
To set up a hydroponic system in a water bottle, you'll need a few basic supplies like a water bottle, nutrient solution, and growing medium.
Follow these steps to create your system.
What Are The Advantages Of Growing Weed In A Water Bottle?
Growing weed in a water bottle has several advantages, including its compact size, portability, and ability to control the nutrient solution easily.
It's also a great option for beginners.
Is It Legal To Grow Weed In A Water Bottle?
The legality of growing weed varies from country to country and state to state. Before starting, make sure to research and comply with the laws in your area.
How Long Does It Take To Grow Weed In A Water Bottle?
The time it takes to grow weed in a water bottle can vary depending on factors like the strain you're growing, the growing conditions, and your experience.
On average, it takes around 8 to 12 weeks for the plants to be ready for harvesting.
Conclusion
Growing weed in a water bottle is an innovative and cost-effective solution for many home gardeners.
With a few simple steps, you can create a thriving and discreet garden right in your own home.
By utilizing the hydroponic method, your plants will experience accelerated growth and produce higher yields.
The compact nature of the water bottle allows for easy placement and minimal space requirements.
Additionally, the diy aspect of this method provides a sense of satisfaction and accomplishment for those who enjoy hands-on projects.
Remember to choose the right strains, provide adequate nutrition and lighting, and monitor the ph levels to ensure optimal growth.
Whether you are a beginner or an experienced gardener, growing weed in a water bottle presents an exciting opportunity to cultivate your own cannabis plants and enjoy the benefits they provide.
Happy gardening!