How to Make a Biodegradable Water Bottle? 8 easy Steps
Making a biodegradable water bottle involves certain steps such as gathering raw materials like agar-agar powder and water, creating a mixture, shaping the bottle using a bottle-shaped mold, and allowing it to cool and harden.
These biodegradable bottles are eco-friendly alternatives to traditional plastic bottles that contribute to environmental pollution.
To make a biodegradable water bottle, you first need to source your main ingredient, which is agar-agar powder.
This powder is derived from red algae and is often used in cooking as a thickening agent.
After sourcing your agar-agar powder, you must mix it with water to form a jelly-like substance.
Then, pour this mixture into a bottle-shaped mold and let it cool to form the shape of the bottle. After it has hardened, your biodegradable water bottle is ready to be used.
Biodegradable water bottles can be made using agar-agar powder.
These bottles are eco-friendly, reducing plastic waste.
The production process involves mixing agar-agar powder with water, pouring the mixture into a mold, and cooling it.
Agar-agar powder, derived from red algae, is the main ingredient.
Biodegradable water bottles present an environmentally friendly alternative to regular plastic bottles.
As they are made from natural substances like red algae, they can decompose naturally without leaving behind harmful residues.
This makes them a sustainable choice for hydration needs, contributing significantly to efforts towards environmental conservation.
8 Steps of Using a Biodegradable Water Bottle
| Steps | Description | Materials Needed |
| --- | --- | --- |
| 1 | Gather Materials | Agar-Agar powder, Tap water, Stove, Pan, Spoon, Bottle-shaped mold |
| 2 | Prepare the Solution | Add 2 grams of agar-agar powder for every 100 ml of water. |
| 3 | Heat the Solution | Put the solution on a stove, and heat it until the agar-agar completely dissolves. |
| 4 | Pour the Solution | Pour the solution into the bottle-shaped mold while it is still hot. |
| 5 | Cooling period | Let it cool at room temperature and then place it in the refrigerator. |
| 6 | Demold | Once it has completely cooled and solidified, gently remove the biodegradable water bottle from its mold. |
| 7 | Final touch | Smooth the edges and surfaces as needed. |
| 8 | Use | Fill with water and use it. Remember that the bottle will start to decompose as soon as it comes in contact with heat, so it's best for one-time use only. |
8 Steps of Using a Biodegradable Water Bottle
Key Takeaway
The production of biodegradable water bottles can significantly reduce plastic waste and environmental pollution.
Biodegradable bottles can be made from various natural resources including algae and plant cellulose.
The making process of such bottles is generally more complex than regular plastic bottles, but it is highly beneficial for the environment.
With more research and advancements in technology, it is hoped that the production cost and time can be reduced further to make biodegradable bottles more accessible and mainstream.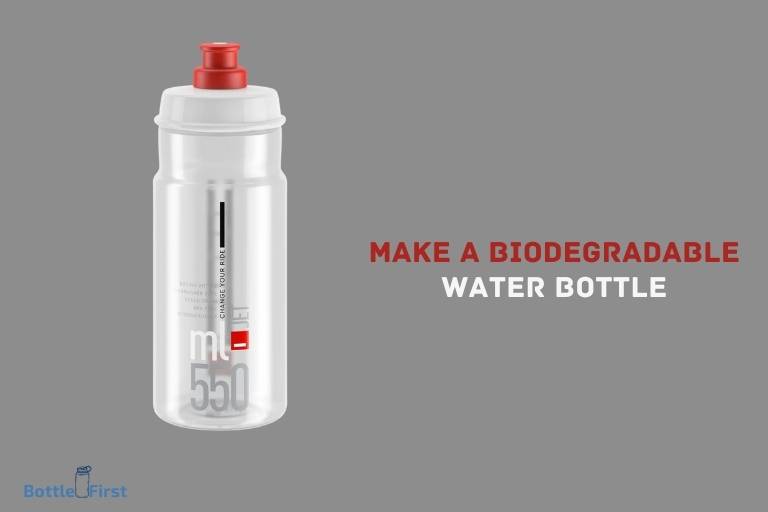 Five Reasons to Use a Biodegradable Water Bottle
A biodegradable water bottle is made from natural materials that decompose into the environment, causing less harm than traditional plastic bottles. (source: Business Insider)
One method to create a biodegradable bottle is using algae. The algae is harvested, dried, and ground into a powder, which can then be made into a bottle. This eliminates the need for plastics derived from fossil fuels. (source: One Green Planet)
Another innovative method for making biodegradable bottles is by using plant cellulose. These bottles are strong, durable and completely compostable. (source: Business Insider)
The process of making biodegradable bottles requires more time, effort, and sometimes a higher cost compared to regular plastic bottles. However, the environmental benefits outweigh these hurdles. (source: Environmental Protection Agency (EPA))
The increased implementation of biodegradable bottles could drastically reduce plastic waste worldwide, which currently accounts for approximately 8 million metric tons of plastic that enters the ocean each year. (source: National Oceanic and Atmospheric Administration (NOAA))
Understanding The Biodegradable Water Bottle
Biodegradable water bottles are an innovative solution to the growing concern of plastic pollution.
These bottles are designed to break down naturally over time, reducing their impact on the environment.
In this section, we will delve deeper into what a biodegradable water bottle is, the materials and technology used in their production, and the benefits of using them.
So, let's get started!
What Is A Biodegradable Water Bottle?
Biodegradable water bottles are made from materials that can decompose naturally and return to the environment without causing harm.
Unlike traditional plastic bottles, which can take hundreds of years to break down, biodegradable bottles have a much shorter lifespan.
These bottles are created using eco-friendly processes that minimize the use of harmful chemicals and reduce carbon emissions.
Materials And Technology Used In Making Biodegradable Bottles
Biodegradable water bottles are typically made from plant-based materials such as cornstarch, sugarcane, or algae.
Some companies also use innovative technologies like bacterial fermentation to produce biodegradable plastics.
The manufacturing process involves blending these materials with water and other additives to create a liquid form, which is then molded into the desired bottle shape.
By choosing renewable and sustainable materials, biodegradable bottles help reduce our reliance on fossil fuels and promote a more circular economy.
Benefits Of Using Biodegradable Water Bottles
Environmental impact: Biodegradable water bottles significantly reduce plastic waste, as they break down into harmless components with minimal impact on ecosystems.
Improved recycling: These bottles can be recycled alongside traditional plastics, making it easier for consumers to participate in recycling initiatives.
Lower carbon footprint: The production process for biodegradable bottles emits fewer greenhouse gases compared to traditional plastics, helping to mitigate climate change.
Corporate responsibility: Companies that invest in biodegradable water bottles demonstrate their commitment to sustainability and environmental stewardship.
Consumer appeal: With increased awareness and concern about environmental issues, using biodegradable bottles can attract environmentally conscious consumers.
By understanding the concept of biodegradable water bottles, their materials, technology, and benefits, we can make informed decisions when it comes to choosing more eco-friendly alternatives.
With their reduced environmental impact and potential to reduce plastic pollution, biodegradable water bottles offer a promising solution to the global plastic crisis.
Let's embrace the future of sustainable packaging and contribute to a healthier planet, one bottle at a time.
Step-By-Step Guide To Making A Biodegradable Water Bottle
Making your own biodegradable water bottle can be a rewarding and eco-friendly project.
By following a few simple steps, you can create a bottle that is not only functional but also environmentally friendly. Let's dive into the process!
Gathering The Necessary Materials And Tools
Before getting started, gather the following materials and tools:
Agar powder: This natural and biodegradable substance will serve as the base for your bottle.
Water: You'll need water to create the agar mixture.
Mold: Find a mold or container in the shape and size you want your water bottle to be.
Spoon or whisk: Use a spoon or whisk to mix the agar powder with water.
Cooking pot: You'll need a pot to heat the agar mixture.
Stove: A stove or heat source is necessary for heating the agar mixture.
Optional: Coloring or flavoring agents can be added to the agar mixture for aesthetic purposes.
Preparing The Biodegradable Material
Now that you have all the necessary materials, it's time to prepare the biodegradable material for your water bottle:
Measure the right amount of agar powder according to the instructions on the packaging.
In a cooking pot, add water and heat it over medium heat until it reaches a boiling point.
Gradually add the measured agar powder to the boiling water while stirring continuously to avoid clumps.
Continue stirring for a few minutes until the agar powder is completely dissolved.
If desired, add coloring or flavoring agents to the mixture and stir well.
Remove the pot from the heat and let the mixture cool slightly until it thickens but is still pourable.
Molding The Bottle Shape
With the biodegradable mixture ready, it's time to mold it into the desired shape:
Place your mold or container on a flat surface.
Pour the thickened agar mixture into the mold, filling it to the desired level.
Gently tap the mold on the surface to remove any air bubbles and ensure even distribution of the mixture.
Allow the agar mixture to cool completely in the mold before proceeding to the next step
Once cooled, carefully remove the solidified agar from the mold.
Drying And Curing The Bottle
To ensure the durability of your biodegradable water bottle, it needs to be dried and cured properly:
Place the molded agar bottle in a well-ventilated area to dry completely. This process may take several days or weeks, depending on the thickness of the bottle.
Once dry, transfer the bottle to a dry and dark space to cure for an additional period. This will further harden the agar and enhance its strength and durability.
Regularly check the bottle during the curing process and rotate it to ensure even drying.
Testing The Biodegradability Of The Bottle
Now that your biodegradable water bottle is complete, it's important to test its biodegradability:
Bury a small section of the bottle in the soil or compost.
Monitor the bottle over time and observe how it breaks down. A truly biodegradable bottle should decompose within a reasonable timeframe.
Take note of how long it takes for the bottle to degrade and compare it to other biodegradable materials or standards.
By following this step-by-step guide, you can create your own biodegradable water bottle and make a positive impact on the environment. So go ahead and give it a try – mother nature will be proud of your efforts!
Tips For Maintaining And Using Biodegradable Water Bottles
Biodegradable water bottles are an excellent alternative to traditional plastic bottles as they are designed to break down naturally over time, resulting in reduced environmental impact.
However, to ensure their effectiveness and prolong their lifespan, it's important to follow a few key tips for maintaining and using these eco-friendly bottles.
Cleaning And Sanitizing The Bottle
Maintaining cleanliness and hygiene is essential to ensure the longevity and safe use of your biodegradable water bottle.
Here are some tips to keep in mind:
Rinse the bottle thoroughly with warm water after each use to remove any remaining liquid or residue.
Use a bottle brush to reach all corners and crevices, ensuring a thorough cleaning.
For a more thorough clean, create a cleaning solution using a mixture of warm water and mild dish soap.
Scrub the bottle and its cap using the cleaning solution and rinse well with water to remove all soap traces.
Air-dry the bottle completely before reusing or storing it to prevent the growth of mold or bacteria.
Avoiding Exposure To Extreme Temperatures
Biodegradable water bottles are generally heat-sensitive and can break down more quickly when exposed to extreme temperatures.
Here's how to protect your bottle:
Avoid leaving your biodegradable water bottle in direct sunlight or inside a hot car for prolonged periods. Excessive heat can accelerate the breakdown process and reduce the bottle's lifespan.
Similarly, exposing the bottle to extreme cold temperatures, such as freezing it, can also affect its structural integrity and overall performance.
Store your bottle in a cool and dry place, away from direct sunlight and temperature fluctuations, to maximize its lifespan and effectiveness.
Proper Disposal And Recycling Of The Bottle
When it's time to dispose of your biodegradable water bottle, it's important to do so responsibly.
Follow these guidelines for proper disposal and recycling:
Check if your local recycling facilities accept biodegradable plastics. If they do, make sure to dispose of your bottle in the appropriate recycling bin.
If your local recycling facilities do not accept biodegradable plastics, check if there are alternative drop-off locations or programs specifically designed for biodegradable products.
Some biodegradable bottles are designed to be compostable. If applicable, ensure that the bottle is composted according to the manufacturer's instructions.
Never dispose of your biodegradable water bottle in regular trash bins or litter it as it may still take a significant amount of time to break down if not treated in the right manner.
By following these tips for maintaining and using biodegradable water bottles, you can contribute to a cleaner environment while enjoying the convenience of a reusable water bottle.
Remember to stay mindful of cleaning, temperature exposure, and proper disposal practices to maximize the effectiveness and lifespan of your eco-friendly bottle.
Can the Same Cleaning Method Be Used for Biodegradable Water Bottles?
Can the same cleaning method be used for biodegradable water bottles? Yes, it is possible to clean a biodegradable water bottle without a brush. Simply fill it with warm soapy water, give it a good shake, and rinse thoroughly. This method will ensure a clean water bottle without brush, while also being eco-friendly.
FAQ About To Make A Biodegradable Water Bottle
How Can I Make A Biodegradable Water Bottle At Home?
To make a biodegradable water bottle at home, you can use materials like pla, pha, or pcl, which are biodegradable polymers. Mix the chosen polymer with water, heat it, and then mold it into the desired bottle shape. Finally, let it cool and dry before use.
What Are The Benefits Of Using Biodegradable Water Bottles?
Using biodegradable water bottles helps reduce the amount of plastic waste in landfills, oceans, and the overall carbon footprint. They break down naturally over time, reducing harm to the environment and wildlife.
How Long Does It Take For A Biodegradable Water Bottle To Decompose?
The time it takes for a biodegradable water bottle to decompose varies depending on the materials used and the environmental conditions. Typically, it takes anywhere from a few months to a few years for these bottles to fully break down.
Are Biodegradable Water Bottles Safe For Drinking?
Yes, biodegradable water bottles made from certified biodegradable polymers are safe for drinking. However, it's important to choose bottles that meet fda regulations and guidelines to ensure they are free from harmful chemicals.
Where Can I Dispose Of Biodegradable Water Bottles?
You can dispose of biodegradable water bottles by putting them in compost bins or sending them to recycling centers that accept biodegradable plastics. They should not be mixed with regular plastic waste as they require specific conditions to decompose effectively.
Conclusion
Making a biodegradable water bottle is an excellent option for reducing plastic waste and promoting a more sustainable future.
With the right materials and techniques, anyone can create an environmentally-friendly alternative to traditional plastic bottles.
By using materials such as bioplastics made from plant-based sources or algae, we can reduce our reliance on petroleum-based plastics and minimize their negative impact on the environment.
Additionally, incorporating biodegradable additives into the bottle's design can help accelerate decomposition processes, ensuring that the bottle breaks down naturally without leaving harmful residues behind.
Remember to properly dispose of biodegradable bottles in compost facilities to fully maximize their benefits.
By embracing biodegradable options, we are actively contributing to the fight against plastic pollution and taking steps towards a greener and more sustainable future.
Together, we can make a difference in preserving our planet for generations to come.