How to Make a Water Bottle Costume? 8 Easy Steps!
Creating a water bottle costume is a delightful and imaginative way to make a statement at costume parties or special events.
Whether you want to embody your favorite bottled water brand or get creative with a one-of-a-kind design, this guide will walk you through 8 easy steps to craft your very own water bottle costume.
With a few basic materials and a dash of creativity, you can construct a unique and attention-grabbing costume that will leave a lasting impression on everyone you meet.
Get ready to dive into the world of DIY costume making and showcase your originality with a homemade water bottle costume.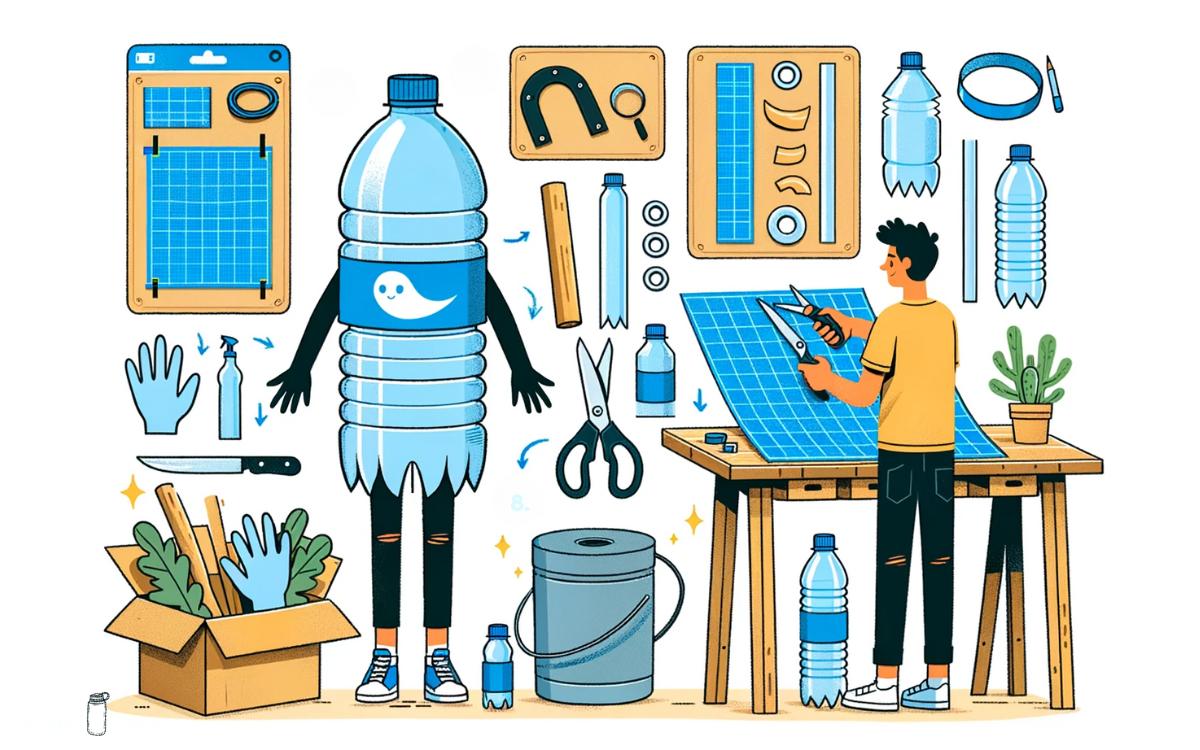 Crafting a Water Bottle Costume in 8 Simple Steps
Materials You'll Need
Before you get started, gather the following materials:
A large cardboard box
Scissors
Craft knife
Marker or pencil
Blue, green, or clear plastic tablecloth (for the label)
Glue or double-sided tape
Paints or markers (to decorate)
Shoulder straps (optional)
Ribbon or string (for hanging)
Step 1: Choose Your Design
Decide on the type of water bottle you want to replicate. It could be a classic water bottle or a fun and imaginative version. Sketch your design on a large piece of cardboard.
Step 2: Cut the Cardboard
Using scissors and a craft knife, carefully cut out the shape of your water bottle, making sure to create holes for your head and arms.
Step 3: Create the Label
Cut the blue, green, or clear plastic tablecloth to the size of a label. Decorate the label to resemble a water bottle brand logo or design.
Step 4: Attach the Label
Use glue or double-sided tape to attach the label to the front of your cardboard bottle shape.
Step 5: Add Details
Use paints or markers to add details to your water bottle, such as the bottle cap, nutritional information, or any other creative elements.
Step 6: Secure Straps (Optional)
If you want to wear the costume, attach shoulder straps inside the cardboard so that it hangs comfortably on your shoulders.
Step 7: Customize
Feel free to get creative with your costume, adding glitter, sequins, or any other decorations to make it uniquely yours.
Step 8: Display or Wear
You can either wear the costume or use a ribbon or string to hang it around your neck like a giant pendant. Enjoy showing off your homemade water bottle costume!
By following these 8 easy steps, you can craft your water bottle costume that's sure to make a splash at any costume event or party. Let your imagination flow as you create a refreshing and unique outfit.
Ventilation and Visibility
Ventilation and visibility are important aspects in various contexts, including buildings, transportation, and safety. They are critical for maintaining air quality, comfort, and safety.
Ventilation:
Ventilation refers to the process of providing a continuous supply of fresh air and the removal of stale or polluted air from an enclosed space.
Proper ventilation is essential for several reasons:
Indoor Air Quality: Adequate ventilation helps ensure that indoor air is fresh and free of contaminants, such as pollutants, allergens, and odors.
Temperature Control: Ventilation can help regulate indoor temperatures by allowing fresh air to circulate, preventing stuffiness, and reducing the need for excessive heating or cooling.
Moisture Control: Ventilation helps control humidity levels, reducing the risk of mold and mildew growth.
Health and Well-being: Good ventilation contributes to the well-being of occupants by reducing the risk of respiratory issues and other health problems associated with poor air quality.
Safety: In industrial settings, proper ventilation is crucial for dispersing toxic fumes, dust, and other hazardous materials, enhancing worker safety.
Energy Efficiency: Well-designed ventilation systems can be energy-efficient, reducing the need for excessive mechanical heating or cooling.
Visibility:
Visibility pertains to the ability to see clearly, both in indoor and outdoor environments.
It plays a critical role in various contexts:
Road Safety: In transportation, visibility is crucial for drivers, cyclists, and pedestrians to navigate safely, especially during adverse weather conditions.
Workplace Safety: In industrial settings, visibility is essential to ensure that workers can perform tasks safely and efficiently. This may involve proper lighting, signage, and high-visibility clothing.
Emergency Situations: Visibility is vital during emergencies, such as fires or evacuations, to guide people to safety and ensure effective response efforts.
Architectural and Design Considerations: In building design, architects consider visibility to optimize the use of natural light and create aesthetically pleasing and functional spaces.
Agriculture and Construction: In agriculture and construction, visibility is important for equipment operators and workers to ensure safety and productivity.
Both ventilation and visibility are essential for health, safety, and comfort in various environments. They require careful consideration and planning in different settings to meet specific needs and regulatory requirements.
Properly designed ventilation systems and attention to visibility can enhance the quality of life and overall well-being of individuals and the efficiency of various operations.
Painting and Coloring
Painting and coloring are artistic and creative activities that involve applying pigments to surfaces to create visual art. While they share common elements, they differ in their techniques, purposes, and the materials used.
Painting:
Painting is a broad and traditional form of visual art that typically involves using various paint mediums to create images or compositions on a canvas, paper, wood, or other surfaces.
Mediums: Different types of paint mediums are used, such as acrylics, oils, watercolors, gouache, and tempera. Each medium has its unique characteristics, drying times, and techniques.
Techniques: Painting techniques can vary widely, from brushwork to palette knife applications. Techniques also include blending, layering, impasto (thick application of paint), and glazing (thin translucent layers).
Genres: Painting encompasses various genres, including portrait painting, landscape painting, still life, abstract art, and more. Each genre may require specific skills and approaches.
Artistic Styles: Artists often develop their unique styles, which can range from realism and impressionism to abstract or surrealism.
Historical Significance: Painting has played a crucial role in art history, with iconic works and movements such as the Renaissance, Baroque, and Modernism shaping the art world.
Professional Artists: Many professional artists create paintings for galleries, exhibitions, and collectors. Paintings are also found in museums, showcasing the rich history and diversity of the medium.
Coloring:
Coloring is a more accessible and recreational form of art that involves adding color to pre-drawn designs, often found in coloring books or printable pages.
Materials: Coloring is typically done with colored pencils, markers, crayons, or digital tools in the case of digital coloring apps.
Designs: Coloring designs can range from simple and child-friendly patterns to intricate mandalas, zentangles, or thematic illustrations.
Purpose: Coloring is often considered a relaxing and therapeutic activity that allows people to unwind, reduce stress, and express themselves creatively. It is commonly used for recreational purposes by people of all ages.
Accessibility: Coloring does not require advanced art skills and can be enjoyed by children, adults, and individuals of varying artistic abilities.
Educational Benefits: Coloring can enhance fine motor skills, hand-eye coordination, and color recognition in children. It is also used in educational settings for teaching and learning.
Art Therapy: Coloring is sometimes used as a form of art therapy to help individuals cope with emotional or psychological challenges.
Both painting and coloring offer unique opportunities for creative expression, but they differ in terms of complexity, artistic intention, and the tools and materials used.
While painting is often associated with the creation of original artwork, coloring is generally a more accessible and relaxing pastime.
Safety Considerations
Safety considerations are paramount in both painting and coloring activities to ensure the well-being of participants, prevent accidents, and maintain a safe environment.
Painting:
Ventilation: When using certain paint mediums like oil paints or solvent-based materials, ensure that the painting area is well-ventilated to prevent inhaling fumes. Consider using a respirator when necessary.
Hazardous Materials: Some paint mediums, pigments, or solvents can be toxic or hazardous. Always follow the manufacturer's safety instructions and use appropriate personal protective equipment, such as gloves and eye protection.
Labeling: Store paints and materials in their original containers with clear labeling. This prevents accidental use of incorrect or harmful substances.
Clean-Up: Dispose of used paint materials, solvents, and rags properly, following local regulations for hazardous waste disposal. Avoid leaving brushes or materials soaked in solvents unattended.
Fire Safety: Be cautious with flammable materials, such as certain paint thinners. Store these substances away from open flames or heat sources.
Workspace Organization: Keep your workspace organized to prevent spills, trips, and falls. Secure easels and worktables to prevent accidents.
Emergency Equipment: Have fire extinguishers and first aid kits readily accessible in your workspace. Be aware of emergency exit routes.
Coloring:
Age-Appropriate Materials: Ensure that coloring materials, such as crayons, colored pencils, and markers, are age-appropriate and non-toxic, especially for children.
Supervision: When children are coloring, adult supervision is essential to ensure they do not ingest or misuse coloring materials.
Proper Seating: Maintain proper posture and seating for comfortable coloring. Use an ergonomic chair and a well-lit area to prevent strain or discomfort.
Choking Hazards: Keep small coloring materials like caps from markers out of the reach of young children to prevent choking hazards.
Cleanliness: Encourage clean hands and surfaces, especially when children are involved. Provide tissues or wipes to clean hands and materials.
Art Materials Storage: Store coloring materials in a safe and organized manner, particularly when dealing with a variety of art supplies. This reduces the risk of accidents and spills.
Educational Tools: Teach children about the safe and proper use of coloring materials and the importance of not putting art supplies in their mouths.
In both painting and coloring activities, safety should be a priority. Adhering to safety guidelines, using age-appropriate materials, and maintaining a safe and organized workspace can help ensure that these artistic pursuits remain enjoyable and free from harm.
Conclusion
Creating a water bottle costume can be a fun and creative project that allows you to showcase your diy skills.
By following the steps outlined in this post, you can easily transform a basic water bottle into a standout costume that will surely impress at any event or party.
Remember to gather all the necessary materials, choose a design that suits your style, and take your time to carefully craft each detail.
Whether you're making a water bottle costume for halloween, a themed party, or just for fun, this guide has provided you with the necessary tips and tricks to make your costume a success.
So go ahead and let your imagination run wild as you make your own unique water bottle costume.
Happy crafting!
FAQ About How To Make A Water Bottle Costume
How Do You Make A Water Bottle Costume?
To make a water bottle costume, start by finding a large plastic bottle, cutting armholes and a head hole, and then decorating it to resemble a water label.
What Materials Do I Need For A Water Bottle Costume?
You'll need a large plastic bottle, scissors, markers or craft paper, colorful tape or adhesive labels, and a hot glue gun for making a water bottle costume.
Can I Customize My Water Bottle Costume Design?
Absolutely! Get creative with your design by incorporating your favorite brand label or adding funny slogans to make your water bottle costume one-of-a-kind.
How Long Does It Take To Make A Water Bottle Costume?
The time required to make a water bottle costume depends on your diy skills and the level of detail you prefer, but it usually takes a couple of hours.
Is The Water Bottle Costume Comfortable To Wear?
Yes, the water bottle costume can be comfortable to wear if you choose a plastic bottle that fits well and make sure to cut proper armholes and a head hole.