How to Sell Water Bottle to Customer? Key Strategies!
To successfully sell water bottles to customers, businesses should focus on understanding their target audience's needs and preferences, highlighting the unique features and benefits of their products, employing attractive visual merchandising, utilizing persuasive sales tactics, and fostering positive long-term relationships with customers.
Key strategies:
Understanding Customer Needs: Research your target market to understand what customers are looking for in a water bottle, such as durability, design, insulation, or eco-friendliness.
Crafting Compelling Product Messaging: Develop clear and engaging messaging that communicates the benefits of your water bottles, setting them apart from competitors.
Leveraging Visual Merchandising: Use eye-catching displays and strategic placement to draw attention to your water bottles in-store or online.
Implementing Effective Sales Techniques: Train your sales team to be knowledgeable about the product and to use persuasive selling techniques tailored to individual customers.
Building Lasting Customer Relationships: Provide excellent customer service and follow-up to encourage repeat business and referrals.
For example, if your water bottles are made from sustainable materials, you could emphasize this feature in your marketing to attract environmentally conscious consumers.
Elevate your water bottle sales by tapping into the latest market trends, offering personalized options, and ensuring your product stands out in a crowded marketplace.
Mastering the art of selling water bottles to today's discerning consumers requires a strategic approach that involves recognizing their specific needs, promoting the distinct features of the bottles, utilizing eye-catching merchandising, applying proven sales methods, and nurturing ongoing customer connections.
Through these tactics, companies can enhance their sales performance and respond proactively to the dynamic preferences of their clientele.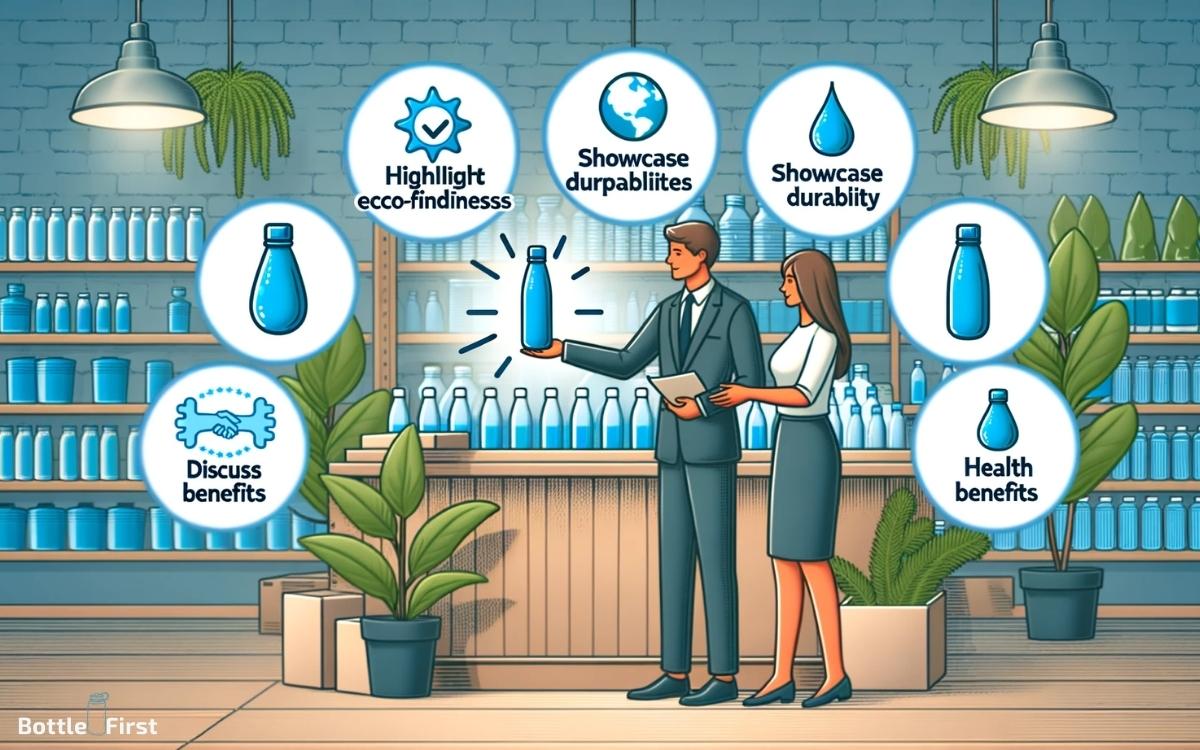 Key Takeaway
Research the target market and understand hydration requirements and preferences
Tailor recommendations based on customer's unique preferences and activities
Emphasize innovative design, durability, and portability in-product messaging
Utilize visual merchandising techniques to enhance product visibility and allure
Understanding Customer Needs
To effectively sell a water bottle to a customer, it is essential to understand the customer's specific hydration requirements and preferences.
In today's dynamic market, customers seek innovative solutions that cater to their individual needs.
By comprehending the customer's hydration habits, lifestyle, and activities, a seller can offer tailored recommendations that align with the customer's unique preferences.
Understanding the environmental consciousness of the customer can help in suggesting eco-friendly and reusable options, showcasing an innovative approach to meeting their needs.
Furthermore, leveraging technology to provide personalized hydration recommendations based on factors such as weather, activity levels, and health goals can demonstrate a forward-thinking approach, enhancing the customer's experience and satisfaction.
Ultimately, by understanding the customer's specific requirements and embracing innovative strategies, sellers can effectively meet their needs and drive successful water bottle sales.
Crafting Compelling Product Messaging
Crafting compelling product messaging for water bottles requires a thorough understanding of the target audience and a strategic approach to highlighting the unique benefits and features of the product.
To effectively convey the value of water bottles, consider the following:
Emphasize the innovative design and materials used to ensure durability and portability.
Highlight the health benefits of staying hydrated on the go with a convenient and eco-friendly water bottle.
Showcase the practical features such as leak-proof lids, insulation, and ease of cleaning for added convenience.
Use persuasive language that appeals to the customer's desire for sustainability, style, and functionality.
Leveraging Visual Merchandising Techniques
When leveraging visual merchandising techniques to promote water bottles, it is essential to strategically showcase the product's unique features and benefits in a way that captivates the customer's attention and communicates its value effectively.
Visual merchandising can significantly impact customer engagement and purchase decisions. By creating an aesthetically pleasing display, you can draw attention to the water bottles and highlight their key selling points.
Consider using the following techniques to enhance the visual appeal of your water bottle display:
| Visual Merchandising Techniques | Benefits |
| --- | --- |
| Strategic Lighting | Enhances product visibility and allure |
| Color Psychology | Utilizes colors to evoke emotions and convey brand messaging |
| Interactive Displays | Engages customers and encourages product interaction |
| Creative Signage | Communicates product features and benefits effectively |
Leveraging Visual Merchandising Techniques
These techniques can effectively draw customers' attention to the water bottles and entice them to make a purchase. Now, let's explore how to implement effective sales techniques to convert customer interest into sales.
Implementing Effective Sales Techniques
Having leveraged visual merchandising techniques to captivate customer attention and highlight the water bottles' key selling points, the next step is to implement effective sales techniques that convert customer interest into sales.
Active Listening: Engage customers in meaningful conversations to understand their hydration needs and preferences.
Product Knowledge: Educate customers about the water bottle's features, emphasizing its durability and eco-friendly materials.
Storytelling: Share compelling stories about the benefits of staying hydrated and how the water bottle fits into a healthy lifestyle.
Closing Techniques: Use persuasive language and confidence to guide customers towards a purchase, offering incentives or limited-time promotions.
Building Lasting Customer Relationships
To foster enduring customer relationships, it is essential to maintain a genuine and attentive rapport with clientele, ensuring their continued satisfaction and loyalty.
Building lasting customer relationships requires a proactive approach that goes beyond traditional sales interactions.
By employing innovative strategies such as personalized communication, targeted loyalty programs, and post-purchase follow-ups, businesses can demonstrate their commitment to customer satisfaction.
Leveraging data analytics to anticipate customer needs and preferences also plays a crucial role in nurturing long-term relationships.
Seeking and valuing customer feedback allows for continuous improvement and ensures that their voices are heard.
Conclusion
In summary, successful water bottle sales hinge on understanding customer needs through market research and feedback.
Crafting compelling product messaging, employing visual merchandising techniques, and implementing effective sales strategies are crucial.
Building lasting customer relationships through exceptional service and personalized experiences completes the successful selling equation.