How to Use a Sake Set? 8 Easy Steps!
A sake set usually consists of a tokkuri (jug or carafe) and one or more ochoko/guinomi (cups).
To use a sake set, first, heat the sake in the tokkuri by placing it in a pot of hot water. Once it reaches the desired temperature, pour the sake into the ochoko/guinomi for serving.
Sake, a traditional Japanese alcoholic beverage, is typically served warm, and a sake set is carefully designed to facilitate this process.
The tokkuri, or jug, is often bulbous to retain heat, and the small cups, known as ochoko or guinomi, are perfect for savoring the sake in small sips.
Sake sets typically include a tokkuri and one or more ochoko/guinomi.
The tokkuri is used to heat and serve the sake.
Heat the sake by placing the tokkuri in a pot of hot water.
Pour the warmed sake from the tokkuri into the ochoko/guinomi for individual serving.
In the art of sake drinking, the sake set plays a vital role.
The uniquely designed tokkuri effectively retains the heat, ensuring that the sake stays at the perfect temperature, while the small ochoko or guinomi allow for the sake to be appreciated in moderate amounts, enhancing the overall experience of this traditional Japanese ritual.
8 Steps to Use a Sake Set
| Step | Instruction |
| --- | --- |
| 1 | Purchase a sake set, which usually includes a sake bottle (tokkuri) and drinking cups (ochoko) |
| 2 | Store your sake in a cool, dark place until you're ready to serve it |
| 3 | Pour sake into the tokkuri until it's about 80% full |
| 4 | Heat the sake by placing the tokkuri in a pan of warm water. The heat should be low to medium, and the sake should be heated slowly |
| 5 | Test the temperature of the sake by pouring a small amount into one ochoko. It should be slightly warmer than your body temperature |
| 6 | Pour the rest of the sake into the ochoko cups, filling about 70% of each cup |
| 7 | Drink the sake from your ochoko, holding it by the rim |
| 8 | Refill the ochoko when it's empty, and enjoy the rest of your sake |
8 Steps to Use a Sake Set
Key Takeaway
A sake set typically consists of one sake bottle (tokkuri) and multiple cups (ochoko or guinomi).
The key elements of using a sake set are the temperature, pouring, and drinking.
Usually, a host or a person seated closest to the sake set is responsible for pouring sake into the cups of others.
The art of drinking sake also includes certain etiquette and traditions that are to be maintained to show respect and gratitude.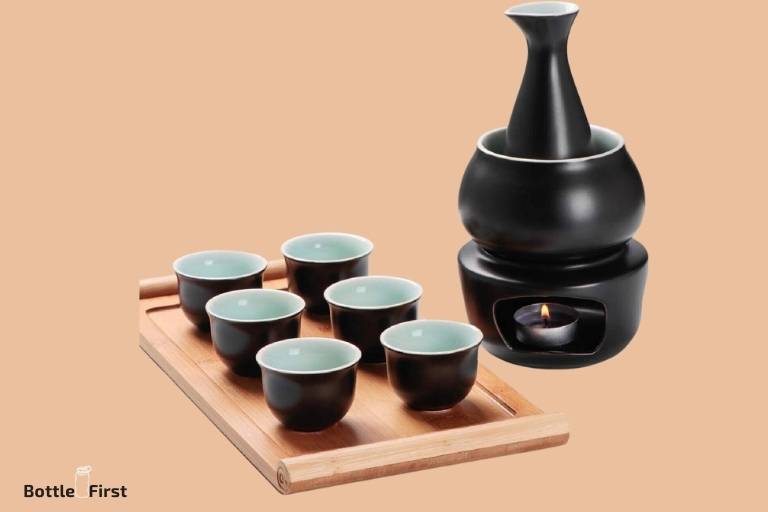 Fascinating Facts About Sake Sets
Sake, known as rice wine, is not a wine, beer, or spirit; it stands in its own category of alcoholic beverage.
Sake sets come in a myriad of shapes, sizes, and colors and made from various materials. The most common material used is ceramic, but they can also be found in glass, plastic, bronze, lacquer, and wood.
The sets are traditionally used in Japanese rituals, festivals, and ceremonies but now have become a standard serving method for drinkers worldwide.
Warming up sake enhances its flavors, especially when drinking hot sake in winter. However, it should be heated indirectly by placing the tokkuri filled with sake in warm water.
In Japanese culture, it is considered bad manners to fill your own glass. A member from your group or the host should refill your glass and vice versa.
Introduction To Sake Sets
Brief Overview Of What A Sake Set Entails
A sake set is a collection of traditional japanese tableware designed specifically for enjoying sake, the popular rice wine.
It typically consists of a tokkuri, which is the sake flask, and a set of small cups called ochoko.
The sake flask is usually tall and slim, with a narrow neck to retain heat, while the cups are small and shallow to encourage frequent refills and sipping.
Sake sets can be made from a variety of materials such as ceramic, glass, or even bamboo, each offering its unique aesthetic appeal.
Using a sake set adds to the overall experience of savoring sake, making it more enjoyable and authentic.
Importance Of Using A Sake Set For Enjoying Sake
Using a sake set enhances the entire process of drinking sake, allowing you to fully appreciate its rich flavors and aromas.
Here are a few reasons why using a sake set is important:
Preserving temperature: Sake is best enjoyed at a specific temperature, depending on its type. The design of the sake flask helps to keep the sake warm or chilled, maintaining its ideal drinking temperature and enhancing the taste.
Aesthetic appeal: Sake sets come in various elegant and beautiful designs, adding a touch of traditional japanese culture to your drinking experience. The delicate and artistic craftsmanship of the cups and flask enhances the visual appeal and makes savoring sake a feast for the eyes as well.
Portion control: The small size of the cups in a sake set promotes slower and more measured drinking. This allows you to savor the flavors and enjoy the subtleties of the sake without overindulging. The ritual of pouring and sharing sake from the flask to the cups also encourages socializing and conversation.
Tradition and culture: Using a sake set brings an element of authenticity and tradition to the act of drinking sake. It connects you with the cultural heritage of japan and adds a sense of history and ritual to the experience. Whether you're enjoying sake alone or with friends, a sake set elevates the occasion and makes it more special.
Conversation starter: When serving sake to guests, a sake set becomes a conversation piece, sparking discussions about the origin of the set, the significance of its design, or the different types of sake being enjoyed. It helps foster a convivial atmosphere and creates memorable moments during social gatherings.
A sake set is not just a vessel for enjoying sake, but rather a symbol of tradition, artistry, and culture.
Its use enhances the overall sensory experience of drinking sake and adds a touch of elegance to the occasion.
So, the next time you pour yourself a cup of sake, take the time to savor it from a beautifully crafted sake set.
Understanding The Components Of A Sake Set
Sake sets are not just vessels for holding and serving sake; they are an essential part of the overall sake-drinking experience.
Each component of a sake set has a specific purpose and unique features that contribute to the enjoyment of this traditional japanese beverage.
In this section, we will delve into the significance of the tokkuri (sake flask) and ochoko (sake cups), explaining their purpose and features.
Explaining The Purpose And Features Of Each Component
Tokkuri (Sake Flask):
The tokkuri, also known as a sake flask, is a narrow-necked ceramic or glass vessel used to hold and heat sake before serving.
It is typically designed with a wide base and a narrow neck to retain the aroma and flavor of the sake.
The narrow neck of the tokkuri helps to trap heat, allowing the sake to stay warm during the pouring and drinking process.
Some tokkuri have a handle to make it easier to hold, especially when the flask contains hot sake.
Traditional tokkuri are often adorned with beautiful and intricate artwork, reflecting the rich cultural heritage associated with sake.
Ochoko (Sake Cups):
Ochoko, or sake cups, are small ceramic or glass cups specifically designed for drinking sake.
They come in various shapes, sizes, and designs, depending on the region and individual preferences.
Ochoko are typically small and cylindrical in shape, allowing for controlled and intimate drinking experiences.
The small size of the cups encourages sipping rather than gulping, allowing the drinker to savor the flavors of the sake.
Like tokkuri, ochoko can also feature decorative elements, making them a visually appealing part of the sake set.
By understanding the purpose and features of each component in a sake set, you can enhance your enjoyment of this traditional japanese beverage.
The tokkuri keeps your sake warm and preserves its unique aromas, while the ochoko allows for a controlled and intimate sipping experience.
Together, they contribute to the rich cultural heritage and the art of sake drinking.
So, the next time you indulge in a glass of sake, take a moment to appreciate the beauty and functionality of your sake set.
Cheers!
Step-By-Step Guide For Using A Sake Set
Choosing The Right Sake Set For Your Needs And Preferences
Choosing the right sake set is essential to enhance your sake drinking experience.
Consider the following factors when selecting a sake set that suits your needs and preferences:
Material: Sake sets are typically made from ceramic, glass, or pottery. Each material offers a different aesthetic and has its own benefits. Ceramic and pottery sake sets help retain heat, while glass sets showcase the sake's color beautifully.
Design: Sake sets come in various designs, from traditional to modern styles. Think about the atmosphere you want to create when serving sake and choose a design that complements it.
Size: Consider the number of people you usually drink sake with. Sake sets come in different sizes, ranging from small sets for intimate gatherings to larger sets for parties or social occasions.
Tokkuri shape: The tokkuri is the vessel used to hold sake. The shape of the tokkuri can affect the aroma and taste of the sake. Narrow-necked tokkuris help trap the aroma, while wider-necked ones allow the sake to breathe more.
Ochoko size: Ochokos are the small cups used to serve sake. They come in various sizes, from smaller cups for sipping to larger cups for savoring. Consider your preference for portion size and the drinking experience you desire.
Preparing The Sake Set Before Use
Before using your sake set, it's important to properly prepare it to ensure cleanliness and better flavor:
Wash the sake set: Start by washing the sake set components thoroughly with warm water. Avoid using soap, as it can leave a residue that affects the taste of the sake.
Allow it to air dry: After washing, let the sake set pieces air dry completely. This helps prevent any moisture from affecting the flavor of the sake.
Warm the tokkuri (optional): If you prefer warm sake, consider warming the tokkuri before use. Fill the tokkuri with hot water and let it sit for a few minutes. Then, empty the water and pour in the sake once it reaches your desired temperature.
Pouring Sake Into The Tokkuri And Warming If Desired
Properly pouring sake into the tokkuri and warming it, if desired, can enhance your sake drinking experience.
Follow these steps:
Hold the tokkuri securely: Place your hand around the body of the tokkuri, ensuring a firm grip to prevent any spills.
Tilt the tokkuri: Slowly tilt the tokkuri to pour the sake. Aim for a gentle and controlled pour to avoid splashing or overfilling the cups.
Warm the tokkuri (optional): If warming the sake, place the tokkuri in warm water or use a sake warmer to heat it to your desired temperature. Take care not to overheat the sake, as it can adversely affect the flavor.
Properly Holding And Serving Sake With The Ochoko
The ochoko, or sake cups, play a crucial role in enjoying sake.
Follow these guidelines for serving sake with the ochoko:
Hold the ochoko with finesse: Hold the ochoko by grasping the bottom with your fingers. Avoid cupping the cup with your palm, as it can affect the temperature of the sake.
Serve the sake to the brim: When pouring sake into the ochoko, fill it to the brim. This allows you to fully appreciate the aroma and flavors.
Sip and savor: Sake is meant to be sipped and savored. Take your time to appreciate the aroma, taste, and texture of the sake. As you drink, take note of the intricate flavors that unfold with each sip.
Remember, the key to a memorable sake drinking experience lies in choosing the right set, preparing it with care, and serving the sake with elegance.
Cheers!
Tips For Enhancing Sake Tasting Experience
Sake, a traditional japanese rice wine, is not just a beverage; it's an experience.
Whether you're a seasoned sake enthusiast or a novice looking to explore this fascinating world, using a sake set can greatly enhance your tasting experience.
In this section, we will explore three key tips to take your sake experience to new heights.
Importance Of Using The Right Drinking Temperature For Different Types Of Sake
Sake can be categorized into different types based on its level of sweetness, fragrance, and acidity.
Each type of sake is best enjoyed at a specific temperature to bring out its unique flavors and aromas.
Here are some temperature guidelines for different types of sake:
Hot sake: Warmer temperatures (40-50°c) are suitable for more full-bodied sake varieties, enhancing their rich flavors.
Room temperature sake: This is a versatile option that works well for most sake types, allowing the subtle nuances of the brew to shine through.
Chilled sake: Light and delicate sake is best served chilled (5-10°c), as it preserves its elegance and floral notes.
Understanding The Impact Of Glassware On The Aroma And Taste Of Sake
The glassware you choose for serving sake can significantly impact the overall experience.
The ideal choice is a traditional ceramic or porcelain cup called a "choko" or a stemmed glass known as a "wine glass."
Here's why the right glassware matters:
Choko: Its cylindrical shape encourages the aroma to concentrate, enabling you to savor the intricate fragrances of premium sake.
Wine glass: The wide bowl facilitates the release of sake's delicate aromas, enhancing the tasting experience.
Whichever glassware you choose, make sure it is transparent and odorless to fully appreciate the visual appeal and delicate aromas of sake.
Pairing Sake With Appropriate Food Choices For A More Enjoyable Experience
Just like wine, sake pairs excellently with a wide range of foods, enhancing their flavors harmoniously.
When selecting food to accompany your sake tasting, consider these tips:
Sashimi and seafood: The delicate flavors of raw fish and seafood beautifully complement a clean and crisp sake.
Grilled meat and vegetables: Robust, full-bodied sake varieties can stand up to the rich flavors of grilled meats and vegetables.
Tempura and fried foods: Dry and slightly acidic sake cuts through the richness of fried foods, cleansing the palate with each sip.
Cheeses and desserts: Experiment with aged cheeses or creamy desserts, as sake's complex flavors can provide interesting contrasts.
The secret to successful food pairing is to experiment and find combinations that delight your taste buds.
By following these tips, you can elevate your sake tasting experience to new heights.
Take the time to explore different temperature options, experiment with glassware, and discover the perfect food pairings.
Cheers to a more enjoyable and enriched sake journey!
Care And Maintenance Of A Sake Set
A sake set is not only a functional tool for enjoying sake, but it is also an elegant piece of art that deserves proper care and maintenance.
By following the right steps, you can ensure the longevity of your sake set and prevent any damage that may occur.
In this section, we will explore the key points of cleaning and storing your sake set properly, avoiding common mistakes that can damage the set, and long-term maintenance tips.
Cleaning And Storing The Sake Set Properly:
Rinse the sake set with warm water after each use: This helps to remove any remaining sake and prevents the buildup of residue that can affect the taste and appearance.
Avoid using soap or harsh chemicals: Sake sets are delicate, and the use of harsh chemicals can damage the glaze or paint. Stick to warm water for cleaning.
Gently wipe the sake set with a soft cloth: Use a soft cloth or towel to dry the sake set after rinsing. Avoid using abrasive materials that may scratch the surface.
Store the sake set in a cool and dry place: Proper storage is essential to prevent any damage. Find a clean and dry place to keep your sake set protected from dust and moisture.
Avoiding Common Mistakes That Can Damage The Set:
Do not soak the sake set for too long: Extended soaking can lead to water penetration and damage the integrity of the ceramic or porcelain material.
Avoid using a dishwasher: Dishwashers expose sake sets to extreme temperatures and powerful jets of water, which can cause cracks or breakages.
Never stack sake cups or pour sake directly into them: Stacking sake cups can lead to chipping or breakages. Additionally, pouring sake directly into cups can cause stains that are difficult to remove.
Long-Term Maintenance Tips For Ensuring The Longevity Of The Sake Set:
Handle with care: When using and storing the sake set, be gentle and avoid applying excessive force. This will help prevent accidental breakages.
Inspect for cracks or chips regularly: Take the time to inspect your sake set for any signs of damage. Cracks or chips should be addressed immediately to prevent further issues.
Reapply sealants if necessary: If you notice any gaps or cracks in the sealant, it may be necessary to reapply a food-safe sealant to maintain the integrity of the sake set.
Display with care: If you choose to display your sake set, ensure it is placed away from direct sunlight or extreme temperature changes. Excessive exposure to sunlight or heat can cause fading or damage to the set.
By following the cleaning and storage guidelines, avoiding common mistakes, and implementing long-term maintenance tips, you can enjoy your sake set for years to come.
Proper care and maintenance not only preserve its beauty but also contribute to the overall sake drinking experience.
How Much Sake Can a Sake Cup Hold?
The sake cup size ranges from 15 to 3 ounces, accommodating various preferences. This versatile range allows sake enthusiasts to savor their favorite rice wine in different quantities. Whether you prefer a smaller tasting portion or a more generous pour, there is a sake cup size to suit every occasion.
FAQ About How To Use A Sake Set: Guide
How Do You Pour Sake Into The Sake Set?
Pour sake slowly into the sake set until it reaches about 70% full to avoid spills and wastage.
What Are The Different Types Of Sake Sets?
Sake sets can come in various styles and materials, including ceramic, glass, and wooden, each offering a unique aesthetic and cultural experience.
How Do You Serve Sake From A Sake Set?
Gently hold the sake set with both hands, pour sake into a small cup, and enjoy the drink while savoring its aroma and flavor.
How Do You Clean A Sake Set?
Hand wash the sake set using warm water and mild dish soap, then dry it with a soft cloth to maintain its beauty and longevity.
Are Sake Sets Dishwasher Safe?
Most sake sets are not dishwasher safe, so it's best to hand wash them to protect their delicate design and prevent any damage.
Conclusion
Incorporating a sake set into your drinking experience can truly elevate your enjoyment of this traditional japanese beverage.
By following the steps outlined in this guide, you can confidently set up and use your sake set for a more authentic and immersive experience.
Remember to carefully select the right sake set for your preferences and ensure it is properly cleaned and stored.
Pay attention to the temperature at which you serve your sake, as it can significantly impact its flavor and aroma.
Furthermore, experiment with different serving vessels and pouring techniques to enhance the visual appeal of your sake.
Whether you're a seasoned sake enthusiast or a curious beginner, using a sake set is a wonderful way to appreciate this unique and centuries-old beverage.
So, gather your friends, pour yourself a glass, and savor the rich flavors of sake in an authentic and enjoyable way.
Kanpai!