Paper To Print Water Bottle Labels: Tips & Tricks!
The best type of paper to print water bottle labels is a waterproof or water-resistant adhesive paper.
This ensures that your labels will not get damaged or smeared when they come into contact with water or condensation.
Bright white label paper with a glossy finish is often recommended for its professional appearance and improved durability.
When printing labels for water bottles, it's crucial to consider the environment in which they'll be used. Regular paper or cardstock isn't suitable because they quickly deteriorate when wet.
Waterproof or water-resistant adhesive paper is specifically designed to withstand moisture, making it the most appropriate choice for water bottle labels. Glossy white paper can deliver the best print quality, making your design pop and stand out.
Waterproof adhesive paper is ideal for water bottle labels due to its resistance to water.
Glossy white label paper often provides a more professional and appealing appearance.
The finish of the paper can affect the vividness of the printed design.
Consider the ink you are using, as some inks may smear on certain types of paper, even if they are water-resistant.
To maximize the lifespan and quality of your water bottle labels, it's important to choose the right paper.
Waterproof or water-resistant adhesive paper with a glossy finish is typically the best choice. This type of paper can withstand moisture and helps in enhancing the appearance of your design.
It's essential to consider the ink used for printing to prevent smearing and ensure a high-quality finish.
6 Tips for Printing Water Bottle Labels
| Steps | Description |
| --- | --- |
| Step 1: Choose the Design | Choose a design for your water bottle label. This could be anything from a simple text label to a more complex graphic design. |
| Step 2: Select the Paper | Select a paper for your label. This should be durable and waterproof, such as vinyl or polyester paper. |
| Step 3: Print the Design | Print your chosen design on the selected paper using a high-quality printer. Ensure that the size of the design matches the size of the water bottle. |
| Step 4: Cut the Labels | Once the design is printed, cut out the labels carefully. If you have multiple labels, be sure they're all the same size. |
| Step 5: Apply the Labels | Attach the labels to the water bottles. Ensure they are securely attached and that the design is not distorted or wrinkled. |
| Step 6: Check the Result | Finally, check the results. The labels should be securely attached and the design should be clearly visible. |
6 Tips for Printing Water Bottle Labels
Key Takeaway
Printing labels for water bottles is a popular way to personalize and brand these items in both professional and personal settings.
There are specifically designed adhesive papers that are ideal for printing water bottle labels, which ensures durability and resilience to water.
It is important to consider the right size of the paper for the labels to fit perfectly on the water bottles.
There are numerous design options and templates available online to aid in the creation of these labels, making the process easier even without professional design skills.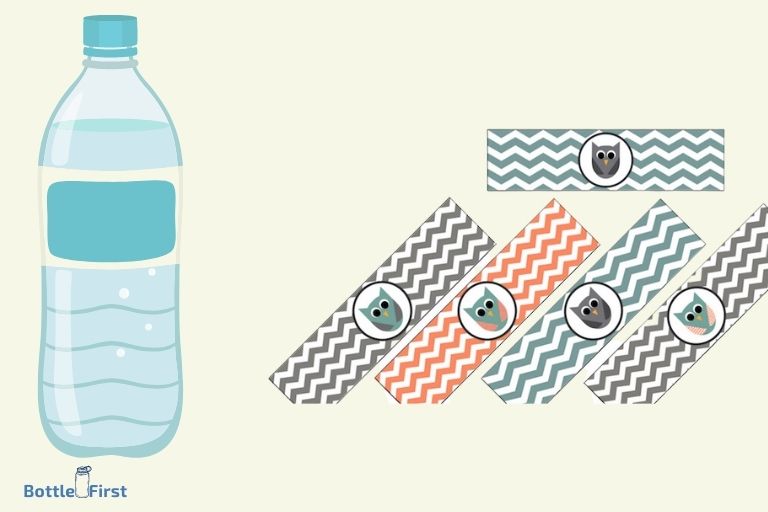 Five Facts About Paper To Print Water Bottle Labels
The best type of paper for water bottle labels is waterproof adhesive paper, which is not affected by condensation or accidental spills.
There are various sizes of water bottle label papers available in the market, with the most common sizes being 8.5 x 2 inches and 8.25 x 1.75 inches.
The process of printing water bottle labels can be done at home using a standard inkjet or laser printer; however, for larger quantities and higher quality, professional printing services are often used.
Beyond just text, water bottle labels can include graphics, logos, images, and even barcodes, making them a versatile tool for branding or information sharing.
Modern technology allows for easy customization of water bottle labels, allowing individuals and businesses to create personalized designs with software like Adobe Illustrator, Photoshop, or free online label-designing tools.
Understanding Paper To Print Water Bottle Labels
Paper To Print Water Bottle Labels: Understanding The Advantages
Paper to print water bottle labels are becoming increasingly popular in the packaging industry. These labels offer numerous advantages over traditional plastic labels, making them a preferred choice for many brands.
In this section, we will delve deeper into the key points surrounding paper to print water bottle labels, exploring their features and benefits.
What Are Paper To Print Water Bottle Labels?
Paper to print water bottle labels are labels made from paper material that are specifically designed for printing purposes.
These labels are perfect for applying vibrant and eye-catching designs, logos, and information on water bottles.
Unlike traditional plastic labels, which are often difficult to recycle and can contribute to environmental pollution, these paper labels offer a more sustainable and eco-friendly alternative.
Here are the key points to understand about paper to print water bottle labels:
Sustainable material: Paper labels are made from renewable and biodegradable materials, making them an environmentally friendly choice. They can be easily recycled, reducing waste and minimizing the carbon footprint.
Design flexibility: Paper labels allow for greater design flexibility, offering brands the opportunity to showcase their creativity and brand identity. The paper material readily accepts various printing techniques, including vibrant colors, unique textures, and intricate patterns.
Cost-effective: Compared to other labeling options, paper labels are relatively more affordable, making them ideal for small businesses or startups with limited budgets. They provide a cost-effective solution without compromising quality or aesthetics.
Easy application: Paper labels can be easily applied to water bottles using adhesive backing, making the labeling process quick and efficient. This allows for increased productivity and reduced turnaround time for businesses.
Advantages Of Using Paper Labels For Water Bottles
Using paper labels for water bottles brings several advantages that make them favorable among brand owners and consumers alike:
Eco-friendly choice:
Paper labels are made from sustainable materials and are easily recyclable, contributing to a greener environment and a reduced carbon footprint.
Customizable designs:
The paper material allows for highly customizable designs, allowing brands to create labels that perfectly align with their branding, product, and target audience.
Excellent print quality:
Paper labels offer excellent print quality, resulting in vibrant colors, sharp images, and crisp text. This helps brands enhance their product presentation and overall visual appeal.
Cost-effective option:
Paper labels are generally more affordable compared to other labeling materials, offering businesses a cost-effective solution without compromising on quality.
Enhanced consumer perception:
With the rising consumer demand for sustainable and eco-friendly products, using paper labels on water bottles can positively influence consumers' perception of a brand.
It showcases the brand's commitment to the environment and resonates with environmentally conscious consumers.
Paper to print water bottle labels offer several advantages over traditional plastic labels.
Their sustainable nature, design flexibility, cost-effectiveness, and ease of application make them an excellent choice for brands looking to enhance their product packaging while minimizing their impact on the environment.
By opting for paper labels, brands can make a positive impression on consumers and align with the growing trend of eco-consciousness.
Designing Paper To Print Water Bottle Labels
When it comes to designing paper to print water bottle labels, there are several key factors to consider in order to create eye-catching and visually appealing designs.
From selecting the right colors, fonts, and graphics to incorporating branding elements, each aspect plays an important role in making your labels stand out.
To help you design labels that capture attention and effectively promote your brand, here are some useful tips:
Tips For Creating Eye-Catching Label Designs:
Keep it simple: Clean and uncluttered designs tend to be more visually appealing and easier to read. Avoid overcrowding the label with excessive text or graphics.
Consider the product: Before starting the design process, think about the product that the labels will be applied to. Reflect the essence of the product in the design, aligning with its purpose and target audience.
Use high-quality graphics: Ensure that any graphics or images you use are of high resolution and relevant to the product. Blurry or pixelated graphics can negatively impact the overall impression of the label.
Font selection: Choose fonts that are legible and easy to read, even from a distance. Consider the overall style of your brand and select fonts that complement that aesthetic.
Color psychology: Different colors evoke different emotions and can impact how people perceive your product. Understand the psychology of colors and select colors that align with your brand message.
Contrast is key: Ensure that the text and graphics on your label stand out against the background. Use contrasting colors to create visual interest and make important information easily readable.
Hierarchy of information: Structure your label design so that the most critical information stands out. Use font styles, sizes, and color to create a visual hierarchy that guides the reader's attention.
Test and revise: Before finalizing the design, it is crucial to test the labels on different products and obtain feedback. Iterate and make revisions based on the input received to optimize the design for maximum impact.
Print quality: When printing the labels, ensure that you use high-quality printing techniques and materials. The overall print quality can affect the perception of your brand's professionalism.
Legal requirements: Take into account any legal requirements or guidelines that may exist for labeling certain products. Make sure your designs adhere to these regulations.
Remember, the primary goal of your water bottle labels is to attract attention and communicate your brand effectively.
By implementing these tips and paying attention to the details, you can create visually appealing and engaging labels that leave a lasting impression on your audience.
Printing Paper To Print Water Bottle Labels
Different Printing Options For Paper Labels
When it comes to printing paper labels for water bottles, there are several options available. Each printing method has its own pros and cons. Let's take a closer look at these options:
Inkjet Printing:
Uses ink to create labels
Suitable for small label production
Offers vibrant colors and high resolution
Requires special inkjet-compatible paper
Can be costly for large-scale printing
Laser Printing:
Utilizes laser technology to print labels
Ideal for both small and large label quantities
Provides sharp and professional-looking prints
Fast and efficient printing process
Limited color options compared to inkjet printing
Offset Printing:
Popular for large-scale label production
Delivers high-quality and consistent prints
Supports a wide range of paper types and finishes
Suitable for intricate designs and fine details
Initial setup cost can be high
Digital Printing:
Offers flexibility for customization and personalization
No setup costs, making it cost-effective for small batches
Allows for quick turnaround time
Limited color gamut compared to other methods
Slightly less vibrant colors
Flexographic Printing:
Ideal for high-volume label production
Suitable for printing on a variety of materials
Cost-effective for large quantities
Requires specialized equipment and setup
May not be the best option for intricate designs
Pros And Cons Of Each Printing Method:
Inkjet printing:
Pros: Vibrant colors, high resolution
Cons: Costly for large-scale printing, requires special paper
Laser printing:
Pros: Sharp prints, suitable for small and large quantities
Cons: Limited color options, not as vibrant
Offset printing:
Pros: High-quality prints, supports various paper types
Cons: High initial setup cost
Digital printing:
Pros: Customization, quick turnaround, no setup cost
Cons: Limited color gamut, slightly less vibrant
Flexographic printing:
Pros: Cost-effective for large volumes, versatile materials
Cons: Requires specialized equipment, not suitable for intricate designs
Each printing method offers its own set of advantages and drawbacks. Consider your specific needs, budget, and quantity requirements before selecting the most suitable option for printing paper labels for your water bottles.
Application And Removal Of Paper To Print Water Bottle Labels
How To Correctly Apply Paper Labels On Water Bottles:
Applying paper labels onto water bottles may seem like a simple task, but there are a few important steps to follow to ensure that the labels stick firmly and look professional.
Here's a step-by-step guide on how to correctly apply paper labels on water bottles:
Clean the surface:
Before applying the labels, make sure the surface of the water bottle is clean and free from any dust or residue. Use a mild soap and water solution to wipe down the bottle, ensuring that it is completely dry before proceeding.
Choose the right adhesive:
Ensure that you have the appropriate adhesive for your paper labels. Some labels come with a pre-applied adhesive layer, while others require you to apply adhesive separately.
Follow the manufacturer's instructions or consult with your label supplier to determine the best adhesive for your labels.
Position the label:
Carefully position the label on the water bottle, ensuring that it is straight and aligned. You may want to use a ruler or measuring tape to guide the placement of the label for a more professional finish.
Apply the label:
Start from one end of the label and gradually smooth it down onto the water bottle, using your fingers or a clean cloth to remove any air bubbles or wrinkles. Press firmly along the edges and center of the label to ensure secure adhesion.
Let it dry:
Allow the label to dry completely before handling or packaging the water bottles. This will ensure that the adhesive has properly bonded to the surface of the bottle, preventing any peeling or lifting.
Techniques For Safely Removing Labels When Needed:
There may come a time when you need to remove the paper labels from your water bottles, whether for reusing the bottles or for updating the labels. T
o safely remove labels without damaging the bottles or leaving sticky residue behind, consider the following techniques:
Soak in warm water:
Fill a sink or basin with warm water and submerge the labeled water bottles. Let them soak for a few minutes to loosen the adhesive.
Gently peel off the labels, starting from one corner and moving slowly to avoid tearing the label or scratching the bottle.
Use rubbing alcohol:
Apply a small amount of rubbing alcohol onto a clean cloth and rub it over the label, focusing on the edges and corners.
The alcohol will break down the adhesive, making it easier to remove the label. Gently peel off the label, using a plastic scraper or your fingers to lift any stubborn parts.
Try a label remover product:
There are commercially available label remover products specifically designed to remove sticky labels without damaging surfaces.
Follow the instructions on the product and apply it to the label. Allow it to penetrate the adhesive before peeling off the label.
Apply heat:
Heat can help loosen the adhesive on paper labels. Use a hairdryer on low heat, pointing it at the label for a few seconds to warm the adhesive. Once the adhesive softens, gently peel off the label using your fingers or a plastic scraper.
Remember to clean the bottles thoroughly after removing the labels to eliminate any remaining adhesive or residue.
With these techniques, you can safely remove paper labels from water bottles and prepare them for reuse or re-labeling.
Can I Use the DIY Rat Water Bottle Steps to Create Labels for my Water Bottles?
Creating labels for your water bottles can be a breeze when you follow these simple steps for rat water bottle DIY. You can use the same process as for making the rat water bottle itself. Just make sure to customize the labels according to your preferences, and voila! Your own personalized water bottle labels are ready to go.
FAQ About Paper To Print Water Bottle Labels
What Are Water Bottle Labels Made Of?
Water bottle labels are typically made from paper or plastic materials, depending on the bottle's intended use and design requirements.
Can I Print My Own Water Bottle Labels?
Yes, you can print your own water bottle labels using a home printer and special adhesive label paper. Just make sure to choose the right size for your bottles.
How Can I Ensure My Printed Labels Stick To The Bottle?
To ensure your printed labels stick to the bottle, make sure to clean the surface before applying the label, use a high-quality adhesive, and avoid exposing the labels to moisture.
What Is The Best Printer For Printing Water Bottle Labels?
The best printer for printing water bottle labels is typically a color printer that offers high resolution and compatibility with different label materials.
Are Paper Water Bottle Labels Waterproof?
Paper water bottle labels are not inherently waterproof, but you can use waterproof or water-resistant coating sprays or laminates to protect the labels from water damage.
Conclusion
Utilizing paper to print water bottle labels is a smart and eco-friendly choice for your business or event. The advantages are plentiful.
Firstly, paper labels are biodegradable and can be easily recycled, reducing their impact on the environment. Secondly, choosing this option allows you to showcase your commitment to sustainability, which is becoming increasingly important to consumers.
Additionally, paper labels offer a versatile and customizable solution, allowing you to create unique designs that capture the essence of your brand or event. Moreover, they are cost-effective, making it a budget-friendly option for businesses large and small.
Lastly, the ease of printing these labels in-house or through a professional printing service gives you the flexibility to meet your labeling needs in a timely and efficient manner.
By switching to paper labels, you can make a positive impact on the environment while also elevating your brand's image.