Water Bottle Marketing Ideas: Unique Ideas!
To effectively market water bottles in today's competitive landscape, brands can adopt a variety of innovative strategies.
These include leveraging sustainable influencer collaborations, utilizing unique branding and packaging, engaging in community-driven initiatives, offering customizable options, and integrating smart technology to enhance user experience.
Marketing water bottles requires creativity to differentiate your product from others. Sustainable influencer collaborations can help highlight your brand's commitment to eco-friendliness.
Unique branding and packaging make your product stand out on shelves. Community-driven initiatives, such as beach clean-ups, can showcase your brand's social responsibility.
Customizable options give consumers a sense of personal connection to your product. Smart technology, like hydration reminders, adds value to the user experience.
Sustainable influencer collaborations
Unique branding and packaging
Community-driven initiatives
Customizable options
Smart technology integration
Revolutionize water bottle marketing by merging eco-consciousness with practicality and personalization. Imagine a brand collaborating with influencers to amplify its green image, creating a symbol of sustainability.
Explore unconventional tactics to deeply engage environmentally aware consumers and establish a memorable presence in the market.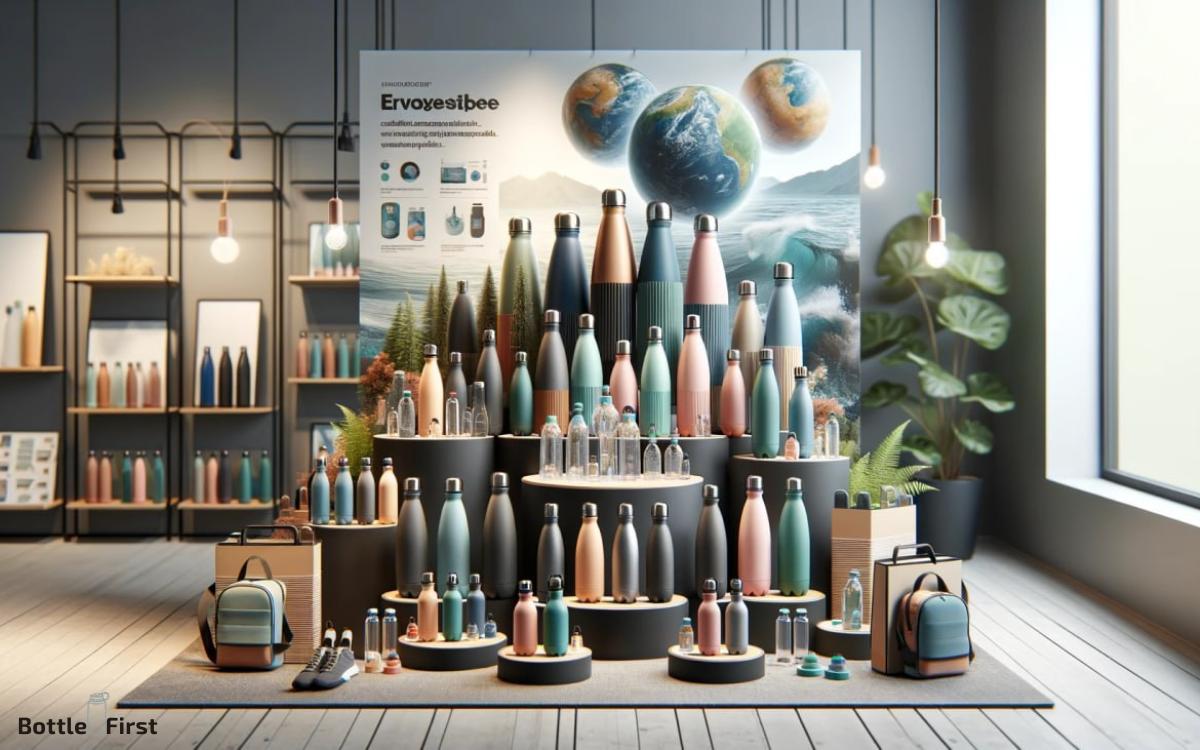 Key Takeaway
Sustainable marketing strategies can help highlight a brand's commitment to eco-friendliness, increase visibility and credibility, and resonate with environmentally aware customers.
Collaborating with influencers who align with eco-friendly values and appeal to the target audience can enhance brand image and drive brand awareness and credibility.
Brand differentiation and recognition can be achieved through standing out on shelves, creating a positive impression, and communicating brand identity to cater to individual preferences and increase customer satisfaction.
Community engagement and social responsibility can be showcased through collaborations with relevant partners, co-branded merchandise, and collaborative giveaways to foster a sense of community, create positive brand associations, and demonstrate commitment to making a difference.
Brand Ambassador Programs
One effective strategy for promoting water bottle brands is to establish a team of three brand ambassadors to represent the product at various events and engage with potential customers.
Brand ambassadors embody the lifestyle and values associated with the brand, creating an authentic connection with consumers.
By leveraging their social media presence and networking skills, brand ambassadors can effectively showcase the product's unique features and benefits.
This approach not only increases brand visibility but also fosters trust and credibility among the target audience.
Additionally, brand ambassadors can provide valuable insights and feedback, aiding in the continuous improvement of the product.
With their ability to create engaging and personalized experiences, brand ambassadors play a pivotal role in driving brand loyalty and elevating the overall brand image in the competitive water bottle market.
Social Media Campaigns
With the pervasive influence of social media on consumer behavior, implementing strategic social media campaigns can significantly boost brand visibility and engagement.
Leveraging influencer partnerships for exposure, organizing user-generated content contests, and creating engaging product demo videos are effective tactics to connect with your target audience and drive brand awareness.
These initiatives not only foster a sense of community but also provide valuable user-generated content that can be leveraged across various marketing channels.
Influencer Partnerships for Exposure
Utilizing influencer partnerships for exposure through social media campaigns has become a vital component of water bottle marketing strategies.
By collaborating with influencers who align with the brand's values and target audience, water bottle companies can significantly expand their reach and credibility.
Influencers can create authentic content that showcases the benefits and features of the water bottles, effectively engaging their followers and driving interest in the product.
Leveraging influencer partnerships also humanizes the brand, making it more relatable and trustworthy in the eyes of consumers.
Additionally, it allows for the creation of diverse and engaging content that can be tailored to different social media platforms, maximizing the impact of the marketing campaign.
As social media continues to dominate consumer attention, partnering with influencers presents an innovative and powerful approach to promoting water bottles and elevating brand visibility.
User-Generated Content Contests
Building on the success of influencer partnerships, water bottle companies can further enhance their marketing strategies by organizing user-generated content contests through social media campaigns.
By encouraging users to create and share content featuring their water bottles, companies can tap into the power of user-generated content to increase brand visibility and engagement.
These contests can be designed to showcase the versatility and functionality of the water bottles, highlighting different ways users incorporate them into their lifestyles.
Offering prizes for the most creative or impactful posts can incentivize participation and generate a buzz around the brand.
Additionally, these campaigns can help build a community of brand advocates and loyal customers who feel personally invested in the brand.
Leveraging user-generated content contests on social media can provide a cost-effective and authentic way to connect with consumers and drive brand awareness.
Engaging Product Demo Videos
Water bottle companies can enhance their marketing strategies by incorporating engaging product demo videos into their social media campaigns, providing a quantifiable demonstration of the bottles' features and functionality, thereby increasing brand visibility and consumer engagement.
Interactive Demonstrations: Create interactive videos showcasing the water bottle's unique features, such as insulation or durability.
Influencer Collaborations: Partner with influencers to create authentic and engaging demo videos, reaching a wider audience.
How-To Guides: Develop how-to videos demonstrating innovative ways to use the water bottle, appealing to consumers seeking functionality.
Customer Testimonials: Share real-life experiences through video testimonials, building trust and credibility.
Engaging product demo videos on social media platforms can capture the audience's attention and drive interest in the product.
Now, let's delve into the concept of 'customized packaging designs' to further elevate the branding strategy.
Customized Packaging Designs
Customized packaging designs play a crucial role in the marketing and branding of water bottles. Innovative and eye-catching packaging not only attracts consumers but also communicates brand identity.
The table below illustrates the impact of customized packaging designs on consumer perception and purchasing decisions:
| Impact of Customized Packaging Designs | Consumer Perception |
| --- | --- |
| Aesthetically pleasing designs | Positive impression |
| Unique and creative packaging | Brand differentiation |
| Eco-friendly and sustainable packaging | Environmental consciousness |
| Interactive packaging features | Enhanced product experience |
| Consistent brand messaging | Brand recognition |
Customized Packaging Designs
Outdoor Event Sponsorship
Sponsoring outdoor events provides water bottle companies with a strategic opportunity to enhance brand visibility and engage with a diverse audience.
By partnering with outdoor events, water bottle companies can create memorable experiences and build meaningful connections with potential customers.
Here are some innovative ways to make the most of outdoor event sponsorship:
Branded Water Stations: Set up branded water stations at the event to offer free refills, showcasing the company logo and creating a positive brand association.
Event Merchandise Collaboration: Collaborate with event organizers to create co-branded merchandise, such as water bottles or reusable cups, to distribute or sell at the event.
Interactive Brand Activations: Engage event attendees with interactive experiences, such as hydration challenges or games, to leave a lasting impression.
Educational Workshops: Host workshops or seminars on hydration and sustainability to demonstrate the company's commitment to health and environmental responsibility.
These strategies not only increase brand visibility but also foster a positive brand image and customer loyalty.
Collaborative Giveaways
Frequently, collaborating on giveaways with relevant partners can significantly expand the reach and impact of a water bottle company's marketing efforts.
By teaming up with complementary brands, such as outdoor apparel companies, fitness centers, or wellness influencers, water bottle companies can tap into new audiences and leverage the partner's existing customer base.
Collaborative giveaways can be structured to encourage social media engagement, email list sign-ups, or event participation, maximizing brand exposure and lead generation.
For example, a water bottle company could partner with a popular fitness influencer to host a giveaway promoting both the influencer's workout program and the water bottle brand.
This not only increases brand visibility but also provides added value to the influencer's audience.
Transitioning into the subsequent section about 'retail partnership strategies', retail collaborations offer another layer of opportunity for expanding market presence and driving sales.
Retail Partnership Strategies
Retail partnerships can provide water bottle companies with valuable opportunities to expand their market presence and drive sales.
By strategically collaborating with retailers, water bottle brands can establish a strong foothold in the market and reach a wider audience.
Here are some innovative strategies for forming successful retail partnerships:
In-store Brand Activations: Create engaging experiences within retail spaces to increase brand visibility and customer engagement.
Exclusive Packaging and Product Offerings: Develop unique packaging or products exclusively available through retail partnerships to attract new customers.
Cross-Promotions and Co-Branding: Collaborate with retail partners to cross-promote products or co-brand items, creating mutually beneficial marketing opportunities.
Targeted In-Store Promotions: Implement targeted promotions within retail locations to drive sales and increase brand awareness among specific consumer segments.
Sustainable Influencer Collaborations
To enhance brand visibility and promote sustainability, water bottle companies can collaborate with influencers who align with their eco-friendly values and appeal to their target audience.
By partnering with influencers who embody a sustainable lifestyle, water bottle brands can effectively communicate their commitment to environmental responsibility and reach a wider audience.
Here's a table outlining potential collaboration ideas:
| Influencer | Platform | Collaboration Idea |
| --- | --- | --- |
| Eco Fashionista | Instagram | Co-create a limited edition reusable bottle collection |
| Outdoor Enthusiast | YouTube | Showcase the bottle's durability on outdoor adventures |
| Wellness Blogger | Podcast | Discuss the importance of hydration and sustainability |
| Fitness Guru | TikTok | Create fun and engaging workout challenges with the bottle |
Sustainable Influencer Collaborations
These collaborations not only showcase the brand's dedication to sustainability but also tap into the influencers' engaged and like-minded followers, driving brand awareness and credibility.
Conclusion
The innovative marketing strategies discussed in this article offer a fresh approach to promoting water bottle brands.
By leveraging brand ambassador programs, social media campaigns, and customized packaging designs, companies can differentiate themselves in a competitive market.
Outdoor event sponsorship, collaborative giveaways, and retail partnership strategies are also effective ways to increase brand visibility and consumer engagement.
Additionally, sustainable influencer collaborations can help companies align their brand with environmental consciousness.
Embracing these unconventional methods can lead to increased brand visibility and consumer engagement, ultimately driving sales and brand loyalty.
The mundane water bottle becomes a symbol of creativity and innovation in the marketing world, embracing irony.