What Can You Say About the Plastic Water Bottle Flowers?
Plastic water bottle flowers are creative and environmental-friendly crafts, that turn discarded plastic bottles into beautiful floral decorations.
Plastic water bottle flowers are an innovative way of reusing and repurposing waste materials. This activity not only helps in reducing the plastic waste that is choking our planet, but also produces stunning flowers that can be used to beautify our homes or gardens.
Eco-friendly: Plastic water bottle flowers are an environmentally friendly way of repurposing non-biodegradable waste.
Creative: This craft activity stimulates creativity and can be a fun project for both children and adults.
Versatile: Plastic water bottle flowers can be painted and decorated in various ways to match any decor style.
Cost-effective: This craft activity is inexpensive as it makes use of materials readily available at home.
Making plastic water bottle flowers is a simple process that involves cutting the bottles into a flower shape, and then painting or decorating them as desired.
This craft project not only encourages creativity, but also promotes environmental consciousness by transforming potential waste into a beautiful piece of art.
7 Aspects: Plastic Water Bottle Flowers
| Aspect | Description |
| --- | --- |
| Material | Plastic water bottles are the main material used to create these flowers. The plastic is durable and easy to mold into different shapes. |
| Creation Process | To create a plastic water bottle flower, you need to cut the bottom of a bottle into the shape of a flower, then add details by using a heat source to slightly melt and warp the plastic. |
| Environmental Impact | This project is environmentally friendly as it reuses plastic bottles that would otherwise end up in landfills or the ocean. It also raises awareness about the problem of plastic pollution. |
| Cost | The cost is minimal since the primary material is recycled plastic bottles. You may need to invest in some basic tools like scissors and a heat source, but these are generally inexpensive. |
| Uses | Plastic water bottle flowers can be used as decorations, gifts, or even educational tools for teaching about plastic recycling. |
| Skill Level Required | The skill level required is relatively low. Anyone, even children with adult supervision, can create these flowers. However, the process can become more complex if you want to create more intricate designs. |
| Safety Precautions | Safety is important when creating plastic water bottle flowers. Cutting plastic can result in sharp edges, and melting it produces fumes that should not be inhaled. Therefore, it's recommended to wear gloves and work in a well-ventilated area. |
7 Aspects: Plastic Water Bottle Flowers
Key Takeaway
Plastic water bottle flowers are a form of creative and unique art which utilize old, used plastic bottles.
They represent an innovative method of recycling plastic waste, substantial to environmental sustainability.
Making plastic water bottle flowers is an engaging activity which enhances individuals' creative abilities and craftsmanship.
This eco-friendly craft can be employed to make decorative items, enhancing aesthetic value of your surroundings.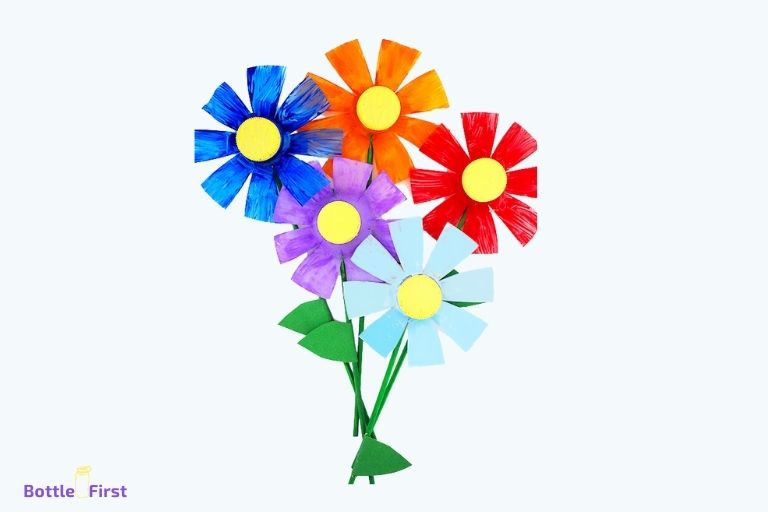 Five Facts About: Plastic Water Bottle Flowers
Plastic water bottle flowers are essentially flowers made from used plastic bottles. They utilize the principle of upcycling, which is the process of transforming waste materials into new products of better quality or environmental value. (Source: Earth911)
With the right tools and creativity, one can transform discarded plastic bottles into beautiful flowers. They can take on a range of shapes, sizes and colors depending on the artist's skill and imagination. (Source: Instructables)
This art form can be an educational tool. It offers a practical and fun way of teaching kids about the importance of recycling and environmental conservation. (Source: PBS KIDS)
The process of making flowers from plastic water bottles can help reduce plastic pollution. Every piece made is essentially one less bottle that ends up in our landfills or oceans. (Source: National Geographic)
Not only can these flowers add beauty to our homes and gardens, but they also serve as items of social and environmental awareness. They symbolize the possibility of turning waste into something useful and beautiful, promoting a culture of recycling and sustainability. (Source: The Guardian)
The Evolution Of Plastic Water Bottle Flowers
From Trash To Treasure: The Innovative Use Of Plastic Bottles
Plastic water bottles have long been a familiar sight in our daily lives. However, their negative impact on the environment is undeniable.
As a response to this growing concern, an innovative solution has emerged – plastic bottle flowers. This eco-conscious art form repurposes plastic bottles, transforming them into beautiful and functional creations.
Let's delve into the evolution of plastic bottle flowers and discover how they have become a shining example of upcycling and environmental awareness.
The Rise Of Plastic Bottle Flowers As An Eco-Conscious Art Form
Artists and crafters worldwide have embraced the concept of plastic bottle flowers, recognizing their potential for creative expression while addressing the issue of plastic waste.
These unique creations captivate and inspire, showcasing the endless possibilities of repurposing materials that would otherwise end up in landfills or contribute to pollution.
The popularity of plastic bottle flowers extends beyond the art community, with individuals and organizations adopting them as eco-friendly alternatives for traditional floral arrangements in various settings.
Some notable points to consider regarding plastic bottle flowers include:
Durability and longevity: Unlike real flowers that wilt and require continuous care, plastic bottle flowers can withstand the test of time, providing lasting beauty without the need for maintenance.
Versatility and customization: Plastic bottles of various shapes and sizes can be transformed into intricate and eye-catching floral designs, allowing for endless creative possibilities.
Environmental impact: By repurposing discarded plastic bottles, this art form promotes the reduction of waste and encourages more sustainable practices. It serves as a visual reminder of the importance of recycling and upcycling in our daily lives.
The evolution of plastic bottle flowers highlights the power of creativity and innovation in addressing environmental concerns.
As we embrace this eco-conscious art form, we not only contribute to the reduction of plastic waste but also celebrate the beauty that can arise from transforming trash into treasure.
The Making Of Plastic Water Bottle Flowers
Plastic water bottle flowers are a creative and eco-friendly way to add a touch of beauty to your home or garden.
With just a few simple steps and some basic tools and materials, you can create stunning flowers that will brighten up any space.
Here is a step-by-step guide on how to make these eye-catching creations.
Step-By-Step Guide: Creating Stunning Flowers From Plastic Bottles
Prepare the plastic bottles: Start by collecting empty plastic water bottles of various sizes. Remove the labels and caps from the bottles and make sure they are clean and dry.
Cut the bottles: Take a pair of sharp scissors and cut off the bottom of the plastic bottles. The length of the cut will determine the size of your flower petals. Cut the bottles vertically to create strips or horizontally to make circles, depending on the desired shape.
Shape the petals: Use your hands or pliers to shape the cut plastic into petal shapes. You can create pointed petals, rounded petals, or even experiment with more unique shapes. Be sure to smooth the edges to avoid any sharp points.
Paint and decorate: Now it's time to get creative! Use acrylic paints or spray paint to add color to your plastic petals. You can also use markers, glitter, or other decorative materials to customize the look of your flowers. Let the paint dry completely before moving on to the next step.
Assemble the flowers: Once the paint is dry, gather the petals and arrange them into a flower shape. You can either glue the petals together or use a small piece of wire to secure them in place. Experiment with different combinations of colors and shapes to create a unique and vibrant bouquet.
Add the stem: To complete your plastic bottle flower, attach a stem. You can use a bamboo skewer, a wire, or even a chopstick. Secure the stem to the back of the flower with glue or by wrapping it tightly with floral tape.
Tools And Materials Needed For Crafting Plastic Bottle Flowers
Empty plastic water bottles of various sizes.
Sharp scissors.
Pliers (optional).
Acrylic paints or spray paint.
Paintbrushes.
Markers, glitter, or other decorative materials.
Glue.
Bamboo skewers, wire, or chopsticks.
Floral tape.
Crafting plastic bottle flowers is a fun and budget-friendly way to unleash your creativity. Whether you're looking to spruce up your living space or create a unique gift for someone special, these beautiful flowers are sure to make a statement.
So, gather your tools, repurpose those plastic bottles, and let your imagination blossom!
The Impact Of Plastic Water Bottle Flowers
Plastic water bottle flowers have been gaining popularity as a sustainable art project and a way to reduce plastic waste.
These unique creations not only have a positive impact on the environment but also empower communities through artistic expression. Let's dive into the key impacts these flowers have:
Environmental Benefits: Reducing Plastic Waste And Promoting Recycling
Plastic water bottle flowers serve as a creative solution to the problem of plastic waste. By repurposing discarded water bottles, they prevent these items from ending up in landfills or polluting our oceans.
These flowers also promote recycling by encouraging individuals to see plastic bottles as a valuable resource rather than disposable items. This mindset shift contributes to a healthier and more sustainable planet.
Social Impact: Empowering Communities Through Sustainable Art Projects
One of the remarkable aspects of plastic water bottle flower projects is how they bring communities together. These art projects provide an opportunity for people of all ages and backgrounds to engage in a common cause while fostering a sense of environmental responsibility.
Creating these flowers allows communities to showcase their creativity and artistic talents. It becomes a platform for self-expression and collaboration, strengthening social bonds and empowering individuals.
Additionally, these projects often promote education and awareness about the environmental impacts of plastic waste. By engaging in the process of making these flowers, communities become more knowledgeable about the need for sustainable practices.
Plastic water bottle flowers have a dual impact: they reduce plastic waste while also bringing people together through sustainable art projects.
Through these initiatives, communities are not only contributing to a greener future but also fostering social interaction and empowerment.
Let's embrace the beauty of these creations and continue to spread awareness about the importance of recycling and repurposing.
Embracing Plastic Water Bottle Flowers: Inspiration And Examples
Plastic water bottle flowers have gained immense popularity as a unique and eco-friendly form of art and decoration. Artists and enthusiasts around the world are embracing this creative concept to bring a touch of nature to their surroundings while promoting sustainability.
Let's explore various plastic bottle flower designs and installations, as well as celebrate the artists who are using these creations for social change.
Showcasing Various Plastic Bottle Flower Designs And Installations
Plastic bottle flowers come in various shapes, sizes, and designs, each showcasing the creativity and imagination of the artists involved.
Here are some key points to know about these beautiful creations:
Colorful blooms: Plastic bottle flowers can be transformed into vibrant blooms, bringing life and cheerfulness to any space.
Inventive designs: From intricate petal arrangements to innovative techniques like heat shaping, artists showcase their talent by giving plastic bottles a new lease on life.
Versatile installations: Plastic bottle flowers can be used in numerous installations, such as wall art, hanging installations, or even as part of larger sculptures.
Outdoor and indoor decor: Due to their durability and resistance to weather, plastic bottle flowers can brighten up both indoor and outdoor settings, adding a unique touch to gardens, offices, or public spaces.
Diy projects: Plastic bottle flowers can empower individuals to engage in their own creative projects, allowing them to repurpose plastic waste while nurturing their artistic side.
Celebrating Artists Who Are Using Plastic Bottle Flowers For Social Change
Artists are not only embracing plastic bottle flowers for their aesthetic appeal but also harnessing their power to create social change.
Here are a few remarkable artists who are using plastic bottle flowers in their work to make a difference:
Michelle brand: Brand's mesmerizing plastic bottle flower installations not only captivate viewers with their beauty but also shed light on the excesses of consumer culture and the need for recycling.
Veronika richterová: This talented artist creates intricate sculptures and chandeliers using plastic bottle flowers, highlighting the importance of repurposing materials and waste reduction.
Pascale marthine tayou: Tayou uses plastic bottle flowers to address social and environmental issues, conveying powerful messages surrounding consumption, pollution, and the impact on our planet.
Sayaka ganz: Ganz's installations depict animals and ocean creatures crafted from plastic bottle flower components, serving as a stark reminder of the harm our plastic waste poses to marine life.
These artists and many others are using their creative prowess to raise awareness and advocate for a more sustainable future, demonstrating that plastic bottle flowers can serve as powerful symbols of change.
Plastic water bottle flowers are not just decorative items but also an artistic expression that promotes the importance of repurposing waste, encouraging sustainability, and generating awareness about environmental concerns.
By embracing these innovative creations, we can all contribute to a greener and more compassionate world.
FAQ About What Can You Say About The Plastic Water Bottle Flowers
How Are Plastic Water Bottle Flowers Made?
plastic water bottle flowers are made by cutting and shaping recycled bottles into flower shapes.
What Materials Are Needed To Create Plastic Water Bottle Flowers?
to create plastic water bottle flowers, you'll need plastic bottles, scissors, paint, and crafting wire.
Can Plastic Water Bottle Flowers Be Used As Decorations?
yes, plastic water bottle flowers can be used as unique and eco-friendly decorations for various occasions.
Are Plastic Water Bottle Flowers Durable?
plastic water bottle flowers are surprisingly durable and can withstand outdoor conditions for extended periods of time.
Conclusion
To sum it up, the plastic water bottle flowers are a creative and eco-friendly solution to repurpose waste. These beautiful flowers not only add a touch of beauty to any space but also promote sustainability by reducing plastic waste.
Their versatility makes them suitable for various decorating purposes, whether it's for events, home decor, or artistic displays.
By supporting the use of plastic water bottle flowers, we can further raise awareness about the importance of recycling and upcycling. Their low cost and accessibility make them an excellent choice for everyone, regardless of their budget.
So, whether you are an art enthusiast, environmentalist, or simply someone who appreciates beauty, consider incorporating plastic water bottle flowers into your decor.