What Do Hair Stylists Put in the Spray Bottle? Solutions!
Hair stylists often put a solution of water and hair product in their spray bottles.
This can include detangling solutions, leave-in conditioners, or simply water for wetting the hair before cutting or styling.
Hair stylists use a spray bottle as a quick and effective way to dampen and prepare the hair for styling or cutting. The water helps to refresh and hydrate the hair, making it easier to work with.
The added hair products can serve multiple functions, such as detangling knots, enhancing shine, or providing conditioner to the hair.
Hair stylists use spray bottles to moisten hair for easy manipulation.
The spray bottle solution often contains water and hair products.
The added hair products can help to detangle, condition, or add shine to the hair.
Using a spray bottle allows for a more even distribution of the product across the hair.
For a hair stylist, a spray bottle is a critical tool in their arsenal. It allows them to dampen and prep the hair for a variety of styling techniques and treatments.
Additionally, the ability to add different products to the water in the spray bottle means they can tailor the solution to the specific needs of each client's hair.
Different Types of Hair Styling Sprays
| Solution Name | Purpose | Frequency of Use |
| --- | --- | --- |
| Water | To dampen the hair before cutting or styling | Very often |
| Leave-In Conditioner | To moisturize and detangle hair | Often |
| Heat Protectant Spray | To protect hair from heat damage before using hot styling tools | Sometimes |
| Volumizing Spray | To give hair extra volume | Occasionally |
| Toning Solution | To maintain or enhance hair color | Rarely |
| Sea Salt Spray | To create beachy, wavy hair | Rarely |
Different Types of Hair Styling Sprays
Key Takeaway
Hair stylists use spray bottles to wet the hair and make it easier to cut, style or manage.
The most common liquid found in a hair stylist's spray bottle is plain water.
Sometimes, detangling sprays or other hair products might be added into the spray bottle for specific styling purposes.
Adding a few drops of essential oils to the water in the spray bottle can also help to keep the hair healthy and shiny.
The mixture inside the spray bottle can vary depending on the individual hairstylist's methods and the specific needs of each client's hair.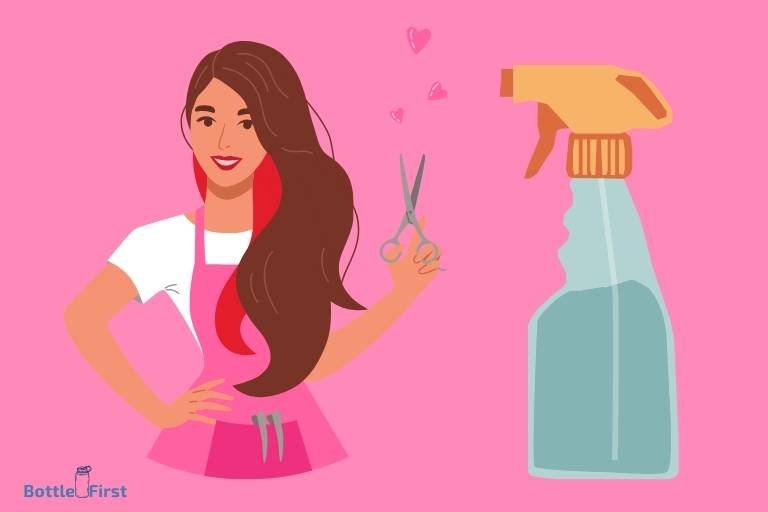 Five Facts About of Hair Styling Sprays
Hair stylists mainly use water in their spray bottles to make it easier to comb and cut the hair. Plain water acts as a universal agent to dampen the hair and provide easy manipulation.
Some stylists mix leave-in conditioners or detangling sprays in their spray bottles to provide extra moisture and ease the combing process, especially for curly or textured hair.
Additional products like hair tonics can also be mixed in the water to provide additional benefits like hair growth, strengthening, or protection against heat damage.
Adding essential oils like lavender, rosemary or peppermint into the mixture is also a common practice among stylists. These oils not only provide a pleasant scent, they can also stimulate hair growth and add shine.
The mixture inside a stylist's spray bottle is subjective; it may differ from one stylist to another and might be adapted to the specific needs of each client.
Water-Based Solutions
The Role Of Water In Hair Styling
Water is an essential component in many hair styling products, including those found in spray bottles.
It serves various purposes in the hair styling process, playing a crucial role in achieving the desired look.
Here are some key points to understand the significance of water in hair styling:
Hydration: Water helps to hydrate the hair shaft, providing moisture and preventing dryness. This is vital for maintaining healthy and manageable hair.
Elasticity: Water contributes to the elasticity of the hair, making it more flexible and easier to style. It helps the hair withstand the tension applied during styling without breaking or becoming damaged.
Penetration: Unlike other products, water can penetrate the hair shaft, allowing it to reach the cortex. This deep penetration helps to nourish and improve the overall condition of the hair.
Benefits Of Using Water-Based Solutions In Spray Bottles
Using water-based solutions in spray bottles offers numerous benefits when it comes to hair styling.
These products are formulated to provide a light mist of hydration, making them ideal for reactivating curls, refreshing hairstyles, or adding moisture.
Here are some advantages of incorporating water-based solutions in your hair care routine:
Hydrates without weighing down: Water-based solutions are lighter in texture, ensuring hydration without leaving the hair feeling heavy or greasy. This is especially beneficial for those with fine or thin hair.
Revitalizes curls: If your curls have lost their bounce, a spray bottle with a water-based solution can help revitalize them. The mist reactivates the natural shape of the curls, restoring their definition and luster.
Reduces frizz: Water-based solutions can combat frizz by adding moisture to the hair. They help to seal the hair cuticles, preventing external humidity from penetrating and causing frizz.
Versatile styling tool: Water-based solutions in spray bottles offer versatility in styling. They can be used before applying other products to increase their effectiveness or on their own to achieve a natural, effortless look.
Gentle on the scalp: As water is the primary ingredient in these solutions, they are typically gentle on the scalp, making them suitable for daily use without causing irritation or buildup.
Water plays a crucial role in hair styling, providing hydration, elasticity, and deep penetration to the hair shaft.
Using water-based solutions in spray bottles offers numerous benefits, including lightweight hydration, curl revitalization, frizz reduction, versatility in styling, and scalp friendliness.
Incorporating these products into your hair care routine ensures optimal hair manageability and styling versatility.
Leave-In Conditioners And Moisturizers
The Benefits Of Leave-In Conditioners For Hair
Leave-in conditioners are a must-have for anyone looking to maintain healthy and luscious locks.
Here are some key benefits of using these magical potions in your hair care routine:
Hydration: Leave-in conditioners are specially formulated to provide deep hydration to your hair strands. They help to lock in moisture and prevent dryness, making your hair more manageable and less prone to breakage.
Detangling: One of the main benefits of leave-in conditioners is their ability to ease out knots and tangles. They make combing and styling a breeze by detangling your hair and reducing the risk of hair breakage during the process.
Heat protection: Leave-in conditioners create a protective barrier around your hair strands, shielding them from the damaging effects of heat styling tools like flat irons and curling wands. This can significantly reduce the risk of hair damage caused by excessive heat exposure.
Frizz control: If you constantly battle with frizzy hair, a leave-in conditioner can become your best friend. These products help to tame frizz and flyaways, leaving your hair sleek, smooth, and more manageable.
How Leave-In Conditioners Can Be Used In Spray Bottles
Leave-in conditioners are available in various forms, including sprays. Using a leave-in conditioner in a spray bottle offers convenience and ease of application.
Here's how you can make the most of these spray-on wonders:
Even distribution: Spray bottles ensure an even distribution of the product throughout your hair. This ensures that every strand receives the nourishing benefits of the conditioner, resulting in healthier and more balanced hair.
Targeted application: With a spray bottle, you can easily target specific areas of your hair that require extra moisture or attention. This allows you to customize your hair care routine and address individual needs.
On-the-go refresh: Another advantage of using leave-in conditioners in spray bottles is their portability. You can carry them in your bag and spritz a little whenever your hair needs a quick pick-me-up throughout the day.
Lighter texture: Spray-on leave-in conditioners often have a lighter texture compared to their cream counterparts. This makes them ideal for those with fine or oily hair who want to avoid excessive product buildup and weigh down.
Moisturizing And Nourishing The Hair For Improved Styling
Healthy hair is the foundation for any great hairstyle. By incorporating leave-in conditioners and moisturizers into your hair care routine, you can achieve improved styling results.
Here's how:
Enhanced softness and shine: Leave-in conditioners provide deep hydration, resulting in softer and more radiant hair. This added moisture makes your hair more manageable and easier to style, giving you that enviable salon-like finish.
Improved elasticity: Dry and brittle hair is more prone to breakage and split ends. Leave-in conditioners help to restore the natural elasticity of your hair, making it more resistant to damage caused by styling tools and environmental factors.
Long-lasting style: When your hair is adequately nourished and moisturized, it holds styles better. Leave-in conditioners create a smooth and healthy foundation, allowing your curls to last longer, your updos to stay in place, and your blowouts to maintain their bounce.
Healthier hair growth: By keeping your hair well-moisturized and nourished, leave-in conditioners contribute to a healthier scalp environment. This promotes optimal hair growth and reduces the likelihood of hair thinning or hair loss.
So there you have it! Leave-in conditioners and moisturizers are the secret weapons for achieving beautiful, healthy, and styled hair.
Incorporate these products into your hair care routine and watch your locks transform into a crowning glory.
Styling Sprays And Setting Lotions
Enhancing Hold And Longevity Of Hairstyles
Styling sprays and setting lotions play a crucial role in the world of hair styling.
These products are conveniently stored in those trusty spray bottles that hairstylists always seem to have on hand. But what exactly do they put in those bottles?
Let's explore the different types of styling sprays and setting lotions that are used in the industry and how they can help enhance the hold and longevity of your hairstyle.
Different Types Of Styling Sprays Available For Different Hair Types
When it comes to styling sprays, one size does not fit all. Hair types vary greatly, and it is important to choose the right spray for your specific needs.
Here are some common types of styling sprays that hairstylists use and their benefits:
Volumizing sprays: These sprays are great for adding body and fullness to limp, fine hair. They usually contain ingredients that lift the hair at the roots, providing a much-needed boost.
Heat protectant sprays: If you frequently use heat styling tools like curling irons or straighteners, a heat protectant spray is a must. These sprays form a protective barrier on the hair, reducing damage caused by high temperatures.
Texturizing sprays: Want that effortlessly tousled look? Texturizing sprays are your secret weapon. They add grit and hold to the hair, making it easier to create messy and textured styles.
Finishing sprays: Once you've perfected your hairstyle, a finishing spray is the final touch. It helps to set the style in place, providing long-lasting hold and shine.
Tips For Using Styling Sprays Effectively With Spray Bottles
Now that you know about the different types of styling sprays available, here are some tips to help you make the most of your spray bottles:
Read the instructions: Always read the instructions that come with your styling spray. They often contain valuable information on the application and usage.
Start with damp hair: For best results, apply styling sprays to damp hair before blow-drying or styling. This helps the product distribute evenly and provides better hold.
Spray at the roots: When using a volumizing or texturizing spray, focus on the roots to create lift and volume. Hold the bottle about six inches away from your hair and spray in short bursts.
Layer the product: Depending on your desired style, layering different styling sprays can help achieve the desired hold and texture. Start with a heat protectant spray, then follow with a volumizing or texturizing spray, and finish off with a finishing spray.
Avoid overspraying: It's easy to go overboard with styling sprays, but remember that a little goes a long way. Start with a small amount and add more if needed.
Keep it at arm's length: When spraying the product, hold the bottle at least six inches away from your hair to ensure even distribution and prevent product buildup.
Using the right styling spray can make a world of difference in the longevity and hold of your hairstyle.
Consider your hair type and desired style, and choose a spray that suits your needs. With these tips, you'll be able to use your spray bottle effectively and achieve salon-worthy results.
Diy Natural Ingredients
Exploring Natural Ingredients Used In Diy Hair Sprays
Using natural ingredients in hair sprays can provide numerous benefits for your hair. Not only do they help to style and hold your hair in place, but they also nourish and protect it.
Here are some key points to understand about the natural ingredients commonly used in diy hair sprays:
Aloe vera gel: Aloe vera is well-known for its soothing properties. It moisturizes the scalp and promotes hair growth while also providing a light hold to your hair.
Witch hazel: Witch hazel acts as a natural astringent and helps to reduce excess oil on the scalp. It also adds shine and volume to your hair.
Essential oils: Various essential oils, such as lavender, rosemary, and peppermint, are often added to diy hair sprays for their pleasant fragrance and beneficial properties. They can help to stimulate hair growth, reduce dandruff, and add shine to your hair.
Vegetable glycerin: Vegetable glycerin is a humectant that attracts moisture to your hair, preventing it from becoming dry and brittle. It also helps to define curls and control frizz.
Distilled water: Distilled water is used as the base ingredient in diy hair sprays, providing the necessary liquid consistency. It is free from impurities, making it gentle on your hair.
Benefits Of Using Natural Ingredients In Spray Bottles
When compared to commercial hair sprays that often contain harsh chemicals, using natural ingredients in spray bottles offers several advantages.
Here's why you should consider incorporating natural ingredients into your hair care routine:
Avoids harmful chemicals: Commercial hair sprays often contain ingredients like alcohol, sulfates, and parabens, which can be damaging to your hair and scalp. Using natural ingredients allows you to avoid these harmful chemicals and minimize the risk of hair damage.
Nourishes and strengthens hair: Natural ingredients like aloe vera, essential oils, and vegetable glycerin provide nourishment to your hair, making it stronger, healthier, and less prone to breakage.
Suitable for all hair types: Whether you have curly, straight, oily, or dry hair, natural ingredients can be tailored to suit your specific hair needs. They work well across different hair types and textures, providing customizable benefits.
Environmentally friendly: By opting for diy hair sprays with natural ingredients, you contribute to a more sustainable and eco-friendly approach towards hair care. You reduce your carbon footprint and minimize waste by using reusable spray bottles.
Cost-effective: Making your own hair sprays using natural ingredients can be more cost-effective in the long run. Many of these ingredients are readily available and affordable, allowing you to save money without compromising on the quality of your hair care routine.
Now that we've explored the benefits of using natural ingredients in hair sprays, let's take a look at some simple recipes to create your own diy hair sprays using these nourishing and natural ingredients.
Recipes For Homemade Hair Sprays Using Natural Ingredients
Aloe vera and lavender spray:
Mix 1/4 cup of aloe vera gel with 1 cup of distilled water.
Add 5-7 drops of lavender essential oil for a soothing scent.
Pour the mixture into a spray bottle and shake well before use.
Witch hazel and rosemary spray:
Combine 1/2 cup of witch hazel with 1 cup of distilled water.
Mix in 5-7 drops of rosemary essential oil for added hair strengthening benefits.
Transfer the mixture into a spray bottle and shake thoroughly.
Vegetable glycerin and peppermint spray:
Mix 1/4 cup of vegetable glycerin with 1 cup of distilled water.
Add 5-7 drops of peppermint essential oil for a refreshing aroma.
Pour the mixture into a spray bottle and shake well to ensure all ingredients are blended.
These simple diy hair spray recipes allow you to customize the ingredients according to your personal hair care needs.
Experiment with different essential oils and quantities to find the perfect natural hair spray that works for you.
Remember, natural ingredients not only provide hold and style to your hair but also offer nourishment and protection, making them an excellent choice for your everyday hair care routine.
Embrace the power of nature and give these diy sprays a try for healthier, more beautiful hair.
FAQ About What Do Hair Stylists Put In The Spray Bottle
What Ingredients Do Hair Stylists Put In The Spray Bottle?
Hair stylists commonly use a mixture of water, styling products, and essential oils in their spray bottles.
How Do Hair Stylists Create Their Custom Hair Sprays?
Hair stylists create their own hair sprays by combining their preferred products, such as hairspray, leave-in conditioners, and heat protectants.
Can Hair Stylists Use Natural Ingredients In Their Sprays?
Yes, many hair stylists opt for natural ingredients like aloe vera, coconut oil, and apple cider vinegar to create healthier options for their clients.
What Benefits Do Hair Sprays Offer For Hairstyling?
Hair sprays help with styling by providing hold, texture, and volume, while also protecting the hair from humidity and frizz.
Are There Any Alternatives To Chemical-Filled Hair Sprays?
Absolutely! Hair stylists can use homemade sprays made from ingredients like rose water, lemon juice, or sea salt to style hair naturally.
Conclusion
To sum it up, hair stylists rely on a diverse range of products in their spray bottles to cater to their clients' specific needs.
From water and essential oils to texturizing sprays and heat protectants, hair stylists utilize these concoctions to achieve desired results.
Depending on the hairstyle, hair type, and individual preferences, the spray bottle contents are customized accordingly.
The stylists' expertise shines through in their ability to select the perfect combination of products to create stunning looks.
As trends and technology evolve, so do the options available in these spray bottles.
Keeping up-to-date with the latest products ensures stylists provide the best possible service to their clients.
By understanding the purpose and ingredients of the spray bottle, clients can make informed decisions and more effectively communicate their desired outcomes to their stylist.
So next time you sit in the salon chair, rest assured that the spray bottle in your stylist's hand is a key tool in achieving the perfect hairstyle for you.