Why Do Spray Bottles Leak? 5 Common Reasons!
Spray bottles leak primarily due to faulty seals, improper assembly, damaged components, or manufacturing defects in the nozzle, trigger, or bottle.
Spray bottles consist of several components that work together to dispense liquid as a fine mist. The components include the bottle, trigger, nozzle, dip tube, and gasket or seal.
Leaks can occur if any of these components fail or are assembled incorrectly, leading to an improper seal or misalignment between the parts.
Faulty seals or gaskets: The gasket is responsible for creating an airtight seal between the nozzle and trigger assembly. A damaged, worn, or improperly sized gasket can cause leaks.
Improper assembly: If the components are not correctly assembled, it can lead to leaks. For example, the nozzle may not form a tight seal with the trigger or bottle neck.
Damaged components: Cracked, chipped, or broken parts can contribute to leakage. This includes the nozzle, trigger, or bottle itself.
Manufacturing defects: In some cases, the spray bottle may have been produced with defects in the materials or construction, leading to leaks even with proper assembly and use.
To prevent spray bottle leaks, it is important to inspect the components regularly for any signs of damage and to replace any faulty parts as needed.
Additionally, ensuring the bottle and trigger assembly are properly tightened can help maintain an airtight seal and prevent leaks.
When not in use, store the spray bottle upright to reduce stress on the seals and minimize the potential for leakage.
5 Common Reasons for Spray Bottles Leaking
| Reason | Explanation | Possible Solutions |
| --- | --- | --- |
| Loose nozzle | The nozzle may not be tightly secured to the bottle. | Tighten the nozzle; replace if damaged. |
| Cracked body | The bottle may have a crack, causing leakage. | Replace the bottle. |
| Worn gasket | The gasket may have deteriorated, leading to leaks. | Replace the gasket. |
| Overfilled | The bottle may be overfilled, causing pressure build-up. | Fill the bottle to the recommended level. |
| Damaged seal | The spray mechanism's seal may be compromised. | Replace the spray mechanism. |
5 Common Reasons for Spray Bottles Leaking
Key Takeaway
Spray bottle design and construction play a significant role in potential leaks.
Material quality and nozzle design impact the bottle's resistance to leaking.
Proper assembly and maintenance can reduce the chances of leakage.
Understanding potential causes of leakage can help you choose the right spray bottle for your needs.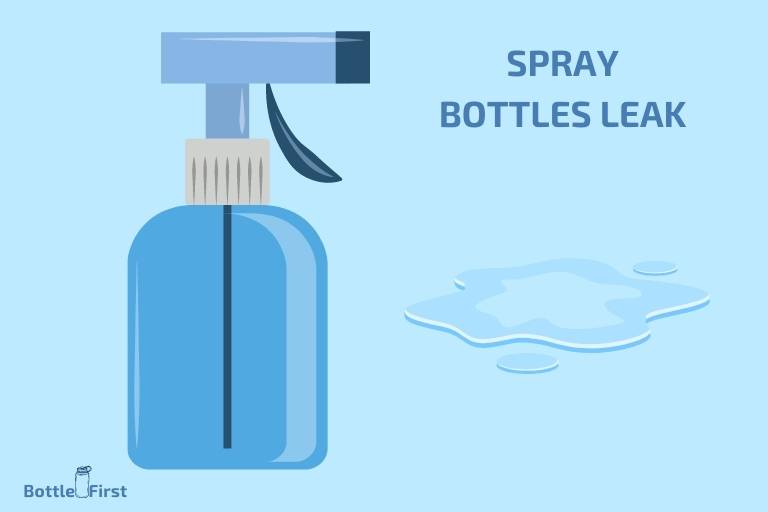 Five Facts About Spray Bottles Leaking
Spray bottle leaks can occur due to the design and construction of the bottle, including materials used, nozzle construction, and the sealing mechanisms between different components (source: Sprayer Expert).
The quality of the materials used in making spray bottles affects their durability and resistance to leakage, with low-quality plastics being more prone to cracks and breakage (source: Sprayer Expert).
Nozzle design plays a critical role in preventing leaks, with adjustable nozzles being more likely to leak than fixed nozzles due to their complexity and moveable parts (source: Sprayer Expert).
Proper assembly and maintenance of spray bottles can help minimize the chances of leakage, such as ensuring that all components are properly tightened and regularly checking for wear and damage (source: Sprayer Expert).
Understanding the potential causes of leakage in spray bottles can help users choose the right spray bottle for their needs, prioritizing features such as quality materials, a secure nozzle design, and easy maintenance (source: Sprayer Expert).
Understanding The Science Behind Spray Bottles
Spray bottles are commonly used in our daily lives, and they serve a variety of purposes. However, it is frustrating when your spray bottle leaks or fails to function as it should.
Leaks can be messy, they can damage your items, and they can waste your spray as well.
So, why do spray bottles leak? Let's explore and understand the science behind it.
The Basic Anatomy Of A Spray Bottle: How It Works And Why It Leaks
Spray bottles are made up of several parts that work together to enable the button to activate and release the liquid for spray.
These parts include:
Trigger: The trigger is the button that you press to release the liquid.
Nozzle: The nozzle is where the liquid comes out of the bottle.
Dip tube: The dip tube extends from the nozzle into the spray bottle's reservoir, and it sucks the liquid up into the nozzle.
Bottle: This is where the liquid is stored.
Even with these basic parts, spray bottles can still leak or fail to work.
Here are some reasons why:
The dip tube is too long or too short.
The nozzle is clogged or not screwed on tight enough.
The spray bottle is damaged or cracked.
The Role Of Pressure In Spray Bottle Mechanism
For spray bottles to work, there must be some pressure created in the system. The pressure inside the bottle is responsible for pushing the liquid up the dip tube and out the nozzle.
This is known as spray bottle mechanism.
When the trigger is squeezed, the pressure inside the bottle is released and the liquid is sprayed out.
Factors That Affect The Pressure Inside Spray Bottles And How They Contribute To Leaks
Several factors can contribute to the pressure inside spray bottles.
These factors include:
Temperature: The pressure inside the bottle can increase with temperature, causing leaks or bursts.
Liquid viscosity: The viscosity or thickness of the liquid can also affect the pressure inside the bottle, and thicker liquids may need more pressure to spray.
Air pressure: Air pressure outside the bottle also affects the pressure inside, which can cause leaks or poor performance.
A blocked nozzle: A blocked nozzle can result in no pressure and cause leaks.
Spray bottles are simple devices that serve a variety of purposes.
However, it is important to understand the mechanism working inside and the factors that contribute to the issues surrounding spray bottles.
Ultimately, with proper care and attention, spray bottles can function perfectly.
Common Causes Of Spray Bottle Leaks
Why do spray bottles leak: common causes of spray bottle leaks
Spray bottles are essential tools in our daily lives, and they come in different types, shapes, and sizes, depending on their intended use.
As much as these bottles are useful, they also tend to leak, which can be frustrating.
This section will identify the common causes of spray bottle leaks, including faulty nozzle, poor seal, overfilling, temperature changes, chemical reactions, and physical damage.
Faulty Nozzle: Types Of Nozzles, How They Malfunction And Cause Leaks
Spray bottles come with different types of nozzles, including trigger, pump, and aerosol nozzles. Faulty nozzles are one of the common causes of bottle leaks.
Here are the key points to note about faulty nozzles:
Trigger and pump nozzles: When spray bottles have trigger and pump nozzles, they can stop working or leak due to blockage from dirt, product buildup, or poor alignment.
Aerosol nozzles: These can clog and leak due to improper use, wear and tear, or faulty design.
Poor Seal: Exploring The Types Of Seals, How They Wear Out, And Affect Bottle Integrity
Seals play a crucial role in keeping spray bottles intact by preventing leaks. However, if the seal is not tight, there will be a leak.
Here are the key points to note about poor seals:
Types of seals: Spray bottles have different types of seals, including o-rings, gaskets, and valves. Each of these seals can fail due to wear and tear or damage during use.
Wear and tear: Over time, seals tend to wear out and lose their effectiveness, which can result in leaks.
Affect bottle integrity: Poor seals can affect the overall integrity of the spray bottle, making it ineffective.
Overfilling: How Overfilling Affects The Pressure Inside The Bottle And Leads To Leaks
Sometimes, we tend to overfill spray bottles, which can cause pressure inside the bottle and lead to leaks.
Here are the key points to note about overfilling:
Pressure build-up: Overfilling a spray bottle increases the pressure inside, which causes the product to leak from the nozzle.
Avoid overfilling: To avoid overfilling, always ensure that you leave a little space inside the spray bottle to allow for pressure to build up and prevent leaks.
Temperature Changes: How Extreme Temperature Variations Cause Expansion And Contraction Leading To Leaks
Extreme temperature variations can cause spray bottles to expand and contract, leading to leaks.
Here are the key points to note about temperature changes:
Expansion and contraction: Extreme temperature changes, such as leaving the bottle in direct sunlight, can cause the bottle to expand and contract, leading to leaks.
Avoid temperature extremes: Store spray bottles in moderate temperature environments to avoid temperature extremes that can cause leaks.
Chemical Reactions: Understanding How Mixtures React To Produce Gas And Exert Pressure On The Bottle
When different mixtures react, they can produce gas that exerts pressure inside the bottle, leading to leaks.
Here are the key points to note about chemical reactions:
Gas pressure: When certain mixtures react, they produce gas, which can exert pressure on the bottle, causing it to leak.
Avoid mixing incompatible products: Always read labels before mixing products to avoid chemical reactions that can cause leaks.
Physical Damage: Exploring How Scratches, Cracks, And Dents On Spray Bottles Lead To Leaks
Spray bottles are prone to physical damage due to frequent use and accidents. Physical damages on spray bottles can lead to leaks.
Here are the key points to note about physical damage:
Scratches on nozzle: Scratches on the nozzle can cause misalignment, leading to leaks.
Cracks and dents: These can weaken the structural integrity of the bottle and lead to leaks.
Spray bottle leaks can be frustrating, and it helps to understand the common causes to prevent them.
By following simple practices such as proper filling, storing, and handling, you can reduce the chances of experiencing leaks and extend the life of your spray bottle.
Impact Of Leaking Spray Bottles On The Environment
The Effect Of Chemicals And Mixtures On The Environment
Spray bottles are commonly used to contain chemicals, including household cleaners, insecticides, and fertilizers.
The leaking of these chemicals into the environment can have detrimental effects on not just the environment but also the communities around it.
Here are the key points to remember:
Chemicals that are frequently used in spray bottles can contribute to air and water pollution.
Pesticides in leaked spray bottles can be harmful to insects, plants and animals, and even pose health threats to humans.
Mixtures that contain corrosive chemicals can lead to soil and water pollution, as well as damage to pipes and drains.
How Leaks Cause Waste And Financial Implications For Consumers
Leaking spray bottles can become a source of annoyance and waste for consumers. Not only that, it also affects their budget.
Here are the key points:
When a spray bottle leaks, it contributes to unnecessary waste, as the product in the bottle dwindles without being used.
Consumers often end up having to buy a replacement for the faulty bottle, resulting in extra financial costs.
Leaking spray bottles increase the need for frequent cleaning and possible damage to furniture or other items in the area.
Potential Health Hazards Resulting From Exposure To Leaked Chemicals
Exposure to leaked chemicals can pose significant risks to human health, especially when ingested or inhaled.
Here are the key points:
People who are in close contact with leaked spray bottles containing harmful chemicals may experience skin irritation, respiratory problems, or even serious illness.
Inhalation or ingestion of corrosive chemicals can result in choking, vomiting, or other serious health risks.
The elderly, children and people with pre-existing health conditions are particularly at risk when exposed to leaked chemicals.
Spray bottle leaks cause damaging and irreversible impacts on the environment and human lives.
It's important to dispose of damaged spray bottles correctly and to get them fixed immediately to avoid any unnecessary financial and health implications.
How To Fix A Leaking Spray Bottle
Troubleshooting Leaks: How To Identify The Source And Type Of Leak
Spray bottles are an everyday household item, but they can quickly become frustrating when they leak. Before trying out any fixes, it is essential to identify the source and type of the leak.
Here's how to do it:
Check the bottle's nozzle head for any cracks or damage.
Examine the bottle's seal and ensure that it is tightly secured.
Inspect the nozzle's tip and see if it is clogged or dirty.
Once you have identified the issue, you can move forward with solving the problem.
Diy Solutions: Common Hacks And Techniques To Fix Leaks At Home
Fixing spray bottle leaks is a simple and easy task that you can do at home.
Here are some common diy hacks that can help you fix your spray bottle:
Replace the nozzle head or seal. You can easily buy replacement parts at your local hardware store or online.
Clean out the nozzle's tip by soaking it in hot water for 5-10 minutes.
Use teflon tape to create a better seal around the bottle's neck.
With these simple fixes, you can have your spray bottle back to good condition in no time!
Professional Repairs: When To Seek The Help Of Professionals
If you have tried all possible diy solutions and your spray bottle still leaks, it may be time to call in the professionals.
Here are some instances when you should seek help from a professional:
If the bottle's nozzle head or seal cannot be replaced easily.
If the bottle itself is cracked or damaged beyond repair.
If the spray bottle contains hazardous chemicals that could pose a risk if mishandled.
Remember, it is always better to be safe than sorry. Seeking professional help in these instances can prevent further damage to your property and ensure that your spray bottle is working correctly.
How Does the Trigger Mechanism of Tip N Spray Bottles Prevent Leaking?
Tip n spray bottles have a clever trigger mechanism that ensures no leaking occurs. The keyword tip n spray bottles explanation implies that this mechanism prevents any accidental spillage. By securing the opening tightly when not in use, the trigger mechanism ensures the bottle is airtight, preventing leaks and preserving the contents for longer.
FAQ About Why Do Spray Bottles Leak
Why Do Spray Bottles Leak?
Spray bottles leak because of worn-out parts, clogged nozzles, or incorrect storage.
How Do I Prevent Spray Bottles From Leaking?
Prevent spray bottles from leaking by keeping the nozzle clean, replacing worn-out parts, and storing them correctly.
What Kind Of Sprays Are Prone To Leaking?
Most spray bottles, such as those used for cleaning solutions or plant sprays, are prone to leaking.
Can A Leaking Spray Bottle Be Fixed?
Yes, a leaking spray bottle can be fixed by replacing the worn-out parts or unclogging the nozzle.
How Do I Properly Store A Spray Bottle To Prevent Leaks?
Store your spray bottle in an upright position, keep it away from direct sunlight, and in a cool, dry place to prevent leaks.
Conclusion
It's frustrating when spray bottles leak, ruining your cleaning or gardening efforts. But don't fret, as there are various reasons why spray bottles leak that you can avoid.
By checking the seal, paying attention to the pressure, and checking if the bottle is clogged, you're already on your way to solving the problem.
Additionally, choosing the right type of bottle for your specific needs is also crucial.
A trigger spray bottle is a common option, but if you require a fine mist for your application, an aerosol spray bottle might be better. It's important to remember that spray bottles are not a one-size-fits-all solution.
Overall, understanding why spray bottles leak and how to prevent it can make your cleaning and gardening tasks more efficient and enjoyable.
So, next time you face a leaky spray bottle, just follow these simple tips to resolve the issue in a jiffy!