Why Do Spray Bottles Leak: 7 Major Causes!
Spray bottles may leak due to a range of issues including material expansion and contraction, inadequate seal design, pressure build-up, component wear and tear, improper storage, and user error.
Leakage in spray bottles typically stems from several common issues:
Material Expansion and Contraction: Changes in temperature can cause the materials of the spray bottle to expand or contract, leading to gaps or weaknesses where leaks can occur.
Inadequate Seal Design: If the seal within the bottle's mechanism is not designed correctly, it may not prevent liquid from escaping.
Pressure Build-Up: Spray bottles work by creating pressure. If this pressure is not released correctly, it can force liquid out through weak points.
Wear and Tear on Components: Regular use can cause the components of a spray bottle, like the pump or the nozzle, to degrade, which might lead to leakage.
Improper Storage Conditions: Storing a spray bottle in an inappropriate environment can affect its integrity and lead to leaks.
User Error: Incorrect assembly or overfilling the bottle can also cause leaks.
For example, a spray bottle left in a hot car might leak due to the heat causing the plastic to expand.
Ensuring the longevity of your spray bottles involves regular maintenance and proper usage to avoid common leakage problems and maintain optimal performance.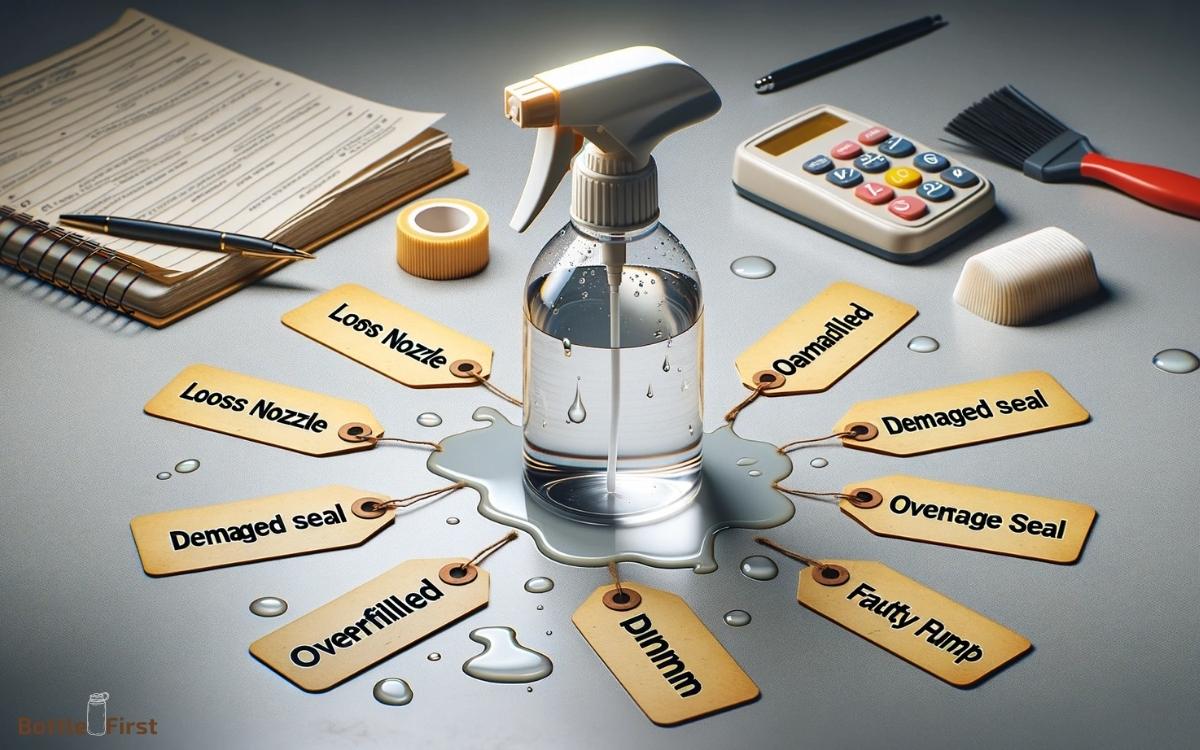 Key Takeaway
Spray bottle leakage can be caused by factors such as material expansion and contraction due to temperature changes, inadequate seal design, pressure build-up, and wear and tear on components.
Temperature fluctuations can affect spray patterns and cause leaks due to the expansion or contraction of materials, creating gaps or weaknesses.
Inadequate seal design can result in insufficient compression strength, poor alignment, improper material selection, lack of flexibility to accommodate pressure variations, and ineffective sealing mechanisms.
Pressure build-up in spray bottles can occur due to temperature fluctuations, chemical reactions, or changes in the state of substances, and can be addressed through the use of pressure-relief valves, suitable materials, and optimized bottle structures.
Material Expansion and Contraction
Material expansion and contraction in spray bottles can lead to leaks and inefficiencies in their operation. When spray bottles are exposed to fluctuations in temperature, the materials they are made of expand and contract.
This can cause the seals and moving parts in the spray mechanism to become compromised, resulting in leaks and inconsistent spray patterns.
To address this issue, innovative materials and design solutions are being developed. For instance, using materials with lower coefficients of thermal expansion can minimize the effects of temperature variations.
Additionally, engineers are designing more robust sealing mechanisms that can accommodate the dimensional changes caused by temperature fluctuations.
Inadequate Seal Design
Inadequate seal design in spray bottles can exacerbate the effects of material expansion and contraction, leading to increased instances of leaks and operational inefficiencies.
This can be attributed to several factors:
Insufficient compression strength of the seal
Poor alignment between the seal and the bottle opening
Inadequate material selection for the seal
Lack of flexibility in the seal to accommodate variations in pressure
Ineffective sealing mechanism, such as threading or snap-fit design
Addressing these issues through innovative seal design is crucial for preventing leaks and enhancing the overall performance of spray bottles.
Pressure Build-Up
Pressure build-up within spray bottles can result from the interaction of various factors, including temperature fluctuations and the nature of the contained substances.
When the temperature rises, the air inside the bottle expands, leading to an increase in pressure. Additionally, certain substances may undergo chemical reactions or changes in state, further contributing to pressure build-up.
Understanding these dynamics is crucial for preventing leaks and ensuring the functionality of spray bottles.
| Factors | Effects | Solutions |
| --- | --- | --- |
| Temperature Fluctuations | Air expansion, pressure increase | Use pressure-relief valves |
| Nature of Substances | Chemical reactions, change in state | Choose suitable materials, consider propellant options |
| Design Flaws | Weak points under pressure | Conduct thorough stress tests, optimize bottle structure |
Pressure Build-Up
Wear and Tear on Components
As spray bottles are regularly used, wear and tear on their components can lead to potential leaks and reduced functionality. This issue can impact the overall user experience and the effectiveness of the product.
Several factors contribute to wear and tear on spray bottle components, including:
Friction from repeated use
Exposure to harsh chemicals leading to corrosion
Degradation of seals and gaskets over time
Fatigue and stress on plastic or metal parts
Inadequate maintenance and cleaning practices
Understanding these factors is crucial for innovating and developing more durable and reliable spray bottle designs.
Improper Storage Conditions
Improper storage conditions can have a significant impact on the performance of spray bottles. Temperature and humidity levels can affect the integrity of the bottle's seals, leading to potential leaks.
Additionally, prolonged exposure to sunlight can degrade the materials, reducing the effectiveness of the bottle's components.
Temperature and Humidity Impact
When stored in conditions of fluctuating temperature and high humidity, spray bottles are prone to leaking.
This occurs due to the following reasons:
Material expansion and contraction: Fluctuating temperatures cause the materials in the spray bottle to expand and contract, leading to potential leakage around seals and joints.
Increased air pressure: High humidity can increase the air pressure inside the bottle, causing the liquid to be forced out through the nozzle or other openings.
Degradation of seals: High humidity accelerates the degradation of seals and gaskets, compromising their ability to prevent leaks.
Condensation: Fluctuating temperatures can lead to condensation inside the bottle, contributing to the build-up of excess moisture and potential leakage.
Chemical reactions: High humidity can trigger chemical reactions between the liquid contents and the materials of the spray bottle, leading to structural damage and leaks.
Exposure to Sunlight
Exposure to sunlight, specifically when spray bottles are stored in areas with direct sunlight, can exacerbate the aforementioned issues, particularly the expansion, and contraction of materials, increased air pressure, degradation of seals, condensation, and chemical reactions, leading to an increased risk of leakage.
When spray bottles are exposed to sunlight, the materials they are made of can expand and contract, causing stress on the bottle's structure and potentially leading to weakened areas where leaks can occur.
Additionally, increased air pressure within the bottle due to temperature changes can put additional strain on seals, increasing the likelihood of failure.
Furthermore, condensation from temperature differentials and chemical reactions caused by exposure to sunlight can compromise the integrity of the bottle and its components, further contributing to the potential for leaks.
Therefore, proper storage in shaded areas or using UV-resistant materials can mitigate these issues and enhance the reliability of spray bottles.
Quality of Seals
Storing spray bottles in conditions that are unsuitable for maintaining the quality of their seals can lead to an increased risk of leakage.
Factors that contribute to the deterioration of seals include:
Exposure to extreme temperatures, such as heat or cold, weakens the seal material.
High humidity levels cause degradation of the seal over time.
Storing bottles in direct sunlight accelerates the breakdown of the seal material.
Contact with chemicals or substances that are incompatible with the seal material, leads to seal corrosion.
Inadequate storage that subjects the bottles to physical pressure, compromising the integrity of the seals.
Addressing these factors through innovative seal designs and improved storage solutions is crucial to ensuring the reliability of spray bottles and preventing leaks.
User Error and Mishandling
When it comes to the issue of spray bottles leaking, user error and mishandling are common culprits. Improper nozzle placement, such as not fully tightening or aligning it, can lead to leaks.
Additionally, over-tightened or loose nozzles, as well as faulty trigger mechanisms, can also contribute to the problem.
Improper Nozzle Placement
One common reason for leaks in spray bottles is improper nozzle placement due to user error or mishandling. This can lead to a variety of issues that compromise the functionality of the spray bottle.
Some key factors to consider regarding improper nozzle placement include:
Incorrect alignment of the nozzle with the bottle opening
Over-tightening or under-tightening the nozzle, causing it to be off-center
Using excessive force when attaching the nozzle, leads to damage or misalignment
Failing to clean the nozzle and bottle threads, resulted in a poor seal
Inadequate maintenance and inspection of the nozzle, leading to wear and tear
Addressing these factors through user education and innovative design improvements can help prevent leaks and enhance the overall user experience with spray bottles.
Over-Tightened or Loose
Improper nozzle placement due to user error or mishandling can result in over-tightened or loose nozzles, contributing to leaks in spray bottles.
When a user over-tightens the nozzle onto the bottle, it can distort the threading or cause damage to the seal, leading to a compromised closure that allows liquid to escape.
Conversely, if the nozzle is not securely tightened, it can create a gap through which the liquid can seep out.
These issues can stem from user error and mishandling, highlighting the importance of proper handling and usage instructions.
Addressing this issue through innovative design solutions, such as improved threading mechanisms or user-friendly tightening indicators, can help mitigate leaks caused by over-tightened or loose nozzles, enhancing the overall user experience.
Faulty Trigger Mechanism
A common cause of leakage in spray bottles is the mishandling or misuse of the trigger mechanism.
This can lead to various issues that compromise the bottle's functionality, including:
Applying excessive force on the trigger leads to wear and tear
Incorrect positioning of the trigger, causing misalignment with the nozzle
Inadequate cleaning and maintenance of the trigger mechanism, leading to blockages
Use of incompatible cleaning solutions, resulting in deterioration of the trigger components
Over-pumping the trigger, causing internal pressure imbalance
Understanding the proper usage and maintenance of the trigger mechanism is crucial in preventing leakage and ensuring the optimal performance of spray bottles.
By addressing these mishandling issues, users can enhance the reliability and effectiveness of their spray bottle experience.
Conclusion
In the world of spray bottles, leaks can be attributed to factors such as:
Material expansion and contraction
Inadequate seal design
Pressure build-up
Wear and tear on components
Improper storage conditions
User error
Just as a ship must navigate through turbulent waters, so too must a spray bottle withstand the challenges of its environment.
By understanding and addressing these factors, the issue of leaks can be minimized, ensuring smooth sailing for the spray bottle.