Why Does My Camelbak Water Bottle Leak
The most common reason why a Camelbak water bottle may leak is due to improper seal closure. If the opening of the drinking nozzle is not securely twisted shut, liquid can leak out.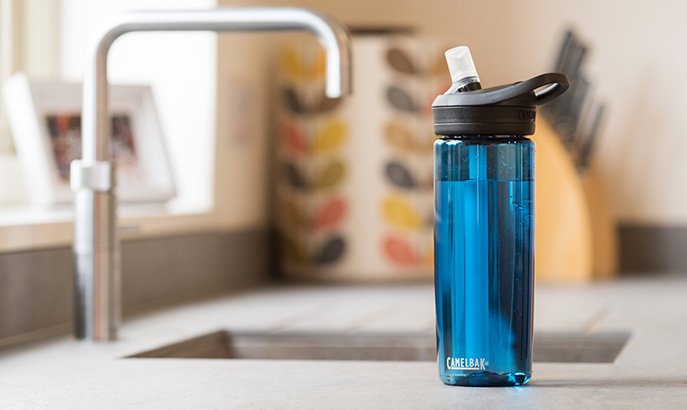 Additionally, the rubber seals located on the inside of the nozzle and lid can deteriorate over time and lose their water-proof properties, resulting in leaking.
Improper seal closure of the drinking nozzle
Deterioration of rubber seals on the nozzle and lid
Damage to the cap or lid due to wear and tear
Debris stuck inside the nozzle, preventing it from closing properly
With these possible causes in mind, the best course of action to avoid leaks is to make sure the drinking nozzle is always securely twisted shut and to periodically check for damages to the lid and nozzle seals that may hinder the bottle's water-proof properties.
If signs of wear or deterioration are found, it's best to replace them promptly to keep the bottle functioning properly.
Do Camelbak Drink Bottles Leak?
Do CamelBak drink bottles leak? If you're using a CamelBak bottle for the first time, you may be wondering if they're known to leak. The good news is that CamelBak bottles are designed not to leak, and in most cases they live up to that promise.

However, there are a few things that can cause a CamelBak bottle to start leaking, which we'll discuss below. One of the most common reasons for a CamelBak bottle to start leaking is simply because the bite valve isn't closed properly. When you're finished drinking from your bottle, make sure the bite valve is pushed all the way down so that it's sealed shut.

If it's not completely closed, even a small amount of pressure can cause leaks. Another common reason for leaks is because the O-ring that seals the cap isn't seated properly. Before you screw on the cap, check to make sure the O-ring is in place and lined up with the grooves in the cap.

If it's not lined up correctly, it won't create a proper seal and your bottle will leak. Lastly, if you've dropped your CamelBak bottle or otherwise damaged it, there's a chance that could have caused damage to one of the seals inside the bottle. Inspect your bottle carefully for any cracks or other signs of damage before using it again – if you spot anything suspicious, it's best to err on the side of caution and get a new bottle.

Overall, as long as you take care of your CamelBak bottle and make sure everything is screwed on tight and lined up correctly, you shouldn't have any problems with leaks.
How Do I Stop My Water Bottle from Leaking?
If you're finding that your water bottle is leaking, there are a few things you can do to try and fix the issue. First, check to see if the lid is on correctly and tightened. If it's not, then simply screwing on the lid more tightly should do the trick.

If the problem persists, then it's likely that there is an issue with the seal around the lid. In this case, you'll need to clean the seal (which can be done with warm soapy water) and make sure it's dry before putting the lid back on. If there's still leakage, then you may need to replace the seal entirely.
Why is My Water Bottle Leaking from the Bottom?
Water bottles are made to withstand a lot of wear and tear, but even the most durable water bottle can spring a leak. If your water bottle is leaking from the bottom, there are a few possible explanations. The first possibility is that the seal around the cap is damaged or worn out.

If this is the case, simply replacing the seal should fix the problem. Another possibility is that the bottle itself is cracked or damaged. This type of damage is usually not repairable and you will need to buy a new water bottle.

Inspect your water bottle carefully to see if there are any cracks or other damage that could be causing the leak. If you can't find any damage to the water bottle, it's possible that the leak is coming from where the spout attaches to the bottle. This type of leak can often be fixed by simply tightening the spout.

If that doesn't work, you may need to replace the spout entirely. Finally, it's possible that your water bottle has a manufacturing defect. In this case, you should contact the company that made your water bottle and ask about getting a replacement or refund.
How Do You Clean the Jet Valve on a Camelbak Water Bottle?
CamelBak water bottles are made with a jet valve, which is a self-sealing valve that opens and closes with a bite. The jet valve is designed to keep your CamelBak water bottle clean and free of debris. However, over time the jet valve can become clogged with dirt and grime.

If this happens, you'll need to clean the jet valve to get your CamelBak water bottle working properly again. Here's how: 1. Remove the cap from your CamelBak water bottle.

2. Locate the small black rubber gasket on the underside of the cap. This is the O-ring seal for the jet valve. 3. Use your fingers or a small tool to carefully remove the O-ring seal from the cap.

Be careful not to lose it! 4. Once the O-ring seal is removed, you should be able to see inside the small hole in the center of the cap where the jet valve is located. 5 .

Use a cotton swab or other small tool to reach inside this hole and gently scrape away any dirt or debris that you see around thejet valve opening . Be careful not to damage or dislodgethejet valve itself . You may also wantto use compressed airto blow out any stubborn dirt particles .

Ifyou don't have compressed air available , simply blowing into th ehole will work as well . Just make sure you do thisthoroughly so no dirt particles are left behind . Otherwise , they could end up back in your water bottle !

6 .Once you're satisfied that allthe dirt and debris has been removed from aroundthejet valve , it's time toreplacetheO – ring seal . Simply takeitand fit it snugly backinto place in thematching groove on top ofthecap .
Fixing kids camelbak water bottle air vent in under 5 min!
How to Use Camelbak Water Bottle Bite Valve
If you've ever used a Camelbak water bottle, you know how convenient they are. But did you know that there is a right way and a wrong way to use the bite valve? Here's a quick guide on how to get the most out of your Camelbak water bottle.

The first thing you need to do is make sure that the bite valve is properly attached to the bottle. If it's not, then it won't work correctly and you'll end up with leaks. Once the bite valve is securely in place, give it a good squeeze so that all of the air is expelled from the bottle.

Now comes the important part – putting the bite valve to your lips and taking a drink. When you do this, make sure that you only suck on the valve and not on the straw that protrudes from it. Sucking on the straw will cause air to enter the bottle and will eventually lead to leaks.

So just remember – suck on the valve, not the straw! Assuming you're using your Camelbak water bottle for its intended purpose (i.e., holding water), you'll want to clean it out every now and then. The best way to do this is to unscrew the cap, remove the bite valve, and rinse everything out with warm water.

You can also use a mild soap if needed. Just be sure to rinse everything thoroughly before screwing everything back together again. And there you have it!

Now you know how to use your Camelbak water bottle correctly – no more leaks!
How Long Do Camelbak Water Bottles Last
Camelbak water bottles are made from high-quality materials and are designed to last for years. However, like all products, they will eventually wear out and need to be replaced. How long your Camelbak water bottle lasts will depend on how often you use it and how well you care for it.

With proper care and regular cleaning, your Camelbak water bottle can easily last 5 years or more.
How to Drink from Camelbak Eddy Bottle
If you've ever been on a long hike, you know how important it is to stay hydrated. But carrying a water bottle can be a pain, especially if it's one of those big, bulky ones. That's where Camelbak comes in.

Their Eddy water bottle is perfect for hiking, thanks to its lightweight design and easy-to-use spout. Here's a quick guide on how to use it:
Make sure the cap is screwed on tightly so there are no leaks. 2. When you're ready to drink, simply bite down on the valve and suck the water through the straw into your mouth. 3. To close the valve when you're done drinking, just release your bite and the straw will automatically seal itself shut.
No leaking or spilling! 4. When you get home from your hike, unscrew the cap and wash out your Camelbak Eddy with soap and water.
How to Clean Camelbak Mouthpiece Mold
If you've ever taken a sip of water from your Camelbak and noticed an unpleasant taste, it's probably due to mold growth on the mouthpiece. While it's not harmful to drink from a Camelbak with moldy mouthpiece, it's certainly not pleasant either. Fortunately, cleaning the mold is quick and easy.

To clean your Camelbak mouthpiece, start by removing it from the reservoir. Then, rinse it well with warm water and soap. Be sure to scrub all of the nooks and crannies where mold likes to hide.

Once you've removed all of the visible mold, rinse the mouthpiece again with clean water. Now that your Camelbak mouthpiece is clean, you can prevent future mold growth by storing it in a dry place when you're not using it. If you live in a humid climate or tend to sweat a lot when hiking, consider storing your Camelbak in a zip-top bag with some silica gel packets to absorb moisture.

With just a little bit of care, your Camelbak will provide years of refreshing drinks without any nasty surprises!
Conclusion
Your Camelbak water bottle may be leaking for a few reasons. The most common reason is that the valve is not closed properly. The valve is located on the top of the bottle, and you need to make sure it's pushed all the way down before screwing on the cap.

If it's not fully closed, water can seep through. Another possibility is that the O-ring, which seals the lid to the bottle, is old or damaged. O-rings can get brittle with age and may need to be replaced.

Finally, if you've dropped your bottle or otherwise damaged it, there may be a crack or hole somewhere that's allowing water to leak out.