Why Does My Stomach Sound Like a Water Bottle? Borborygmi!
Your stomach sounds like a water bottle due to the movement of gas and fluids in your digestive system. This phenomenon is called 'borborygmi', which is often associated with hunger, digestion, or an upset stomach.
Borborygmi, or the sounds produced by your stomach and intestines, are perfectly normal and usually have no cause for concern. They're simply indicative of your gastrointestinal tract working as it should be.
However, if these noises are accompanied by pain, vomiting, frequent diarrhea, or other unusual symptoms, it could signal underlying conditions like irritable bowel syndrome (IBS) or food intolerances.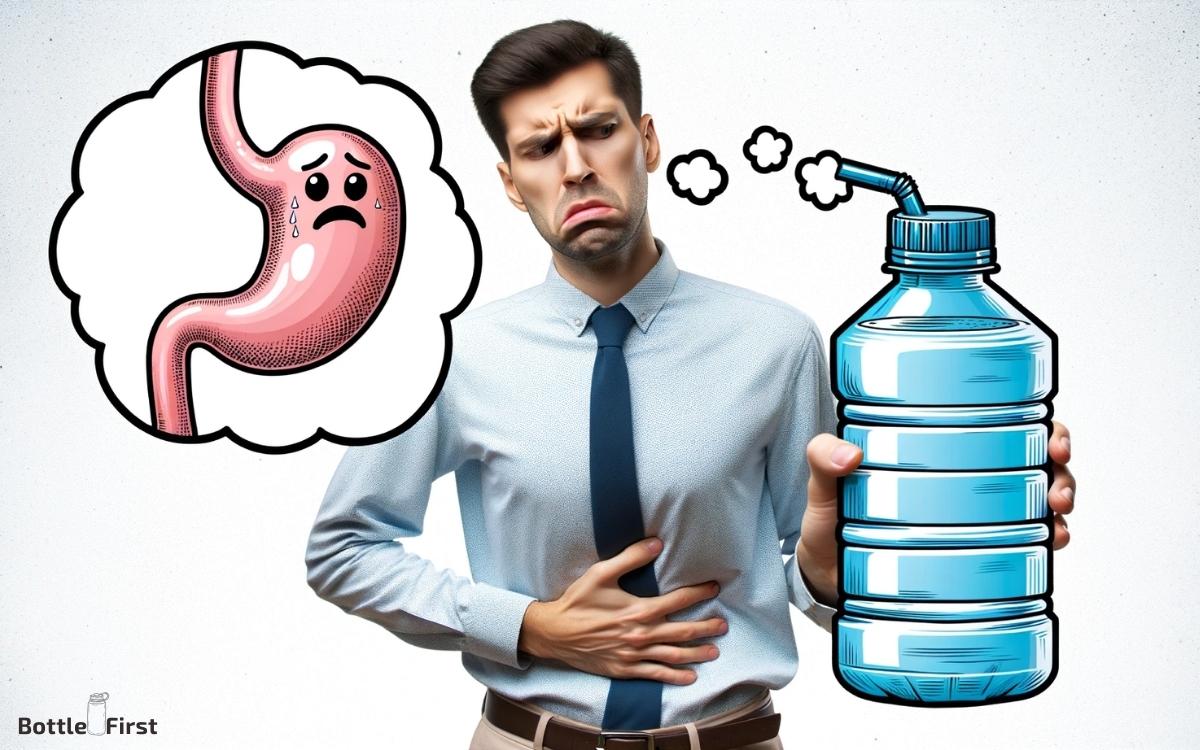 Key Takeaway
When you eat, your body produces digestive juices and acids to break down the food. These substances create noise as they mix with the food in your stomach.
The process of pushing food through your intestines – known as peristalsis – can also create sounds similar to water moving around in a bottle.
If you haven't eaten for a while, your body might send signals triggering peristalsis to prepare for the next meal, causing growling or gurgling noises.
Certain foods that cause gas or increase its production can intensify these sounds.
5 Reasons for Stomach Sounds Resembling a Water Bottle
| Reason | Explanation |
| --- | --- |
| Digestive Processes | Noisy stomach sounds can occur during digestion as gas and fluids move. |
| Hunger Pangs | An empty stomach can amplify sounds due to muscle contractions. |
| Gastrointestinal Disorders | Conditions like IBS or GERD may lead to increased stomach noises. |
| Swallowing Air | Ingesting air while eating or drinking can create gurgling sounds. |
| Stress and Anxiety | Emotional stress can affect the gut and contribute to stomach sounds. |
This table provides explanations for stomach sounds resembling a water bottle, addressing factors such as digestion, hunger, gastrointestinal issues, air swallowing, and stress.
The Science Behind The Noises
These noises can be embarrassing, especially when they occur in quiet settings. But fear not, because there is a scientific explanation behind these stomach sounds.
The Role Of Digestive Processes
Stomach noises, technically known as borborygmi, are a normal occurrence in the human body. They are often associated with the digestive processes happening inside us.
To understand why our stomach produces these sounds, it's important to grasp how the digestive system works.
How The Digestive System Works
The digestive system is a complex network of organs responsible for breaking down food, absorbing nutrients, and eliminating waste.
It starts with the intake of food through the mouth and continues through the esophagus to reach the stomach. As the food enters the stomach, the process of digestion begins at full swing.
Aided by stomach acid and digestive enzymes, the stomach breaks down the food into smaller particles. This process is essential for the body to extract essential nutrients from the ingested food.
During digestion, the stomach muscles contract and relax in a coordinated manner to churn the food and mix it with the digestive juices. These contractions play a crucial role in the production of stomach noises.
The Role Of Stomach Contractions
The rhythmic contractions of the stomach, known as peristalsis, contribute to the sounds you hear. When food is present in the stomach, the contractions help to mix the food with the digestive juices and propel it towards the small intestine.
These powerful muscle contractions can sometimes generate audible noises as they push the contents of the stomach around.
Another factor that contributes to stomach noises is the movement of gas within the digestive system. Gas is a natural byproduct of digestion and is produced when bacteria in the gut break down the food.
This gas can accumulate and be pushed around during peristalsis, further enhancing the gurgling sounds from your stomach.
Gas Movement And Accumulation
Gas movement and accumulation can be influenced by various factors, including the type of food we eat, how fast we eat, and even our stress levels.
Certain foods, such as beans, cabbage, and carbonated beverages, are notorious for causing increased gas production, leading to louder stomach sounds.
Swallowing air while eating or talking can contribute to gas accumulation in the digestive system, further intensifying the noises.
Common Causes Of Stomach Noises
Hunger And Digestive Activity
Have you ever wondered why your stomach starts rumbling like a water bottle when you're hungry? The connection between hunger and stomach sounds is quite fascinating.
When you're hungry, your digestive system begins to prepare for food intake. This preparation involves producing acid and enzymes to break down the food.
As a result, the muscles in your stomach and intestines start contracting, churning and mixing the digestive juices with whatever remnants of food are already present in your system. These contractions can sometimes create the rumbling or gurgling noises you hear.
If you're experiencing stomach noises due to hunger, don't worry – it's perfectly normal and a sign that your digestive system is functioning properly.
However, if you're concerned about the loudness or frequency of these noises, there are a few factors to consider:
Eating habits
Fasting
Diet
Gas in the digestive system
How Fasting Affects Stomach Noises
Fasting, whether intentional or unintentional, can have an impact on the sounds your stomach makes. When you fast for an extended period of time, your digestive system remains relatively empty.
Without a steady flow of food to mix with digestive juices and keep the muscles active, your stomach may produce louder noises. This can be particularly noticeable when you skip meals or when you're on a strict diet.
Eating Habits And Stomach Noises
Your eating habits can also play a role in the presence of stomach noises. Eating too quickly, for example, can cause air to be swallowed along with the food. This excess air can then lead to increased gurgling and rumbling sounds in your stomach.
Similarly, overeating can put additional strain on your digestive system, leading to louder and more frequent noises.
Diet And Stomach Noises
The foods and beverages you consume can also contribute to the symphony of sounds emanating from your stomach. Certain foods and drinks are known to increase gas production in the digestive system, which can result in more noticeable stomach noises.
Some common offenders include carbonated drinks, beans, broccoli, cabbage, onions, and high-fiber foods.
Gas In The Digestive System
Excess gas in the digestive system is another common cause of stomach noises. Gas can be produced in the stomach and intestines as a normal byproduct of digestion, but excessive gas can lead to more frequent and pronounced noises.
There are a few factors that can contribute to excess gas:
Swallowing air
Foods and beverages that increase gas
Swallowing air can occur when you eat or drink too quickly, chew gum, or drink through a straw. This swallowed air can accumulate in the stomach and contribute to noisier digestion.
Coping Strategies For Stomach Noises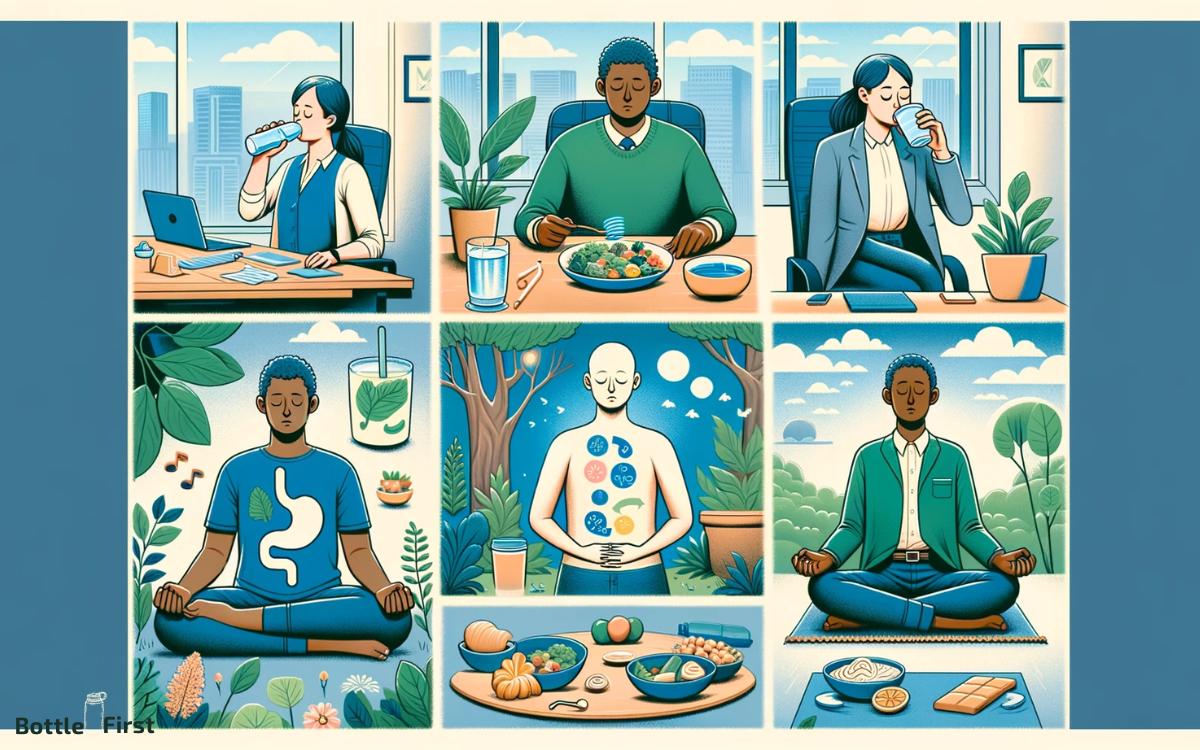 If you've ever experienced the embarrassment of your stomach sounding like a water bottle, you're not alone. It's a common occurrence that can happen for various reasons, including digestive processes, hunger, or even stress.
While it may be challenging to completely eliminate stomach noises, there are coping strategies you can try to minimize their impact and alleviate any discomfort or embarrassment.
Relaxation Techniques And Stress Management
Did you know that your gut and brain are closely interconnected? The gut-brain connection means that changes in your emotional state can directly impact your digestive system.
When you're stressed or anxious, your body releases stress hormones, which can affect the movements in your stomach, leading to increased noise.
That's why incorporating relaxation techniques and stress management strategies into your daily routine can be beneficial.
Here are some relaxation techniques to consider:
Breathing exercises: Deep breathing and diaphragmatic breathing can help relax your body and reduce stress levels. Try inhaling deeply through your nose, filling your belly with air, and exhaling slowly through your mouth.
Meditation: Taking a few minutes each day to relax your mind through meditation can help calm your body overall, including your digestive system.
Yoga or Tai Chi: These mind-body practices incorporate gentle movements, stretching, and deep breathing, which can aid in reducing stress and promoting relaxation.
The Gut-brain Connection
The gut-brain connection plays a vital role in the health and function of your digestive system. By understanding and nurturing this connection, you can potentially minimize stomach noises and improve your overall well-being.
In addition to relaxation techniques, reducing anxiety and stress levels can have a positive impact on your gut health.
Reducing Anxiety And Stress Levels
To effectively manage anxiety and stress, consider these tips:
Regular exercise: Engaging in physical activity can help release endorphins, improve mood, and reduce stress levels. Aim for at least 30 minutes of moderate exercise most days of the week.
Healthy diet: Eating a balanced diet rich in fruits, vegetables, whole grains, and lean proteins can support your overall well-being, including stress reduction.
Social support: Cultivating a strong support system of friends and family can provide emotional support during stressful times.
Little-known Tips For Dealing With Stomach Noises
In addition to relaxation techniques and stress management, there are a few lesser-known strategies you can try to cope with stomach noises:
Drinking Warm Liquids: Sipping on warm liquids, such as herbal tea or warm water with lemon, can help soothe your digestive system and potentially reduce stomach noises.
Applying Heat to the Abdomen: Placing a warm compress or heating pad on your abdomen can help relax the muscles and alleviate any discomfort associated with stomach noises.
Distraction Techniques: Engaging in activities that divert your attention away from the noises, such as listening to music, reading a book, or participating in a hobby, can help take your mind off the issue.
Treating And Managing Stomach Noises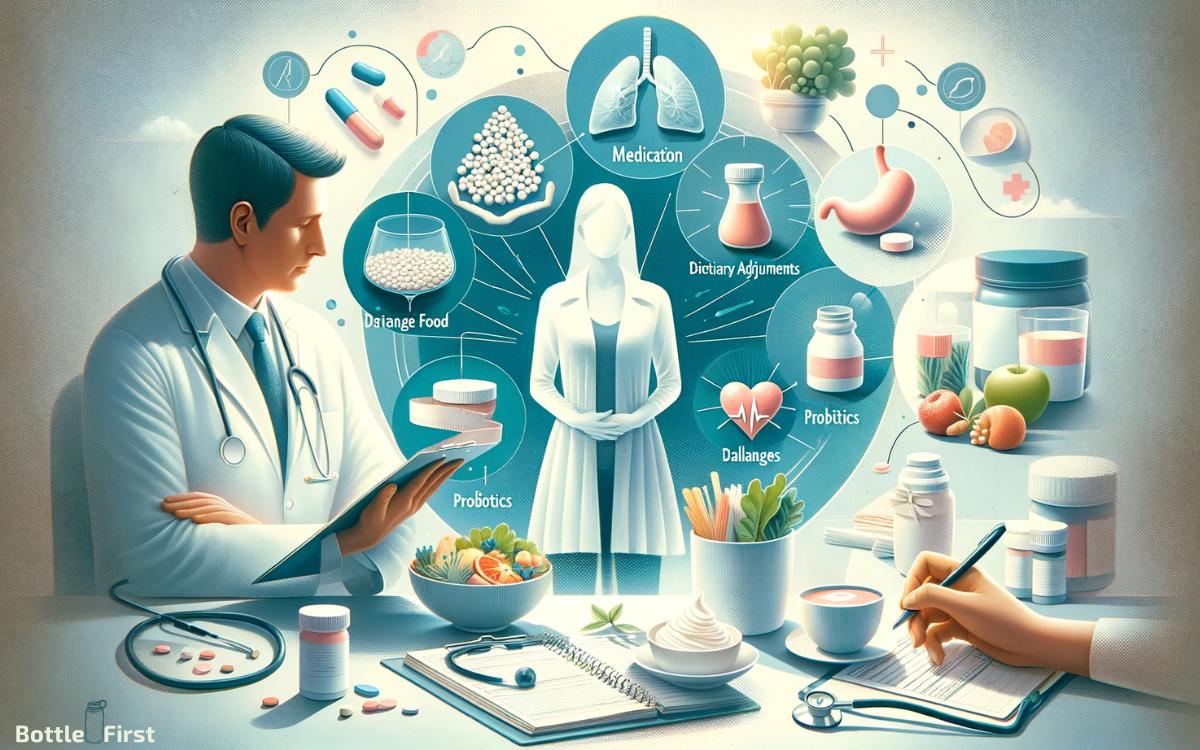 Experiencing stomach noises can be embarrassing or uncomfortable, but the good news is there are several ways to treat and manage them.
By making certain lifestyle changes, adjusting your diet, and using over-the-counter remedies or medications, you can often reduce and even eliminate these unwanted sounds.
In some cases, you may need to seek medical advice and undergo diagnostic tests to identify any underlying conditions causing the stomach noises.
Let's explore some effective strategies for treating and managing stomach noises:
Lifestyle Changes And Dietary Modifications
Lifestyle changes and dietary modifications are often the first line of defense in managing stomach noises. By implementing these changes, you can alleviate the symptoms associated with excessive gas production and digestion issues.
Consider the following:
Eating and Chewing Slowly: Eating slowly and chewing your food thoroughly can help prevent swallowing air and reduce the likelihood of excessive gas in the digestive system.
Avoiding Trigger Foods: Identify any trigger foods that may exacerbate your stomach noises and try to avoid or limit their intake. Common culprits include carbonated beverages, spicy foods, and high-fat foods.
Balanced and Regular Meals: Maintaining a regular eating schedule and consuming balanced meals can promote proper digestion and minimize stomach noises.
Over-the-counter Remedies
If lifestyle changes and dietary modifications aren't sufficient, over-the-counter remedies can provide additional relief.
These remedies are easily accessible and can help alleviate gas and digestive discomfort:
Gas-Relieving Medications: Over-the-counter gas-relieving medications, such as simethicone, can help break up gas bubbles in the digestive system, reducing stomach noises.
Digestive Enzyme Supplements: Digestive enzyme supplements can assist in the breakdown of food, promoting efficient digestion and potentially reducing stomach noises.
Seeking Medical Advice
If stomach noises persist despite lifestyle changes and over-the-counter remedies, it may be necessary to seek medical advice from a healthcare professional.
They can assess your symptoms, perform a thorough examination, and recommend appropriate measures to address the underlying cause of your stomach noises.
When To Consult A Healthcare Professional
If you experience any of the following symptoms, it is advisable to consult a healthcare professional:
Severe or persistent stomach noises
Severe abdominal pain or discomfort
Unexplained weight loss
Blood in your stool
Accompanying changes in bowel habits
Diagnostic Tests And Examinations
A healthcare professional may recommend diagnostic tests and examinations to identify any underlying conditions causing stomach noises.
These tests can include:
Endoscopy
X-rays
Colonoscopy
Blood tests
Stool tests
Remember, stomach noises are often just a natural part of digestion. However, if they become bothersome or persistent, it is essential to explore the available treatment options and seek medical advice if necessary.
By implementing lifestyle changes, dietary modifications, and utilizing over-the-counter remedies or medications, you can effectively manage and reduce stomach noises, leading to a better overall sense of well-being.
Medical Conditions And Stomach Noises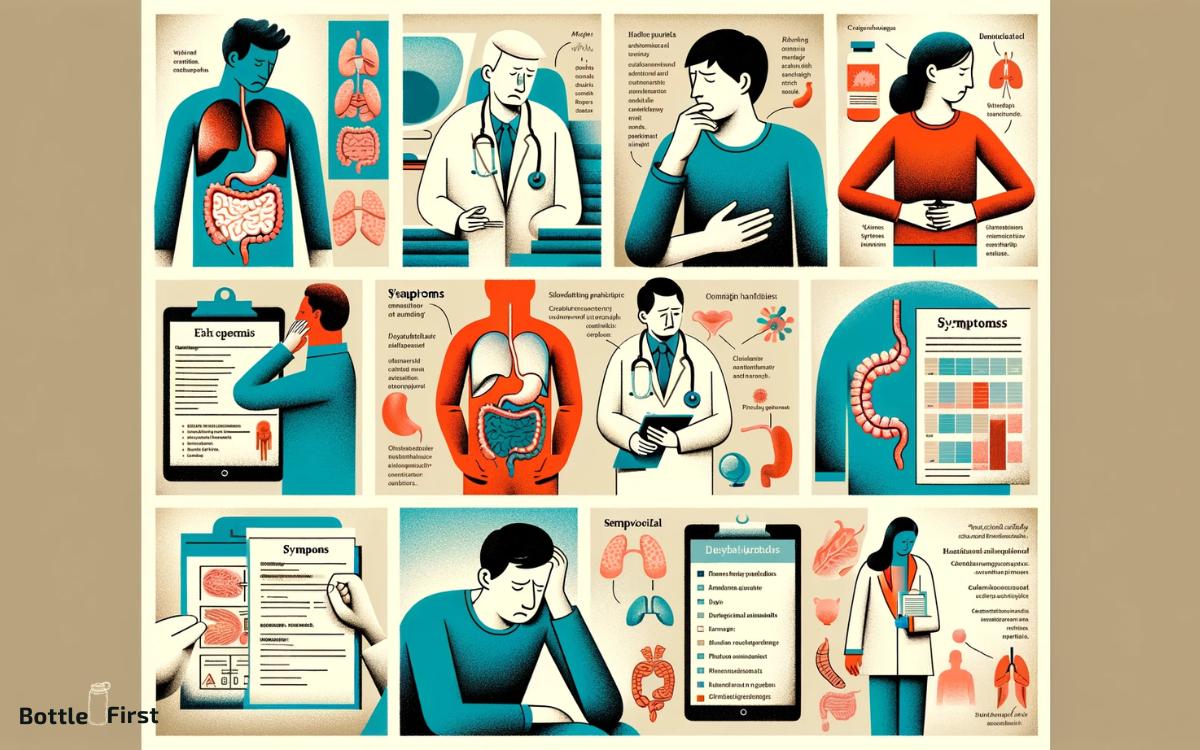 Many of us have experienced the embarrassing and sometimes uncomfortable noises that our stomachs can make. Whether it's during a quiet meeting or a romantic dinner, these sounds can be hard to ignore.
But what causes our stomachs to sound like a water bottle being squeezed? In some cases, these noises can be a result of certain medical conditions affecting the digestive system.
Let's take a closer look at some of these conditions and their impact on stomach noises.
Gastrointestinal Motility Disorders
Gastrointestinal motility refers to the movement of food through the digestive tract. When this movement becomes abnormal or disrupted, it can lead to excessive gas and stomach noises.
Gastrointestinal motility disorders are a group of conditions that affect this movement.
Some common examples include:
Gastroparesis
Inflammatory Bowel Disease (IBD)
Intestinal Obstructions
Irritable Bowel Syndrome (ibs)
Irritable Bowel Syndrome, or IBS, is a common gastrointestinal disorder that can cause a range of symptoms, including stomach noises.
It is characterized by recurring abdominal pain, bloating, and changes in bowel movements. While the exact cause of IBS is not known, it is believed to be related to abnormal muscle contractions in the intestine.
Gastroparesis
Gastroparesis is a condition in which the muscles of the stomach do not function properly, leading to delayed emptying of food from the stomach into the small intestine. This can result in symptoms such as bloating, nausea, and stomach noises.
Inflammatory Bowel Disease (ibd)
Inflammatory Bowel Disease, including conditions like Crohn's disease and ulcerative colitis, can cause inflammation in the digestive tract.
This inflammation disrupts the normal functioning of the digestive system, leading to symptoms such as abdominal pain, diarrhea, and stomach noises.
Food Intolerances And Allergies
When your body is unable to properly digest certain foods, it can lead to excessive gas production and stomach rumbling.
Two common examples include:
Lactose Intolerance
Gluten Sensitivity
Lactose intolerance is the inability to digest lactose, a sugar found in milk and dairy products.
Gluten sensitivity, on the other hand, is a condition in which the body reacts to gluten, a protein found in wheat, barley, and rye. Both of these conditions can cause digestive symptoms, including stomach noises.
Intestinal Obstructions
Intestinal obstructions occur when something blocks the normal flow of digested food through the intestines. This can be caused by various factors, such as scar tissue, tumors, or hernias.
In addition to stomach noises, intestinal obstructions can cause severe abdominal pain, vomiting, and constipation.
Conclusion
Understanding the reasons behind the audible sounds emanating from your stomach is key to alleviating any uneasiness or embarrassment.
From normal digestion and hunger pangs to excessive gas or gut infections, various factors can contribute to water bottle-like noises.
By maintaining a healthy diet, managing stress levels, and seeking medical advice when necessary, you can take control of your stomach sounds and restore comfort in your daily life.
FAQ
What causes my stomach to make a sound like a water bottle?
The sound your stomach is making is likely due to a condition known as borborygmi, which is caused by gas or fluid moving around in your stomach and intestines.
This is completely normal and nothing to be concerned about.
Is the sound normal?
Yes, it is completely normal for your stomach to make gurgling and rumbling noises during digestion, known as borborygmi.
Is the sound caused by something I ate?
Not necessarily. The sound can be caused by your body's normal process of digestion, or from gas trapped in your stomach.
Eating certain kinds of food, such as carbonated drinks, also can cause more gas and a louder sound.
Are there any medical issues associated with this sound?
As long as the sound is part of your body's normal digestion process, then it is nothing to worry about.
However, if the sound persists for a long time or is accompanied by other symptoms such as abdominal pain or vomiting, then it could be a sign of a medical condition and you should speak to a healthcare professional.