Why is My Stainless Steel Water Bottle Rusting
Stainless steel water bottles can rust due to regular wear and tear, exposure to salt water, or contact with acidic liquids. Rusting is the result of oxidation, the reaction of iron molecules with oxygen from the air. Rust appears as a red-brown discoloration on the surface of the metal.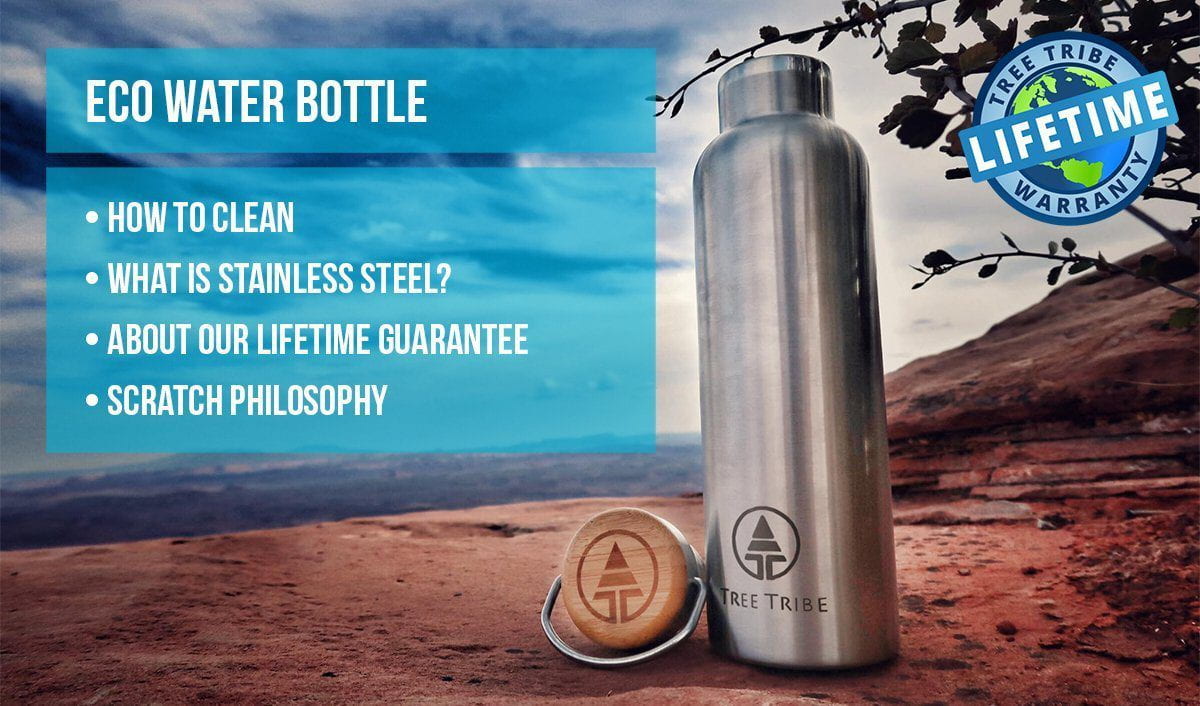 Four Reasons Why Stainless Steel Water Bottles Rust:
Regular wear and tear: Over time, the material of the bottle can be weakened or degraded, allowing oxygen to come into contact with the metal and cause it to rust.
Exposure to salt water: Salt water is highly corrosive and can cause the metal of the bottle to become weakened.
Contact with acidic liquids: Acids can corrode the surface of the metal and cause it to rust.
Inadequate cleaning: If the water bottle is not cleaned properly after each use, residue left over from the drink can cause rust to form.
Rust can be prevented by routinely cleaning and drying a stainless steel water bottle after each use.
Additionally, avoiding contact with acidic liquids, salt water, and running it through a dishwasher can help keep rust away. Rust can be treated with a suitable rust remover, but it is best to avoid it altogether and
How Do You Get Rust Out of Stainless Steel Water Bottles?
If you've ever found a rust spot on your stainless steel water bottle, you know how frustrating it can be. Luckily, there are a few ways to get rid of rust and keep your water bottle looking like new. One way to remove rust is to simply rub the rusty area with a rag soaked in vinegar.

The acid in the vinegar will help to break down the rust and lift it off of the surface of the water bottle. Another option is to make a paste out of baking soda and water and use that to scrub away the rust. Baking soda is also mildly acidic and will help to loosen the grip that rust has on your water bottle.

If you have a more serious case of rust, you may need to resort to using sandpaper or steel wool. Just be careful not to damage the rest of the water bottle while you're removing the rust. Once all of the rust is gone, be sure to wash your water bottle thoroughly with soap and water before using it again.

With a little elbow grease, you can easily removerust from your stainless steel water bottle and keep it looking like new!
How Do You Stop Stainless Steel from Rusting?
Stainless steel is an alloy of iron, chromium and nickel. It is used in a wide variety of applications, from cookware to surgical instruments, and is prized for its resistance to corrosion. However, stainless steel can still rust under certain conditions.

The best way to stop stainless steel from rusting is to keep it clean and dry. Any dirt or debris on the surface can provide a place for water or other corrosive agents to lodge and start eating away at the metal. In addition, keeping stainless steel dry will prevent it from developing any rust in the first place.
If your stainless steel does develop rust, you'll need to remove it as quickly as possible. There are a number of ways to do this, but one of the simplest is to use white vinegar. Just apply it directly to the rusty area with a cloth and let it sit for about 30 minutes before wiping it away with a clean rag.
With proper care, your stainless steel should be able to resist corrosion for many years.
Can You Drink from a Rusty Water Bottle?
Yes, you can drink from a rusty water bottle. However, it is not recommended as rust can contain harmful bacteria that can make you sick. If you must drink from a rusty water bottle, make sure to clean it thoroughly first with soap and water.
Why Does My Stainless Steel Keep Rusting?
There are a few reasons why your stainless steel may be rusting. First, it is important to know that rust is not specific to one type of metal – all metals can rust under the right conditions. Stainless steel is particularly susceptible to corrosion in environments that contain chlorides, such as salt water.

Additionally, stainless steel can be damaged by abrasion, which can create tiny cracks that allow oxygen and water to reach the metal and cause corrosion. If you live in an area with high humidity or near the ocean, you may notice that your stainless steel starts to rust more quickly. This is because the moisture in the air accelerates the corrosion process.

To prevent this from happening, you can try wiping down your stainless steel with a dry cloth after exposure to moisture. You can also use a mild cleaner and polish designed specifically for stainless steel – just be sure to rinse well afterwards so that no residue is left behind. If your stainless steel has already started to Rust, there are a few ways you can remove it.

You can try scrubbing the affected area with a stiff brush and soapy water. For tougher rust stains, you may need to use a commercialRust remover . Be sure to follow the instructions on the product carefully, as some chemicals can damage stainless steel if used improperly.
How to remove rust from your stainless steel water bottle
How Often Should I Clean My Stainless Steel Water Bottle
If you've ever wondered how often you should clean your stainless steel water bottle, the answer is "it depends". Depending on how often you use it and what you use it for, you may need to clean it daily, weekly, or even monthly. Here's a quick guide to help you keep your water bottle clean and bacteria-free:

If you use your water bottle daily: Wash it with soap and water at least once per day. If you're using it for hot beverages, make sure to also give it a good rinse with hot water after each use.
If you notice any build-up of residue from mineral deposits or other substances, give it a more thorough cleaning with vinegar or baking soda as needed. If you use your water bottle monthly: Give it a good cleaning with soap and water at least once per month. This will help to remove any build-up that has occurred over time.
If necessary, soak the bottle in vinegar or baking soda overnight to loosen stubborn residues.
How to Clean Stainless Steel Water Bottle
Assuming you would like a blog post discussing how to clean a stainless steel water bottle: "How to Clean Stainless Steel Water Bottle" It's important to keep your water bottle clean, especially if you're using it every day.

Here are some tips on how to clean a stainless steel water bottle. First, rinse out the bottle with warm water and soap. Be sure to get the soap into all the nooks and crannies, as bacteria can build up there.

Rinse well with hot water. Next, fill the bottle with a mixture of hot water and vinegar. Let it sit for 30 minutes before emptying and rinsing well.

The vinegar will help remove any lingering bacteria. If your bottle has stubborn stains, you can try scrubbing them with baking soda. Make a paste with baking soda and water, and use a sponge or brush to scrub away the stains.

Rinse well afterwards. Finally, make sure you dry your bottle thoroughly before putting the lid back on. Bacteria thrive in wet environments, so it's important to keep your bottle as dry as possible.
Hydro Flask Rusting Inside
Hydro Flask water bottles are made of high-quality stainless steel that is designed to withstand years of use. However, if you don't take proper care of your bottle, it can start to rust on the inside. Here are a few tips to keep your Hydro Flask looking and working like new:

-Rinse out your bottle with warm water and soap after each use. This will help remove any dirt or debris that could lead to rusting. -Make sure to dry out your bottle completely before putting the lid back on.

Any moisture left inside the bottle can cause rusting. -If you see any rust starting to form on the inside of your Hydro Flask, immediately wash it out with warm water and soap. You may also want to use a mild abrasive, such as baking soda, to scrub away any stubborn rust spots.

By following these simple tips, you can keep your Hydro Flask in great condition for many years to come!
Stainless Steel Cup Rust
If you're like most people, you probably have a few stainless steel cups in your cupboard. And if you're like most people, you probably don't think much about how to care for them. But did you know that if you don't clean and maintain your stainless steel cups properly, they can start to rust?
That's right – even stainless steel cups can rust if they're not cared for properly. So what causes stainless steel cups to rust? There are a few different things that can contribute:
-Water: If your cup is constantly exposed to water – whether it's from the sink, the dishwasher, or just being left out in the rain – it can start to develop surface rust. -Oils: fingerprints and other oils from your hands can also cause surface rust on stainless steel cups. -Dirt: If dirt or other debris build up on your cup, it can create an environment where rust can thrive.
So how do you prevent your stainless steel cups from Rusting? The best way is to simply keep them clean and dry. Wipe them down after each use, and make sure they're completely dry before storing them away.
You may also want to invest in a good quality Stainless Steel cleaner/polish to help protect your cups and keep them looking their best.
Conclusion
It's a common problem- your new stainless steel water bottle starts to rust after only a few uses. But why does this happen? There are a few reasons why your water bottle may be rusting.

The first reason is that it's not actually stainless steel. There are many types of steel, and stainless steel is just one kind. While all steels contain iron, stainless steel also has chromium added to it.

This addition creates a protective layer over the iron which prevents rusting. However, if the chromium content is too low, or if the steel has been damaged (like through scratching), this protective layer can be compromised and rust can occur. The second reason for rusting may be that you're not cleaning your bottle properly.

Even though water doesn't cause corrosion, other liquids like juices or sports drinks can leave behind deposits that promote rusting. Make sure to clean your bottle thoroughly after every use with hot water and soap. You should also avoid using harsh cleaners like bleach, as these can damage the finish on your bottle and make it more susceptible to rusting in the future.

If you're diligent about cleaning your bottle but it still keeps rusting, there's one final thing you can try- switching to a food-grade silicone sleeve.