5 Gallon Water Bottle Ideas – Top Ideas!
5-gallon water bottles provide numerous opportunities for repurposing that can enhance daily living.
Whether it's for practical uses like creating a garden irrigation system or for emergency preparedness with water storage solutions, these large containers are surprisingly adaptable.
Additionally, they can be upcycled into unique home decor or serve as the foundation for DIY projects that promote sustainability and innovation. The versatility of 5-gallon water bottles stems from their size and durability.
Here are some inventive uses:
Garden Irrigation System: Drill holes in the cap, invert the bottle, and bury it partially to slowly water plant roots.
Home Decor: Clean and paint the exterior to create a stylish vase or lamp base.
Emergency Water Storage: Fill with potable water and store for emergency situations.
Fitness Equipment: Fill with sand or water to create makeshift weights.
Aquaponics System: Integrate into a homemade system for growing plants and fish together.
These examples illustrate how a simple bottle can have multiple second lives, promoting both creativity and environmental consciousness.
Discover the untapped potential of 5-gallon water bottles and be inspired to invent, create, and sustain with these resourceful ideas that contribute to a greener and more efficient home.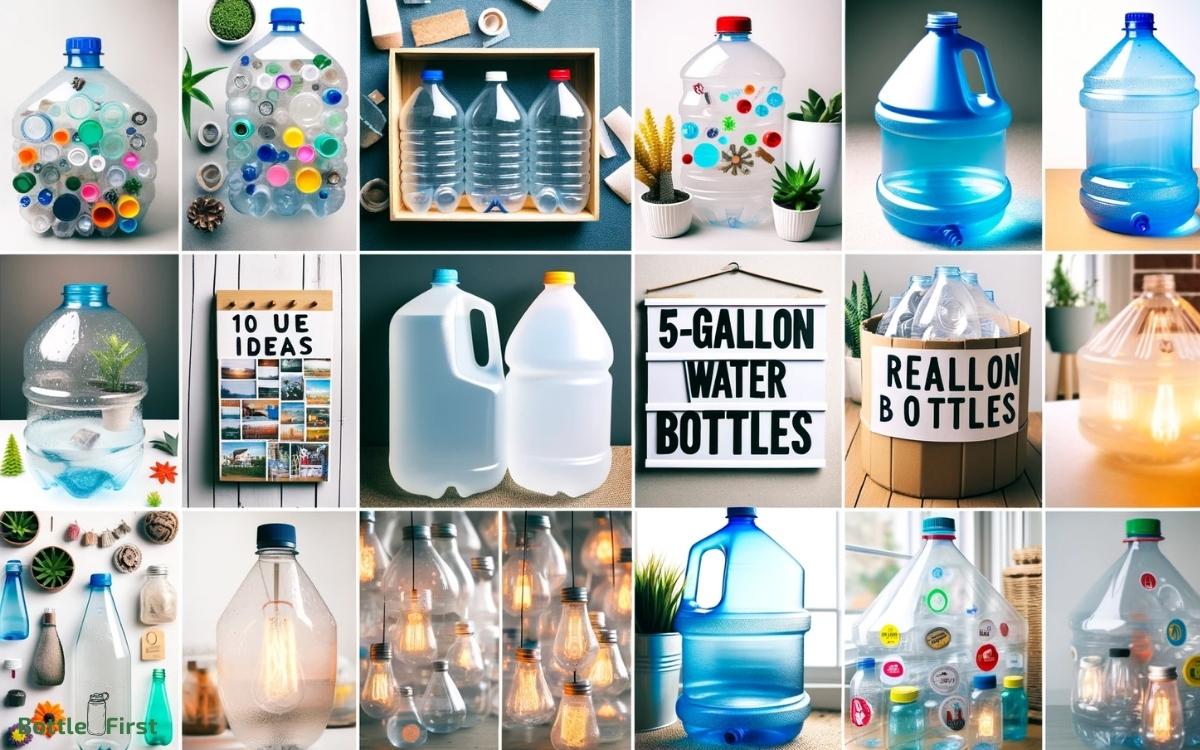 Key Takeaway
5-gallon water bottles can be repurposed for practical uses such as garden irrigation systems, emergency water storage, fitness equipment, and aquaponics systems.
They can also be used for home decor and crafts, such as creating stylish vases, lamp bases, chandeliers and mobiles, hanging planters, and custom candle holders or soap dishes.
5-gallon water bottles can be transformed into outdoor pet watering stations by creating gravity-fed water dispensers, attached bowl designs, drip irrigation systems, solar-powered fountains, or portable water dispensers.
These bottles are also a reliable option for emergency water storage, as long as they are thoroughly cleaned, made of food-grade materials, tightly sealed, labeled, and regularly refreshed.
Garden Watering System
A garden watering system can be efficiently created using a simple gallon water bottle. This innovative approach allows for effective irrigation while repurposing everyday items.
By drilling small holes in the cap and bottom of the bottle, it can be inverted and buried near the plants' roots. The bottle acts as a reservoir, slowly releasing water directly to the roots, ensuring optimal absorption and minimizing wastage.
This method not only conserves water but also promotes healthier plant growth by providing consistent and targeted hydration.
The simplicity and cost-effectiveness of this DIY watering system make it an attractive option for gardening enthusiasts seeking sustainable and innovative solutions.
With minimal effort, a gallon water bottle can be transformed into a practical tool for maintaining a flourishing garden.
Home Decor and Crafts
One popular way to repurpose a gallon water bottle is by incorporating it into home decor and crafts. These versatile containers can be transformed into unique and creative pieces that add a touch of innovation to any living space.
Cut and polished, gallon water bottles can be used as stylish vases for fresh or artificial flowers, adding a modern and eco-friendly touch to the home.
Additionally, they can be painted, decorated, and strung together to create eye-catching chandeliers, mobiles, or hanging planters, offering a sustainable alternative to traditional decor items.
For crafts, these bottles can be cut into strips and woven to make decorative baskets or used as molds for creating custom candle holders or soap dishes.
The possibilities are endless for those seeking to infuse their home decor and crafts with inventive and sustainable elements.
Outdoor Pet Watering Station
Transforming a gallon water bottle into an outdoor pet watering station can provide a sustainable and practical solution for keeping pets hydrated while also repurposing a common household item.
Here are some innovative ideas for creating an outdoor pet watering station from a gallon water bottle:
Gravity-fed water dispenser: Utilize the inverted bottle to create a gravity-fed watering system, ensuring a constant supply of water for your pets.
Attached bowl design: Cut an opening in the side of the bottle and attach a bowl at the bottom to provide a convenient drinking area for pets.
Drip irrigation system: Convert the bottle into a drip irrigation system by puncturing small holes in the cap, allowing a steady flow of water for outdoor pets.
Solar-powered fountain: Integrate a solar-powered pump to create a refreshing water fountain for pets, utilizing the bottle as a reservoir.
Portable water dispenser: Modify the bottle with a spigot to create a portable and convenient watering station for outdoor activities with pets.
Emergency Water Storage
For emergency water storage, it can be practical to repurpose gallon water bottles as a reliable source of clean water in crisis situations.
These bottles, with their durable and food-grade materials, can serve as a convenient and portable solution for storing water in case of emergencies such as natural disasters or unexpected disruptions in the water supply.
By thoroughly cleaning and sanitizing the bottles, they can be filled with potable water and securely sealed to prevent contamination.
Additionally, labeling the bottles with the date of filling and regularly refreshing the stored water ensures its safety and portability.
This innovative approach to emergency water storage maximizes the use of available resources and provides a sustainable and easily manageable solution for ensuring access to clean water during challenging times.
Fitness and Hydration Solutions
Discussing fitness and hydration solutions involves prioritizing the maintenance of a healthy lifestyle through consistent water intake and physical activity.
To optimize fitness and hydration, consider the following innovative solutions:
Smart Water Bottles: Utilizing technology to track water intake and remind users to stay hydrated.
Portable Water Filtration Systems: Allowing access to clean water during outdoor activities or travel.
Electrolyte-Infused Water: Enhancing hydration with essential electrolytes for active individuals.
Hydration Backpacks: Facilitating hands-free water access during workouts or outdoor adventures.
Fitness Apps: Monitoring water intake, providing hydration tips, and offering workout plans for a holistic approach to health.
These solutions promote a balanced and active lifestyle while ensuring optimal hydration for overall well-being.
Conclusion
In summary, the versatility of the 5-gallon water bottle extends beyond its conventional use.
It can be ingeniously repurposed in diverse ways, such as establishing an efficient garden watering system, integrating it into home decor and crafts, creating an outdoor pet watering station, storing emergency water, and even incorporating it into fitness and hydration solutions.
By exploring these creative avenues, individuals can discover practical and sustainable solutions to meet their daily needs.
Embracing the potential of these bottles not only enhances resourcefulness but also contributes to a more environmentally friendly lifestyle.
Frequently Asked Questions
How Can I Use a Gallon Water Bottle for a Camping Trip or Outdoor Adventure?
To enhance outdoor experiences, utilizing a gallon water bottle for a camping trip or adventure can be a versatile solution. It can serve as a water source, a makeshift shower, a container for cooking, or a weight for securing tents.
Can I Use a Gallon Water Bottle to Create a DIY Rainwater Collection System for My Garden?
Yes, a gallon water bottle can be repurposed to create a DIY rainwater collection system for your garden. By adding a spout and a filtration system, you can efficiently collect and store rainwater for sustainable irrigation.
Are There Any Creative Ways to Repurpose a Gallon Water Bottle for Storage or Organization in the Home?
Innovative ways to repurpose a gallon water bottle for home storage or organization include using it as a DIY plant watering system, a makeshift piggy bank, or a creative way to store kitchen utensils.
Can I Use a Gallon Water Bottle to Create a Homemade Bird Bath for My Backyard?
Yes, a gallon water bottle can be repurposed as a homemade bird bath for your backyard. With some creativity and simple modifications, such as cutting the bottle and adding a stand, you can create a functional and resourceful bird bath.
Are There Any Tips for Using a Gallon Water Bottle for Emergency Water Storage in a Vehicle or for a Bug-Out Bag?
Innovative ideas for emergency water storage in a vehicle or bug-out bag using a gallon water bottle include compactness, durability, and portability. Consider sealing techniques, filtration options, and rotation schedules for optimal preparedness.