Canteen Vs Water Bottle – Comparison
While both canteens and water bottles are used for carrying liquids, they differ in several key aspects.
Canteens are often larger and more durable, designed for outdoor use during camping or hiking adventures, while water bottles are more lightweight and portable, making them ideal for everyday use such as going to work, gym, or school.
Canteens, often made from stainless steel or aluminum, are typically larger and insulated, which enables them to keep the liquid hot or cold for more extended periods.
On the other hand, water bottles are smaller, more lightweight, and often made of plastic or glass. While they might not be as durable or insulating as canteens, they are more portable and convenient for daily use.
Canteens are usually larger and have insulating properties.
Water bottles are lighter, smaller, and more portable.
Canteens are often made from durable materials like stainless steel or aluminum.
Water bottles are made from a variety of materials including plastic, glass, and occasionally metal.
Canteens are ideal for outdoor activities like camping and hiking where durability and the ability to keep liquids hot or cold are important.
In contrast, water bottles are perfect for daily activities like going to the office, gym, or school due to their lightweight and portable nature. It's all about choosing the right one based on your needs and lifestyle.
Comparison of Canteen and Water Bottle
| Aspect | Canteen | Water Bottle |
| --- | --- | --- |
| Material | Usually Metal | Usually Plastic or Metal |
| Capacity | Generally Larger | Generally Smaller |
| Durability | More Durable | Less Durable (Plastic Bottles) |
| Insulation | Better Insulation (As it is vacuum-sealed) | Poor Insulation |
| Portability | Less Portable due to Size and Weight | More Portable |
| Ideal Use | Camping, Hiking, Long Outdoor Activities | Gym, Office, Short Outdoor Trips |
| Environmental Impact | Less (As it's usually reusable) | Higher (If using single-use plastic bottles) |
Comparison of Canteen and Water Bottle
Key Takeaway
Canteens and water bottles are both functional vessels for carrying liquids but each has its own unique aspects and benefits.
Water bottles are typically more lightweight and portable, making them great for on-the-go usage.
Canteens are known for their durability and superior insulation properties, making them ideal for long hikes or outdoor activities.
Personal needs, usage frequency and the kind of activity or journey must be factored in when choosing between a canteen and water bottle.
Materials used in the production of both types vary significantly and can affect the taste of water, potential chemical leaching, and overall durability.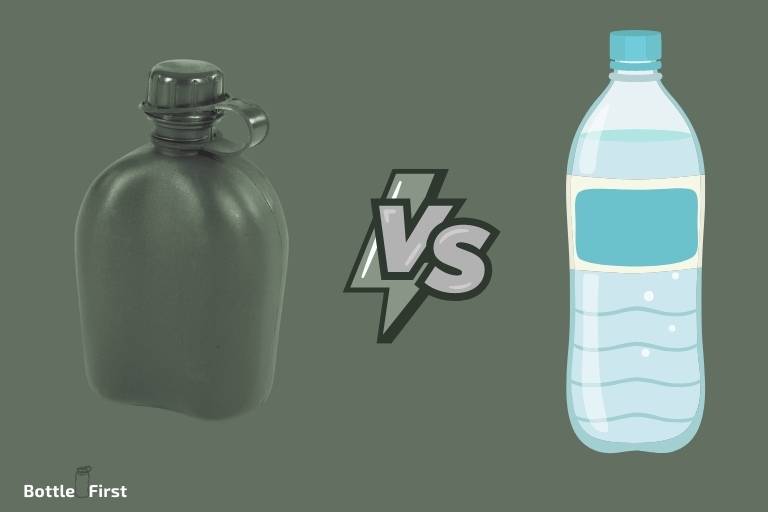 Five Facts About Drinking Water From a Water Bottle vs. a Canteen
Canteens, originally made of animal skins in ancient times, have evolved into rugged metal or plastic containers used by outdoor enthusiasts. (Source: Wikipedia)
Water bottles, on the other hand, have exploded in popularity due to their portability and the increasing trend of hydration awareness. (Source: US National Institute of Health)
Canteens, especially those made of stainless steel, often feature superior insulation, capable of keeping liquids hot/cold for up to 24 hours. (Source: Healthline)
Both canteens and water bottles come in various sizes, but water bottles are usually more compact and slim, making them easy to fit into backpack side pockets or car cup holders. (Source: Backpacker Magazine)
In terms of environmental impact, both reusable canteens and water bottles lessen the reliance on single-use plastics, contributing to waste reduction. (Source: National Geographic)
Environmental Impact
Canteen: A Reusable And Eco-Friendly Option
Canteens, also known as reusable water bottles, have gained popularity as a sustainable alternative to single-use plastic bottles.
These eco-friendly options offer several benefits to the environment:
Reduction in single-use plastic: Canteens help minimize the use of single-use plastic bottles, which contributes significantly to global plastic pollution. By reusing the same bottle multiple times, we can reduce the staggering amount of plastic waste generated each day.
Lower carbon footprint: Manufacturing and transporting plastic bottles require energy and resources, leading to carbon emissions. Canteens, on the other hand, only require a one-time production process and can be refilled using tap water, reducing the carbon footprint associated with plastic bottle production.
Sustainable choice for the environment: Canteens promote sustainability by providing a long-lasting alternative to disposable plastic bottles. With proper care, a canteen can be used for several years, reducing the demand for new plastic bottles and minimizing environmental impact.
Water Bottle: Examining Its Environmental Effects
While water bottles offer convenience, they come with a range of environmental implications that deserve consideration:
Disposal and waste concerns: Single-use water bottles often end up in landfills or as litter in oceans, rivers, and parks. Improper disposal contributes to the mounting plastic waste crisis, posing risks to wildlife and ecosystems.
Production and recycling challenges: Manufacturing plastic bottles requires raw materials and energy, contributing to resource depletion and greenhouse gas emissions. Recycling plastic bottles can also be challenging, as not all bottles get properly recycled due to lack of infrastructure, consumer knowledge, and recycling rates.
The impact of plastic pollution on ecosystems: Plastic pollution has severe consequences for ecosystems. Marine animals and birds can mistake plastic for food, resulting in choking, entanglement, and even death. The contamination of water sources with microplastics also poses risks to human health.
Considering the environmental impact of water bottles, adopting reusable canteens provides a sustainable solution to reduce our ecological footprint.
Now that we have a clearer understanding of the environmental effects of both canteens and water bottles, it becomes evident that canteens offer a more sustainable choice.
By choosing canteens over single-use plastic bottles, we can contribute to a cleaner, healthier planet.
So, let's make a conscious shift towards reusable options and take a stand against plastic pollution.
Convenience And Portability
Canteen: Practicality And Ease Of Use
Canteens are a popular choice when it comes to portable water containers. They offer practicality and ease of use, making them a convenient option for a variety of activities.
Here are some key points to consider:
Size and capacity options: Canteens come in a range of sizes and capacities to suit individual needs. Whether you prefer a compact canteen for shorter outings or a larger one for longer adventures, there's a size that's just right for you.
Easy to clean and maintain: Canteens are designed with convenience in mind. Many models feature wide-mouth openings, making it easy to clean and fill them with water. The materials used in their construction are often dishwasher-safe, ensuring hassle-free maintenance.
Suitable for various activities: Canteens are versatile and suitable for various activities, such as hiking, camping, biking, or even just everyday use. They are designed to withstand rugged conditions and are often made from durable materials like stainless steel or bpa-free plastic.
Water Bottle: Assessing Its Convenience Factor
When it comes to water bottles, convenience is a key factor to consider.
Here are some points to assess its convenience factor:
Lightweight and compact design: Water bottles are designed to be lightweight and easy to carry. They are often made from lightweight materials like plastic or aluminum, making them effortless to pack in your bag or hold in your hand.
Availability of different styles and features: Water bottles come in a wide range of styles and features, catering to different preferences and needs. Whether you prefer a squeeze bottle, flip-top lid, or a straw, there's a water bottle style that suits your preference.
Portability for on-the-go use: Water bottles are incredibly portable, making them ideal for on-the-go use. They can be easily tucked into a backpack, purse, or gym bag, allowing you to have hydration at your fingertips wherever you go.
Both canteens and water bottles offer convenience and portability in their own unique ways. It ultimately comes down to personal preference and the specific requirements of your activities.
Whether you opt for a canteen or a water bottle, staying hydrated on the go has never been easier.
Health And Safety Considerations
Canteen: Promoting Health And Well-Being
Canteens can be a great way to promote health and well-being, especially when considering the following aspects:
Bpa-free materials: Canteens made from bpa-free materials ensure that harmful chemicals found in some plastics are minimized or eliminated altogether.
No chemical leaching: Unlike some water bottles, high-quality canteens are designed to prevent chemical leaching. This means you can enjoy your water without the worry of harmful substances seeping into your drink.
Maintaining water temperature: Canteens often come with insulating properties that maintain the temperature of your water. This is beneficial, as it ensures your drink stays cold or hot, depending on your preference.
Water Bottle: Ensuring Consumer Safety
Water bottles are just as important when it comes to ensuring consumer safety.
Here are some key considerations:
Quality and safety standards: High-quality water bottles adhere to stringent quality and safety standards, ensuring that they are safe for use and free from any potential hazards.
Contaminant-free materials: To maintain consumer safety, water bottles are often made from materials that are free from contaminants. This ensures that the water you drink remains pure and healthy.
Impact on taste and freshness: Water bottles play a crucial role in preserving the taste and freshness of your water. By selecting the right water bottle, you can ensure that your drink remains delicious and refreshing throughout the day.
Both canteens and water bottles offer health and safety benefits. Canteens promote well-being by using bpa-free materials, preventing chemical leaching, and maintaining water temperature.
On the other hand, water bottles ensure consumer safety through adherence to quality and safety standards, the use of contaminant-free materials, and the preservation of taste and freshness.
Whether you choose a canteen or a water bottle, prioritizing health and safety considerations is essential for a positive drinking experience.
Cost-Effectiveness
Canteen: Evaluating Long-Term Savings
A canteen can be a cost-effective choice when it comes to fulfilling your hydration needs.
Here are the key points to consider:
Initial investment vs. Long-term use:
Purchasing a canteen requires an initial investment, but it can be a financially wise decision in the long run.
Opting for a well-made and durable canteen ensures it can be used for an extended period without the need for frequent replacements.
Investing in a canteen made from high-quality materials might be pricier initially, but it can save you money in the long term.
Reduction in purchasing bottled water:
Carrying a canteen allows you to steer away from purchasing bottled water frequently, eliminating the need for single-use plastic bottles.
By refilling your canteen with tap water or filtered water, you can save money by not relying on store-bought bottled water.
The cost of constantly buying bottled water adds up over time, making a canteen a more budget-friendly choice.
Water Bottle: Considering The Affordability Factor
Choosing a water bottle is another option to quench your thirst while considering your budget.
Let's explore the affordability factor:
Range of prices and options:
Water bottles come in a wide range of prices, from budget-friendly options to high-end models with advanced features.
Determine your budget and explore the available options to find a water bottle that matches both your needs and financial constraints.
Disposable vs. reusable cost comparison:
Disposable water bottles are often cheaper upfront, but their costs can accumulate if you continually purchase new bottles.
On the other hand, investing in a reusable water bottle may require a higher initial payment, but it can save you money over time.
Using a water bottle that can be refilled multiple times reduces your reliance on single-use plastics, which is not only cost-effective but also beneficial for the environment.
Value for money in the short and long term:
Consider the value for money that a water bottle offers, both in the short and long term.
Evaluate the durability and functionality of the chosen water bottle, as a well-made and long-lasting bottle can provide more value for your investment.
Additionally, choosing a reusable water bottle reduces the need for constant repurchasing, resulting in cost savings in the long run.
Both canteens and water bottles have their cost-effective benefits, depending on individual preferences and requirements.
By weighing the initial investment, long-term savings, and environmental impacts, you can make an informed choice that suits your budget and lifestyle.
What are the differences between a Dayz Canteen and a Water Bottle?
The dayz canteen versus water bottle debate revolves around two key differences. Firstly, dayz canteens offer more capacity, allowing survivalists to hydrate efficiently for longer periods. On the other hand, water bottles are more versatile, often featuring convenient attachments like filters or collapsible designs. Ultimately, the choice depends on individual needs and priorities.
FAQ About Canteen Vs Water Bottle
Can Using A Canteen Save Money?
Using a canteen can save you money in the long run by eliminating the need for single-use plastic bottles.
Are Water Bottles More Convenient Than Canteens?
Water bottles are more convenient for on-the-go hydration due to their portability and ease of use.
Do Canteens Have Negative Impacts On The Environment?
Canteens are environmentally friendly as they reduce plastic waste and can be reused multiple times.
Can Canteens Keep Water Cold For Longer?
Yes, many canteens are designed with insulation to keep your water cold for extended periods of time.
Are Canteens Safer Than Plastic Water Bottles?
Canteens are generally considered to be a safer option than plastic water bottles, as they are typically made from durable and non-toxic materials.
Conclusion
To sum it up, both canteens and water bottles have their own merits and drawbacks. While canteens offer convenience in terms of capacity and insulation, they may not be as portable as water bottles.
On the other hand, water bottles are lightweight and easy to carry around, but they may not keep your beverages as hot or cold for extended periods.
When making a choice, consider your specific needs and preferences. If you frequently need access to a large quantity of liquid or require temperature control, a canteen might be the better option.
However, if you prioritize portability and ease of use, a water bottle is likely more suitable.
Ultimately, the right choice depends on your lifestyle and personal preferences.
So, select what works best for you and ensure that you stay hydrated throughout the day.