Diy Water Bottle Design: 7 Easy & Quick Steps!
A DIY water bottle design involves customizing and personalizing a plain water bottle through various art and craft methods. This could be done with the use of paint, stickers, or even embroidery.
The design process can be done with readily available supplies and can be a great way to show creativity.
DIY water bottle designs are a simple and fun activity that lets you express your creativity and personal style. It also promotes environmental sustainability by encouraging the use of reusable water bottles.
You can have fun with it by painting or drawing your own designs, using stickers, or even wrapping it with a cloth or yarn. The end result is a unique and personalized water bottle.
Encourages recycling and reuse of water bottles.
Enhances creativity and personal style.
Cost-effective way to own a stylish water bottle.
Perfect activity for children and adults alike.
DIY water bottle designs are not only functional but also a creative outlet. They allow you to turn a simple water bottle into a statement piece.
More than a trend, it's an environmentally friendly approach that combines aesthetics with practicality. Besides, it's a budget-friendly alternative to buying a designer water bottle.
7 Steps: DIY Water Bottle Designs
| Step | Description |
| --- | --- |
| Step 1 | Gather your materials: a plain water bottle, waterproof paints or markers, brushes, and a stencil (if desired). |
| Step 2 | Plan your design: sketch your design on paper before starting on the bottle. |
| Step 3 | Apply your design: you can either paint directly onto the bottle, or use a stencil. |
| Step 4 | Let it dry: once you are satisfied with your design, let the paint or marker completely dry. |
| Step 5 | Apply a sealer: to make your design waterproof and lasting, apply a clear waterproof sealer over your design. |
| Step 6 | Let it dry: again, allow the sealer to fully dry before using the bottle. |
| Step 7 | Enjoy: your custom water bottle is now ready to use! |
7 Steps: DIY Water Bottle Designs
Note: The time required might vary depending on the complexity of the design you choose.

bottlefirst
Key Takeaway
DIY water bottle designs provide a fun, creative, and cost-effective way to personalize your hydration vessels.
These designs can also be an eco-friendly choice as they encourage the reusability of existing water bottles, reducing plastic waste.
DIY designs can be a great personalized gift idea.
They allow the opportunity to express personal styles and inspire others to consume more water for their health and wellness.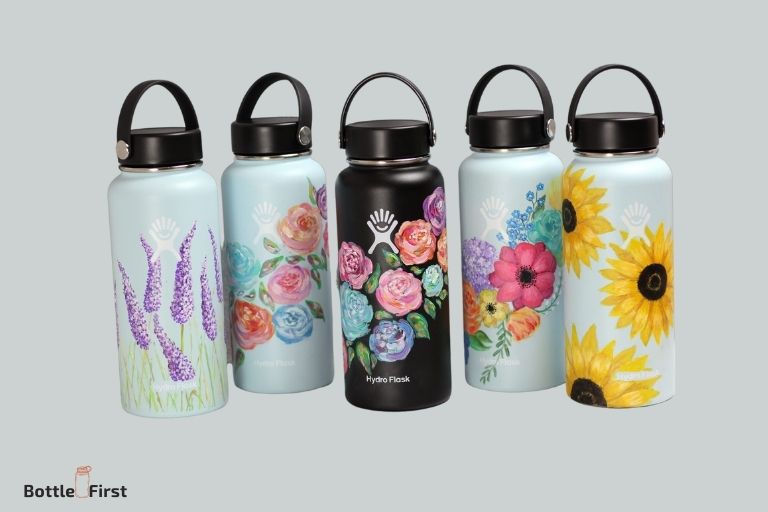 Five Facts About Diy Water Bottle Design
DIY water bottle designs often involve the use of paint, stickers, markers, or other crafting materials to create unique, personalized drawings or patterns on the bottle. (Source: Do-It-Yourself (DIY), Oxford University Press)
These designs can often be water-resistant if the right materials are used, meaning the artwork won't be easily smeared or washed away. (Source: Water-Resistant vs Water-Proof, Explained, KOA)
Simple DIY design ideas might include using tape to create shapes or lines and then painting over the exposed areas, creating a marble effect with nail polish, or wrapping the bottle in colourful duct tape. (Source: 13 Cute DIY Water Bottle Ideas You Must Try, Craftsy)
More complex designs could involve painting a picture on the bottle, using glow in the dark paint for a cool effect, or even adding rhinestones for a bit of sparkle. (Source: The Best Glow in The Dark Paints Reviews, Art Ltd Magazine)
DIY water bottle designs can be a great project for classes, clubs, or groups – providing a fun creative activity that also promotes a healthful habit. Many online tutorials are available to guide the crafting process. (Source: DIY Water Bottle, Pinterest)
Introduction: Why Custom Water Bottles Are The Perfect Accessory
Custom Water Bottles As A Fashion Statement
When it comes to staying hydrated on the go, water bottles have become an essential accessory. But why settle for a plain, ordinary bottle when you can make a statement with a custom design?
Custom water bottles have become an increasingly popular trend, offering both style and functionality.
From personalized graphics to unique color combinations, these bottles allow individuals to express their personality while staying hydrated. Here's why custom water bottles are the perfect fashion accessory:
Custom Water Bottles As A Fashion Statement
Personalization: Custom water bottles offer the opportunity for personalization, allowing individuals to showcase their unique style and interests. Whether it's their favorite quote, a monogram, or a vibrant design, the possibilities are endless. Customizing a water bottle gives it a personal touch, making it stand out from the crowd.
Brand representation: Custom water bottles are not just for individuals. Businesses and organizations can also benefit from customized bottles by using them as promotional items. Adding a logo or a catchy slogan to a water bottle helps create brand recognition and fosters a sense of unity among employees or supporters.
Trendsetting: Custom water bottles have become a trend in the fashion world, with many influencers and celebrities showcasing their unique designs on social media platforms. By owning a customized bottle, individuals can stay on top of the latest fashion trends and make a fashion statement of their own.
Versatility: Custom water bottles come in a variety of shapes, sizes, and materials, allowing individuals to choose the one that suits their needs and preferences best. From sleek stainless steel bottles to lightweight and collapsible options, there is a custom water bottle for everyone.
Environmental Benefits Of Reusable Bottles
Reduce waste: Reusable water bottles help reduce single-use plastic waste, which is a significant environmental concern. By choosing a reusable bottle, individuals can contribute to the reduction of plastic pollution and create a more sustainable future.
Energy conservation: The production of single-use plastic bottles requires a significant amount of energy and resources. Opting for a reusable bottle helps conserve energy and reduce greenhouse gas emissions associated with the manufacturing process.
Cost-effective: Investing in a custom water bottle may seem like an initial expense, but in the long run, it can save money. By refilling a reusable bottle instead of buying single-use bottles, individuals can save on the cost of purchasing bottled water regularly.
Healthier choice: Using a reusable bottle allows individuals to have control over the quality of the water they drink. By using filtered or purified water, individuals can ensure they are consuming clean and safe water without the risk of harmful contaminants.
Custom water bottles not only serve their primary function of hydration but also act as a fashion statement and environmentally friendly choice.
By embracing the trend of custom water bottles, individuals can add style to their daily routine while making a positive impact on the planet.
So why stick to a plain bottle when you can sip in style with a customized one?
Finding Inspiration: Creative Ideas For Diy Designs
Colorful Patterns And Abstract Designs
When it comes to diy water bottle designs, adding colorful patterns and abstract designs is a fantastic way to create a visually appealing and eye-catching design.
Here are some key points to consider:
Geometric patterns: Experiment with geometric shapes such as triangles, squares, or chevron designs for a modern and stylish look.
Polka dots: Incorporate playful and fun polka dot patterns in different colors to add a touch of whimsy to your water bottle.
Splatter paint: Create a unique design by using splatter paint techniques in vibrant colors for a dynamic and artistic effect.
Ombré effect: Gradually transition colors from light to dark or vice versa to achieve a trendy ombré effect that adds depth and dimension to your water bottle design.
Nature-Inspired Motifs And Botanical Prints
If you're a nature enthusiast, incorporating nature-inspired motifs and botanical prints into your diy water bottle design is a great way to bring the outdoors with you wherever you go.
Consider the following ideas:
Floral prints: Choose colorful and vibrant floral patterns to create a refreshing and feminine design.
Leaf motifs: Incorporate leafy designs and plant-inspired motifs for a calming and natural aesthetic.
Animal prints: If you're feeling bold, opt for water bottle designs featuring animal prints like leopard, zebra, or snake patterns for a touch of exoticism.
Landscape illustrations: Channel your inner artist and paint or draw landscapes like mountains, forests, or beaches onto your water bottle for a serene and scenic design.
Personalized Monograms And Names
Make your water bottle design even more special by personalizing it with monograms or names.
Here's how you can add a personal touch:
Monograms: Use your initials or create a monogram combining your initials for a sleek and sophisticated design.
Hand-lettering: If you have great penmanship, try hand-lettering your name or a favorite quote onto your water bottle for a custom and artistic look.
Stencils: Utilize stencils to easily add your name or initials to your water bottle design with precision.
Vinyl decals: Create or purchase vinyl decals to adhere to your water bottle, displaying names, initials, or custom designs for a professional-looking personalization.
Upcycling Materials For Unique Textures
Upcycling materials not only gives your water bottle a unique texture but also contributes to sustainable living.
Consider these ideas for upcycling:
Fabric wraps: Wrap your water bottle with colorful or patterned fabric scraps using adhesive or tying them securely for a cozy and tactile texture.
Yarn wraps: Use yarn to wrap around your water bottle, creating intricate patterns or even covering the entire surface for a soft and cozy feel.
Washi tape: Apply washi tape in various colors and patterns to your water bottle, creating a textured and customizable design with the added bonus of easy removal if desired.
Embellishments: Attach buttons, beads, feathers, or other small decorations to your water bottle using adhesive or wire to create a textured and visually appealing design.
Remember, the possibilities for diy water bottle designs are endless. Let your creativity soar and have fun designing a one-of-a-kind water bottle that reflects your personal style and interests.
Getting Started: Materials And Tools You'Ll Need
When it comes to diy water bottle customization, choosing the right materials and tools is essential. Whether you're looking to create a personalized design or revamp an old water bottle, having the right supplies is key.
In this section, we'll explore the important factors to consider when selecting a water bottle for your design, as well as the essential tools and creative mediums you'll need to bring your vision to life.
Choosing The Right Type Of Water Bottle For Your Design
When selecting a water bottle for customization, keep in mind the following key points:
Material: Consider the material of the water bottle, as it will impact the overall durability and appearance of your design. Options may include stainless steel, plastic, glass, or even a combination of materials.
Size and shape: Determine the desired size and shape of the water bottle based on your design ideas. Are you looking for a sleek and slim bottle, or do you prefer a wider and more contoured shape? Think about the canvas that best suits your creative vision.
Durability: Assess the durability of the water bottle, keeping in mind factors such as its intended use and environment. If you plan on using your customized bottle for outdoor activities or travel, opting for a sturdy and impact-resistant option might be wise.
Essential Tools For Diy Water Bottle Customization
To bring your water bottle design to life, you'll need the following essential tools:
Cleaning supplies: Before starting your customization project, ensure you have cleaning supplies on hand to thoroughly clean and prepare the water bottle surface for customization. This may include mild soap, water, and a soft-bristle brush, depending on the bottle's material.
Painter's tape: Painter's tape is a valuable tool for creating clean lines and protecting certain areas of the water bottle during the customization process. It allows you to easily achieve sharp edges and prevents paint or markers from bleeding onto unwanted areas.
Paints and markers: Depending on your preference and design, you may choose either paints or markers to add color and creativity to your water bottle. Acrylic paints work well on most materials, while paint markers provide precise detailing. Consider the look you want to achieve and select paint colors or marker types accordingly.
Brushes and applicators: If you opt for paint, make sure to have a variety of brushes and applicators in different sizes and shapes. This will allow you to apply paint smoothly, create different textures, and work on fine details.
Sealant: Once you've completed your design, protect it with a sealant to ensure its longevity. Sealants act as a protective barrier against scratches, water damage, and fading. Look for sealants that are compatible with the material of your water bottle.
Now that you know the materials and tools required, it's time to unleash your creative side and start customizing your water bottle. Let your imagination run wild and make it a truly unique accessory that reflects your personality.
Step-By-Step Guide: Transforming Your Water Bottle
Preparing The Surface For Painting Or Design Application
Before you start transforming your water bottle, it's essential to prepare the surface to ensure optimal adhesion and longevity of your design.
Follow these steps to properly prepare the surface:
Clean the water bottle: Wash the water bottle with warm soapy water and rinse it thoroughly. Make sure to remove any dirt, dust, or oils that might be present on the surface. Pat dry with a clean cloth.
Sand the surface: Use fine-grit sandpaper to lightly sand the entire surface of the water bottle. This step will help create a rough texture that allows the paint or design to adhere better. Sanding also helps remove any existing designs or logos on the bottle.
Clean again: After sanding, wipe the water bottle with a damp cloth to remove any dust created during the sanding process. Allow the bottle to dry completely before proceeding to the next step.
Applying Base Coats And Creating A Background
Once you have prepared the surface, it's time to apply base coats and create a background for your design.
Follow these steps to achieve the desired look:
Choose your base color: Select a base color that will serve as the background for your design. Consider the overall theme or concept you have in mind and choose a color that complements it.
Prime the surface (optional): If you're using acrylic or spray paint, applying a primer can help create a smooth and even surface for the base coat. This step is especially useful if you're working on a plastic water bottle.
Apply the base coat: Using a brush or spray paint, apply an even layer of the chosen base color to the entire surface of the water bottle. Make sure to cover all areas and allow the base coat to dry according to the manufacturer's instructions before proceeding.
Add texture or effects (optional): If desired, you can add texture or special effects to the base coat. Consider using techniques like sponging, splattering, or stenciling to create an interesting background for your design.
Adding Intricate Details And Embellishments
With the base coat in place, it's time to add intricate details and embellishments to make your water bottle design truly unique.
Follow these steps to bring your vision to life:
Plan your design: Before diving into the details, plan out your design on paper or create a rough sketch. This step will help you visualize the placement and arrangement of various elements.
Use fine brushes or markers: Depending on the size and complexity of your design, choose fine brushes or markers to add intricate details. This step requires patience and a steady hand to achieve precise lines and shapes.
Experiment with different techniques: Explore various techniques such as layering, blending, or dotting to add depth and dimension to your design. Don't be afraid to mix colors and try different patterns to create a visually appealing result.
Incorporate embellishments: To further enhance your design, consider adding embellishments such as gemstones, rhinestones, or glitter. These additions can add a touch of sparkle and make your water bottle design stand out.
Sealing And Protecting Your Design For Durability
After investing time and effort into creating your water bottle design, it's crucial to seal and protect it for long-lasting durability.
Follow these steps to ensure your design stays intact:
Choose a sealant: Select a sealant that is suitable for the type of paint or markers you used. A clear acrylic sealer or a waterproof varnish is commonly used to protect designs on water bottles.
Apply a protective coat: Using a brush or spray, apply a thin and even layer of the sealant over the entire surface of the water bottle. Make sure to cover the design and allow it to dry completely.
Apply additional coats (optional): Depending on the sealant's instructions, you may need to apply multiple coats for added protection. Follow the recommended drying times between each coat.
Let it cure: Allow the sealant to cure for the suggested time specified by the manufacturer. This step ensures that the protective layer fully adheres to the surface and provides maximum durability.
By following these step-by-step guidelines, you can easily transform your water bottle into a personalized work of art.
Whether you're a beginner or experienced in diy projects, this creative endeavor allows you to express your unique style while staying hydrated in style.
So, grab your supplies, let your imagination run wild, and enjoy the process of bringing your custom water bottle design to life!
Finishing Touches: Taking Your Diy Water Bottle To The Next Level
Taking the time to create your own unique water bottle design is a fun and creative way to express your personal style.
While the process of designing and decorating your water bottle is exciting in itself, adding some finishing touches can truly elevate the look and make it stand out from the crowd.
Here are a few ideas to help you take your diy water bottle to the next level:
Adding Protective Coatings For Extra Shine And Longevity
Apply a clear epoxy resin coating to give your water bottle a glossy finish and protect the design from scratching or fading.
Use a waterproof sealant spray to make your water bottle more resistant to moisture and ensure that the design stays intact even after repeated use.
Consider using a food-grade polyurethane spray to add a layer of protection without compromising the safety of the water inside the bottle.
Incorporating Additional Features Like Charms Or Keychains
Attach a small charm or pendant to the lid or handle of your water bottle to add some extra flair and personalize it further.
Use a keychain ring to hang small trinkets or decorative items from the bottle. This not only enhances the overall look but also makes it easier to carry or attach the bottle to a bag.
Explore different materials and textures, such as beads, feathers, or ribbons, to create unique and eye-catching charms or keychains.
Personalizing The Bottle With Meaningful Quotes Or Stickers
Choose quotes or phrases that resonate with you personally and reflect your values or interests. You can handwrite these quotes on the bottle using permanent markers, or use custom-designed stickers.
Opt for high-quality vinyl stickers that are waterproof and fade-resistant to ensure longevity and maintain the integrity of the design.
If you prefer a minimalist look, consider using transparent stickers with subtle designs or patterns that blend seamlessly with the overall aesthetics of the bottle.
Adding these finishing touches not only enhances the visual appeal of your diy water bottle but also helps protect the design and make it more durable over time.
So get creative and have fun exploring different ways to personalize and elevate your water bottle design!
Conclusion: Showcasing Your Creativity And Sustainability
Using Your Custom Water Bottle As An Eco-Friendly Statement
When it comes to sustainable living, every small change matters. Designing your own water bottle not only showcases your creativity but also allows you to make an eco-friendly statement.
Here are a few key points to consider:
Personalized design: With a custom water bottle, you have the freedom to express your individuality. Add your favorite quotes, images, or patterns to create a unique design that reflects your personality.
Reusable and durable: By using a custom water bottle, you are reducing the need for disposable plastic bottles. Opting for a reusable bottle helps minimize single-use plastic waste, contributing to a sustainable lifestyle.
Choosing eco-friendly materials: Consider using materials like stainless steel or glass for your custom water bottle. These materials are not only durable but also infinitely recyclable, making them a greener option compared to plastic.
Avoiding harmful chemicals: When designing your water bottle, make sure to choose materials that are free from harmful chemicals like bpa and phthalates. Opt for bottles that are labeled as bpa-free to ensure the safety of your health and the environment.
Sharing Your Creation With Others Through Social Media
Creating a custom water bottle is not just about personal satisfaction. It's an opportunity to inspire others and spread awareness about the importance of sustainability.
Social media platforms provide an excellent platform to showcase your creation and engage with like-minded individuals.
Here's why sharing your custom water bottle through social media is beneficial:
Inspiring others: Your unique designs and eco-friendly choice of materials can serve as inspiration for others looking to reduce their plastic waste. By sharing your creation, you encourage others to embrace creativity and sustainability in their own lives.
Connecting with a community: Social media platforms allow you to connect with a community of individuals who share similar interests. By joining relevant groups or using specific hashtags, you can engage in discussions, exchange ideas, and learn from the experiences of others.
Spreading awareness: Your custom water bottle can become a conversation starter, prompting discussions about the importance of sustainable living. By sharing your journey and the reasons behind your design choices, you can raise awareness about the environmental impact of single-use plastic bottles.
Encouraging positive change: Your social media posts about your custom water bottle can inspire others to make small sustainable changes in their lives. By sharing tips, resources, and insights, you contribute to a collective effort towards a greener future.
Remember, your diy water bottle design is not just a stylish accessory; it's a symbol of your commitment to creativity and sustainability.
By using your custom water bottle as a means to showcase your values and sharing it with others, you become a catalyst for positive environmental change.
How Can I Design Water Bottle Labels Using Microsoft Word?
Creating water bottle labels using Microsoft Word is easy with this water bottle label tutorial. Whether for a special event, personal use, or branding purposes, follow these simple steps to design eye-catching labels. Customize the shape, size, colors, and fonts to match your style. With Microsoft Word's user-friendly interface, anyone can become a designer of professional-looking water bottle labels.
FAQ About Diy Water Bottle Design
How Can I Design My Own Water Bottle?
Design your own water bottle by choosing a suitable material, creating a unique design, and adding personal elements.
What Are Some Popular Diy Water Bottle Designs?
Popular diy water bottle designs include customized labels, hand-painted patterns, and innovative accessory attachments.
Are There Any Eco-Friendly Materials For Diy Water Bottles?
Yes, eco-friendly materials such as stainless steel, glass, and bamboo are ideal choices for diy water bottle projects.
How Can I Personalize My Diy Water Bottle Design?
Personalize your diy water bottle design by using vinyl stickers, engraving techniques, or by adding your name or favorite quotes.
What Are The Benefits Of Designing A Diy Water Bottle?
Designing a diy water bottle allows you to showcase your creativity, reduces plastic waste, and promotes a healthier lifestyle.
Conclusion
Designing your own water bottle can be an exciting and creative project that offers both functionality and personalization. By following some simple steps, you can create a unique and eye-catching design that reflects your style and personality.
Whether you want to use it as a fashion statement, promotional item, or a gift, a diy water bottle design allows you to make something that is truly one-of-a-kind.
Additionally, by reusing an existing water bottle, you are also contributing to environmental sustainability by reducing waste.
So go ahead, unleash your imagination, and design a water bottle that is not only visually appealing but also serves as a daily reminder of your creativity and commitment to making a positive impact on the world.
Start your diy water bottle design journey today and enjoy the satisfaction of creating something truly special.