Diy Water Bottle Stickers: Step By Step Guide!
Creating DIY water bottle stickers is a fun and creative way to personalize your hydration routine. It involves designing or choosing an image, printing it on sticker paper, and applying it to your water bottle.
DIY water bottle stickers allow for customization and personal expression. They're easy to create and apply, and they can vary from simple text designs to complex illustrations. This DIY project enables you to transform water bottles from plain and boring to vibrant and unique.
DIY water bottle stickers can be designed using graphic design software or selection from available designs online.
These stickers can be printed on waterproof sticker paper to ensure they last long.
The process of applying the sticker should be done carefully to avoid bubbles.
The DIY water bottle stickers are not only for aesthetic purposes but also to distinguish your water bottle from others.
DIY water bottle stickers are a fantastic way to express yourself, whether you're a business looking to promote or a creative individual wanting to show off your style.
This simple project can add a touch of personality to an everyday object, making hydration a little more exciting.
10 Steps: Diy Water Bottle Stickers
| Step Number | Instruction |
| --- | --- |
| 1 | Select a theme for your stickers. |
| 2 | Draw or download images and designs related to your theme. |
| 3 | Size your images appropriately. Make sure they will fit on your water bottle. |
| 4 | Print out your designs on sticker paper. |
| 5 | Cut out your stickers using scissors or a craft knife. |
| 6 | Peel off the backing of your sticker. |
| 7 | Apply the sticker to your water bottle. Make sure it's clean and dry. |
| 8 | Smooth out the sticker to ensure there are no bubbles or wrinkles. |
| 9 | Repeat the process until you're happy with the appearance of your water bottle. |
| 10 | Seal the stickers on your water bottle with a clear spray sealer to protect them. |
DIY Water Bottle Sticker Ideas
Key Takeaway
DIY water bottle stickers provide an opportunity for creative self-expression and personalization.
These stickers are not only visually appealing but could also potentially promote hydration by making water bottles more attractive to use.
They are an economical way of adding personality to a commonly used item without the need for expensive purchases.
DIY water bottle stickers can serve as an excellent craft project or a fun activity to engage in with friends or family members.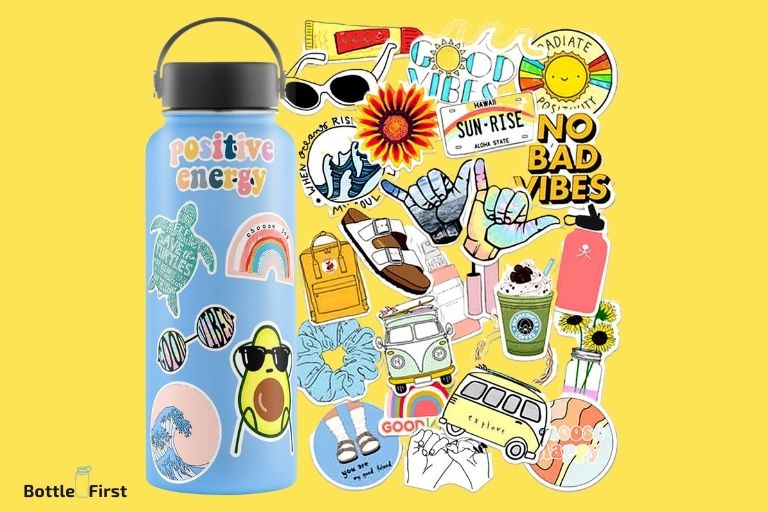 Five Facts About Diy Water Bottle Stickers
DIY Water Bottle Stickers are an increasingly popular trend amongst teenagers and young adults who wish to personalize their water bottles.
These stickers are typically made from waterproof vinyl to ensure they withstand typical water bottle use.
There are numerous online tutorials and platforms that provide step by step instructions, making it an easy and accessible project for even the least crafty individuals.
Popular themes for DIY water bottle stickers include favorite bands, TV shows, movies, brands, and inspirational quotes.
The use of DIY water bottle stickers can also serve as a sustainability initiative, encouraging the reuse of plastic water bottles by making them more personalized and attractive to use.
Unleashing Your Creativity: Designing Personalized Water Bottle Stickers
We live in a world where personalization is key. From customizing our smartphones to designing our own clothing, we seek ways to express our individuality in every aspect of our daily lives.
So why not extend this creative customization to one of our most essential items – our water bottles?
With diy water bottle stickers, you can unleash your creativity and add a personal touch to your hydration routine in a fun and unique way.
Importance Of Personalization In Everyday Items
Personalization allows us to stand out from the crowd and showcase our unique personality.
Adding a personal touch to everyday items, like water bottles, helps us feel a deeper connection to them.
Customization fosters creativity and allows us to explore our artistic abilities.
Adding A Personal Touch To Your Hydration Routine
Diy water bottle stickers offer a simple yet effective way to personalize your everyday water bottle.
By designing your own stickers, you can make your hydration routine more enjoyable and meaningful.
Personalized stickers make it easier to identify your water bottle in crowded places, reducing the chance of misplacing it.
Exploring Design Options For Water Bottle Stickers
There are countless design options available when it comes to creating water bottle stickers.
Consider using your favorite colors, patterns, and shapes to create a design that reflects your personality.
Experiment with different materials such as waterproof vinyl or repositionable adhesive paper to find the perfect option for your stickers.
Showcasing Your Unique Style Through Custom Stickers
Designing your own water bottle stickers allows you to personalize them to your unique style and preferences.
Incorporate your hobbies, interests, or favorite quotes onto the stickers to make them truly one-of-a-kind.
Custom stickers are a great conversation starter and can be an expression of your identity and interests.
With diy water bottle stickers, you have the freedom to express yourself and add a touch of creativity to your hydration routine.
Designing personalized stickers not only allows you to stand out from the crowd but also gives you a sense of ownership over your water bottle.
So, grab some materials, let your imagination run wild, and create unique stickers that perfectly reflect who you are. Stay hydrated in style!
Materials And Tools: What You'Ll Need To Get Started
Gathering The Necessary Materials For Diy Water Bottle Stickers
Creating your own water bottle stickers can be a fun and creative way to personalize your reusable water bottles.
Before you get started, gather the following materials:
Sticker paper: Choose a type of sticker paper that is compatible with your printer and has a strong adhesive. Look for options that are waterproof and scratch-resistant for long-lasting results.
Printer: Use an inkjet or laser printer to print your sticker designs onto the sticker paper. Make sure the printer is in good working condition and has enough ink or toner.
Design software: Use graphic design software such as photoshop or illustrator to create your sticker designs. If you don't have access to professional software, there are free online design tools available.
Scissors or craft knife: You'll need a cutting tool to trim your sticker designs once they are printed. Scissors are suitable for simpler designs, while a craft knife allows for more precise cutting.
Cutting mat: A cutting mat provides a stable surface to work on while using a craft knife. It also helps protect your tabletop from scratches.
Clear adhesive film: To make your stickers more durable and waterproof, consider using a clear adhesive film to cover the printed designs. This will also protect the stickers from fading and peeling over time.
Spray adhesive or glue stick: If you choose to use adhesive film, you'll need a spray adhesive or glue stick to apply it to your stickers. Make sure to follow the instructions on the adhesive product for the best results.
Choosing The Right Type Of Stickers For Your Project
When it comes to choosing the right type of stickers for your diy water bottle project, consider the following:
Vinyl stickers: Vinyl stickers are highly durable and resistant to outdoor elements like water and sunlight. They are an excellent choice if you intend to use your water bottle outdoors or wash it frequently.
Paper stickers: Paper stickers are more affordable and easier to print. They may not be as durable as vinyl stickers, but they can still be used if you plan on keeping your water bottle away from water or excessive handling.
Removable stickers: If you want to change your water bottle stickers frequently or reuse them on different bottles, consider using removable stickers. These stickers are easy to peel off without leaving any residue.
Custom-made stickers: You can create custom-made stickers using your own designs or artwork. This allows you to express your creativity and make your water bottle truly unique.
Essential Tools For Designing And Applying Stickers
To design and apply your diy water bottle stickers effectively, make sure you have the following tools on hand:
Computer or laptop: A computer or laptop is essential for designing your sticker artwork using graphic design software. It provides a larger screen and more processing power compared to using a mobile device.
Mouse or graphics tablet: A mouse or graphics tablet provides precise control when designing your sticker artwork. It allows you to create intricate details and ensures accuracy in your designs.
Printer with high-quality printing capabilities: A printer with high-resolution printing capabilities will ensure clear and vibrant sticker designs. Check the printer settings to optimize the print quality for your stickers.
Cutting tools: Use scissors or a craft knife along with a cutting mat to cut out your sticker designs neatly. Take your time and use steady hands to achieve clean and precise cuts.
Tweezers: Tweezers can be handy for handling small or intricate sticker pieces. They allow for more control and accuracy when applying stickers to your water bottle.
Clear tape or transfer tape: To transfer your stickers from the sticker paper to your water bottle, you can use clear tape or transfer tape. This helps keep your sticker intact and prevents it from tearing during application.
Exploring Additional Materials For Added Durability And Aesthetic Appeal
If you want to take your diy water bottle stickers to the next level, consider using additional materials for added durability and aesthetic appeal:
Laminating sheets: Laminating sheets provide an extra layer of protection for your stickers. Simply place your printed stickers between the sheets and use a laminating machine to seal them.
Gloss or matte finish spray: Applying a gloss or matte finish spray can enhance the visual appeal of your stickers. This protective coating can also make your stickers more resistant to scratches and fading.
Rhinestones or beads: Add some sparkle and dimension to your stickers by incorporating rhinestones or beads. These embellishments can be applied to certain parts of your sticker design using craft glue.
Glitter or metallic pens: Use glitter or metallic pens to add extra flair and shine to your sticker designs. These pens can be used to outline or fill in specific elements, making your stickers stand out.
Clear epoxy resin: For a truly professional finish, consider coating your stickers with clear epoxy resin. This gives them a glossy, domed appearance and provides maximum durability.
With the right materials and tools at your disposal, you can unleash your creativity and design eye-catching water bottle stickers that reflect your unique style. So gather everything you need and let your imagination run wild!
Step-By-Step Guide: Creating Your Own Water Bottle Stickers
Preparing Your Water Bottle For Sticker Application
Clean the water bottle thoroughly with soap and water to ensure a smooth surface for the sticker to adhere to.
Dry the bottle completely to prevent any moisture from affecting the sticker's longevity.
If there are any existing stickers or labels on the bottle, carefully remove them before applying your new sticker.
Ensure that the surface of the water bottle is free from any residue or oils by wiping it down with rubbing alcohol.
Designing Your Sticker Using Design Software Or Online Platforms
Choose a design software or online platform that matches your skill level and requirements.
If you're a beginner, opt for user-friendly design software like canva or adobe spark, which offer pre-made templates and easy customization options.
Create your sticker design by selecting relevant images, fonts, colors, and shapes that align with your aesthetic preferences.
Experiment with different layouts and compositions to achieve the desired look for your water bottle sticker.
Transferring The Design Onto Sticker Paper Or Vinyl
Once your design is finalized, print it onto sticker paper using an inkjet or laser printer. Alternatively, you can have it printed professionally.
Ensure that the sticker paper or vinyl you're using is compatible with your printer and provides high-quality results.
Adjust the printer settings to achieve optimal print quality for your sticker design.
Allow the printed stickers to dry completely before proceeding to the next step.
Cutting Out Your Sticker Using Precision Tools Or A Cutting Machine
If you prefer precision and have steady hands, use a craft knife or precision scissors to cut out the sticker design.
For a more professional and precise finish, consider investing in a cutting machine, such as a cricut or silhouette.
Follow the guidelines or trace the sticker design onto the sticker paper or vinyl before cutting it out.
Take your time and cut along the edges of the design carefully to avoid any uneven or jagged edges.
Applying The Sticker Onto Your Water Bottle For A Seamless Finish
Peel off the backing from the sticker paper or vinyl, revealing the adhesive side of the sticker.
Align the sticker with your desired position on the water bottle, taking care to avoid air bubbles or wrinkles.
Gently press down on the sticker, starting from the center and gradually smoothing it outwards to ensure a seamless finish.
Use a credit card or similar object to smooth out any air bubbles or creases that may occur during application.
Allow the sticker to set and adhere to the water bottle for a few minutes before use.
Remember, creating your own water bottle stickers allows you to personalize and add a unique touch to your everyday essentials. Have fun with the design process and enjoy showcasing your creativity on your water bottle!
Tips And Tricks: Ensuring Long-Lasting And Flawless Results
Creating your own water bottle stickers can be a fun and creative way to customize your everyday items.
To ensure that your diy stickers stand the test of time and maintain a flawless appearance, it's essential to follow a few tips and tricks.
From proper surface preparation to adding a protective layer, these steps will help you achieve long-lasting and durable results.
Proper Surface Preparation For Optimal Sticker Adhesion
Before applying your diy water bottle stickers, it's crucial to prepare the surface properly. This ensures that the stickers adhere securely and stay in place.
Follow these steps for optimal adhesion:
Clean the surface of your water bottle thoroughly with soap and water to remove any dirt, dust, or oils.
Dry the surface completely using a clean towel or cloth.
If your water bottle has a glossy or smooth finish, lightly sand the surface to create a slightly rough texture. This helps the adhesive bond better.
Utilizing Waterproof Materials For Increased Durability
When creating your diy water bottle stickers, it's important to use waterproof materials. This ensures that the stickers can withstand exposure to moisture, preventing them from peeling or fading over time.
Here are some materials you can use:
Waterproof vinyl: Opt for adhesive vinyl sheets specifically designed for outdoor use. These are durable and waterproof, ensuring your stickers withstand regular use and washing.
Waterproof markers: If you prefer drawing or handwriting your designs directly on the water bottle, use waterproof markers. These won't smudge or wash off when in contact with water.
Removing Air Bubbles And Ensuring A Smooth Application
One common issue when applying stickers is the formation of air bubbles, which can affect the finished look.
Follow these tips to eliminate air bubbles and achieve a smooth application:
Start by applying the sticker from one corner, gradually smoothing it out with a credit card or squeegee as you go.
If air bubbles appear, gently lift the sticker and reapply it, smoothing out any trapped air.
For stubborn bubbles, use a pin to gently prick them and press the air out.
Adding A Protective Layer To Extend The Lifespan Of Your Stickers
To protect your diy water bottle stickers from wear and tear, it's advisable to add a protective layer. This layer acts as a shield, extending the lifespan of your stickers.
Here's how to do it:
Once your sticker is applied and any air bubbles are removed, cover it with a layer of clear adhesive laminate or sealant.
Ensure that the protective layer covers the entire sticker, creating a barrier against water, uv rays, and scratches.
Expert Advice On Maintenance And Cleaning To Preserve Sticker Quality
To keep your diy water bottle stickers looking their best, proper maintenance and cleaning are crucial.
Follow these expert tips:
Wash your water bottle by hand using mild soap and water. Avoid using abrasive cleaners or scrubbing brushes that could damage the stickers.
If your water bottle is dishwasher-safe, place it on the top rack to avoid exposing the stickers to high heat and intense water pressure.
Avoid soaking your water bottle for extended periods, as this may compromise the adhesive or fade the colors.
By following these tips and tricks, you can ensure that your diy water bottle stickers stay in excellent condition for a long time. Have fun experimenting with designs and personalizing your favorite water bottles!
Customizing Your Hydration Journey: Showcasing Your Diy Stickers
Creating themed sticker sets for different occasions or moods:
Start by brainstorming themes or moods that resonate with you. This could range from cute and whimsical designs to bold and adventurous ones.
Consider the colors, patterns, and symbols that fit well with each theme or mood. For example, a beach-themed set could feature vibrant colors, seashells, and palm trees.
Collect or create images that align with your chosen themes. You can browse online for free clip art or use design software to create your own illustrations.
Print your sticker designs on sticker paper or use a professional printing service to ensure high-quality results.
Cut out the stickers using scissors or a cutting machine, making sure to stay within the lines for a neat finish.
Arrange your stickers in sets or separate them by theme, keeping them organized and easy to access for future use.
Showcasing your stickers on social media platforms:
Take eye-catching photos of your sticker sets, ensuring good lighting and clear focus.
Use popular social media platforms like instagram or pinterest to showcase your creations and gain exposure.
Write engaging captions that highlight the unique features of your stickers and encourage followers to get creative with them.
Utilize relevant hashtags to reach a wider audience interested in diy crafts, stickers, or the specific themes your creations represent.
Engage with your followers by responding to comments, asking for feedback, and encouraging them to share their own sticker-related experiences.
Sharing your creativity and inspiring others in the diy community:
Share your sticker-making process through detailed blog posts or video tutorials on platforms like youtube or tiktok.
Engage with the diy community by participating in forums, facebook groups, or online communities dedicated to crafts and creative projects.
Encourage others to share their own diy sticker creations, and create a sense of community by providing feedback and support.
Collaborate with fellow diy enthusiasts by hosting joint sticker-making challenges or creating themed sticker packs together.
Exploring potential business opportunities with your sticker designs:
Consider selling your sticker sets online through platforms like etsy or your own website.
Research pricing strategies to ensure your stickers are competitively priced while still reflecting the quality and effort put into each design.
Create a brand identity for your sticker business, including a logo, packaging, and consistent visual style.
Promote your sticker business through social media, online ads, or collaborations with influencers in the crafting or diy niche.
Keep track of customer feedback and adapt your sticker designs and offerings based on popular demand.
Enjoying the satisfaction of incorporating personalized art into your daily hydration routine:
Finally, take a moment to appreciate the personalized touches you've added to your water bottles. Each time you take a sip, you'll be reminded of your creativity and effort.
Observe the positive impact that personalized stickers have on your hydration routine. It's not just about staying hydrated; it's about adding a dash of joy and self-expression to your day.
Embrace the calming effects of creativity and the sense of accomplishment that comes with completing a diy project.
Stay inspired and continue exploring new designs, themes, and techniques to keep your hydration journey interesting and unique.
Can Water Bottle Stickers Be Used on the Water Bottle Launcher?
Water bottle stickers can indeed be used on the water bottle launcher. However, before attaching them, it is important to follow the water bottle launcher instructions carefully. This will ensure a secure fit and prevent any potential damage to the launcher.
Frequently Asked Questions For Diy Water Bottle Stickers
What Are Water Bottle Stickers?
Water bottle stickers are adhesive labels that can be attached to water bottles to add decoration or personalization.
How Can I Diy Water Bottle Stickers?
To diy water bottle stickers, you can use sticker paper, design software, and a printer to create custom labels.
What Materials Do I Need To Make Diy Water Bottle Stickers?
You will need sticker paper, a printer, design software, scissors, and water bottles to make diy water bottle stickers.
Is It Safe To Use Water Bottle Stickers?
Yes, it is safe to use water bottle stickers as long as they are made from non-toxic materials and are designed to be used on water bottles.
How Long Will Water Bottle Stickers Last?
The durability of water bottle stickers depends on the material and the usage, but with proper care, they can last for a long time.
Conclusion
To summarize, designing diy water bottle stickers is a fun and creative way to personalize your hydration companion. By following a few simple steps and using readily available materials, you can create unique and eye-catching designs that showcase your individuality.
Not only are water bottle stickers a great way to express your style, but they also help with identification and make your bottle stand out in a crowded space. Whether you want to add a pop of color, display your favorite quotes, or showcase your hobbies, the options are endless.
So, grab your supplies and get ready to unleash your artistic flair. Remember to consider the size and shape of your water bottle, as well as the materials and printing methods you choose.
With a little creativity, you can transform your water bottle into a personalized statement piece that you'll be proud to carry with you wherever you go.