Plastic Water Bottle Design Ideas – 7 Creative Ideas!
Plastic water bottle design ideas are essential for creating functional, attractive, and eco-friendly water bottles that make staying hydrated more enjoyable and convenient.
With many people realizing the importance of reducing single-use plastic waste, there's a growing demand for reusable water bottles that not only help the environment but also cater to individual needs and preferences.
As a result, designers have come up with creative and innovative ideas when it comes to plastic water bottle designs, ensuring that they cater to various styles, sizes, features, and budgets.
Ergonomic shapes and grip designs for comfortable handling.
Built-in filters for access to clean, purified water on-the-go.
Collapsible and foldable bottles for easy storage and portability.
Customizable and interchangeable parts for a unique, personalized bottle.
Ergonomic shapes and grip designs allow users to hold their bottles comfortably during activities like jogging or hiking, while built-in filters make it possible to drink purified water from any source.
Collapsible and foldable bottles easily fit into bags or pockets, making them perfect for travel or when space is limited.
Finally, with customizable and interchangeable parts, users can express their personal style and preferences, ensuring their water bottle is not only functional but also an extension of their personality.
7 Design Ideas for Plastic Water Bottles
| Design Idea | Material | Capacity | Features | Benefits |
| --- | --- | --- | --- | --- |
| Eco-friendly | Biodegradable plastic | 500ml | Screw cap, reusable, easy to clean | Reduces environmental impact, promotes sustainability |
| Sports Bottle | BPA-free plastic | 750ml | Flip-top, built-in straw, easy grip | Convenient for athletes, easy to carry and use during physical activities |
| Collapsible Bottle | Food-grade silicone | 1L | Foldable, expandable, carabiner attachment | Space-saving, easy to carry, durable, and ideal for traveling |
| Filtering Bottle | BPA-free plastic | 650ml | Built-in filter, replaceable filter cartridge | Ensures clean and safe drinking water, reduces the need for single-use plastic bottles |
| Infuser Bottle | BPA-free plastic | 700ml | Built-in fruit infuser, leak-proof cap | Enhances water flavor, encourages healthy habits, prevents spills |
| Insulated Bottle | Double-wall construction | 500ml | Vacuum insulation, leak-proof cap, stainless steel interior | Keeps water cold for hours, perfect for outdoor activities, prevents sweating |
| Smart Bottle | BPA-free plastic | 750ml | LED temperature display, reminder to drink water, rechargeable battery | Encourages regular hydration, monitors water temperature, user-friendly |
7 Design Ideas for Plastic Water Bottles
Key Takeaway
Environmentally friendly designs are becoming increasingly important in the plastic water bottle industry.
Functional features are being integrated into designs to improve user experience and convenience.
Aesthetically appealing water bottles can encourage individuals to carry and use them more often, promoting proper hydration.
Material innovations continue to influence plastic water bottle designs, offering new options for sustainability and performance.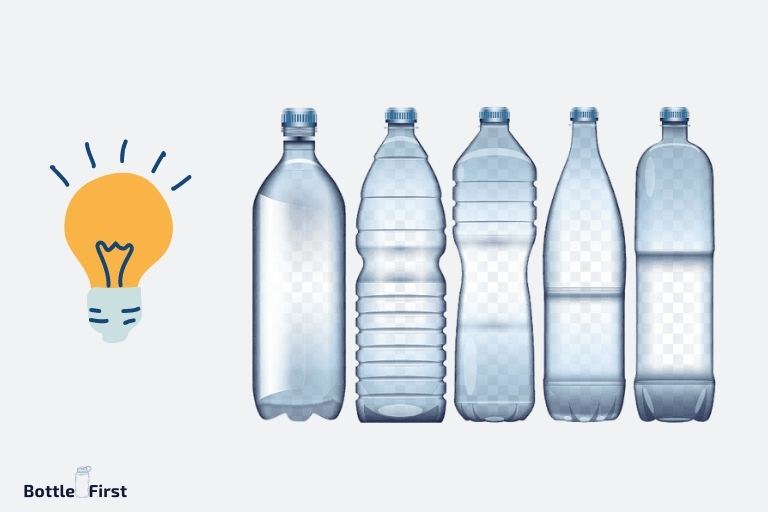 Five Amazing Ideas for Designing Plastic Water Bottles
The Ocean Bottle is a reusable water bottle designed to help reduce plastic pollution in the ocean. For every bottle sold, the equivalent of 1,000 plastic bottles is collected and removed from the ocean by partnering with Plastic Bank. (Source: oceanbottle.com)
A recent innovation in plastic water bottle design is the self-cleaning UV-C bottle, which uses UV-C light to neutralize bacteria and viruses, keeping the water clean and safe to drink. Brands like LARQ and CrazyCap offer this technology. (Source: livelarq.com; thecrazycap.com)
The Memobottle is an innovative water bottle design with a flat, rectangular shape, making it easy to slide into bags and carry alongside laptops and books. The design aims to promote a more sustainable, efficient way of carrying water. (Source: memobottle.com)
The Hydaway collapsible water bottle is designed for ultimate portability and convenience. The silicone bottle can be compressed down to a size that fits into a pocket, purse, or backpack. This unique design encourages hydration and reduces single-use plastic consumption. (Source: hydawaybottle.com)
The Alkame water bottle is made from a specially designed plastic that has been shown to inhibit the growth of bacteria, resulting in a cleaner and safer drinking experience. The patented technology also helps improve the water's taste by reducing contaminants. (Source: alkamewater.com)
Introduction: The Evolution Of Plastic Water Bottle Designs
The world has seen a significant rise in the use of plastic water bottles for safe drinking water over the years.
The market for these bottles is continuously expanding, leading to an unstoppable demand for novel and creative plastic water bottle designs.
The evolution of these designs has gone through a long journey of innovation and creativity.
We aim to explore the background and significance of these designs, the environmental concerns related to plastic bottles, and the need for innovative designs that accommodate the changing trends in society.
The Need For Innovative Plastic Water Bottle Designs
With the growing environmental concerns and the shifting of trends among consumers, the need for distinctive and innovative plastic water bottle designs has never been greater.
Here are some key points to consider:
The first and foremost need for creative designs in plastic water bottles is to cater to the ever-changing preferences of consumers. The design of a bottle plays a significant role in its marketing, and a well-crafted design can help it stand out in a crowded market.
Innovative bottle caps and closures, such as those that include a straw, sipper, or nozzle, add convenience and help to prevent accidental spills, making them a great addition to any water bottle design.
Designs that reduce the number of parts required for assembly can be advantageous in terms of reducing production costs for bottle companies.
The introduction of unique shapes and sizes of water bottles is also crucial as individuals look for products that fit their unique needs and preferences.
The Environmental Impact And Concerns Of Plastic Bottles
The widespread use of plastic bottles, particularly single-use ones, has put a significant strain on the environment.
Here are some key points to consider:
Plastic bottles take hundreds of years to decompose, and they often end up in landfills and oceans, polluting the environment and causing harm to marine life.
The production of plastic bottles requires vast amounts of natural resources, including water and oil, leading to further environmental concerns.
Recycling rates for plastic bottles are low, meaning that the majority end up in the environment, leading to pollution.
Historical Background Of Plastic Water Bottle Designs
The use of plastic bottles dates back to the 1940s when they were first introduced as a means of carrying and storing drinking water.
Here are some key points to consider:
The first plastic water bottles were made from polyethylene terephthalate (pet), which is a durable and lightweight material that is still widely used today.
In the 1960s, the first sports bottle was introduced, which was designed for active individuals who needed a lightweight and convenient way to carry water while engaging in outdoor activities.
The 1970s saw the introduction of the now-iconic two-liter plastic soda bottle, which quickly became popular for its convenience and affordability.
In the 2000s, innovative designs like collapsible water bottles and those with built-in water filters became popular, catering to the more adventurous and environmentally-conscious consumers.
The evolution of plastic water bottle designs has continued to progress, driven by the need for innovation and meeting the demands of a changing society.
With the growing concerns for the environment, companies need to continue exploring and creating eco-friendly designs to reduce the footprint of their products.
Design Innovations For Sustainability
Plastic water bottles have become a ubiquitous part of our lives, from the gym to the office to outdoor activities.
Unfortunately, these bottles can have a severe environmental impact, taking hundreds of years to degrade.
Fortunately, many designers have been working on innovative solutions to create more sustainable designs.
In this section, we'll explore the latest design innovations for eco-friendly bottles.
Collaborative Design Thinking For Eco-Friendly Bottles
Creating sustainable designs for plastic water bottles requires a collaborative approach among various professionals.
Here are some key points to keep in mind when undertaking this approach:
Bring together experts: Involve engineers, designers, environmentalists, and other professionals to work together in a sustainable product design process.
Focus on the entire lifecycle of the product: Consider the materials used, the production process, the shipping and transport, and the disposal process.
Iterate often: Collaborative design thinking requires a willingness to make mistakes, learn from them, and improve designs in an iterative manner.
Refillable Water Bottle Designs For Sustainability
Refillable water bottle designs offer a more sustainable option for those who use plastic bottles frequently.
Here are some design ideas to consider:
Durable materials: Choose durable, long-lasting materials that can withstand daily wear and tear.
Unique shapes and sizes: Offer a variety of shapes and sizes that cater to customers' individual tastes and requirements, like an insulated bottle or a compressed bottle that elongates during use.
Customization options: Offer customers the option to personalize their bottles with colors, logos, or other customizations.
Biodegradable And Eco-Friendly Materials For Bottles
Using biodegradable and eco-friendly materials in water bottle design is an excellent step towards sustainability.
Here are some key points to keep in mind when using eco-friendly materials:
Natural ingredients: Use materials like bamboo, paper, or biodegradable plastic, which are biodegradable and eco-friendly.
Innovation in materials: Innovative companies are developing new, sustainable materials like edible water bottles and seaweed-based packaging. Consider these options when designing your next water bottle.
Testing: Any new material should be thoroughly tested to ensure that it's safe and effective for use.
Design innovations for eco-friendly water bottles have come a long way in recent years.
With a collaborative approach, refillable designs, and biodegradable materials, designers can create a more sustainable future for plastic water bottles.
Design Trends For Plastic Water Bottles: Style Meets Substance
Plastic water bottle design ideas: design trends for plastic water bottles: style meets substance
Plastic water bottles are a ubiquitous item, and with so many designs available, it can be challenging to stand out in a crowded marketplace.
Design trends are ever-changing, and keeping up with the latest can be both exciting and challenging.
Here are some design trends for plastic water bottles that merge style with substance.
Personalization And Customization In Plastic Bottle Designs
Customization options for water bottles are essential to showcase an individual's unique style.
Companies are now providing opportunities for people to get creative with their bottle choices, such as:
Customized name labels: Adding names to water bottles has never been more popular. Companies are providing custom label options to give a 'personal touch' to their products.
Graffiti themes: Innovative graffiti designs are becoming increasingly popular, allowing people to express their creativity.
Design your bottle: Some companies allow people to design their bottles. These design features show the manufacturer's commitment to providing products that cater to people's individual likes and tastes.
Color, Shape, And Texture Trends In Water Bottle Designs
Color, shape, and texture are critical factors in a water bottle.
Here are some of the latest trends:
Pastel shades: Soft, light colors are becoming popular for water bottle designs. These colors give off a calm and relaxing vibe that appeals to many.
Curvy shape: Curved shapes are gaining popularity over straight ones, giving off a more elegant look. The curved shape follows the body's natural lines, making it more ergonomic.
Texture: Texture is a new trend that many companies have started to experiment within water bottles. Textured grips make bottles more comfortable to hold, making them less likely to slip from sweaty fingers.
Aesthetics And Branding In Sustainable Bottles
The rise of environmental awareness has led to the production of more sustainable water bottles.
With aesthetics being just as crucial as functionality, many companies are incorporating branding into sustainable bottle designs.
Subtle branding: Subtle branding has become popular, making a minimalist, functional statement.
Eco-branding: Companies may use eco-branding techniques such as incorporating eco-friendly phrases or using a sustainable aspect to the design.
Transparency: With the rise of social media, transparency is essential. Companies that are transparent about their production process and values are receiving more recognition than ever before.
All in all, consumers' evolving tastes make the water bottle industry both exciting and dynamic.
Keeping up with new trends, experimenting with different colors, shapes, textures, and branding elements are all manufacturer challenges that enable them to resonate better with today's audience.
Design Challenges And Solutions
Overcoming The Challenges Of Eco-Friendly And Sustainable Design
As the world increasingly shifts towards sustainable living, eco-friendly design has become a top priority for many industries, including the plastic water bottle industry.
However, designing sustainable water bottles often presents significant challenges that require innovative solutions.
Here are some of the critical challenges of eco-friendly and sustainable design and how to overcome them:
Challenge 1: Finding alternatives to plastic: one of the fundamental challenges of sustainable water bottle design is finding alternatives to plastic that are equally functional and innovative.
Solution: Look for materials that are biodegradable, such as pla (polylactic acid) or pha (polyhydroxyalkanoates). Another solution would be to use recycled plastic, such as rpet (recycled polyethylene terephthalate).
Challenge 2: Balancing durability and sustainability: sustainability should not compromise durability and performance, especially in an industry that requires products to withstand the rigors of daily use.
Solution: Use materials that can withstand physical wear and tear, such as tritan copolyester, which is bpa-free and has excellent resistance to impacts and chemicals.
Challenge 3: Maintaining affordability: designing eco-friendly water bottles can be costly, making it a real challenge to maintain affordability for consumers.
Solution: Look for ways to reduce production costs, such as using fewer parts or standardizing sizes to make manufacturing more efficient.
Balancing Innovation And Functionality In Sustainable Bottles
Designing sustainable water bottles requires innovation without compromising functionality.
Here are some aspects to consider:
Shape and size: The bottle's shape and size are crucial for achieving the right balance of innovation and functionality. Ideally, the design should fit comfortably in hand and offer convenient storage.
Ergonomics: Sustainable bottles can be heavy, which can be uncomfortable for extended use periods. Incorporating ergonomic features can increase comfort and functionality.
Customizable design: One way of enhancing both innovation and functionality is by incorporating custom designs that align with customers' needs and preferences. For example, consider adding customization options such as text imprints, color changes or image printing.
Leveraging Smart Technology For Sustainable Bottles
The integration of technology in sustainable water bottle design can enhance functionality, improve user experience, and increase sustainability.
Some key technological trends include:
Smart bottles: Incorporating sensors and technology into bottles can offer users real-time information on hydration status, and some models even remind users to drink water regularly.
Water treatment technology: Combining water treatment technology such as uv-c led purification can provide users with a safe and clean source of water.
Green tech: The use of green technology, such as solar charging and biodegradable filtration systems, can help make water bottle use sustainable.
Designing eco-friendly and sustainable water bottles requires a balance between innovation and functionality while overcoming challenges such as affordability, material durability, and finding alternatives to plastic.
With the right design and technology solutions, sustainable water bottles can play a significant role in protecting the environment and promoting healthy living.
FAQ About Plastic Water Bottle Design Ideas
What Are Some Unique Plastic Water Bottle Design Ideas?
Some unique plastic water bottle design ideas include incorporating led lights, adding motivational quotes, and using sustainable materials.
How Can I Customize My Plastic Water Bottle?
You can customize your plastic water bottle by applying stickers, designing your own label, or using a water bottle printing service.
What Is The Most Eco-Friendly Plastic For Water Bottles?
The most eco-friendly plastic for water bottles is recycled polyethylene terephthalate (rpet), as it reduces waste and conserves resources.
How Can I Make My Plastic Water Bottle More Durable?
You can make your plastic water bottle more durable by choosing a thicker-walled bottle, avoiding drops or impacts, and cleaning it properly.
What Should I Consider When Choosing A Plastic Water Bottle Design?
When choosing a plastic water bottle design, consider factors like capacity, durability, shape/size, material safety, and environmental impact.
Conclusion
As we conclude, the importance of designing a plastic water bottle that stands out cannot be overemphasized.
Whether you are a small start-up business or an established brand, your packaging should visually communicate the essence of your brand and appeal to your target audience.
Remember to consider the unique shapes, sizes, and colors that can help improve the functionality and aesthetics of your product.
Additionally, as you design your plastic water bottle, ensure that you prioritize sustainability by using eco-friendly materials, and reducing plastic waste.
Going green will help to protect the environment and attract eco-conscious customers who appreciate your commitment to sustainability.
Use these plastic water bottle design ideas to not only stay ahead of the market competition but also make a positive impact on the environment.