How to Fix a Gatorade Water Bottle? 3 Easy Steps!
Gatorade water bottles are a popular way to drink on the go, especially for athletes. However, after frequent use, wear and tear can occur, leading to leaks, clogs, and breaks.
Instead of throwing out your Gatorade bottle at the first sign of trouble, it can likely be fixed with some basic troubleshooting and maintenance.
Taking the bottle apart to inspect and replace gaskets, using pipe cleaners and brushes to clear blockages, or ordering replacement mouthpiece parts can get your bottle back to full functionality.
This straightforward guide walks through diagnosing and repairing the most common Gatorade water bottle problems.
With a few household items and spare parts, you can mend your leaky, sticky, or sputtering Gatorade bottle and save it from the recycling bin. Keep your thirst-quenching companion working smoothly with these handy fixes.
Fixing a Gatorade Water Bottle: Step-by-Step Guide
Gatorade water bottles are convenient for hydration on the go but wear and tear can occur over time.
Here are some tips for fixing common issues with Gatorade bottles.
Step 01: Fixing Leaks
If the bottle is leaking from the spout or cap:
Disassemble the cap and spout pieces
Examine the rubber gasket for cracks or damage
Replace the gasket if worn out
Reassemble tightly
Step 02: Unclogging the Spout
If the spout is clogged:
Remove the spout piece from the cap
Use a small pipe cleaner or wire to clear any blockages
Rinse it under hot water while scrubbing with a brush
Reattach the unclogged spout piece
Step 03: Replacing Broken Spout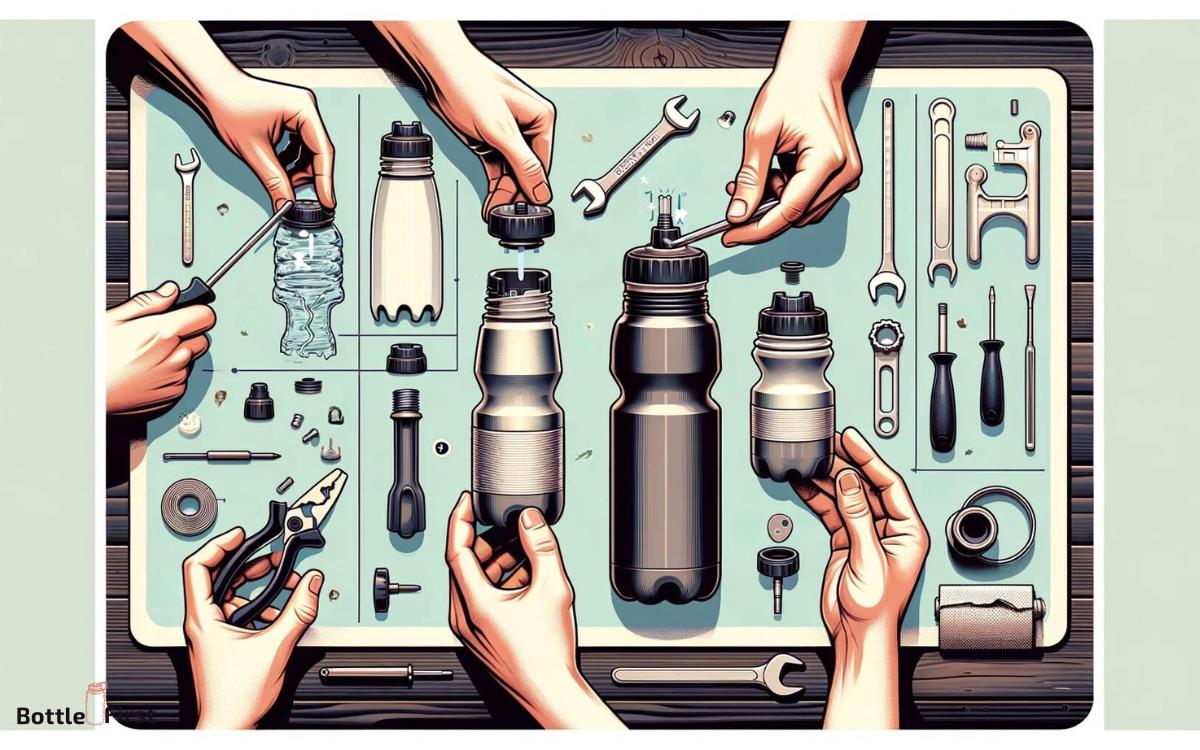 For a cracked or broken spout:
Locate the spout replacement part online or in stores
Detach the defective spout by unscrewing
Attach the new spout piece according to the instructions
Test to ensure it works properly
With some simple maintenance, you can repair issues with your Gatorade bottle and keep staying hydrated!
Understanding The Problem: What Causes The Gatorade Water Bottle To Break?
The Issue With Gatorade Water Bottles
If you've owned a gatorade water bottle, you may have noticed that it starts to break after some time. This issue is common and can affect the performance of your bottle, defeating its purpose.
This section discusses the causes of breakage and how you can fix it.
Common Causes Of Breakage
Gatorade water bottles are not invincible, and they are prone to breakage.
Here are some of the common causes of gatorade water bottle breakage:
Thin plastic: Gatorade water bottles are made of thin plastic, which makes them lightweight and easy to carry. However, this also makes them prone to damage and breakage.
Heat: Exposing your gatorade water bottle to heat can cause it to break. If you leave it in a hot car or outside in the sun for an extended period, the plastic may warp, crack, or even melt.
Pressure: Putting too much pressure on your gatorade water bottle can also cause it to break. For example, dropping it, squeezing it too hard, or using it as a weight can damage the bottle.
Age: Like most things, gatorade water bottles have a lifespan. After using it for a while, the plastic will start to degrade, making it more susceptible to breakage.
Identifying The Parts Of The Water Bottle
To fix your gatorade water bottle, you need to understand its different parts.
Here are the different parts of a gatorade water bottle:
Lid: This is the top part of the water bottle that you twist off to drink from.
Spout: This is the small opening in the lid where the water comes out.
Bottle body: This is the main part of the water bottle and where you hold the bottle.
Grip: Some gatorade water bottles have a textured grip to make them easier to hold.
Straw: Some gatorade water bottles have a straw that connects to the lid and goes to the bottom of the bottle. The straw allows you to drink from the bottle without tilting it.
Now that you understand the common causes of gatorade water bottle breakage and the different parts of the water bottle, you can fix your bottle and prevent future breakage.
Materials Needed For Repairing A Gatorade Water Bottle
Essential Tools
To fix a gatorade water bottle, there are certain tools that you will need to have on hand.
These include:
Scissors: You'll need to cut off any excess parts or material when fixing the bottle.
Sandpaper: Use sandpaper to rough up the surface around the area that needs to be repaired. This helps the adhesive stick better.
Clean cloth: Keep a clean cloth handy to wipe the surface of the bottle.
Adhesive: You'll need an adhesive that can hold plastic together. Epoxy and super glue are good options.
Optional Tools
In addition to the essential tools, there are a few optional tools that can make repairing your gatorade water bottle even easier.
Heat gun: If the plastic is deformed, you can use a heat gun to soften it and make it more pliable.
Duct tape: If the damage is minor, you can cover it with duct tape until you can properly fix it.
Rubber bands: Rubber bands can be useful for holding the bottle together while the adhesive dries.
Materials For Replacement Parts
If the damage to your gatorade water bottle is severe, you may need to replace certain parts.
Here are the materials you will need:
Replacement cap and straw: If the cap or straw is damaged, you can buy a replacement set.
Replacement bottle: If the damage is too extensive, you may need to buy a new bottle.
Adhesive: As mentioned before, you'll need an adhesive that can hold plastic together.
Repairing a gatorade water bottle is not difficult, but having the right tools and materials can make the process much smoother. With a little bit of effort, you can easily fix minor damage and extend the life of your bottle.
Tips And Tricks To Extend The Life Of Your Gatorade Water Bottle
Gatorade water bottles are among the top choices of athletes who need to stay hydrated during their training and exercise.
However, just like any other reusable bottles, they can also wear out over time and cause inconvenience during use.
Lucky for you, we've compiled some tips and tricks to help you extend the life of your gatorade water bottle without having to replace it frequently.
How To Properly Clean Your Water Bottle
Cleaning your gatorade water bottle properly after every use will help prevent any buildup of bacteria, mold, and unpleasant odors.
Here are some tips on how to do it the right way:
Use warm, soapy water to hand wash your water bottle. Avoid using abrasive sponges, as they can scratch the surface of the bottle and cause damage over time.
Make sure to rinse your bottle thoroughly with clean water after washing.
To prevent any lingering odors, try to air dry your bottle upside down with the lid off, instead of using a towel or paper towel.
If you don't have time to wash your bottle by hand, it's safe to clean it in the dishwasher as long as it's placed on the top rack.
Choosing The Right Replacement Parts
Replacement parts may eventually be necessary for your gatorade water bottle, but choosing the right parts is crucial to ensure proper function and avoid causing further damage.
Follow these tips when selecting replacement parts:
Purchase replacement parts that are specifically made for your gatorade water bottle model to ensure proper fit and function.
Look for high-quality replacement parts from reliable sources, such as the manufacturer's website or authorized retailers.
When replacing the lid or spout, make sure to align it properly to avoid any leakage.
Avoiding Common Issues That Lead To Breakage
Finally, knowing how to prevent common issues that lead to breakage can help extend the life of your gatorade water bottle.
Consider these tips:
Avoid dropping your water bottle, as it can cause cracks, chips, and breaks.
Keep your water bottle away from extreme temperatures, such as hot cars or freezers, as it can cause warping or cracking.
Do not use your water bottle for anything other than water or sports drinks, as other liquids can cause damage or affect the taste of your drinks.
By following these tips and tricks, you can extend the life of your gatorade water bottle and save yourself the hassle and expense of frequent replacements.
Remember to clean it properly, choose the right replacement parts, and avoid common issues that lead to damage.
Stay hydrated and enjoy your workouts with your trusted gatorade water bottle!
Conclusion
After reading this guide, fixing your gatorade water bottle should be a breeze. You've learned how to troubleshoot common issues like leaks and cracks, and have discovered simple solutions to fix them.
Remember to always handle your gatorade water bottle with care, and follow proper cleaning and maintenance guidelines to ensure its durability.
With the tips and tricks you've gained from this blog post, you can keep your gatorade water bottle in optimal condition for a long time.
Don't let a broken bottle keep you from staying hydrated in your daily activities. Use these strategies to quickly and easily fix your gatorade water bottle and enjoy refreshing drinks to keep you energized throughout the day.