How Does a Spray Bottle Work? Component & Mechanism
A spray bottle works by using a combination of a pump mechanism and a nozzle to atomize a liquid into fine droplets, which are then expelled into the air as a mist or spray.
When the trigger of a spray bottle is squeezed, it pushes down on a pump mechanism, creating a low pressure area in the chamber containing the liquid.
This pressure difference forces the liquid up a narrow tube and into the pump mechanism. Within the pump, a small ball or piston valve closes off the bottom of the tube, trapping the liquid.
As the trigger is released, the valve opens, and the liquid is forced out through the nozzle as a fine mist or spray.
Pump mechanism creates a low pressure area in the chamber
Liquid is forced up a narrow tube into the pump
Ball or piston valve controls the flow of liquid
Nozzle atomizes the liquid into fine droplets
The effectiveness of a spray bottle largely depends on the design of the nozzle and the pressure created by the pump mechanism.
The nozzle is designed to produce a fine mist by creating a high pressure area that atomizes the liquid as it exits the spray bottle.
Some spray bottles also have adjustable nozzles, allowing the user to control the size and pattern of the spray.
This versatility makes spray bottles an essential tool for various applications, such as cleaning, gardening, and personal care.
Overview of How a Spray Bottle Works: 6 Component & Function
| Component | Function | Description |
| --- | --- | --- |
| Reservoir | To hold the liquid | A container, usually plastic or glass, that stores the fluid to be sprayed |
| Pump | To create pressure | A mechanism, typically a piston or a rubber bulb, used to compress air and create pressure in the reservoir |
| Nozzle | To control the spray pattern | A small opening at the end of the spray tube that adjusts the spray pattern, from a fine mist to a focused stream |
| Tube | To transport the liquid from the reservoir to the nozzle | A flexible pipe that extends from the bottom of the reservoir and connects to the pump and nozzle |
| Trigger or button | To activate the pump | A lever or button that is pressed or squeezed to operate the pump and release the liquid as a spray |
| Valve | To control the flow of liquid and maintain pressure | A one-way valve that allows air in but prevents liquid from flowing back into the pump once it has been sprayed |
Overview of How a Spray Bottle Works: 6 Component & Function
Key Takeaway
Spray bottles effectively dispense liquids with minimal waste or mess
They utilize a pump mechanism to create pressure and convert liquid into a fine mist or spray
Spray bottles are used in a variety of applications, including cleaning, gardening, and personal care
They are available in different shapes, sizes, and materials, catering to specific needs and preferences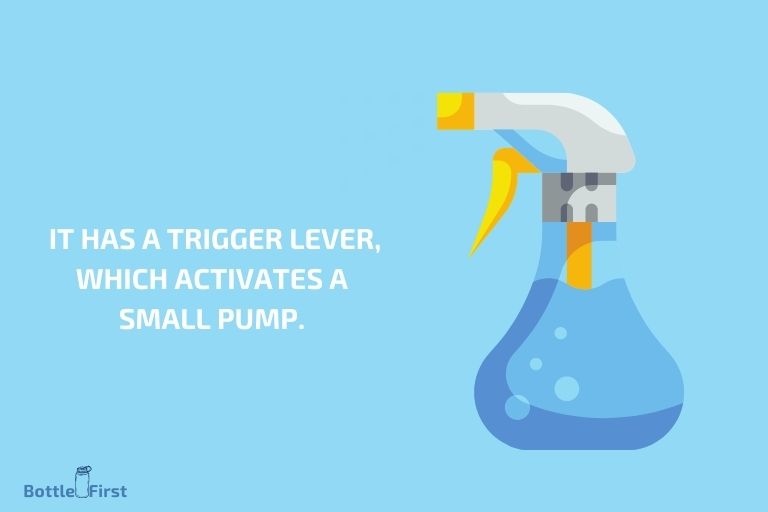 Three Facts About How a Spray Bottle Works
A spray bottle consists of a container, a pump, and a nozzle. The container holds the liquid, the pump pushes the liquid upwards, and the nozzle directs the spray pattern. (Source: HowStuffWorks)
The pump mechanism in a spray bottle works on the principle of Pascal's Law, which states that any change in pressure applied to an enclosed fluid is transmitted equally to all parts of the fluid. As the user squeezes the trigger, pressure is created in the pump, forcing the liquid to move and be expelled through the nozzle. (Source: Sciencing)
The adjustable nozzle on some spray bottles allows the user to control the spray pattern, such as a fine mist or a more concentrated, direct stream. This is achieved by turning the nozzle, which either tightens or loosens an internal screw, altering the opening through which the liquid exits. (Source: Smartsubstrates)
Understanding The Mechanisms Of A Spray Bottle
Have you ever wondered how a simple spray bottle works? Most of us use them in our daily lives, but it's easy to overlook the underlying mechanisms that make it all possible.
We'll explore the anatomy of a spray bottle, the role of pressure in dispensing liquid, and the science behind variable spray settings.
Anatomy Of A Spray Bottle: Main Components And Their Functions
To understand how a spray bottle works, we must first examine its main components:
Bottle: This is where the liquid is stored.
Trigger: The trigger activates the spraying mechanism and is connected to the tube that draws liquid from the bottle.
Tube: This is the long, thin tube that extends from the trigger to the bottom of the bottle.
Nozzle: The nozzle is located at the end of the tube and controls the spray pattern and intensity.
Each component plays a crucial role in the overall function of the spray bottle. The bottle stores the liquid, which is drawn up through the tube when the trigger is activated.
The nozzle controls how the liquid is dispensed, allowing for a range of spray patterns from a fine mist to a strong stream.
The Role Of Pressure In Dispensing Liquid From A Spray Bottle
When the trigger is squeezed, it causes a small amount of liquid to be forced up through the tube and out of the nozzle. This is made possible by the pressure created inside the bottle by the air trapped above the liquid.
As the liquid is expelled, the pressure inside the bottle decreases, causing more liquid to be drawn up through the tube to replace what was lost.
It's important to note that the amount of pressure required to dispense the liquid depends on the thickness and viscosity of the liquid being sprayed. Thicker liquids may require more pressure, while thinner ones may only require a slight squeeze of the trigger.
How Nozzles Work: The Science Behind Variable Spray Settings
Nozzles are designed to allow for variable spray settings, giving users greater control over the amount and intensity of the liquid being dispensed. This is achieved through the use of different nozzle types and designs.
Some nozzles feature a simple hole that can be adjusted to create a varying spray pattern. Others may use multiple holes or a patterned grid to produce specific spray patterns such as a fan or cone shape.
Variable spray settings also depend on the pressure of the liquid being dispensed, which can be adjusted by squeezing the trigger more or less forcefully.
Understanding the mechanisms of a spray bottle can help us appreciate the convenience and versatility of this simple yet effective tool.
By breaking down its components and exploring the science behind its function, we can better understand its capabilities and limitations.
So the next time you pick up a spray bottle, take a moment to appreciate the engineering behind it and how it makes your life easier.
History And Evolution Of Spray Bottles
The Invention Of The Spray Bottle: A Brief History
Spray bottles, also known as pump sprayers, have long been a household item used for a wide variety of tasks. They were invented in the late 19th century, and over time, they have evolved into the versatile and practical tools that we use today.
Here are some key points about the invention of the spray bottle:
The earliest forms of spray bottles were made from glass and used for medical purposes to apply controlled doses of liquid medicines.
The first patent for a spray bottle was filed in 1883 by michael owens, an american inventor who was also responsible for the mass production of glass bottles.
The spray bottle became more popular in the early 20th century, as it was used to dispense colognes and perfumes.
The design of the spray bottle continued to evolve over the years, with the addition of a trigger mechanism in the 1940s and improvements to the nozzle in the 1960s.
The Early Years: How Spray Bottles Changed The Cleaning Industry
Spray bottles have had a significant impact on the cleaning industry, making it easier and more efficient to clean different surfaces.
Here are some key points about how spray bottles changed the cleaning industry:
Spray bottles made cleaning products more convenient to use, allowing them to be dispensed in a controlled and targeted manner.
The introduction of spray bottles made cleaning products last longer, as they allowed for more precise application.
The use of spray bottles also helped to reduce waste, as they enabled users to apply the right amount of cleaning product to different surfaces.
The Latest Technological Innovations: Smart Spray Bottles
In recent years, new technological advancements have been made to the humble spray bottle. Today, we have smart spray bottles that are equipped with special features that make cleaning even more effortless.
Here are some of the key advancements in smart spray bottle technology:
Smart spray bottles are designed with sensors that can detect the surface being cleaned and adjust the amount of cleaning product accordingly.
Some smart spray bottles also have wi-fi connectivity, allowing users to access cleaning information and tips on their smartphones.
Other smart spray bottles come with a rechargeable battery, making them more efficient and eco-friendly than traditional spray bottles.
Spray bottles have come a long way from their humble beginnings. From glass medical sprayers to smart spray bottles, they continue to be an indispensable tool in our homes and workplaces, making it easier for us to clean and disinfect different surfaces.
Different Types Of Spray Bottles And Their Uses
Spray bottles are a common household item used for a variety of purposes. They come in different sizes, shapes, and have different functions based on their design and material.
Understanding the different types of spray bottles available, and their uses, can help you choose the right one for your specific needs.
Chemical Spray Bottles: For Heavy-Duty Cleaning And Disinfecting
Chemical spray bottles come in handy for heavy-duty cleaning and disinfecting purposes. They have a trigger mechanism that mixes water and cleaning agents or disinfectants before spraying the mixture on a surface. The nozzle on the bottle determines the spray pattern and strength.
Key points:
Chemical spray bottles are usually made of durable plastic material.
They have a piston or trigger mechanism that draws the liquid up through the tube and sprays it onto the affected surface.
Most chemical spray bottles have adjustable nozzles, allowing you to choose the type of spray pattern and strength you need for the task at hand.
These spray bottles are mainly used in households, hospitals, and industries for cleaning, sanitizing, and disinfecting surfaces to get rid of germs and bacteria.
Perfume Spray Bottles: Delivering The Perfect Burst Of Fragrance
Perfume spray bottles are mostly used in the cosmetic industry, and they are designed to deliver the perfect burst of fragrance when needed.
Unlike other spray bottles, they use a fine mist nozzle or sprayer that allows for even distribution of perfume.
Key points:
Perfume spray bottles are made of high-quality glass or plastic material to help protect the perfume from evaporating or spoiling.
They have a pump mechanism that pushes the fragrance up through the tube and out of the nozzle in a fine mist.
Perfume spray bottles come in various shapes and sizes, including travel sizes and rollerball applicators.
They are primarily used for applying perfumes and colognes, and can also be used for home fragrance sprays and body spritzers.
Gardening Spray Bottles: Watering And Fertilizing Plants
Gardening spray bottles are specifically designed for watering and fertilizing plants. They are smaller than chemical spray bottles and have a pump mechanism that draws water or fertilizer up from the bottom of the container and sprays it onto the plants.
Key points:
Gardening spray bottles come in different sizes and are mostly made of durable plastic material.
They are specifically designed to help gardeners water and fertilize their plants with precision.
They are perfect for indoor plants, as the small size makes it easy to control the amount of water or fertilizer you apply.
Some gardening spray bottles come with nozzles that can be adjusted to allow for different spray patterns.
Understanding the different types of spray bottles and their uses can help you choose the right one for your particular needs.
Whether you need to clean, sanitize, apply perfume or water your plants, there is a spray bottle available that can help you get the job done.
The Advantages And Limitations Of Using A Spray Bottle
Spray bottles are not only widely used in household cleaning but are also frequently used in industrial settings. You may have seen these bottles in action, but have you ever wondered how they work?
Let's discuss the advantages and limitations of using a spray bottle.
Advantages:
Efficiency:
Spraying the liquid directly on the surface leads to a more efficient use of the liquid.
With a spray bottle, you can target the liquid on a small spot without wasting any of the liquid.
Portability:
Spray bottles are lightweight and can be easily carried around.
You can easily bring them along on trips or to different locations.
Versatility:
Spray bottles can be used for a wide variety of liquids including water, cleaning agents, and garden chemicals.
They are also suitable for spraying liquids in different forms such as mists, sprays, or streams.
Cost-effective:
Using a spray bottle results in less wasted liquid, making it cost-effective compared to other methods.
Limitations:
Risk of contamination:
As a spray bottle comes into direct contact with surfaces, there is a risk of contamination.
It is important to clean and sanitize the bottle after each use to avoid contamination.
Short lifespan:
Spray bottles have a limited lifespan and need to be replaced when they stop functioning correctly.
Excessive usage or exposure to chemicals can also result in a shorter lifespan.
Limited quantity:
Spray bottles have a limited volume and often require frequent refilling.
This may be less suitable for larger cleaning or industrial jobs.
Spray bottles provide us with significant advantages such as efficiency, portability, versatility, and cost-effectiveness.
But, they also come with certain limitations such as a limited lifespan, a risk of contamination, and limited quantity. Therefore, it is important to weigh the advantages and limitations before using a spray bottle.
How Does the Continuous Spray Bottle Work Compared to Regular Spray Bottles?
The continuous spray bottle technology is revolutionizing how we spray liquids. Unlike regular spray bottles, which require repeated pumping, continuous spray bottles use a pre-pressurized air chamber. This allows for a steady and even spray, without the need for manual effort. With continuous spray bottle technology, you can cover larger areas efficiently and effortlessly, making it a game-changer in various applications.
FAQ On How Does A Spray Bottle Work
How Does A Spray Bottle Work?
A spray bottle works with the combination of pump, nozzle, and container pressure.
What Is The Liquid Inside A Spray Bottle?
A spray bottle can contain different liquids such as water, disinfectant, perfume, or insecticide.
How Do I Refill A Spray Bottle?
To refill a spray bottle, unscrew the nozzle, pour in liquid, and screw the nozzle back on.
Can I Adjust The Spray Pattern?
Yes, by rotating the nozzle, you can change the spray pattern from mist to a direct stream.
How Do I Clean A Clogged Spray Bottle?
To clean clogged spray bottle nozzle, soak it in warm water, or use a needle to remove debris.
Conclusion
Spray bottles are one of the most commonly used household items that go unnoticed. They have made our lives easier and convenient without us even realizing it. The inner workings of a spray bottle are simple, yet fascinating. The nozzle, tube, and reservoir work in conjunction to create a continuous mist or stream.
Understanding how a spray bottle works can help you use it more effectively and also to identify and diagnose any problems that may arise. A well-maintained spray bottle can serve you for years to come. Cleaning, storing, and maintaining a spray bottle is crucial in prolonging its life.
On the other hand, a poorly performing or malfunctioning spray bottle can lead to a waste of product, money, and time. Whether you are a gardener, cleaner, or simply use a spray bottle for hydration, understanding how it works will help you get the most out of your investment.
In essence, the spray bottle is an ingenious invention that has made our daily routines easier by allowing us to easily dispense liquids with just a single push.