How to Keep Water Bottle Cold? Effective Methods!
To keep your water bottle cold, use an insulated bottle, add ice cubes, pre-chill the bottle, use a wet sock method, consider a bottle with built-in refrigeration technology, or carry a portable cooler. These tactics ensure a refreshing drink for hours.
Keeping water cold in a bottle requires strategies that reduce heat transfer from the environment to your drink.
For example, insulated bottles have layers that trap the cold, while pre-chilling creates a low starting temperature.
Here's a breakdown of effective methods:
Insulated Bottles: Double-walled, vacuum-sealed bottles keep water cold.
Ice Cubes: Filling a bottle with ice prolongs chillness.
Pre-Chill: Store the bottle in the fridge before use.
Wet Sock Method: Covering a bottle with a wet sock and exposing it to airflow cools through evaporation.
Built-In Refrigeration: Some bottles have integrated cooling technology.
Portable Cooler: Transporting your bottle in a cooler with ice packs keeps it cold.
Embrace the chill and beat the heat with these savvy tips, ensuring your hydration is as cool as a mountain spring, even on the sunniest days.
Discover how to maintain icy-cold water on scorching summer days through advanced and simple techniques.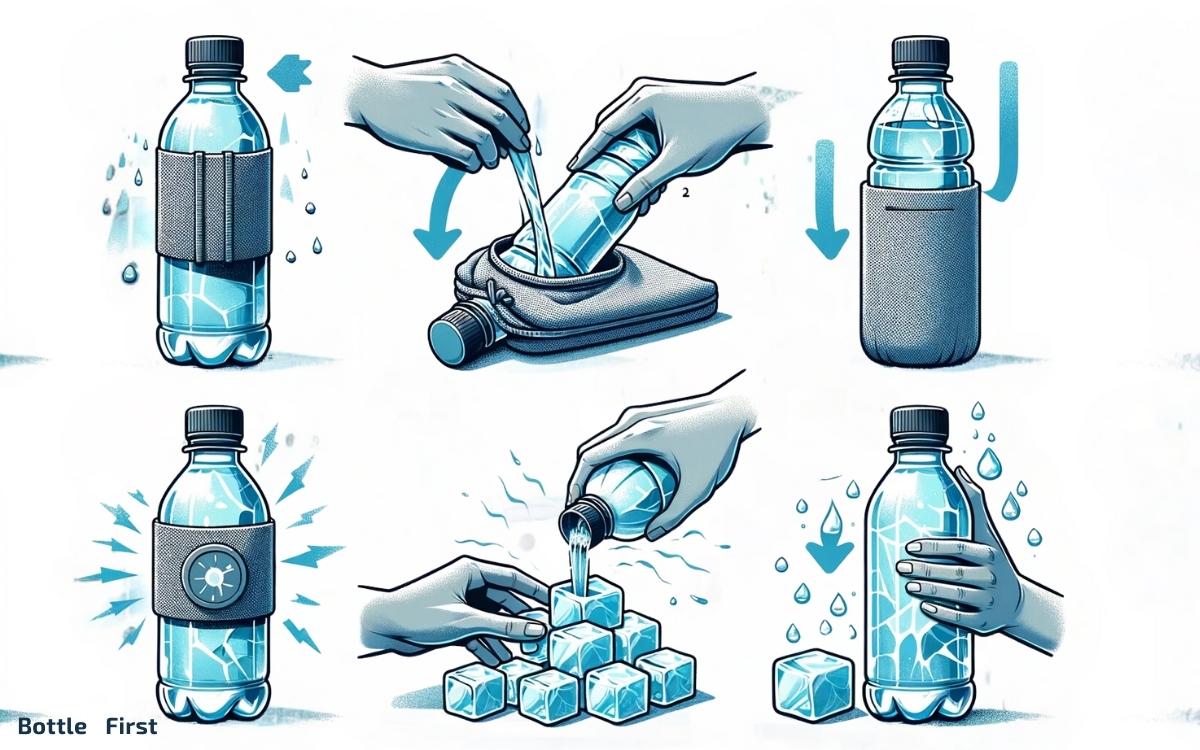 Key Takeaway
Insulated water bottles with double-walled, vacuum-sealed technology keep water cold by preventing heat transfer.
Pairing the water bottle with a frozen water bottle sleeve extends the duration of maintaining a cold temperature.
Using ice cubes or specially designed ice sticks in the water bottle enhances cooling capabilities without diluting the drink.
Utilizing accessories like insulating sleeves, customizable lids, and cooling towel wraps can optimize temperature maintenance and improve portability.
Insulated Water Bottle
When trying to keep your water bottle cold, an insulated water bottle is an effective solution that helps maintain the temperature of your drink for an extended period.
These bottles are designed with double-wall vacuum insulation, which creates an airless space between two walls, virtually eliminating temperature change. The vacuum insulation technology prevents heat transfer, keeping the contents cold for hours.
Innovative designs also include features like sweat-proof exteriors and easy-to-carry lids, making them ideal for various activities.
However, for an even more prolonged cooling effect, consider pairing your insulated water bottle with a frozen water bottle sleeve.
This combination enhances the insulation and ensures that your drink stays refreshingly cold for an extended duration, making it perfect for outdoor adventures or long days at work.
Frozen Water Bottle Sleeve
An essential accessory to enhance the cooling efficiency of an insulated water bottle is the frozen water bottle sleeve. This sleeve further extends the duration of maintaining your drink's refreshing cold temperature.
The frozen water bottle sleeve offers several benefits:
Extended Cooling: The frozen sleeve helps to keep the water bottle cold for a longer period, making it ideal for outdoor activities and long trips.
Versatility: It can be used with various sizes and types of water bottles, ensuring that your preferred drink stays cold regardless of the container.
Reusable and Convenient: The sleeve can be easily refrozen after use, making it a sustainable and hassle-free cooling solution.
Improved Portability: With the frozen sleeve, you can enjoy cold drinks on the go without the need for ice packs or refrigeration.
Innovative and practical, the frozen water bottle sleeve is a must-have for those who prioritize maintaining their beverages at an optimal temperature.
Ice Cubes and Water Bottle
Using a few ice cubes in your water bottle can significantly enhance its cooling capabilities, maintaining the refreshing chill of your drink for an extended period.
However, traditional ice cubes can be bulky and may take up a considerable amount of space in your water bottle.
To address this, innovative solutions such as specially designed ice cube trays that produce long, slim ice sticks have gained popularity.
These ice sticks are tailored to fit into water bottlenecks, ensuring efficient cooling without occupying excess space.
Additionally, some advanced water bottles feature built-in compartments specifically for holding ice cubes, preventing the dilution of your drink while keeping it cold.
Hydro Flask Tips
Let's explore some valuable tips for maximizing the effectiveness of your Hydro Flask.
From the advantages of using an insulating sleeve to clever hacks for inserting ice cubes, and the various lid options available, there are several strategies to ensure your water stays cold for longer.
These tips will help you make the most of your Hydro Flask and maintain refreshing hydration throughout the day.
Insulating Sleeve Benefits
Insulating sleeves enhance the thermal insulation of water bottles, such as Hydro Flasks, to help maintain the cold temperature of the contents for an extended period.
The benefits of using insulating sleeves include:
Extended Cold Retention: The insulating sleeve creates an additional barrier that helps to keep the cold in and the heat out, extending the period in which your water bottle stays cold.
Protection: In addition to thermal insulation, the sleeve provides an extra layer of protection, safeguarding the bottle from scratches, dents, and other damages.
Customization: Many insulating sleeves come in a variety of colors and designs, allowing users to personalize their water bottles while reaping the benefits of improved thermal insulation.
Versatility: Some insulating sleeves are designed with additional features, such as pockets for carrying small items or adjustable straps for convenient transport, adding functionality to the bottle.
Ice Cube Insertion Hacks
Ice cube insertion in a water bottle can be an effective method for prolonging the cold retention of its contents, particularly when an insulating sleeve is utilized.
To optimize this technique, consider pre-chilling the water bottle in the freezer before inserting the ice cubes. This helps maintain the overall temperature and slows down the ice-melting process.
Additionally, using larger ice cubes or ice sticks can also enhance the cooling effect, as they melt at a slower rate compared to smaller ice cubes.
For those who prefer not to dilute their drink, consider using reusable ice cubes or specially designed ice cube trays that produce ice cubes with minimal surface area.
These innovative hacks can significantly improve the cold retention capabilities of your water bottle, ensuring refreshingly cold drinks for extended periods.
Hydro Flask Lid Options
Hydro Flask offers a variety of lid options designed to optimize the functionality and performance of their water bottles.
These lids are engineered with innovative features to enhance the user experience and maintain the temperature of beverages.
Here are some of the top lid options available for Hydro Flask water bottles:
Flex Cap: This lid features a flexible strap for easy carrying and a honeycomb insulation design to keep drinks cold for longer periods.
Wide Mouth Straw Lid: Designed for easy sipping, this lid includes a durable rubber straw for convenient hydration on the go.
Hydro Flip Lid: With its flip-top opening, this lid is ideal for quick access to beverages while preventing spills and leaks.
Standard Mouth Sport Cap: This lid is equipped with a high-flow valve for effortless drinking during sports or other activities.
These lid options showcase Hydro Flask's commitment to innovation and user convenience.
Cooling Towel Wrap
A cooling towel wrap is a practical and effective way to keep your water bottle cold for an extended period of time.
By wrapping the bottle with a specially designed cooling towel, you can maintain the low temperature of the water inside, even in warm environments.
The innovative technology behind these towels allows for efficient heat transfer, keeping the contents of your water bottle refreshingly cold.
Below is a table outlining the key features of a cooling towel wrap:
| Feature | Description | Benefit |
| --- | --- | --- |
| Advanced Material | Specialized fabric for enhanced cooling | Maintains bottle temperature |
| Reusability | Can be used multiple times | Eco-friendly |
| Portability | Lightweight and easy to carry | Ideal for outdoor activities |
| Durability | Long-lasting cooling performance | Reliable for long-term use |
Cooling Towel Wrap
Transitioning to the subsequent section about 'refrigeration techniques', it is essential to explore additional methods for keeping water bottles cold.
Refrigeration Techniques
Utilizing an insulated cooler bag can be an effective method for maintaining the low temperature of your water bottle, providing a portable refrigeration solution for outdoor activities and warm environments.
To further enhance the refrigeration of your water bottle, consider the following innovative techniques:
Pre-chilling: Place the insulated cooler bag in the freezer for a few hours before use to create an even colder environment for your water bottle.
Ice packs: Utilize specialized reusable ice packs designed to fit inside the cooler bag, ensuring prolonged cooling without the risk of condensation.
Thermal blankets: Wrap the water bottle in a thermal blanket before placing it inside the cooler bag to provide an additional layer of insulation.
Double insulation: Consider using a double-walled insulated water bottle in conjunction with the cooler bag for maximum temperature retention.
Conclusion
In conclusion, keeping a water bottle cold can be achieved through various methods such as using insulated water bottles, frozen water bottle sleeves, ice cubes, and refrigeration techniques.
By implementing these strategies, individuals can ensure that they have access to cold water throughout the day, providing refreshment and hydration in any situation.
Additionally, there are specific tips for keeping water bottles cold, such as using Hydro Flask tips and cooling towel wraps.
These tips can enhance the effectiveness of the other methods mentioned above, allowing individuals to maintain cold water for longer periods of time.
Overall, the goal is to provide individuals with the means to stay cool and refreshed in the heat of the day.
Just as a well-insulated water bottle keeps its contents cold, these techniques can help individuals stay cool and hydrated.