How to Use a Water Bottle As a Bidet? 4 Quick & Easy Steps!
To use a water bottle as a bidet, one must first fill the bottle with clean, warm water.
Then, while seated on the toilet, slightly lean forward or to the side, position the bottle with the nozzle pointed towards the area you wish to cleanse, and gently squeeze the bottle to release the water.
Adjust the pressure and angle as needed for thorough cleaning. Finally, dry the area with toilet paper or a towel. This method is particularly useful when traveling or in situations where traditional bidet facilities are not available.
The concept of using a water bottle as a bidet is rooted in the need for a portable and accessible hygiene solution.
Here's a quick step:
Fill the bottle: Choose a clean water bottle and fill it with warm water for comfort.
Position yourself: Sit on the toilet and slightly lean to expose the area you want to clean.
Aim and squeeze: Hold the bottle upside down, aiming the nozzle towards the desired area, then squeeze to release the water.
Control the flow: Adjust the squeezing pressure to control the water flow for a gentle or more vigorous cleanse.
Dry off: Use toilet paper or a clean towel to pat the area dry.
For example, if you're at a public restroom without a bidet, you can use a small, discreet water bottle for quick and private cleaning.
Embrace the ease of personal hygiene on-the-go with the innovative use of a water bottle as a bidet, ensuring you feel fresh and clean no matter where life takes you.
In the age of creativity and practicality, the common water bottle has been repurposed as a makeshift bidet, offering a portable and eco-friendly option compared to traditional bidet systems.
With proper technique and preparation, a basic water bottle can be converted into a practical and hygienic cleaning device.
This guide will walk you through the steps of employing a water bottle as a bidet, along with helpful advice to ensure a smooth and effective process.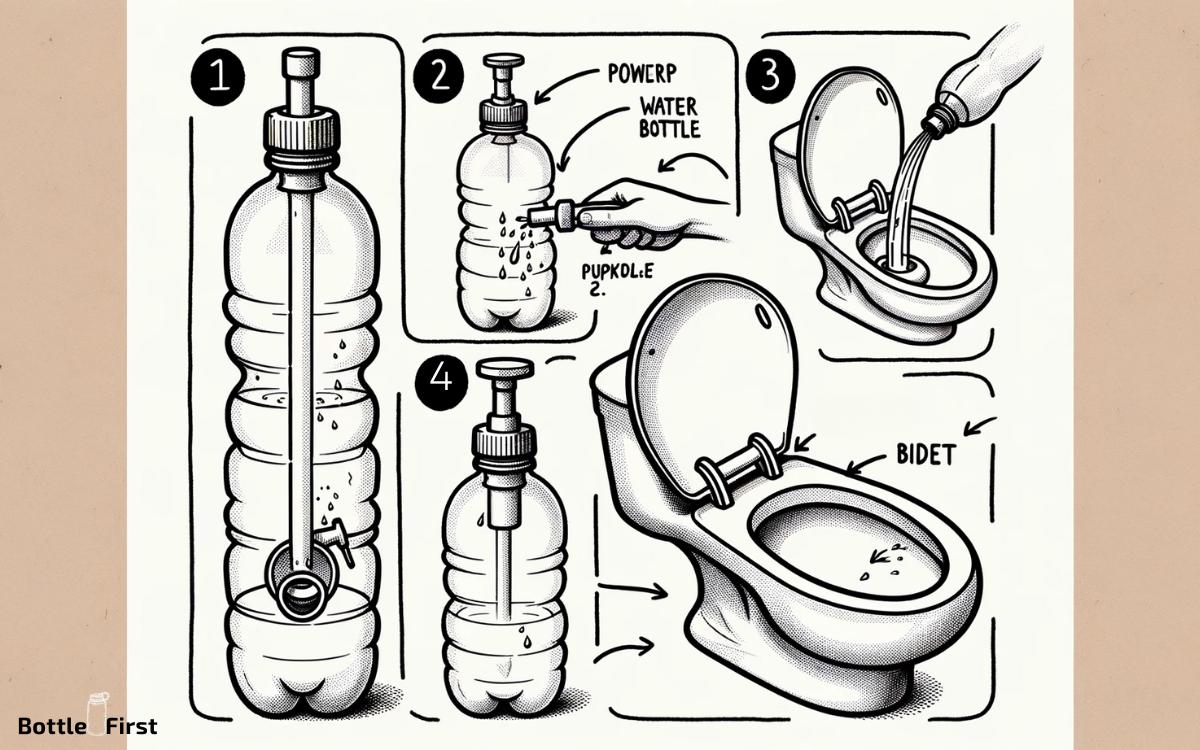 Key Takeaway
Choose a water bottle with a durable material like silicone or BPA-free plastic for hygiene and longevity.
Look for a design that allows for easy gripping and control of water flow.
Adjust the water pressure by gently squeezing the water bottle or creating a small opening on the bottle's cap.
Properly clean, sanitize, and thoroughly dry the water bottle to maintain hygiene and prevent bacteria growth.
Choosing the Right Water Bottle
Selecting the appropriate water bottle for use as a bidet involves considering its size, material, and ease of use.
The size of the water bottle is crucial as it determines the amount of water it can hold, ensuring efficient cleansing without the need for frequent refills.
Opt for a bottle made of durable, easy-to-clean material such as silicone or BPA-free plastic to ensure hygiene and longevity.
The chosen bottle should also feature a design that allows for easy gripping and control of water flow, enabling a comfortable and effective bidet experience.
Additionally, innovative features like a narrow spout for precise targeting and a leak-proof seal can further enhance the usability of the water bottle bidet, providing a modern and convenient alternative to traditional bidets.
Step 1: Preparing the Water Bottle
When preparing the water bottle for use as a bidet, it is important to ensure that it is thoroughly cleaned and filled with water, ideally using lukewarm water for a more comfortable experience.
To prepare the water bottle effectively, follow these steps:
Clean the water bottle: Thoroughly wash and rinse the water bottle to ensure it is free from any residue or contaminants.
Fill with lukewarm water: Use lukewarm water to fill the water bottle, as it provides a more gentle and comfortable cleansing experience.
Secure the cap: Ensure the water bottle is securely capped to prevent any leaks during use.
Test the water flow: Before use, test the water bottle's flow to familiarize yourself with the pressure and adjust it if necessary.
Step 2: Using the Water Bottle Bidet
To utilize the water bottle bidet effectively, employ a gentle and controlled squeeze to release the water in a targeted manner. Position the water bottle at an angle that allows the water to flow smoothly and precisely.
Ensure that the water pressure is gentle yet effective, providing thorough cleansing without causing discomfort.
By controlling the squeeze, you can regulate the amount of water released, tailoring the experience to your preference.
The key is to strike a balance between the force of the squeeze and the angle of the bottle to achieve the desired water flow.
This method allows for a personalized and hygienic experience, even when conventional bidets are not available.
Now, let's delve into adjusting the water pressure for an optimal cleansing experience.
Step 3: Adjusting Water Pressure
How can you effectively regulate the water pressure when using a water bottle as a bidet? Adjusting water pressure is crucial for a comfortable and effective cleansing experience.
Here are four innovative ways to achieve the desired water pressure:
Squeezing Technique: Control the water pressure by gently squeezing the water bottle to release a steady stream of water.
Nozzle Modification: Create a small opening on the bottle's cap to regulate the water flow, allowing for better control over the pressure.
Distance Adjustment: Vary the distance between the water bottle and the targeted area to modify the pressure of the water stream.
Water Bottle Size: Experiment with different sizes of water bottles to find one that provides the ideal pressure for your needs.
With these techniques, you can easily customize the water pressure to suit your preferences, enhancing the efficacy of using a water bottle as a bidet.
Step 4: Drying Off
When using a water bottle as a bidet, the process of drying off is an important step to consider. There are two main options for drying off after using a bidet – using a towel or air-drying.
Additionally, it's crucial to consider hygiene considerations when choosing the drying method, ensuring that the chosen method promotes cleanliness and comfort.
Towel or Air-Dry
Drying off after using a water bottle as a bidet can be accomplished by employing a soft towel or allowing natural air-drying. Both methods have their own benefits and it ultimately comes down to personal preference.
Here are some considerations to keep in mind:
Soft Towel: Patting the area dry with a soft towel can provide a gentle and effective way to ensure thorough drying without any discomfort.
Air-Dry: Allowing the area to air-dry can be a convenient option, especially in warmer climates. It also eliminates the need for additional laundry and reduces environmental impact.
Hygiene: Whichever method is chosen, it's important to ensure that the towel used is clean and that thorough drying is achieved to maintain hygiene.
Comfort: Consider personal comfort and any skin sensitivities when choosing between the two methods.
Hygiene Considerations
Thorough drying after using a water bottle as a bidet is essential for maintaining proper hygiene. While air-drying may seem natural and eco-friendly, it may not be the most efficient method, especially in humid environments.
A clean, dry towel is the most effective option for ensuring proper hygiene after using a water bottle bidet. Pat the area gently with the towel to remove excess moisture without causing irritation.
Alternatively, disposable, biodegradable wipes can also be used, but be mindful of their environmental impact.
For those seeking innovation, there are also specialized personal hygiene towels designed for this purpose.
Whichever method you choose, ensuring thorough drying is crucial for maintaining hygiene and preventing discomfort.
Cleaning and Storing the Water Bottle
To maintain cleanliness and hygiene, it is important to regularly clean and properly store the water bottle used as a bidet.
Here are some innovative tips to ensure the water bottle remains in pristine condition:
Use mild soap and water: After each use, wash the water bottle with mild soap and water to remove any residue and bacteria.
Sanitize with vinegar: Periodically sanitize the water bottle by filling it with a mixture of water and vinegar, then letting it sit for a few hours before rinsing thoroughly.
Allow thorough drying: After cleaning, ensure the water bottle is completely dry before storing to prevent mold and bacteria growth.
Store in a cool, dry place: Store the water bottle in a cool, dry place to prevent the growth of bacteria and maintain its cleanliness.
Following these steps will help ensure the water bottle remains hygienic and safe for use as a bidet.
Conclusion
In conclusion, the water bottle bidet offers a convenient and eco-friendly alternative for personal hygiene.
By following the simple steps of choosing the right water bottle, preparing it, using it, adjusting water pressure, drying off, and cleaning and storing it properly, you can experience the refreshing and cleansing benefits of a bidet without the need for expensive equipment.
Embracing this method can help reduce waste and promote sustainability in your daily routine.
Frequently Asked Questions
Can Using a Water Bottle as a Bidet Cause Any Health Issues or Infections?
Yes, using a water bottle as a bidet can cause health issues or infections if proper hygiene and sanitation practices are not followed. It's crucial to ensure the bottle is clean and the water used is safe.
Are There Any Specific Types of Water Bottles That Should Not Be Used as a Bidet?
When using a water bottle as a bidet, it's important to choose a bottle made of safe, non-toxic materials. Avoid bottles with potentially harmful chemicals like BPA. Opt for durable, easy-to-clean materials for a hygienic experience.
How Can I Ensure That the Water Bottle Bidet Is Completely Clean and Sanitary Before Using It?
To ensure complete cleanliness and sanitation of the water bottle bidet, it is essential to thoroughly clean and disinfect the bottle after each use. Using a mild soap, hot water, and a disinfectant solution can help maintain hygiene standards.
Is It Safe to Use a Water Bottle Bidet for Young Children or Elderly Individuals?
When considering the safety of using a water bottle bidet for young children or elderly individuals, it's important to ensure that the water is clean and sanitary to avoid any potential health risks.
Can Using a Water Bottle Bidet Cause Any Damage to the Skin or Irritation?
Using a water bottle as a bidet may cause skin irritation or damage if not used properly. It's essential to ensure that the water temperature is comfortable and the pressure is gentle to prevent any adverse effects.