Things to Put in a Blender Bottle – 7 Benefits
A blender bottle, also known as a shaker bottle, is a versatile tool that can hold a variety of items.
These range from protein shakes and smoothies to salad dressings and pancake batters. You can also use it to mix powdered supplements or even to store water.
A blender bottle is a handy tool that usually comes with a whisk ball to help mix contents effectively.
You can put a variety of items in it, making it a versatile tool for your kitchen or your on-the-go dietary needs.
The most common items that people put in a blender bottle are protein shakes and smoothies, but you can also use it to mix powdered supplements, make pancake batters, or even to store water.
Protein Shakes: Blender bottles are perfect for mixing protein powder with water or milk, creating a smooth, lump-free shake.
Smoothies: They can also be used to blend fruits, yogurt, and other smoothie ingredients.
Salad Dressings: You can use your blender bottle to mix your homemade salad dressings.
Pancake Batter: A blender bottle can make the creation of pancake batter quick and mess-free.
In summary, a blender bottle is not limited to just protein shakes. It's a convenient tool that you can use to mix a variety of items like smoothies, salad dressings, and pancake batters.
On top of that, if you're on-the-go and need to stay hydrated, you can simply use it as a water bottle.
7 Benefits of Using a Blender Bottle
| Benefits | Description |
| --- | --- |
| Easy Mixing | A blender bottle comes with a whisk ball that helps in easily mixing protein shakes, smoothies, and supplements without any clumps. |
| Convenience | Blender bottles are portable. You can prepare your drink at home and easily carry it to the gym, office, or school. |
| Easy to Clean | Most blender bottles are dishwasher safe. You can also easily clean them manually because their wide mouth makes it easy to reach inside. |
| Durability | Blender bottles are usually constructed from sturdy materials like stainless steel or BPA-free plastic, making them long-lasting. |
| Versatility | Besides protein shakes and smoothies, you can also use a blender bottle to mix pancake batter, scramble eggs, or make salad dressings. |
| Measurement Markings | Blender bottles often have measurement markings to aid in proper portioning of ingredients. |
| Leak-Proof Lid | The lid of a blender bottle is designed to prevent leaks, allowing you to shake the bottle without worrying about spills. |
7 Benefits of Using a Blender Bottle
Key Takeaway
Blender bottles can be utilized to prepare more than just protein shakes.
Blender bottles can also be used to create delightful mixed meals and snacks such as pancake mix, scrambled eggs, and avocado cilantro dressing.
The functionality of a blender bottle is such that it allows the user to mix even and smooth meals or drinks quickly and effortlessly.
These bottles are portable and easy to clean, making them an excellent kitchen gadget for people who lead a busy life.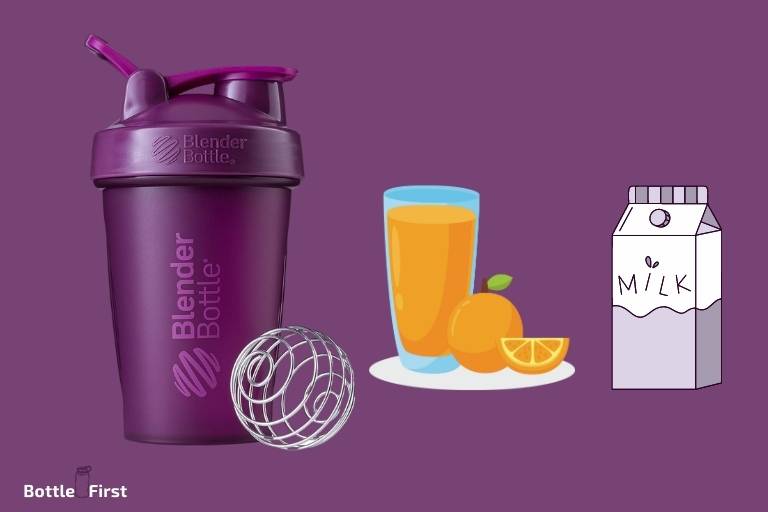 Five Facts About to Use a Blender Bottle
Blender bottles are primarily designed to mix protein powders and supplements. They are equipped with a wire whisk ball to ensure the supplements dissolve completely in the liquid. (source: www.blenderbottle.com)
A great aspect of blender bottles is their ability to make instant salad dressings. People often add all the dressing ingredients into the blender bottle, shake it up, and it's ready to serve. (source: www.wideopeneats.com)
You can prepare scrambled eggs or omelettes with a blender bottle. Just pour eggs, milk and your favourite spices into the bottle and shake it. The mixture then can be transferred to a heated pan for cooking. (source: www.bodybuilding.com)
Homemade pancake mix can be made using a blender bottle. All the dry ingredients can be mixed in the bottle, and all you'll need to add is water when you're ready to cook the pancakes. (source: www.foodnetwork.com)
One interesting use of blender bottles is for whipping fresh cream. The whisk inside the blender bottle can instantly whip cream for your desserts. (source: www.seriouseats.com)
Healthy Ingredients To Put In A Blender Bottle
Fresh Fruits And Vegetables
Fresh fruits and vegetables are packed with essential vitamins, minerals, and antioxidants that can boost your overall health.
Blend a combination of your favorite fruits like berries, bananas, and mangoes to create a refreshing and fruity drink.
Add leafy greens like spinach or kale for an extra dose of fiber and nutrients.
Incorporating fruits and vegetables into your blender bottle can help you reach your recommended daily intake and promote a healthy immune system.
Protein Powder
Protein is an essential nutrient for muscle repair, growth, and recovery after workouts.
Choose a high-quality protein powder that suits your dietary needs, such as whey, plant-based, or collagen protein.
Protein powder can be easily blended into your drink, providing a convenient and quick way to meet your protein requirements.
Enhance the taste and nutritional value by combining protein powder with fruits, almond milk, or yogurt.
Greek Yogurt
Greek yogurt is a versatile ingredient that adds creaminess, protein, and probiotics to your blender bottle concoctions.
Opt for plain greek yogurt without added sugars for a healthier option.
Blend greek yogurt with fruits, vegetables, or protein powder for a satisfying and nutrient-packed drink.
The protein content in greek yogurt can help you feel fuller for longer, making it an ideal ingredient for weight management.
Nut Butter
Nut butter, such as almond or peanut butter, brings rich flavor, healthy fats, and a dose of protein to your blender bottle creations.
Look for natural nut butters without added sugars or oils.
Include a spoonful of nut butter to add creaminess and a hint of nuttiness to your drink.
The healthy fats in nut butter can provide sustained energy and promote satiety.
Chia Seeds
Chia seeds are a nutritional powerhouse, loaded with fiber, healthy fats, and antioxidants.
These tiny seeds can absorb liquid and create a thick and smooth texture in your blender bottle drink.
Add a tablespoon of chia seeds to boost the nutritional value and add a pleasant crunch.
Chia seeds also provide omega-3 fatty acids, which are beneficial for heart health.
Delicious Smoothie Recipes For Your Blender Bottle
Berry Blast Smoothie
1 cup mixed berries (strawberries, blueberries, raspberries)
1 banana
1/2 cup yogurt (preferably greek yogurt)
1 cup almond milk
1 tablespoon honey (optional for added sweetness)
Green Goddess Smoothie
1 cup spinach
1/2 avocado
1 banana
1 cup coconut water
Juice of 1 lime
A handful of fresh mint leaves (optional for an extra refreshing twist)
Tropical Paradise Smoothie
1 cup pineapple chunks
1/2 cup mango chunks
1/2 cup coconut milk
1/2 cup orange juice
1 tablespoon chia seeds (optional for added fiber and texture)
Peanut Butter Banana Smoothie
1 ripe banana
2 tablespoons peanut butter (preferably natural)
1 cup almond milk
1 tablespoon honey (optional for added sweetness)
A pinch of cinnamon (optional for extra flavor)
Chocolate Mint Protein Smoothie
1 scoop chocolate protein powder
1 cup almond milk
1/2 banana
1 tablespoon cocoa powder
A handful of fresh mint leaves
A few ice cubes
Nutritional Supplements To Add To Your Blender Bottle
Collagen Peptides
Collagen peptides are a popular supplement for promoting healthy skin, hair, and nails.
They can also support joint health and improve the strength and elasticity of connective tissues.
When added to your blender bottle, collagen peptides dissolve easily into your smoothie, making it a convenient way to get your daily dose.
Bcaa Powder
Branched-chain amino acids (bcaas) are essential for muscle repair and growth.
Adding bcaa powder to your blender bottle can help enhance protein synthesis and reduce muscle soreness.
It's best to consume bcaas during or after workouts, so including them in your post-workout smoothie can optimize their benefits.
Greens Powder
Greens powder is a nutrient-rich blend of various vegetables, fruits, and other plant-based ingredients.
This supplement provides a concentrated source of vitamins, minerals, and antioxidants.
Including a scoop of greens powder in your blender bottle ensures you're getting a dose of essential nutrients without the prep work of juicing or chopping up vegetables.
Spirulina
Spirulina is a type of blue-green algae that is rich in protein, vitamins, minerals, and antioxidants.
It's known for its detoxifying properties and immune-boosting benefits.
Adding a teaspoon of spirulina to your blender bottle can give your smoothie a vibrant green color and provide a nutritional boost.
Maca Powder
Maca powder is derived from the maca plant root and is popular for its adaptogenic properties.
It may help increase energy, improve mood, and enhance athletic performance.
Incorporating a tablespoon of maca powder into your blender bottle can give your smoothie a subtle nutty flavor and provide a natural energy boost.
Creative Uses For A Blender Bottle Beyond Smoothies
Salad Dressings And Marinades
Blender bottles are perfect for emulsifying salad dressings and marinades. The built-in mixer whisk effortlessly combines oil, vinegar, and other ingredients, creating a smooth and well-blended dressing.
Simply add your desired ingredients to the blender bottle, secure the lid, and shake vigorously. In no time, you'll have a delicious dressing or marinade to elevate your salads or tenderize your meats.
Pancake Batter Mixing
Making pancakes can be a messy affair, but not with a blender bottle. This nifty gadget allows you to mix your pancake batter without the hassle of multiple bowls and whisks.
Pour all the ingredients into the blender bottle, seal the lid, and shake until the batter is smooth and lump-free. You can then easily pour the batter onto your griddle for perfectly fluffy pancakes every time.
Whipped Cream
Whip up a batch of homemade whipped cream effortlessly with a blender bottle. It's a great alternative to using a hand mixer or whisk, especially when you're short on time or don't want to clean up a mess.
Simply add heavy cream, a sweetener of your choice, and a splash of vanilla extract to the blender bottle. Secure the lid tightly, then shake vigorously until the cream thickens and forms soft peaks. Voila! Delicious whipped cream ready to top your desserts or hot beverages.
Energy-Boosting Iced Coffee
Craving a refreshing iced coffee with a boost of energy? A blender bottle can easily become your new best friend. Say goodbye to clumpy coffee and hello to a perfectly blended, frothy cup of joe.
Add your desired amount of coffee, sweetener, and milk to the blender bottle. Close the lid tightly, then shake until all the ingredients are well combined and frothy. Pour over ice, and enjoy your homemade iced coffee without the need for an expensive espresso machine.
Homemade Protein Bars
Making your own protein bars can be a healthier and cost-effective alternative to store-bought ones. A blender bottle can help you create these nutritious treats with ease.
Start by combining your desired ingredients, such as protein powder, oats, nut butter, and honey, in the blender bottle. Shake vigorously until the mixture is well combined and sticky. Then, simply press the mixture into a lined pan and refrigerate until firm. Cut into bars, and you have your very own homemade protein bars that are packed with goodness.
What Are the Benefits of Using a Blender Bottle?
Blender bottles offer exceptional convenience and a multitude of benefits for health enthusiasts. These portable containers enable users to effortlessly mix protein shakes, smoothies, and other nutritional drinks on the go. With their patented mixing system, blender bottles create a smooth and lump-free consistency, ensuring a delicious and enjoyable experience. Additionally, their leak-proof design ensures mess-free carrying, making them perfect for workouts, travel, or everyday use. Embracing the benefits of blender bottles means enjoying the ease of blending and drinking your favorite beverages anytime, anywhere.
FAQ About Things To Put In A Blender Bottle
What Can You Put In A Blender Bottle?
You can put protein powder, protein shakes, smoothies, water, and pre-workout supplements in a blender bottle.
How Do You Use A Blender Bottle?
To use a blender bottle, simply add your desired ingredients, screw on the lid tightly, and shake well to mix everything together.
Can You Put Hot Liquids In A Blender Bottle?
No, it is not recommended to put hot liquids in a blender bottle as it can create pressure buildup and cause spills or burns.
Are Blender Bottles Dishwasher Safe?
Yes, most blender bottles are dishwasher safe. However, it is always best to check the care instructions for your specific bottle.
Is A Blender Bottle Only For Blending?
No, a blender bottle is not just for blending. It can also be used to store and transport your drinks, making it convenient for on-the-go.
Conclusion