What Must the Food Worker Include on Each Spray Bottle?
The food worker must include the common name of the substance inside the spray bottle on each spray bottle.
This requirement is crucial for safety and health reasons. Labeling spray bottles helps ensure that everyone in the kitchen understands what is inside each bottle.
This prevents accidental misuse of the substance, which could lead to food contamination or physical harm.
The labels must be clear and legible, so there's no confusion about the substance contained in the bottle.
Labels must be durable and firmly attached to the bottle to prevent them from falling off or being unintentionally removed.
English should be used for labeling to ensure understanding by the majority of workers.
The label should contain specific information such as the common name of the product, the manufacturer's name, and any warnings related to the use of the substance.
Labeling is not just about compliance with health and safety regulations, but it's a strategy to uphold food safety standards and prevent accidents in the kitchen.
It is crucial to ensure that all labels are easily readable and contain all the necessary information to ensure safe and proper usage of the substances in the spray bottles.
Essential Requirements for Spray Bottles
| No. | Information to Be Included on Each Spray Bottle |
| --- | --- |
| 1. | Name of the chemical |
| 2. | Date of mixing |
| 3. | Dilution rate (if applicable) |
| 4. | Safety instructions |
| 5. | Contact information of manufacturer |
| 6. | Hazard symbols (if any) |
| 7. | Proper usage directions |
| 8. | Expiry date (if known) |
| 9. | Storage conditions |
| 10. | Name of the person who mixed the solution |
Essential Requirements for Spray Bottles
Key Takeaway
Every spray bottle used by a food worker must be clearly labeled to prevent mix-up of chemicals and food ingredients.
The label on each spray bottle must include the common name of the substance.
Including the name of the chemical, its potential hazard, and proper handling instructions is crucial to ensure safety at the workplace.
This measure is a critical component of sanitation practices in a food establishment.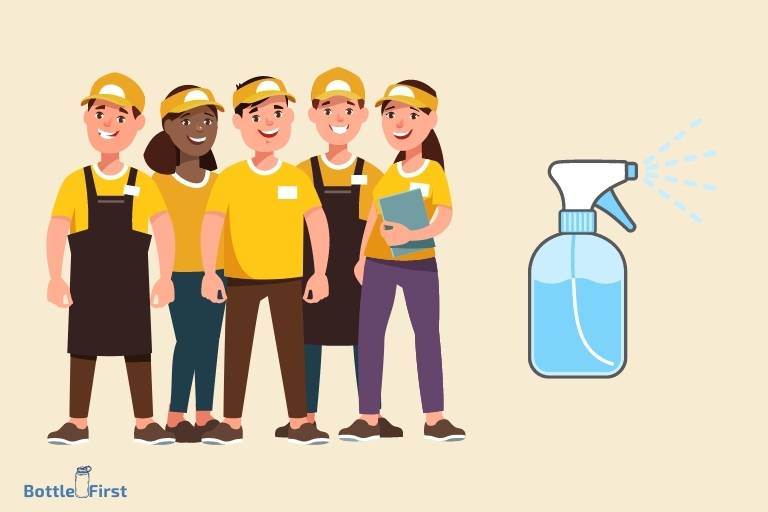 Five Essential Requirements for Spray Bottles
The food service guidelines recommend that all spray bottles used in a food establishment should be clearly labeled with the contents. This is to prevent food contamination and mishandling of harmful substances (Source: Food Safety and Inspection Service, USDA).
The common name of the substance in the spray bottle must be written on the label. This ensures workers can easily identify the cleaning agents or other chemicals contained within the bottle (Source: Occupational Safety and Health Administration, OSHA).
In addition, sharing information on potential hazards of the chemical in the spray bottle helps food workers to take appropriate precautionary measures (Source: Centers for Disease Control and Prevention, CDC).
Proper handling instructions are another essential detail to include on the label of each spray bottle. This can help to avoid misuse of the chemicals and prevent accidents (Source: National Restaurant Association).
Implementing these labeling practices help to maintain health standards and safety protocols within a food establishment. It's a core practice for achieving food safety and sanitation (Source: United States Environmental Protection Agency, EPA).
Importance Of Proper Labeling On Spray Bottles
Proper labeling on spray bottles is essential for ensuring customer safety and complying with regulations.
By clearly communicating product information for workers and consumers, it helps prevent accidents, reduces confusion, and maintains a safe working environment.
Let's explore the significance of proper labeling on spray bottles in more detail.
Ensuring Customer Safety And Complying With Regulations
Accurate identification: Labels provide clear identification of the contents in spray bottles, allowing customers to easily determine the product and its intended use.
Hazard warnings: Proper labeling ensures that potential hazards and safety precautions are clearly communicated, reducing the risk of accidents or mishandling.
Compliance with regulations: Following regulations set by local authorities and regulatory agencies is crucial for businesses. Proper labeling helps comply with labeling requirements and avoids penalties or legal consequences.
Preventing cross-contamination: Clear labels stating specific uses for each spray bottle help prevent cross-contamination in food establishments, maintaining high levels of hygiene.
Allergen information: Proper labeling includes allergen information, enabling individuals with allergies or dietary restrictions to make informed decisions and avoid potential health risks.
Storage and shelf life: Labels provide information on proper storage conditions and product shelf life, ensuring that workers and consumers use spray bottles within the recommended time frame.
Safe usage instructions: Labels can include instructions on proper usage, dilution ratios, and precautions to take when handling the product, minimizing the risk of accidents or misuse.
Communicating Product Information For Workers And Consumers
Ingredient list: Labeling spray bottles with a clear ingredient list allows workers and consumers to identify any potential allergic reactions or sensitivities.
Usage directions: Proper labeling provides clear instructions on how to use the product effectively and safely. This ensures that workers can follow appropriate protocols and achieve desired results.
Manufacturer information: Including the manufacturer's contact details on the label provides transparency and allows for traceability in case of inquiries or safety concerns.
Dispensing amount: Labels can include recommended dispensing amounts, promoting proper product usage and avoiding wastage.
Industry-specific requirements: Certain industries, such as healthcare or food service, have specific labeling requirements. Adhering to these requirements ensures compliance and bolsters credibility within the industry.
The importance of proper labeling on spray bottles cannot be overstated. It ensures customer safety by providing clear identification, hazard warnings, and allergen information.
It also helps businesses comply with regulations, prevent cross-contamination, and communicate vital product information to workers and consumers.
By prioritizing proper labeling, businesses can maintain a safe environment, promote trust, and enhance customer satisfaction.
Essential Information To Include On A Spray Bottle Label
When it comes to using spray bottles for food preparation or cleaning purposes, it is essential to have clear and accurate information included on the label.
This information not only ensures the safety of the users but also helps in maintaining the quality of the product.
Here are the crucial details that must be present on every spray bottle label:
Product Name And Purpose
Clearly mention the name of the product on the label to avoid any confusion.
Describe the purpose or intended use of the product, such as "food surface sanitizer" or "all-purpose cleaner," providing users with a clear understanding of the product's application.
Hazard Warnings And Safety Precautions
Include hazard warnings to alert users about any potential dangers associated with the product.
Mention safety precautions such as wearing protective gloves or eye goggles, ensuring proper ventilation, or keeping the product away from children or pets.
Highlight any specific hazards, such as flammability or corrosiveness, to ensure safe handling.
Instructions For Use And Dilution Ratios
Clearly state the instructions for using the product, including proper application methods.
Indicate the recommended dilution ratios if applicable, ensuring users understand the correct concentration to achieve the desired results.
Provide guidelines on the amount of product to be used per surface area or volume, if applicable.
Manufacturer'S Contact Information
Include the name, address, and contact details of the manufacturer or distributor.
Ensure customers can easily reach out for inquiries, feedback, or reporting any issues related to the product.
Including all this essential information on each spray bottle label is vital to ensure the safe and effective use of the product.
It enables users to handle and apply the product correctly while minimizing any potential hazards or misuse.
Always remember to consult the label instructions before using any spray bottle to guarantee the best possible outcomes
Clear And Legible Label Design
Choosing the right font size and type:
The font size and type on spray bottle labels play a crucial role in ensuring clear and legible information.
Here are some key points to keep in mind:
Opt for a font size that is large enough to be easily read from a distance. It is recommended to use a font size between 12 and 18 points, depending on your label's size.
When selecting a font type, prioritize readability over elaborate or decorative options. Sans-serif fonts like arial or helvetica are often a safe choice due to their clean and straightforward appearance.
Utilizing color contrast for readability:
Colors on the spray bottle labels should be carefully chosen to ensure maximum readability.
Here are some important considerations:
Use a color scheme that provides a sufficient contrast between the label background and the text. For example, black text on a white background or vice versa is a high contrast combination that offers excellent readability.
Avoid using colors that may blend with the bottle or any liquid content, as it can make the text difficult to distinguish.
Take into account color blindness when selecting colors. Ensure that the color combination used doesn't pose difficulties for individuals with color vision deficiencies.
Placement of labels for easy visibility:
The placement of labels on spray bottles is crucial to ensure easy visibility for food workers.
Consider the following points:
Position the label in a prominent and unobstructed area of the bottle. Ideally, it should be placed where it can be easily seen from different angles.
Avoid placing labels too close to edges or corners where they might get damaged or worn off over time.
Ensure that the label is securely adhered to the bottle to prevent it from becoming loose or detached during handling or storage.
Remember, a clear and legible label design is essential to ensure that the information on spray bottles is easily accessible for food workers.
By choosing the right font size and type, utilizing color contrast effectively, and placing labels for easy visibility, you can enhance safety measures in food handling environments.
Compliance With Food Safety Regulations
Understanding Fda Guidelines For Labeling
Labeling spray bottles correctly is crucial to ensure compliance with food safety regulations. The food and drug administration (fda) has specific guidelines in place that every food worker must follow.
Here are the key points to understand:
Labeling requirements: The fda mandates that spray bottles used in food establishments must be properly labeled. The labels should include information such as the name of the product, its ingredients, and any potential allergens present. It is essential to accurately list all ingredients to avoid potential health risks for individuals with allergies.
Clear and legible labels: The fda emphasizes the importance of clear and legible labels on spray bottles. The information provided should be easy to read and understand. Avoid using small fonts or cluttered designs that could make it difficult for users to discern the necessary details.
Language requirement: The fda requires all labeling to be in clear and understandable language. This means that instructions, warnings, and ingredient information should be written in a way that can be easily comprehended by the average consumer. Avoid technical jargon or complex terms that may confuse the user.
Permanent and prominent labels: Labels on spray bottles must be permanent and prominently displayed. They should not easily fade or peel off over time, ensuring that the information remains intact throughout the product's usage. Prominent labeling helps users quickly identify the product and its contents, reducing the risk of misuse or confusion.
Allergen Warnings And Ingredient Information
In addition to the fda guidelines, it is essential to include specific allergen warnings and detailed ingredient information on spray bottles.
Here are some key points to consider:
Allergen warnings: If the spray bottle contains any common allergens such as peanuts, tree nuts, soy, wheat, dairy, or eggs, it is crucial to include clear warnings on the label. This ensures that individuals with allergies can easily identify potential risks and avoid using the product.
Ingredient information: The spray bottle label should list all the ingredients used in the product. This includes not only the active ingredients but also any additives or preservatives. Providing accurate and comprehensive ingredient information helps consumers make informed choices about the products they use.
Avoid misleading information: It is vital to avoid misleading information on the label, especially when it comes to ingredients. Ensure that all ingredient names are accurate and specific. Generic terms should be avoided to prevent confusion or misinterpretation.
Conformance To Packaging And Labeling Laws
Apart from the fda guidelines, food workers must also comply with packaging and labeling laws.
Here are the key points to consider:
Packaging requirements: Spray bottles used for food-related purposes must adhere to specific packaging requirements. The materials used should be safe for contact with food and should not contaminate or alter the product in any way.
Product labeling: In addition to the fda guidelines, there may be specific labeling requirements imposed by local or state regulatory authorities. It is essential to research and comply with these regulations to ensure legal compliance. This may include additional information such as batch numbers, manufacturing dates, or storage instructions.
Uniformity and consistency: When labeling spray bottles, it is essential to maintain uniformity and consistency across products. This helps establish familiarity among consumers and facilitates quick identification of essential information. Avoid using different labels or varying information formats that may cause confusion.
Remember, adhering to fda guidelines, providing accurate allergen warnings, and conforming to packaging and labeling laws are vital for all food workers.
By ensuring compliance, you contribute to maintaining food safety standards and protecting the health of consumers. So, be diligent and meticulous when labeling spray bottles in your food establishment.
Best Practices For Labeling Spray Bottles
Regularly inspect labels for damage or fading:
Check spray bottle labels frequently for any signs of damage or fading.
Look for peeling, tearing, or discoloration that may render the label illegible or difficult to read.
Replace damaged or faded labels immediately to ensure clear identification of contents.
Train employees on proper label application:
Provide thorough training to employees on how to correctly apply labels to spray bottles.
Demonstrate the proper techniques for positioning and adhering labels securely.
Emphasize the importance of accuracy and clarity when labeling spray bottles.
Promote good labeling hygiene in the workplace:
Encourage a clean and organized workplace environment to facilitate proper labeling practices.
Establish designated areas for storing spray bottles and label supplies.
Implement a labeling schedule to ensure all spray bottles are appropriately labeled at all times.
Ensure clear and concise label information:
Clearly state the contents of each spray bottle on the label using specific and descriptive terms.
Include any relevant safety information or warnings.
Consider using color-coded labels or symbols to aid in quick identification.
Use easy-to-read fonts and font sizes:
Select fonts that are legible and easily readable from a distance.
Ensure the font size is large enough to be easily seen and understood.
Avoid clutter:
Keep the label design simple and uncluttered.
Avoid excessive text or images that can confuse or distract.
Protect labels from moisture and chemicals:
Apply a waterproof and chemical-resistant coating to protect labels from damage caused by moisture or chemical exposure.
Store spray bottles in appropriate areas to minimize the chance of labels coming into contact with liquids or corrosive substances.
Regularly update labels when contents change:
Whenever the contents of a spray bottle are changed, update the label accordingly.
Remove old labels or cover them completely to avoid confusion.
Clearly display expiry dates:
If applicable, include an expiration date on the label.
Ensure the date is prominently displayed and easily identifiable.
Implement quality control measures:
Establish a quality control process to verify that all spray bottles are properly labeled before use.
Regularly assess the effectiveness of labeling practices and make improvements as needed.
By following these best practices for labeling spray bottles, food workers can ensure proper identification of contents, promote safety, and maintain a hygienic workplace environment.
Regular inspections, employee training, good labeling hygiene, and adherence to clear and concise labeling standards will help create an organized and efficient system for handling spray bottles in the food industry.
What is the Proper Way to Dilute and Use Sanitizing Solution in Spray Bottles?
Food worker pouring sanitizing solution should follow the proper dilution guidelines recommended by the manufacturer. Generally, the correct ratio is one part sanitizer to a certain number of parts water. After diluting, the solution can be poured into a spray bottle, ensuring it covers all surfaces before allowing it to air dry.
FAQ About What Must The Food Worker Include On Each Spray Bottle
What Must The Food Worker Include On Each Spray Bottle?
The information that must be included on each spray bottle used by food workers are the product name, ingredients, and warnings.
Why Is It Important For Food Workers To Include This Information?
Including this information on spray bottles is crucial because it helps prevent any potential health hazards and ensures safe food handling practices.
How Can Food Workers Ensure That Spray Bottles Are Properly Labeled?
Food workers can ensure proper labeling of spray bottles by clearly writing or sticking labels with the required information on each bottle.
What Are The Consequences Of Not Including The Necessary Information On Spray Bottles?
Not including the necessary information on spray bottles can lead to confusion, mishandling of products, and potential health risks for consumers.
Are There Any Regulations Or Guidelines That Require The Inclusion Of This Information?
Yes, there are regulations and guidelines, such as the fda's food code, that mandate the inclusion of specific information on spray bottles used in the food industry.
Conclusion
Properly labeling spray bottles is crucial in maintaining food safety standards.
The information included on each spray bottle ensures that employees handle chemicals correctly and reduces the risk of contamination.
To effectively label a spray bottle, food workers must include the chemical name, concentration, and any hazard warnings.
This allows employees to identify the contents of the bottle and understand the potential risks associated with its use.
Additionally, it is important to include the date the bottle was prepared to ensure that chemicals are used within their recommended expiration dates.
Clear and legible labels are essential, as they minimize confusion and enable quick identification of the spray bottle's contents.
By adhering to these practices, food workers can uphold the highest standards of food safety, protecting both customers and employees alike.
Remember, safety should always come first in the kitchen.