Will My Hamster Find the Water Bottle? Yes!
Yes, your hamster will find the water bottle. Hamsters have good instincts and use their sense of smell to discover their surroundings, including finding their water source.
Hamsters are intelligent creatures with an excellent sense of smell. They are capable of finding their food and water supplies effortlessly in their cage.
When you first install a water bottle in your hamster's cage, it may take some time for the small creature to find it. You can help by guiding it towards the water bottle or placing it near its favorite spot.
Hamsters have a keen sense of smell which helps them find their water bottle.
It may take some time for a hamster to find its water bottle, especially if it's recently introduced.
You can help your hamster find the water bottle by placing it near its favorite spot in the cage.
Patient observation is necessary to ensure that your hamster is drinking properly from the bottle and staying hydrated.
Remember, hydration is important for your hamster's health. Be patient and observe your pet's behavior.
If the hamster seems to be having trouble finding or using the water bottle, you may need to intervene and show it how to use the bottle.
If your hamster continuously struggles with the water bottle, consulting a vet might be beneficial to ensure there are no underlying health concerns causing the issue.
Tips and Tricks: Helping Your Hamster Find the Water Bottle
| No. | Tip | Description |
| --- | --- | --- |
| 1 | Positioning | Place the water bottle at a height that's easily accessible for your hamster. |
| 2 | Guiding | Guide your hamster towards the water bottle by gently nudging them in its direction. |
| 3 | Demonstrating | Show your hamster how to use the water bottle by tapping the ball at the end of the drinking tip. |
| 4 | Scenting | Wipe the drinking tip with a piece of fruit to entice your hamster to it. |
| 5 | Checking | Regularly check if the bottle is working correctly to avoid dehydration. |
| 6 | Familiarizing | Let your hamster get familiar with the bottle by leaving it inside their cage for a few days. |
| 7 | Experimenting | Try different types of bottles if your hamster is having difficulty with the current one. |
| 8 | Hydrating | Ensure your hamster is adequately hydrated by observing their behavior and physical signs. |
| 9 | Training | Pair the use of the water bottle with positive reinforcement such as treats or petting. |
| 10 | Consulting | If your hamster is consistently struggling with the water bottle, consult a vet or an animal behaviorist for advice. |
Tips and Tricks: Helping Your Hamster Find the Water Bottle
Key Takeaway
Hamsters have a strong sense of smell and hearing which allows them to find their water bottle even in a new environment.
Using a water bottle instead of a bowl for hamsters can prevent them from soiling or spilling their water.
It's crucial to monitor if your hamster is getting enough water, as dehydration can cause serious health problems.
Be patient if your hamster is getting used to a new water bottle, they may need time to adjust.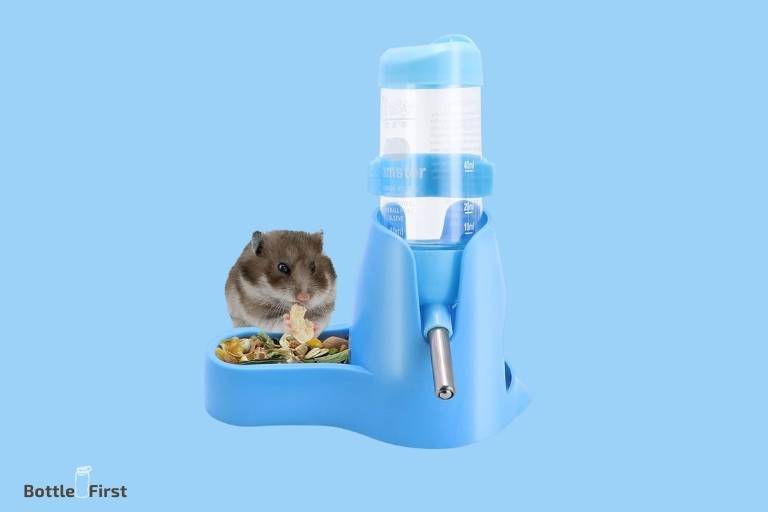 Five Facts About of Using a Water Bottle for Your Hamster
Hamsters rely on their strong sense of smell and hearing to locate their water source. Therefore, they will be able to find their water bottle in their cage. (Source: BioExplorer)
A water bottle is a better option than a bowl for hamsters as it helps to keep the water clean and prevent spills. Hamsters are known to mess about in their bowls, which can soil or spill the water. Using a bottle ensures they have access to clean water at all times. (Source: Petcha)
Dehydration in hamsters is a serious issue that can lead to lethargy, loss of appetite, and in severe cases, organ failure. Owners must ensure that their hamsters have access to plenty of fresh water. (Source: Small Pet Select)
It's normal for hamsters to take time to get used to a new water bottle. They are creatures of habit and any changes to their environment can cause them to be tentative. Give them a few days to adjust. (Source: Animal Planet)
If your hamster is not drinking from the bottle, check if the bottle is functioning properly. Sometimes, the steel ball at the tip of the bottle gets stuck preventing water from coming out. In such cases, the bottle needs to be replaced. (Source: PetMD)
Understanding A Hamster'S Natural Behavior
The Natural Instincts Of A Hamster:
Burrowing: Hamsters have a strong natural instinct to burrow. They dig tunnels and create extensive networks in the wild. Providing your hamster with bedding material like paper or wood shavings will help satisfy this instinctive behavior.
Hoarding: Hamsters are known for hoarding food in their burrows. In the wild, they collect and store food for later consumption. Keep this in mind when providing food for your hamster, as they might hide it away for later.
Nocturnal behavior: Hamsters are primarily nocturnal animals, which means they are most active during the night. Their sleep pattern is adapted to this lifestyle, so be mindful not to disturb their sleep during the day.
The Importance Of Water For A Hamster'S Survival:
Hydration: Water is essential for a hamster's survival. Without proper hydration, they can suffer from various health issues. Make sure your hamster always has access to fresh, clean water.
Water bottle: Hamsters typically drink water from a bottle equipped with a sipper tube. This prevents contamination and keeps the water clean. Place the water bottle securely in the cage at a height that is easily accessible for your hamster.
Amount of water: The water needs of a hamster can vary depending on factors like age, size, and climate. It's important to monitor their water consumption and ensure they have enough water available at all times.
Water bottle hygiene: Regularly clean and refill your hamster's water bottle to prevent bacterial growth. Use mild soap and warm water, ensuring it is thoroughly rinsed before being reattached to the cage.
Alternate water sources: In addition to the water bottle, you can also provide your hamster with a water dish as an alternative water source. However, keep in mind that they may splash or soil the water, so regular cleaning is necessary.
Choosing The Right Water Bottle For Your Hamster
Factors To Consider When Selecting A Water Bottle:
Size: Ensure that the water bottle is suitable for your hamster's size and breed. Larger hamsters may require a bigger bottle, while smaller ones may need a more compact option.
Material: Opt for a water bottle made from safe, non-toxic materials such as glass or bpa-free plastic. This will help prevent any potential harm to your hamster.
Durability: Look for a water bottle that is durable and can withstand the activities of your hamster. Hamsters are known to chew on things, so choosing a bottle with a sturdy construction is essential.
Leak-proof design: It's important to invest in a water bottle that has a leak-proof design. This will minimize spills and prevent the cage from becoming wet, which can lead to humidity and bacteria growth.
Ensuring The Water Bottle Is Suitable For Your Hamster'S Size And Breed:
Consider your hamster's specific needs when selecting a water bottle. Syrian hamsters, for example, may require a larger bottle than dwarf hamsters.
Research the average water intake of your hamster's breed and choose a bottle that can accommodate that amount.
Consult with your veterinarian or a knowledgeable pet store employee to ensure you choose the right bottle for your hamster.
Tips For Proper Placement Of The Water Bottle In The Cage:
Position the water bottle at a suitable height for your hamster to access without straining. It should be within easy reach, allowing them to drink comfortably.
Avoid placing the water bottle directly above bedding material to prevent contamination and wet bedding.
Regularly check and clean the water bottle to ensure it remains free from algae or any buildup that may impact the water quality.
Training Your Hamster To Use The Water Bottle
Start by attaching the water bottle to the side of your hamster's cage at a height that is easily accessible for your furry friend.
Ensure that the water bottle is securely fastened to prevent any leaks or accidents.
Place a small amount of water in the bottle to create a visual cue for your hamster.
Avoid sudden or jerky movements while introducing the water bottle, as it may startle your hamster.
Observe your hamster's behavior and body language to determine when it feels comfortable approaching the water bottle.
Provide a safe and calm environment for your hamster to explore its cage and become familiar with the water bottle.
Place treats or small pieces of fresh fruits and vegetables near the water bottle to entice your hamster to investigate and interact with it.
Gradually move the treats closer to the water bottle over time to encourage your hamster to associate the bottle with rewards and positive experiences.
When your hamster approaches the water bottle or interacts with it, use a clicker or say a specific word to signal that it has done a good job.
Offer verbal praise and give your hamster a small treat immediately after it successfully uses the water bottle.
Consistently reward your hamster each time it uses the water bottle to reinforce the desired behavior.
Be patient and allow your hamster time to adjust to the new method of obtaining water.
Signs That Your Hamster Has Found The Water Bottle
Your hamster frequently visits the water bottle: If you notice your hamster approaching the water bottle multiple times throughout the day, it is a clear sign that they have found it.
Your hamster interacts with the water bottle: Observe if your hamster nibbles on the spout or touches it with their paws. These actions indicate that they are familiar with the water bottle and have discovered its purpose.
Consistent water consumption: Regularly check the water level in the bottle to ensure that it is consistently decreasing. If you notice a consistent decrease, it means that your hamster is regularly hydrating from the water bottle.
Refill frequency: Keep track of how often you need to refill the water bottle. If you find yourself refilling it frequently, it indicates that your hamster has been consuming water from the bottle.
Wet bedding: Check your hamster's bedding regularly for any damp or wet spots. If you find wet bedding near the water bottle, it is a strong indication that your hamster has been drinking from the bottle.
Water stains or residue: Examine the area around the water bottle for any water stains or residue. If you notice any, it signifies that your hamster has been interacting with the water bottle and potentially drinking from it.
Troubleshooting Common Issues With Hamster Water Bottles
Dealing With Leaks Or Drips From The Water Bottle
Check the bottle's seal: Ensure that the bottle is tightly sealed. A loose seal can lead to leaks and drips. Tighten the cap properly to create a secure seal.
Inspect the sipper tube: Examine the sipper tube for any cracks or damage that may cause unwanted leaks. If you notice any issues, consider replacing the sipper tube with a new one.
Hang the bottle correctly: Position the water bottle securely on the side of the cage, making sure it is not too high or too low. This will prevent excessive pressure or gravity from causing leaks.
Avoid overfilling: It's essential not to fill the water bottle to the brim. Overfilling can cause excess pressure and result in leaks. Fill the bottle to the recommended level, typically indicated by a fill line.
Clean the bottle regularly: A dirty water bottle can lead to clogs and leaks. Clean the bottle and sipper tube thoroughly, following the manufacturer's instructions, to prevent any buildup or blockages.
Preventing Clogging Or Blockages In The Bottle'S Sipper Tube
Use fresh water and avoid sugary additives: Stick to clean, fresh water for your hamster's bottle. Avoid adding sugary or sticky substances that can lead to clogs.
Check for debris: Regularly inspect the sipper tube for any small particles or debris that could obstruct the flow of water. Use a small brush or pipe cleaner to gently clean the tube if needed.
Monitor bedding materials: Some bedding materials, such as wood shavings, can easily find their way into the sipper tube and cause blockages. Consider using alternative bedding to minimize the risk of clogging.
Opt for a wider sipper tube: If you frequently encounter clogs, consider switching to a water bottle with a wider sipper tube. This can help prevent blockages caused by small food particles or bedding.
Ensuring Your Hamster Is Getting Enough Water From The Bottle
Monitor water consumption: Observe your hamster's drinking habits. If you notice a significant decrease in water intake or if the water level in the bottle remains constant for an extended period, it may indicate an issue.
Provide ample fresh water: Ensure that the water bottle is always filled with fresh water to encourage your hamster to drink regularly.
Offer alternative water sources: To complement the water bottle, you can also provide a shallow dish or a water dispenser. Some hamsters prefer to drink from different sources, so having alternatives can encourage them to stay hydrated.
Check for signs of dehydration: Watch out for common signs of dehydration in hamsters, such as lethargy, sunken eyes, dry mouth, and decreased activity. If you suspect your hamster is dehydrated, contact a veterinarian for advice.
FAQ About Will My Hamster Find The Water Bottle
Will My Hamster Find The Water Bottle Easily In Its Cage?
Yes, hamsters have a natural instinct to search for water. They will locate the water bottle effortlessly.
How Can I Ensure My Hamster Finds The Water Bottle?
Place the water bottle at a low, accessible height, preferably near their food, to ensure they can easily find it.
What If My Hamster Is Not Using The Water Bottle?
Check if the water bottle is properly attached and the nozzle is working. You may have to teach them how to use it initially.
How Much Water Does A Hamster Typically Need?
A hamster needs an average of 10-20ml of water per day, depending on their size, activity level, and diet.
Is It Safe To Add Vitamins Or Supplements To My Hamster'S Water?
It is not recommended to add vitamins or supplements to your hamster's water without consulting a veterinarian. They have specific dietary needs.
Conclusion