How to Know If Water Bottle is Bpa Free? 8 Easy Steps
To know if your water bottle is BPA-free, you should first check the bottom of the bottle for a recycling symbol. If the symbol includes a number "7" inside, your bottle may contain BPA.
You should also look for any labels or markings on the bottle that say "BPA Free." If the bottle doesn't have any of these indicators, you can contact the manufacturer for confirmation.
BPA (Bisphenol-A) is a potentially harmful chemical found in many plastic products, including some types of water bottles.
Exposure to BPA has been linked to a variety of health problems, which is why many people prefer to use BPA-free water bottles.
Identifying a BPA-free bottle can be done by inspecting the bottle itself or seeking information directly from the manufacturer.
Check the recycling symbol on the bottom of the bottle, a "7" may indicate BPA.
Look for labels or markings that say "BPA Free."
No label might mean BPA is present; however, it's not a guaranteed indicator.
Contact the manufacturer directly for information if unsure.
BPA-Free water bottles are growing in popularity due to increasing health consciousness and stricter manufacturing standards.
Manufacturers are now more transparent and receptive to consumers' queries in this regard.
Hence, if you are unsure about the composition of your water bottle, reaching out to the manufacturer can provide you with an accurate and definitive answer.
8 Steps about BPA-Free Water Bottles
| Steps | Information |
| --- | --- |
| 1 | Check the Label |
| 2 | Look at the Bottom of the Bottle |
| 3 | Research the Brand |
| 4 | Look for "BPA Free" Statement |
| 5 | Check for Recycling Codes |
| 6 | Check the Material |
| 7 | Buy from Trusted Source |
| 8 | Contact Manufacturer Directly |
8 Steps about BPA-Free Water Bottles
Key Takeaway
BPA-free water bottles are a safer choice compared to their BPA-laden counterparts, as they do not carry the health risks associated with BPA.
Checking the recycling symbol at the bottom of the bottle is often a reliable method to identify if a bottle is BPA-free— number 7 is often used for BPA-containing products, but not all number 7 plastics contain BPA.
Labels and product descriptions mentioning the bottle is BPA-free is another obvious indicator.
Some reputable brands specifically market their products as BPA-free, it's beneficial to opt for such trustworthy brands.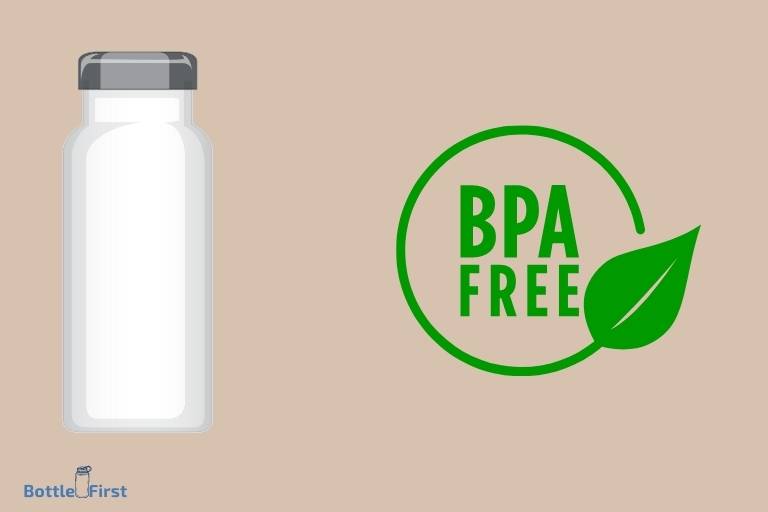 Four Things to Know about BPA-Free Water Bottles
BPA (Bisphenol A) is a chemical that has been used in the manufacture of certain plastics and resins since the 1960s, including some types of water bottles and food and drink packaging (Mayo Clinic).
There has been increasing concern over the potential health effects of BPA, as it can seep into food or beverages from containers made with BPA. Exposure to BPA is a concern because of the possible health effects on the brain, behavior, and prostate gland of fetuses, infants, and children (FDA).
Water bottles made from polycarbonate plastic (recycling symbol #7) often contain BPA, while those made from polyethylene (#1, #2, or #4) or polypropylene (#5) are generally BPA-free (Environmental Working Group).
No federal agency has currently banned BPA, but many manufacturers have voluntarily removed the chemical.
Understanding Bpa And Its Impact On Health
The use of bpa in various consumer products, particularly plastic water bottles, has been a topic of concern in recent years.
With an increasing emphasis on health and wellness, many individuals are seeking out bpa-free alternatives to protect themselves from potential harm.
In this section, we will delve into the details of bpa and its impact on health, highlighting why it is important to choose bpa-free water bottles.
What Is Bpa?
Bisphenol a, commonly known as bpa, is a chemical used in the production of polycarbonate plastics and epoxy resins.
Polycarbonate plastics are often used in water bottles, food containers, and other household items, while epoxy resins are used to line metal containers, such as canned foods.
Bpa has been in use since the 1960s, primarily due to its ability to enhance the strength and durability of plastic products.
The Potential Health Risks Associated With Bpa Exposure
Research has revealed that bpa has the potential to leach into food and beverages, especially when exposed to heat or acidic conditions.
Once ingested, bpa can mimic the hormone estrogen in the body, leading to hormonal imbalance and disruption of the endocrine system.
Numerous studies have linked bpa exposure to various health issues, including reproductive disorders, developmental problems, and an increased risk of certain cancers.
Particularly vulnerable populations such as pregnant women, infants, and young children may be at a higher risk due to their rapid growth and development.
Why It'S Important To Choose Bpa-Free Water Bottles
Opting for bpa-free water bottles can help reduce the potential risks associated with bpa exposure and promote a healthier lifestyle.
Bpa-free water bottles are made from alternative materials that do not contain bpa or other harmful chemicals. These materials may include glass, stainless steel, or bpa-free plastics.
By choosing bpa-free water bottles, you can ensure that you are not inadvertently introducing harmful substances into your body.
Bpa-free water bottles are widely available in the market, making it easier than ever to make a conscious and informed choice towards better health.
Remember, when selecting water bottles, always look for the "bpa-free" label or check the product description for information on the materials used.
Your health and well-being deserve the best, so make the switch to bpa-free water bottles today.
Examining The Label: How To Spot Bpa-Free Water Bottles
Decoding The Symbols And Labels On Water Bottles
Water bottles are an essential part of our everyday lives, but it's important to ensure that they are made from materials that are safe for our health.
One of the common concerns is the presence of bpa (bisphenol a), a chemical compound that may have harmful effects on our bodies.
Fortunately, many manufacturers now produce bpa-free water bottles, but how can you tell if a water bottle is truly free from this chemical?
Let's explore the key points to look out for when examining the label of a water bottle.
Look for the recycling symbol: The numbers within the recycling symbol at the bottom of the bottle can provide valuable information about its composition. The number 7 indicates that the bottle is made from a mix of plastics, which may include bpa. Opt for bottles with the numbers 1, 2, 4, or 5, as these are usually bpa-free.
Check for the "bpa-free" label: Some manufacturers explicitly state on the label that their water bottles are bpa-free. This label provides a clear indication that the bottle does not contain this harmful chemical, giving you peace of mind when using it.
Look for the "food-safe" symbol: Additionally, several water bottle brands incorporate a symbol depicting a glass and fork. This symbol signifies that the bottle is deemed safe for contact with food, which indicates that it is unlikely to contain bpa.
Understanding The Role Of Certifications And Standards
Certifications and standards play a vital role in ensuring that water bottles meet specific criteria and adhere to safety regulations.
When examining a water bottle label for bpa-free status, consider the following certifications and standards:
Nsf/ansi 61: This certification ensures that the materials used in the production of water bottles are non-toxic and do not contain harmful chemicals such as bpa. If a water bottle bears this certification, it is a good indicator that it is free from bpa.
Fda-approved: The food and drug administration (fda) in the united states has guidelines and regulations in place to ensure the safety of food contact materials, including water bottles. Look for the fda-approved label or statement on the bottle to confirm that it meets the necessary safety requirements.
European union food contact regulation: If you reside in europe, look for the "ce" symbol on the water bottle label. This symbol confirms that the product complies with the european union food contact regulation, which prohibits the use of bpa in certain plastic materials used for food and beverage containers.
Key Phrases To Look For On Labels Indicating Bpa-Free Status
When examining the label of a water bottle, keep an eye out for these key phrases that indicate the bottle is bpa-free:
"bpa-free": This straightforward statement provides clear assurance that the water bottle does not contain bpa.
"no bpa": Similar to the previous phrase, this statement confirms that the bottle is free from bpa.
"bisphenol-a free": While this phrase uses the full chemical name, it signifies that the water bottle is indeed free from bpa.
"safe for hot liquids": Since bpa can leach more readily into hot liquids, bottles labeled as safe for hot liquids are typically made from bpa-free materials.
By understanding the symbols, certifications, and key phrases on water bottle labels, you can confidently choose bpa-free options.
This knowledge empowers you to make healthier choices for yourself and the environment. Stay hydrated and stay safe!
Alternative Materials: Exploring Bpa-Free Water Bottle Options
Looking for a bpa-free water bottle? We've got you covered! In this section, we'll explore the different materials that are popular for bpa-free water bottles, including stainless steel and glass. Let's dive in!
Highlighting Popular Bpa-Free Materials Like Stainless Steel And Glass:
Stainless steel:
Durable and long-lasting: Stainless steel water bottles are known for their exceptional durability, making them perfect for outdoor adventures or everyday use.
Retains temperature: Stainless steel has excellent insulation properties, keeping your drinks hot or cold for extended periods.
Wide variety of styles: From sleek designs to vibrant colors, stainless steel water bottles offer a wide range of options to suit your style.
Glass:
Pure and tasteless: Glass water bottles do not impart any flavors or smells to your beverages, ensuring a clean and pure taste every time.
Easy to clean: Glass is non-porous, making it easy to clean and maintain hygiene.
Environmentally friendly: Glass is an eco-friendly material as it is fully recyclable, reducing our impact on the environment.
Advantages And Disadvantages Of Each Alternative Material:
Stainless steel:
Advantages:
Durable and long-lasting.
Retains temperature.
Wide variety of styles.
Disadvantages:
Heavier than other materials.
May dent or scratch over time.
Glass:
Advantages:
Pure and tasteless.
Easy to clean.
Environmentally friendly.
Disadvantages:
Fragile and prone to breaking if dropped.
Not suitable for extreme temperature changes.
Comparing Durability And Eco-Friendliness Of Different Materials:
Durability:
Stainless steel is highly durable and resistant to dents and scratches, making it a great choice for rugged use.
Glass, while delicate, can withstand regular use if handled with care.
Eco-friendliness:
Stainless steel is recyclable, reducing waste and minimizing environmental impact.
Glass is also recyclable and does not contain any harmful chemicals.
When choosing a bpa-free water bottle, consider your specific needs, such as durability, insulation, and environmental impact.
Stainless steel is ideal for those seeking durability and temperature retention, while glass provides a pure taste and eco-friendliness.
So, go ahead and make an informed decision to find the perfect bpa-free water bottle for your lifestyle.
Testing Methods: How To Determine If A Water Bottle Contains Bpa
Diy Tests To Detect The Presence Of Bpa In Water Bottles
Are you concerned about the presence of bpa in your water bottles? Bpa, also known as bisphenol a, is a chemical commonly found in certain plastics, including water bottles.
It has been linked to potential health risks, which is why many people prefer to use bpa-free alternatives.
Fortunately, there are several testing methods available to determine if a water bottle contains bpa.
Let's explore some diy tests you can try at home:
The hot water test: Fill your water bottle with hot water and let it sit for a few minutes. Then, taste the water. If it has a distinct plastic-like taste, it could indicate the presence of bpa.
The freeze test: Fill your water bottle with water and place it in the freezer overnight. After it has frozen, remove it and check the bottle for any signs of cracking or damage. If the bottle has cracked, it might contain bpa, as bpa-free bottles are typically more resistant to low temperatures.
The scratch test: Take a sharp object, such as a key or a fingernail, and lightly scratch the inside of the water bottle. If you notice any visible scratches or marks, it could suggest that the bottle contains bpa. Bpa-free bottles usually have a protective coating that makes them more resistant to scratching.
The bpa testing kit: There are bpa testing kits available in the market that can help you determine if your water bottle contains bpa. These kits often come with a set of reagents that react with bpa, producing a color change. Simply follow the instructions provided with the kit to conduct the test.
Utilizing Third-Party Laboratory Testing Services
While diy tests can provide some insights, they may not be as accurate or reliable as professional laboratory testing.
If you want to be absolutely sure if your water bottle is bpa-free, you can consider utilizing third-party laboratory testing services.
These services are equipped with sophisticated equipment and trained personnel who can accurately detect the presence of bpa in your water bottle.
Here are some advantages of utilizing third-party laboratory testing services:
Accuracy: Laboratory tests are conducted under controlled conditions, ensuring accurate results that you can rely on.
Certification: Some laboratories provide certification if a water bottle is proven to be bpa-free. This certification can give you peace of mind and assurance about the safety of the bottle.
Expertise: Laboratories have experienced professionals who are knowledgeable about bpa detection methods and can provide valuable insights and recommendations based on the test results.
Understanding The Limitations Of At-Home Testing Methods
While diy tests can be helpful, it's important to understand their limitations:
Subjectivity: Diy tests rely on personal judgment, such as taste or visual inspection, which can be subjective. Different individuals may interpret the results differently.
False negatives/positives: Diy tests may not always provide accurate results, resulting in false negatives (indicating no bpa when it is present) or false positives (indicating bpa when it is not present).
Limited sensitivity: Some diy tests may have lower sensitivity compared to professional laboratory tests, meaning they might not detect trace amounts of bpa.
It's important to remember that while diy tests can offer preliminary insights, for definitive results, professional laboratory testing is recommended.
Understanding the limitations of at-home testing methods will help you make informed decisions about the safety of your water bottles.
Making Informed Choices: Factors To Consider When Selecting Bpa-Free Water Bottles
When it comes to choosing a water bottle, it's important to make sure that it is free from harmful chemicals like bpa (bisphenol a).
Bpa is known for its potential health risks, so opting for a bpa-free water bottle is a wise decision.
But how do you know if a water bottle is bpa-free? Here are some factors to consider when making an informed choice:
Evaluating The Overall Quality And Safety Features Of Water Bottles
Look for a clear indication or label on the packaging stating that the water bottle is bpa-free.
Check if the water bottle is made of materials that are known to be free from bpa, such as stainless steel, glass, or bpa-free plastics like tritan.
Consider the durability of the water bottle. Make sure it is sturdy and built to last.
Look for additional safety features such as leak-proof lids or flip-top caps to prevent spills and accidents.
Research the brand and read reviews to ensure that the water bottle has a good reputation for quality and safety.
Factors To Consider Based On Personal Needs And Preferences
Determine the size of the water bottle that suits your needs. Consider how much water you typically consume and if you prefer a larger or smaller bottle.
Think about the purpose of the water bottle. Will you be using it for everyday hydration or for specific activities like hiking or sports?
Consider the ease of cleaning. Look for water bottles with wide mouths or removable parts for easy access and thorough cleaning.
Evaluate the ease of use. Does the water bottle have a comfortable grip or handle? Is it easy to open and close?
Reflect on your personal style and aesthetic preferences. Choose a water bottle that aligns with your taste and matches your daily routine.
Additional Considerations Such As Price, Design, And Portability
Price: Take into account your budget and choose a bpa-free water bottle that offers good value for money. Remember that a higher price doesn't guarantee better quality.
Design: Select a water bottle with a design that you find appealing and functional. Consider factors like ergonomics, color options, and special features.
Portability: If you are always on the go, opt for a water bottle that is lightweight and easy to carry. Look for features like a carrying loop or a clip to attach the bottle to your backpack or bag.
By carefully evaluating the overall quality and safety features, considering factors based on your personal needs and preferences, and taking into account additional aspects like price, design, and portability, you can make an informed choice when selecting a bpa-free water bottle.
Stay hydrated and reap the benefits of a healthier and safer hydration option!
FAQ About How To Know If Water Bottle Is Bpa Free? Ultimate Guide
How Can I Tell If A Water Bottle Is Bpa Free?
Bpa-free water bottles are labeled as such and often display a "bpa-free" symbol or statement on the packaging.
Why Is It Important To Use Bpa-Free Water Bottles?
Using bpa-free water bottles is important because bpa is a harmful chemical that can leach into liquids and may have negative health effects.
Are All Plastic Water Bottles Bpa-Free?
Not all plastic water bottles are bpa-free. It is important to look for bottles that are specifically labeled as bpa-free to ensure they do not contain this chemical.
Can I Use Any Water Bottle For Hot Beverages?
Not all water bottles are suitable for hot beverages.
It is important to check the specific product guidelines and choose bottles designed for hot liquids to prevent melting or leaching of chemicals.
How Can I Tell If A Water Bottle Is Bpa Free?
The lifespan of bpa-free water bottles varies depending on usage, maintenance, and quality. With proper care, they can last for several years.
Conclusion
So, if you want to stay safe and avoid harmful effects of bpa, it is crucial to know how to identify if a water bottle is bpa free.
Remember to look for the bpa-free label or symbol on the bottle, indicating that it has undergone strict testing to ensure its safety.
Additionally, consider opting for bottles made from materials like stainless steel or glass, as they are typically bpa free.
Another key indicator is the recycling number on the bottom of the bottle – plastic bottles with numbers 1, 2, 4, or 5 are generally bpa free.
Keep in mind that while bpa-free bottles are a safer option, it is still important to handle and clean them properly to avoid any contamination.
By following these guidelines, you can make informed choices about the water bottles you use, prioritizing your health and well-being.