How to Make a Lizard Trap With a Water Bottle? 8 Easy Steps!
Dealing with unwanted lizards in your home or garden can be a challenge, but there's no need to resort to harmful methods. Creating a lizard trap using a common household item like a water bottle is a simple and humane solution.
In this guide, we'll walk you through nine easy steps to craft your own lizard trap and safely capture these elusive reptiles.
Whether you want to relocate them from your living space or simply observe them up close, this DIY lizard trap will help you accomplish your goal with minimal effort.
Let's get started on making a lizard trap with a water bottle that is both effective and environmentally friendly.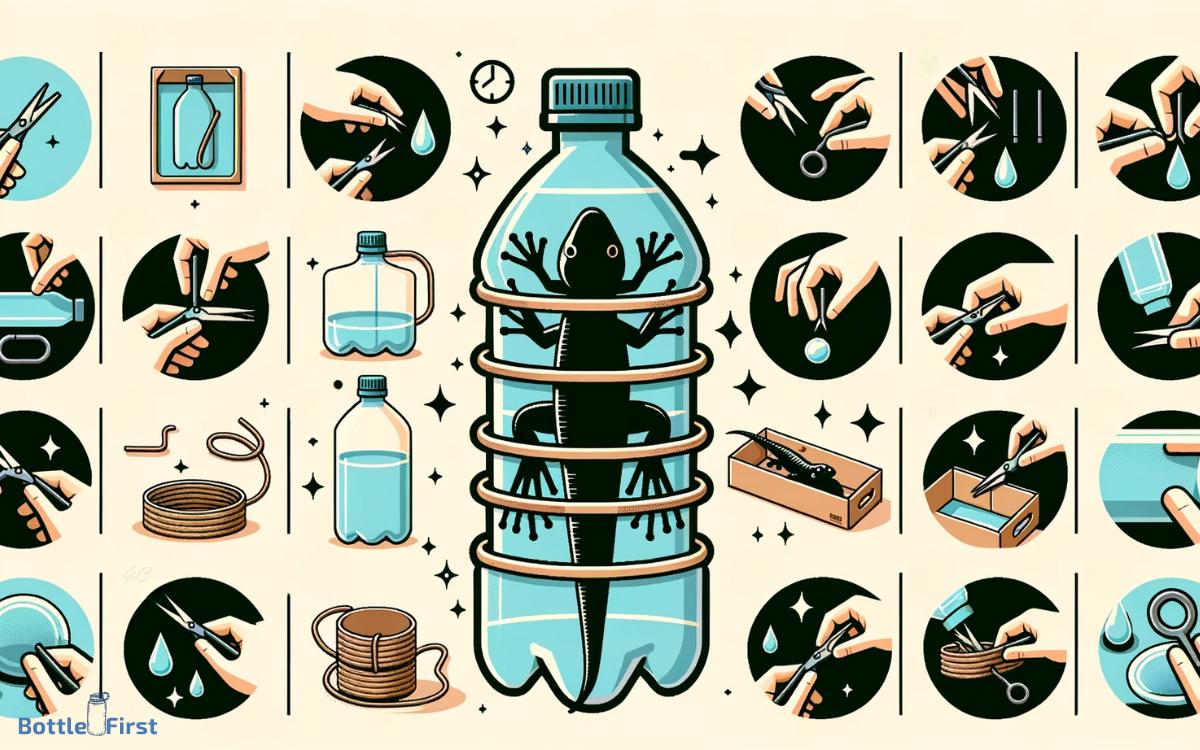 Crafting a Lizard Trap Using a Water Bottle
If you're dealing with unwanted lizards in your home or garden, making a simple lizard trap using a water bottle can be an effective and humane solution. Follow these easy steps to create your own lizard trap
Materials Needed:
You will require an empty plastic water bottle, scissors, tape, and a bait of your choice (insects, small food scraps, or fruit).
Step 1: Prepare the Water Bottle
Remove the Cap: Take off the cap and set it aside. Make sure the bottle is clean and free of any liquids or residue.
Step 2: Cut the Bottle
Cut the Top Off: Using scissors, carefully cut the top of the water bottle, just below the point where the bottle begins to narrow towards the neck.
Step 3: Invert the Top
Invert the Cut Top: Turn the cut top piece upside down (with the bottle cap opening facing downwards) and fit it back into the bottle, so it resembles a funnel.
Step 4: Secure the Funnel
Use Tape: Secure the inverted top part of the bottle in place by taping it to the lower section of the bottle. Make sure it's firmly attached and forms a funnel shape.
Step 5: Bait the Trap
Place Bait Inside: Place your chosen bait inside the bottle, at the bottom. Lizards will be lured in by the scent of the bait.
Step 6: Set the Trap
Position the Trap: Place the trap in an area where you've seen lizards or suspect their presence. Ensure the trap is stable and won't tip over.
Step 7: Monitor the Trap
Check Regularly: Check the trap periodically to see if any lizards have been caught. Once a lizard is inside, it will have difficulty escaping.
Step 8: Release or Relocate
Release the Lizard: If you've caught a lizard, carefully remove the tape to open the trap and release the lizard outside. Be gentle to avoid harm.
Using this DIY lizard trap, you can safely and easily capture lizards without causing harm to them.
Just remember to check the trap regularly and release the lizards back into their natural habitat once captured. the balance of nature while satisfying our curiosity about these fascinating creatures.
Safety Considerations
Safety considerations are essential for protecting individuals and property from harm, preventing accidents, and ensuring the well-being of people in various contexts.
These considerations are relevant in everyday life, workplaces, public spaces, and a wide range of activities.
Personal Safety:
Physical Safety: Avoid actions or behaviors that can lead to physical harm, such as using proper body mechanics, wearing safety gear, and being cautious around potentially dangerous objects or situations.
Health and Hygiene: Maintain good hygiene practices to prevent the spread of illness and infections. This includes regular handwashing and the safe disposal of waste.
Self-Defense: Learn basic self-defense techniques and strategies to protect yourself in potentially dangerous situations.
Emergency Preparedness: Be prepared for emergencies by having emergency kits, knowing evacuation plans, and being familiar with first-aid procedures.
Home Safety:
Fire Safety: Install smoke detectors, and fire extinguishers, and develop a fire escape plan for your home. Regularly check electrical systems, appliances, and heating equipment.
Childproofing: Childproof your home by securing cabinets, using safety gates, and keeping harmful substances out of reach of children.
Home Security: Implement security measures, such as locking doors and windows, installing security systems, and being cautious with strangers.
Fall Prevention: Minimize the risk of falls by securing rugs, using non-slip mats, and ensuring good lighting in your home.
Workplace Safety:
Occupational Health and Safety: Employers should adhere to workplace safety regulations, provide appropriate training, and ensure a safe working environment for employees.
Use of Safety Equipment: Wear protective gear and equipment as required for specific jobs, such as helmets, gloves, goggles, and respirators.
Ergonomics: Create ergonomic workspaces to reduce the risk of musculoskeletal injuries, like carpal tunnel syndrome or back pain.
Chemical Safety: Handle and store hazardous chemicals in accordance with safety data sheets and guidelines. Provide proper ventilation and personal protective equipment for chemical handling.
Transportation Safety:
Vehicle Safety: Regularly maintain and inspect vehicles, wear seatbelts, and follow traffic rules to reduce the risk of accidents.
Pedestrian Safety: Be cautious while walking or crossing roads, and always use pedestrian crosswalks and traffic signals.
Public Transportation: Follow safety guidelines when using public transportation, and be aware of emergency exits and procedures.
Outdoor and Recreational Safety:
Water Safety: Follow water safety rules when swimming or boating, and wear life jackets if necessary.
Camping Safety: Be prepared with proper camping equipment, including first-aid kits, and follow camping safety guidelines.
Sports Safety: Use appropriate safety gear for sports activities and follow sports-specific safety recommendations.
Wildlife Safety: Be aware of potential wildlife encounters in outdoor settings and follow guidelines for safe interactions.
Digital Safety:
Cybersecurity: Protect your online presence by using strong passwords, avoiding suspicious websites, and installing antivirus software.
Online Privacy: Safeguard personal information and be cautious about sharing it online.
Social Media Safety: Practice responsible behavior on social media platforms and be wary of sharing sensitive information.
Food and Kitchen Safety:
Food Handling: Follow proper food safety practices, including washing hands, refrigerating perishables, and cooking food to the recommended temperatures.
Kitchen Safety: Prevent kitchen accidents by using safe cooking techniques, keeping knives and other sharp objects out of reach, and maintaining kitchen equipment.
Safety considerations are essential for minimizing risks and creating a secure environment for individuals and communities.
Adhering to safety guidelines and promoting awareness of safety practices is crucial for preventing accidents and ensuring well-being in various aspects of life.
Placement and Deployment
The placement and deployment of traps, whether they are for pest control, safety, or other purposes, is crucial for their effectiveness and safety.
Proper placement and deployment ensure that traps serve their intended purpose while minimizing risks to non-target species, including humans and pets.
Identify the Target:
Before placing traps, identify the specific pest or target you want to address. Knowing the habits, movement patterns, and behavior of the target species helps in proper placement.
Choose the Right Type of Trap:
Select a trap that is appropriate for the target species and your goals, whether you want to capture, deter, or exterminate the pests.
Follow Manufacturer Instructions:
Always follow the manufacturer's instructions for the setup and deployment of traps. Different trap types may have specific guidelines for use.
Consider Safety:
Ensure that traps are not accessible to children, pets, or non-target wildlife. Use childproofing measures or place traps out of their reach.
Location Selection:
Place traps in areas where the target species is known to frequent or where evidence of their presence is evident. This might include entry points, nesting areas, feeding stations, or travel paths.
Minimize Handling:
Minimize your contact with traps, especially if they are intended for live capture or may carry disease. Wear gloves when handling traps and captured pests.
Secure Placement:
Ensure that traps are securely placed or anchored to prevent the target species from escaping or moving the traps.
Concealment and Discretion:
For safety and aesthetics, consider concealing or disguising traps to avoid alarming or alarming neighbors, visitors, or passersby.
Regular Monitoring:
Check traps regularly to prevent suffering in captured animals and to ensure traps are not damaged or malfunctioning.
Recordkeeping:
Maintain records of trap placement and the results achieved. This can help refine your trapping strategy over time.
Environmental Considerations:
Consider the potential environmental impact of traps, especially for outdoor use. Avoid trapping endangered or protected species, and be mindful of ecosystems and habitats.
Release Protocols:
If you are using live-capture traps, have a plan for releasing captured animals in a safe and suitable location away from human habitations.
Disposal of Pest Species:
Have a safe and hygienic process for disposing of pests, especially if traps are designed for lethal capture.
Adhere to Local Regulations:
Check local regulations and laws governing trap use, hunting, and wildlife management. Comply with these regulations to avoid legal issues.
Effective placement and deployment of traps depend on the specific purpose of the traps and the nature of the target species.
Ensuring that traps are used in a responsible and humane manner is important for both achieving your objectives and maintaining ethical standards.
Outdoor vs. Indoor Traps
Traps can be used for various purposes, such as pest control, hunting, and safety. The choice between outdoor and indoor traps depends on the specific context, the target, and the desired outcome.
Outdoor Traps:
Pest Control: Outdoor traps are often used to control outdoor pests like rodents, insects, and wildlife. They are designed to capture or deter animals that can damage gardens, crops, or property.
Location: Outdoor traps are placed in outdoor environments, such as gardens, fields, and yards, where pests or animals are causing issues.
Durability: Outdoor traps are typically designed to withstand exposure to the elements, including rain, wind, and sunlight. They are made from weather-resistant materials.
Types: Common outdoor traps include live animal traps, baited rodent traps, insect traps, and outdoor insect zappers.
Hunting and Fishing: Outdoor traps are used in hunting and fishing for capturing game or catching fish. These traps can vary widely, from snares to fish nets.
Safety: Outdoor traps should be placed away from areas frequented by people and pets to minimize the risk of accidental contact.
Environmental Impact: Consider the environmental impact when using outdoor traps, especially when dealing with non-target species or wildlife conservation areas.
Indoor Traps:
Pest Control: Indoor traps are designed to capture or kill indoor pests like insects, rodents, and spiders. They are commonly used in homes, commercial spaces, and storage areas.
Location: Indoor traps are placed indoors, within buildings or enclosed spaces, where pests are present.
Safety: Indoor traps are designed to minimize the risk of harm to humans and pets. They are generally safer for indoor use but should still be used with caution.
Types: Indoor traps include snap traps, glue traps, ultrasonic pest repellers, and various insect traps for common household pests.
Hygiene: Indoor traps are typically designed to be discreet, easy to handle, and easy to dispose of to maintain a hygienic indoor environment.
Non-Lethal Options: Many indoor traps are designed to capture pests live, allowing for their safe release outdoors. This approach is often favored for humane pest control.
Childproofing: Indoor traps should be childproofed and placed out of reach of children to prevent accidents.
The choice between outdoor and indoor traps should be based on the specific pest or target, the environment in which the trap will be used, and any safety and environmental considerations.
When using traps, it's important to follow local regulations, use them responsibly, and take into account the welfare of both the target and non-target species.
Conclusion
FAQ About How To Make A Lizard Trap With A Water Bottle
How Does A Lizard Trap With A Water Bottle Work?
A lizard trap with a water bottle works by luring the lizard into the bottle with bait and trapping it inside.
What Materials Do I Need To Make A Lizard Trap With A Water Bottle?
To make a lizard trap with a water bottle, you will need a plastic water bottle, scissors, tape, and some bait like insects or small pieces of fruit.
Can I Use Any Type Of Water Bottle For A Lizard Trap?
Yes, you can use any type of plastic water bottle for a lizard trap as long as it has a narrow opening that the lizard can enter but not easily escape from.
Is It Safe To Use A Lizard Trap With A Water Bottle?
Yes, it is safe to use a lizard trap with a water bottle as long as you handle the trapped lizard with care and release it outdoors away from your home.