How to Make Maracas With Water Bottle? 7 Easy Steps
To make maracas with a water bottle, you'll need an empty water bottle, some uncooked rice or beans, and decorative materials such as stickers, paint, or glitter.
Fill the water bottle with the rice or beans up to one-third of the height. Secure the bottle cap tightly, then decorate the outside as desired.
Creating maracas with a water bottle is a simple and fun DIY project that can be done at home.
This is not only a craft activity but also an opportunity to create a musical instrument and an outlet for creativity.
Kids can enjoy the making process and use the final product for making music.
Easy-to-find materials: The materials needed to make maracas with a water bottle are readily available.
Kid-friendly activity: This craft is safe and appropriate for children of all ages.
Creativity and artistry: Decorating the water bottle allows kids to express their artistic side.
Educational tool: This project can teach children about recycling and reusing, as well as the basics of music and rhythms.
Making maracas with a water bottle is an excellent family activity that encourages creativity and resourcefulness.
Not only does it teach kids the importance of reusing and recycling materials, but it also allows them to explore the basics of music and rhythm.
This budget-friendly project can turn an ordinary day into a fun-filled, educational experience.
7 Steps to Make Maracas With Water Bottle
| Step Number | Instructions |
| --- | --- |
| 1 | Gather the necessary materials: A plastic water bottle, dried beans or rice, a paintbrush, acrylic paint, and duct tape. |
| 2 | Remove any labels from the plastic water bottle and make sure it is thoroughly clean and dry. |
| 3 | Fill the plastic bottle about a third of the way full with dried beans or rice. |
| 4 | Securely close the cap of the water bottle. For added security and to prevent spills, wrap the cap in duct tape. |
| 5 | Use the paintbrush to apply acrylic paint to the outside of the water bottle. You can be as creative as you want with this step, adding multiple colors or designs. |
| 6 | Allow the paint to fully dry before handling. This could take a few hours, so it's crucial to be patient. |
| 7 | After the maraca is dry, it's ready to be used! Shake it to test out the sound. |
7 Steps to Make Maracas With Water Bottle
Key Takeaway
Making maracas with a water bottle is an easy and fun DIY activity that can be done with children.
This activity not only cultivates creativity but also enhances the understanding of sound and music.
Using recycled materials such as water bottles for this project supports environmental sustainability.
Homemade maracas can be personalized and decorated to cater to individual aesthetic preferences.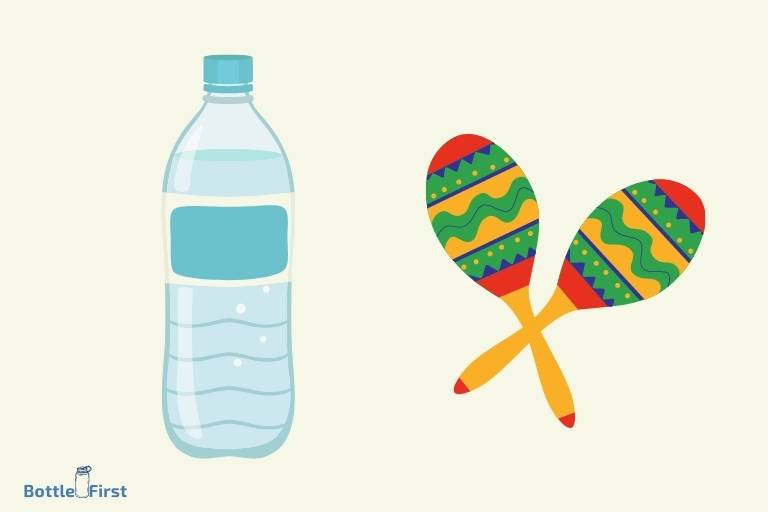 5 Fun Facts About Making Maracas With Water Bottle
A maraca is a musical instrument used in several Latin American cultures. It's usually made up of a hollow gourd filled with seeds, beans, or small pebbles. (source: Britannica)
Making maracas using a water bottle is a simple process. The basic materials needed apart from the water bottle are some dry rice or beans, and decorative materials such as stickers and ribbons. (source: Wikihow)
This DIY project is a great way to incorporate learning about sound. By using different materials inside the bottle such as rice, beans, or pebbles, different sound effects can be produced. (source: Science Kids at Home)
Besides being a fun and educational process, making maracas out of water bottles is an excellent way to reuse or recycle plastic. This can teach kids about the importance of recycling and reducing waste. (source: Kids Crafts)
This DIY maraca project can be personalized according to one's preference. The water bottles can be painted or decorated with a variety of materials to make the maracas not only sound but also look appealing. (source: Fun 365)
Materials Needed
To make your own maracas using a water bottle, you will need the following materials:
Empty water bottle: Find a clean and empty plastic water bottle that you can use as the base for your maracas.
Small beads or rice: These will act as the filling inside the water bottle, creating the shaking sound when you play the maracas. You can use either small beads or rice, depending on what you have available.
Decorative materials (optional): If you want to get creative and make your maracas look more interesting, you can gather decorative materials like colorful tape, stickers, or ribbons.
Strong tape or glue: You'll need a sturdy adhesive like strong tape or glue to secure the top of the water bottle and prevent any beads or rice from falling out.
Paint and paintbrush (optional): If you want to give your maracas a personalized touch, you can use paint and a paintbrush to decorate the outside of the water bottle. This step is completely optional but can add a fun and colorful element to your maracas.
Scissors: Scissors will come in handy for cutting any materials, such as tape or ribbon, and for trimming any excess after securing the top of the water bottle.
Now that you have gathered all the necessary materials, it's time to start making your very own maracas with a water bottle.
Follow the step-by-step instructions to create your musical instrument and enjoy the rhythmic sound it produces.
Get ready to shake things up!
Step 1: Prepare The Water Bottle
Before you can start making your own maracas with a water bottle, you need to prepare the bottle first.
Follow these simple steps to get started:
Remove the label from the water bottle: Begin by peeling off the label on the water bottle. You can use your fingers or a sharp object to help with this process. Make sure to remove all parts of the label to have a clean surface for your maracas.
Rinse the bottle thoroughly to remove any residue: Next, rinse the bottle under running water to get rid of any sticky residue left behind by the label. Use your hands or a sponge to scrub the surface if necessary. Make sure to rinse both the inside and outside of the bottle.
Let it dry completely before proceeding: After rinsing, it's important to let the bottle dry completely to avoid any water droplets or moisture that could affect the maracas' sound. Place the bottle upside down on a clean cloth or paper towel and allow it to air dry for a few hours.
Once you've completed these steps, your water bottle is all set and ready to be transformed into a fun musical instrument. Let's move on to the next step to continue making your homemade maracas.
Step 2: Add The Filling
To create your homemade maracas, it's time to add the filling to the water bottle. This step is crucial for achieving the desired sound quality.
Here's what you need to know:
Pour small beads or rice into the water bottle: Take small beads or rice grains and carefully pour them into the opening of the water bottle. This filling will create the rattling sound when the maracas are shaken.
Adjust the amount of filling based on your desired sound: The quantity of beads or rice you add will determine the sound produced by your maracas. Experiment with different amounts to find the perfect balance for your preference.
Avoid overfilling to ensure proper sound production: It's important not to overfill the water bottle, as this can hinder the sound quality. Leave enough space for the filling to move around freely and create the desired shaking sound.
By following these simple steps, you'll be well on your way to crafting your own maracas with just a water bottle and some filling.
Enjoy the process and get ready to shake it up with your homemade musical instrument!
Remember, step 2 is an important part of making maracas, as it involves adding the filling that will create the signature sound.
Whether you choose beads or rice, finding the right amount is key to achieving the perfect rattling sound.
Don't forget to avoid overfilling the water bottle to ensure optimal sound production. Get creative and have fun with your custom-made maracas!
Step 3: Seal The Bottle
When it comes to making maracas with water bottles, it's crucial to properly seal the bottle to ensure the filling stays in place.
Follow these steps to securely close the bottle cap or use strong tape for a tight seal:
Securely close the bottle cap: Twist the cap tightly until it is firmly secured on the bottle. This will prevent any leaks or spillage during use.
Use strong tape to seal it: If your bottle does not have a cap or you want extra protection, you can use strong tape to seal the opening. Wrap the tape tightly around the neck of the bottle, making sure it is secure and won't come loose.
Double-checking for any potential leaks is an important step to avoid any unexpected messes.
Follow these guidelines to ensure the bottle is properly sealed:
Inspect the seal: After closing the bottle or using tape, visually inspect the seal to make sure there are no gaps or openings.
Test for leaks: Fill the bottle with a small amount of water and gently shake it. Look for any signs of leakage around the cap or tape. Adjust the seal if necessary to prevent any spills or accidents.
Lastly, it's essential to make sure the filling is contained within the bottle. This will ensure that the maracas produce the desired sound and are safe to use.
Here's how to ensure the filling stays in place:
Secure the filling: Before sealing the bottle, ensure that the filling, such as rice or beans, is properly placed inside. Use a funnel or small spoon to carefully pour the filling into the bottle. Avoid overfilling, as it may impede the sound or cause the maracas to burst open.
Remember, maintaining a tight seal and containing the filling within the bottle will result in well-functioning maracas that provide the desired rhythmic sound.
Enjoy creating and using your homemade maracas with ease and confidence!
Step 4: Optional Decoration
Now that you have your basic maracas prepared, it's time to let your creative side shine! Personalize them with some fun and vibrant decorations.
Here are a few ideas to get you started:
Use Paint And A Paintbrush To Decorate The Outside Of The Bottle:
Choose your favorite colors and create unique patterns on the bottle.
Experiment with different brush strokes to add texture and depth.
Don't be afraid to mix and match colors to achieve a vibrant look.
Let Your Creativity Shine With Colors And Patterns:
Consider using bright and contrasting colors to make your maracas stand out.
Opt for patterns like stripes, polka dots, or even splatter paint for a playful touch.
Use multiple colors to create a rainbow effect for a fun and eye-catching design.
Add Glitter, Stickers, Or Other Decorative Materials If Desired:
Add some sparkle to your maracas by sprinkling glitter on the painted surface.
Use adhesive stickers to create shapes, initials, or fun designs.
Other decorative materials like ribbons, sequins, or even mini pompoms can be attached to the bottles for an extra touch of flair.
Remember, the decorations are entirely up to you and your personal style. Feel free to experiment and let your imagination run wild.
The more creative you get, the more unique and personal your maracas will be.
Have fun with it, and soon you'll have a pair of beautifully decorated maracas ready to make some joyful noise!
Step 5: Handle Creation
Creating a handle is an important step in making maracas with a water bottle. This will ensure that you have a comfortable grip to shake the maracas with ease.
Follow these instructions to make the perfect handle for your diy maracas:
Cut a strip of tape or cardboard: Start by cutting a strip of tape or cardboard that is long enough to serve as a handle for your maracas.
Attach the strip to the top of the bottle: Take the strip of tape or cardboard and attach it securely to the top of the water bottle. Make sure it is positioned in the center, allowing for an even weight distribution when shaking the maracas.
Create a handle: Once the strip is attached, fold it downwards to create a handle shape. This will give you a comfortable grip while using the maracas.
Ensure firm attachment: Check that the handle is firmly attached to the bottle. Press down on the tape or cardboard to ensure it is securely in place. You don't want it to come loose while playing the maracas.
Comfortable to hold: Test the handle's comfort by holding it in your hand. It should feel comfortable and ergonomic for you to grip and shake.
Remember, the handle serves as an essential part of the maracas, allowing you to control the sound and movement. Ensure it is securely attached and comfortable to hold before moving on to the next step.
By following these steps, you'll be one step closer to creating your own homemade maracas with a water bottle.
Enjoy the process and have fun making music with your diy instrument!
So go ahead and give it a try, you'll be surprised at how easy it is to make maracas with just a few simple materials.
FAQ About How To Make Maracas With Water Bottle
How Do You Make Maracas With A Water Bottle?
To make maracas with a water bottle, you will need some dried beans or rice to fill the bottle, and then seal it with tape or glue.
What Materials Do You Need To Make Maracas?
To make maracas, you will need a water bottle, dried beans or rice, tape or glue, and optionally, some decorations like paint or stickers.
How Do You Decorate Maracas Made With Water Bottles?
To decorate maracas made with water bottles, you can use paint, stickers, or any other craft supplies that appeal to your creativity.
How Do You Play Maracas?
To play maracas, hold one in each hand and shake them rhythmically to produce the desired sound. Experiment with different rhythms and styles.
What Are The Benefits Of Making Maracas With Water Bottles?
Making maracas with water bottles is a creative and inexpensive way to explore music and rhythm, while also promoting recycling and crafting skills.
Conclusion
With just a few simple steps, you can transform an ordinary water bottle into a fun and musical instrument – maracas!
This diy project is not only easy but also a great way to reuse and recycle plastic bottles.
By following the instructions provided in this blog post, you can create your own maracas in no time.
Whether you use them to add some rhythm to your music or to entertain your little ones, maracas are sure to bring joy and excitement to any occasion.
From decorating the bottles to filling them with different materials, the possibilities for customization are endless.
So, gather your supplies and get ready to make some music with your very own homemade maracas.