How to Reshape a Plastic Water Bottle? 8 Easy Steps
Have you ever found yourself with a plastic water bottle that's misshapen or perhaps you're looking to repurpose it for a different use? Reshaping a plastic water bottle is a practical skill that can help you restore its original form or adapt it to a new purpose.
In this step-by-step guide, we'll show you how to reshape a plastic water bottle safely and effectively.
With just a few simple materials and careful handling, you can give your plastic bottle a fresh lease on life. Let's dive in and learn how to reshape plastic water bottles.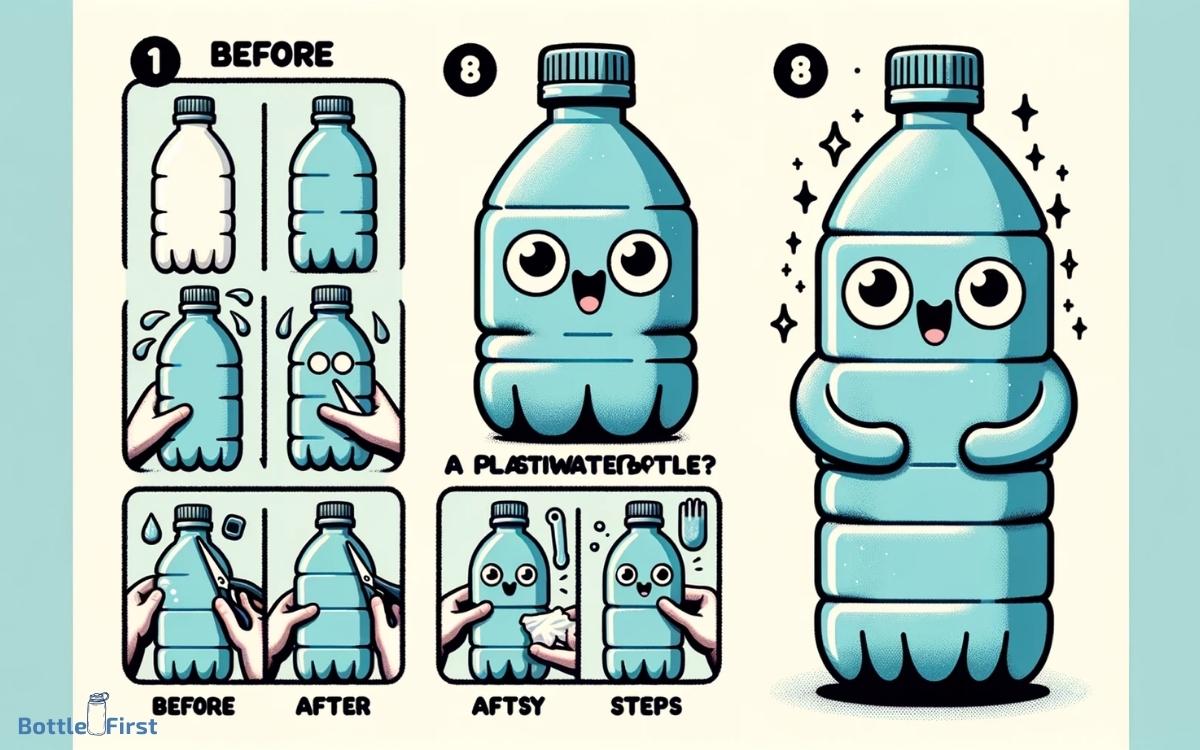 Reshaping Plastic Water Bottles: A Step-by-Step Guide
Reshaping a plastic water bottle can be useful for various purposes, whether you want to restore its original shape or repurpose it for a different use.
Materials Needed
Plastic water bottle
Boiling water
A heat-resistant container or pot
Cold water
Tongs or oven mitts
Ice (optional)
Step 1: Prepare Your Work Area
Make sure you have a clean and safe area to work in. Ensure good ventilation and keep any flammable materials away from your workspace.
Step 2: Boil Water
Boil a sufficient amount of water in a kettle or on the stovetop. You'll need enough to submerge the water bottle completely.
Step 3: Pour Boiling Water
Carefully pour the boiling water into a heat-resistant container or pot. Ensure the container is large enough to submerge the entire water bottle. Be cautious not to burn yourself during this step.
Step 4: Submerge the Bottle
Place the plastic water bottle into the boiling water. Ensure that it's fully submerged, and leave it there for a few minutes. The heat will make the plastic more pliable.
Step 5: Reshape the Bottle
After a few minutes, use tongs or oven mitts to carefully remove the water bottle from the boiling water. Gently reshape it to your desired form, being cautious not to touch the hot plastic directly. You can reshape the bottle by pressing, bending, or molding it with your hands.
Step 6: Cool Quickly (Optional)
If you want the new shape to set quickly, you can submerge the reshaped bottle into a container of cold water or ice. This will help the plastic cool and harden in its new shape.
Step 7: Test and Adjust
After cooling, check the bottle's shape. If it's not exactly how you want it, you can repeat the process by reheating and reshaping until you achieve the desired form.
Step 8: Clean the Bottle
Before using the reshaped bottle, make sure to clean it thoroughly to remove any residue from the heating process. Rinse it with soapy water, then rinse it again with clean water.
Keep in mind that while this method can reshape a plastic water bottle, it may not be suitable for all types of plastic bottles, and there may be limits to how extensively you can change the bottle's shape.
Be cautious throughout the process to avoid burns and use heat-resistant gloves or tools when necessary.
Why Reshape A Plastic Water Bottle?
If you've ever wondered why anyone would bother reshaping a plastic water bottle instead of simply tossing it in the recycling bin, keep reading.
In this section, we'll explore the key reasons why reshaping plastic water bottles can be beneficial for both the environment and your creative endeavors.
Reducing Plastic Waste Through Reshaping:
By reshaping plastic water bottles, you contribute to the reduction of plastic waste. Instead of adding to the overflowing landfills or polluting our oceans, reshaping and reusing plastic bottles can help minimize the environmental impact.
Reshaping allows you to give a second life to a single-use plastic bottle by transforming it into something useful or decorative. This not only saves resources but also helps reduce the demand for new plastic products.
With the increasing global concern for plastic pollution, reshaping plastic water bottles can be a simple and effective way for individuals to play their part in reducing plastic waste.
Exploring Creative Uses For Plastic Bottles:
Reshaping plastic bottles opens up a whole world of creative possibilities. With a little imagination and experimentation, you can turn a simple water bottle into a unique piece of artwork, a practical storage solution, or a fun diy project.
Plastic bottle reshaping offers endless options for crafting and upcycling. From creating planters and vases to designing jewelry and accessories, the only limit is your creativity.
Many people find reshaping plastic bottles to be an enjoyable and fulfilling activity. It allows you to express your artistic side while also contributing to the sustainability efforts in your own small way.
Remember, reshaping plastic water bottles is not just about the end result; it's a chance to make a positive impact on the environment while exploring your creativity.
So next time you're about to throw away an empty plastic water bottle, consider giving it a second life through reshaping.
Creative Uses For Reshaped Plastic Water Bottles
As concerns about the environment continue to grow, finding creative ways to repurpose plastic water bottles has become more popular than ever.
Instead of tossing them in the trash, consider reshaping them into something useful and beautiful.
Here are some innovative ideas for giving your plastic water bottles a new lease on life:
Planters And Vases
Transform your plastic water bottles into charming planters and vases to bring a touch of greenery into your home or office.
Here are some key points to consider:
Cut the top off a water bottle and use the bottom as a planter for small indoor plants like succulents or herbs.
Create a unique vase by painting and decorating the outside of a water bottle and inserting a bouquet of fresh flowers.
Hanging planters can be made by cutting the bottle in half, drilling holes in the sides for strings, and filling it with soil and plants.
Storage Containers And Organizers
Plastic water bottles can serve as handy storage containers and organizers, helping you keep things neat and tidy.
Consider the following ideas:
Cut off the top of a water bottle and use the bottom half to hold loose change, paperclips, or other small items.
Create a diy pen holder by covering a water bottle with fabric or washi tape and adorning it with buttons or ribbons.
Use larger water bottles to store craft supplies, such as buttons, beads, or paintbrushes.
Upcycled Home Decor
Add a unique touch to your home decor by repurposing plastic water bottles in creative ways.
Check out these suggestions:
Make a beautiful chandelier by cutting water bottles into strips and painting them in different colors before attaching them to a circular frame.
Create a stunning wall art piece by cutting water bottles into flower shapes, painting them, and arranging them on a canvas or wooden board.
Fashion an eye-catching lampshade by cutting the bottoms off water bottles, painting them, and stringing them together with wire or fishing line.
Art And Craft Projects
Plastic water bottles can be a versatile medium for various art and craft projects, allowing your creativity to shine.
Consider the following key points:
Cut water bottles into different shapes to create stencils for painting or drawing.
Use the tops of water bottles as paintbrush holders or paint palettes.
Transform water bottle bottoms into unique jewelry pieces by painting, varnishing, and adding beads or chains.
Diy Toys And Games
Plastic water bottles can also be repurposed to create fun toys and games for children or even adults.
Explore these creative ideas:
Craft a diy bowling set by filling water bottles partially with sand or water and decorating them as bowling pins.
Create a homemade sensory bottle by filling a water bottle with water, glitter, and small objects like buttons or beads.
Make a fun and challenging toss-and-catch game by cutting off the bottom of a water bottle and using it as a projectile target.
With a little creativity and imagination, plastic water bottles can be transformed into something extraordinary.
So, the next time you finish a bottle of water, think twice before tossing it out and consider reshaping it into a useful and beautiful creation.
Let your creativity flow and help reduce waste at the same time!
Tips For Effective Plastic Bottle Reshaping
Reshaping a plastic water bottle can be a fun and creative way to repurpose it instead of simply throwing it away.
With a few tips and tricks, you can transform an ordinary plastic bottle into something new and useful.
Choose The Right Plastic Bottle
Select a plastic water bottle that is clean and free from any residue or contaminants. It is best to choose a bottle made from a flexible plastic material, such as pet or hdpe.
Ensure that the bottle does not have any indentations or deformations, as this can affect the reshaping process.
Experiment With Different Heat Sources
Heat is the key to reshaping a plastic bottle. There are various heat sources you can try, such as a heat gun, hair dryer, or even a candle flame. Each heat source has its own advantages and disadvantages, so experimentation is key.
When using a heat gun or hairdryer, adjust the temperature to a medium setting to avoid melting the plastic too quickly or unevenly.
If using a candle flame, carefully rotate the bottle over the flame to evenly distribute the heat. Take caution to avoid burning yourself or causing a fire.
Be Patient And Take Your Time
Reshaping a plastic bottle requires patience and time. It is crucial to heat the plastic slowly and evenly to achieve the desired shape.
Start by heating a small section of the bottle and gradually move along the desired reshaping area. Avoid applying too much heat in one spot as it can cause the plastic to warp or melt.
Allow the plastic to cool and set before attempting any further reshaping or modifications.
Practice Safety Measures
Safety should always be a priority during the plastic bottle reshaping process. Make sure to work in a well-ventilated area to avoid inhaling any fumes or toxic gases.
Wear heat-resistant gloves to protect your hands from burns and handle the heated bottle with caution.
Keep a bucket of water or a fire extinguisher nearby in case of any accidents or emergencies.
Embrace Imperfections And Have Fun
It's important to remember that plastic bottle reshaping is an art form, and each piece may have its own unique imperfections. Embrace these imperfections and consider them part of the charm.
Let your creativity flow and have fun during the reshaping process. Experiment with different shapes and designs, and don't be afraid to try new techniques.
By following these tips, you can effectively reshape a plastic water bottle and transform it into something unique and useful.
Remember to exercise caution and enjoy the process of creating something new out of an ordinary object. Get started on your plastic bottle reshaping project and let your imagination soar!
Conclusion
To conclude, reshaping plastic water bottles is a simple yet impactful way to reduce waste and contribute to a more sustainable future.
By following the steps outlined you can easily transform your old bottles into useful objects, such as planters, storage containers, or even creative sculptures.
Remember to take precautions when working with heat and always prioritize your safety. With creativity and resourcefulness, you can turn what was once considered trash into something beautiful and functional.
Not only will this save money and help reduce plastic waste, but it will also inspire others to adopt more eco-friendly practices.
So, why not give it a try? Start reshaping those plastic water bottles today and make a positive difference in the world, one bottle at a time. Together, we can create a cleaner and greener planet for future generations.
FAQ About How To Reshape A Plastic Water Bottle
How Can I Reshape A Plastic Water Bottle?
To reshape a plastic water bottle, you can use heat by immersing it in hot water or using a hairdryer to soften the plastic. Once pliable, you can mold it with your hands into the desired shape.
Can I Use Boiling Water To Reshape A Plastic Water Bottle?
Yes, you can use boiling water to reshape a plastic water bottle. However, be cautious as the high temperature of boiling water can cause the plastic to become too soft and lose its shape.
Is It Safe To Reshape A Plastic Water Bottle?
Reshaping a plastic water bottle can be safe if done properly and with caution.
However, it's important to note that constantly reshaping a plastic water bottle can compromise its structural integrity and make it more prone to leakage.
How Long Does It Take To Reshape A Plastic Water Bottle Using Hot Water?
The time it takes to reshape a plastic water bottle using hot water varies. It can range from a few minutes to around 10-15 minutes, depending on the thickness of the plastic and the desired shape.
Can I Reshape A Plastic Water Bottle Multiple Times?
It is possible to reshape a plastic water bottle multiple times, but it's important to note that frequent reshaping can weaken the plastic and increase the risk of leaks. It's best to reshape the bottle only when necessary.