How to Sell a Water Bottle? 10 strategies!
To effectively sell water bottles in today's eco-conscious market, you need to focus on key strategies such as understanding your target audience, highlighting sustainable features, leveraging social proof, and creating a strong online presence.
Emphasizing the bottle's design, durability, and contribution to reducing plastic waste can also be pivotal in appealing to environmentally aware customers.
Ensure your marketing efforts are consistent across various platforms to maximize reach and impact.
Here are some quick steps:
Identify Your Target Market: Research and understand who would benefit most from your product. For instance, athletes, outdoor enthusiasts, or eco-friendly consumers might be your ideal customers.
Highlight Sustainability: Since eco-friendliness is a significant selling point, showcase how your bottles are sustainable, whether through the materials used or the manufacturing process.
Leverage Social Proof: Use testimonials, reviews, and influencer partnerships to build trust and credibility.
Online Presence: Develop a user-friendly website and utilize social media to engage with customers and promote your products.
Design and Durability: Offer attractive and sturdy bottles that promise longevity and style.
Reduce Plastic Waste: Communicate how purchasing your bottle helps in the fight against plastic pollution.
Example: If your water bottle is made from recycled materials, make sure to emphasize this in your product descriptions and marketing campaigns.
By aligning your water bottle's value proposition with the values of your target audience, you can carve out a niche in the competitive hydration marketplace.
Your commitment to quality, design, and sustainability will resonate with consumers looking for responsible products.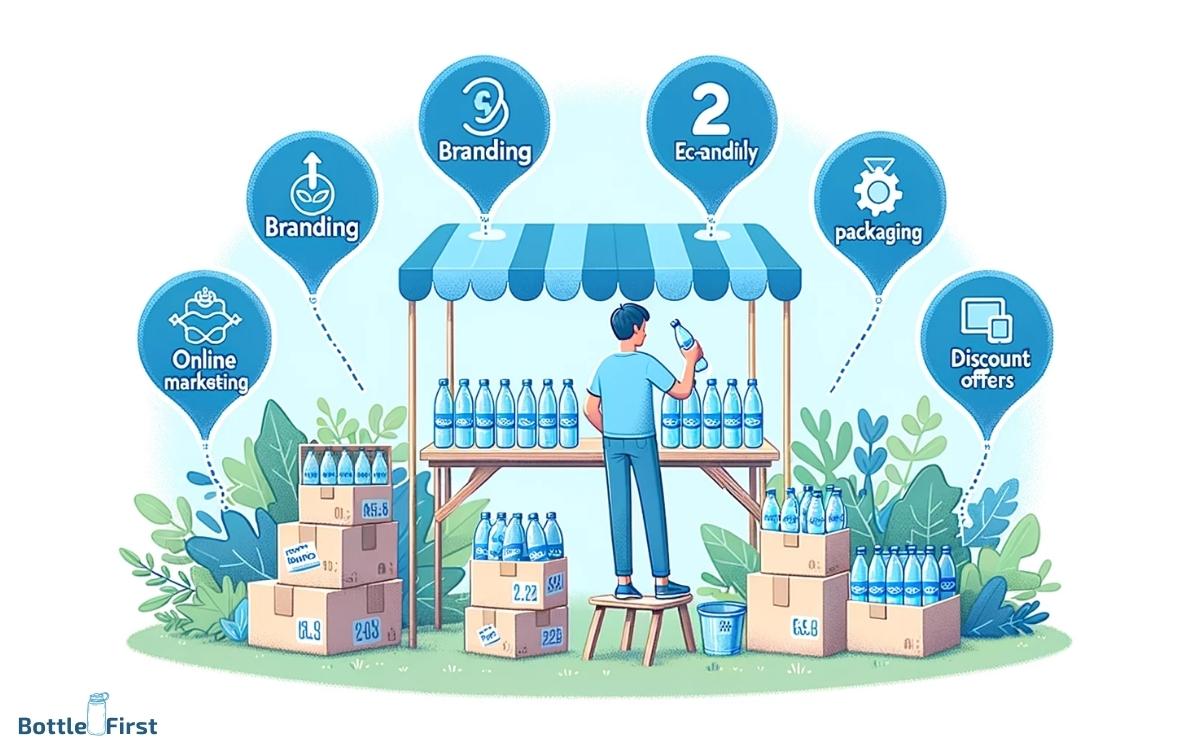 Key Takeaway
Understanding the target market and highlighting sustainability is crucial for selling a water bottle.
Leveraging social proof and creating a strong online presence helps build trust and credibility.
Design and durability are important factors in attracting customers and differentiating the product.
Conducting competitor price analysis and implementing price differentiation tactics can help maximize value and profitability.
Step 1: Identifying Your Target Market
Before selling a water bottle, it's crucial to identify the target market to tailor your marketing efforts effectively. In today's dynamic marketplace, understanding the nuances of consumer behavior is imperative for success.
To truly resonate with the modern consumer, innovation is key. By identifying your target market, you can pinpoint their specific needs, preferences, and pain points. This enables you to innovate and create a product that aligns seamlessly with your lifestyle.
Whether it's a unique design, sustainable materials, or integrated technology, your water bottle can stand out by addressing unmet needs and offering a solution that resonates with your target market.
Through innovative market research and a deep understanding of consumer insights, you can position your water bottle as a must-have accessory for your target market, driving sales and brand loyalty.
Step 2: Choosing the Right Water Bottle
To effectively sell a water bottle, it is essential to select the appropriate type that aligns with the needs and preferences of your target market.
When choosing the right water bottle, consider factors such as material, design, and additional features.
Here's a comparison table to help you make an informed decision:
| Material | Design | Additional Features |
| --- | --- | --- |
| Stainless Steel | Sleek and modern | Insulation for temperature retention |
| Glass | Elegant and eco-friendly | Silicone sleeve for protection |
| BPA-free Plastic | Lightweight and versatile | Built-in fruit infuser for flavor options |
Choosing the Right Water Bottle
Step 3: Effective Branding and Packaging
When it comes to selling a water bottle, effective branding and packaging play a crucial role in capturing the attention of consumers.
Visual brand identity helps in creating a strong and memorable impression, while packaging functionality and design contribute to the overall user experience.
Additionally, storytelling through packaging can create an emotional connection and convey the unique qualities of the product.
Visual Brand Identity
Developing a compelling visual brand identity is essential for effectively marketing and selling a water bottle.
In today's competitive market, visual branding and packaging play a crucial role in capturing consumer attention and driving purchasing decisions.
To achieve a strong visual brand identity for a water bottle, consider the following:
Distinctive Design: Create a visually appealing and unique bottle design that stands out on the shelves. Incorporate innovative shapes, materials, or labeling techniques to differentiate the product.
Consistent Branding: Ensure that the visual elements, such as logos, colors, and fonts, are consistently applied across all packaging and marketing materials. This fosters brand recognition and builds consumer trust.
Storytelling Through Visuals: Use imagery and graphics that tell a compelling story about the product's benefits and values. Engage consumers by visually communicating the brand's narrative and purpose.
Packaging Functionality and Design
Building upon the importance of visual brand identity, the functionality and design of packaging play a critical role in effectively marketing and selling a water bottle.
Innovative packaging not only attracts consumers but also enhances brand recognition and loyalty. When designing the packaging for a water bottle, it's essential to consider both the functional and aesthetic aspects.
The table below illustrates key elements to consider when creating an effective water bottle packaging design.
| Functionality | Design |
| --- | --- |
| Leak-proof | Eye-catching |
| Easy to hold | Unique shape |
| Environmental impact | Visually appealing |
| Information clarity | Brand consistency |
Packaging Functionality and Design
Storytelling Through Packaging
The packaging of a water bottle serves as a powerful tool for effective branding and storytelling, allowing brands to communicate their values and narratives to consumers.
Distinctive Visuals: The packaging should incorporate visually compelling elements that align with the brand's story and values, creating an emotional connection with consumers.
Compelling Copy: Utilize engaging and impactful copy on the packaging to convey the brand's message and create a memorable experience for the consumer.
Sustainability Messaging: Incorporate sustainability-focused messaging on the packaging to showcase the brand's commitment to environmental responsibility, resonating with eco-conscious consumers.
Effective storytelling through packaging can differentiate a brand in a crowded market, influencing consumer perceptions and purchase decisions. This sets the stage for the subsequent section on setting competitive pricing.
Step 4: Setting Competitive Pricing
As we shift our focus to setting competitive pricing for your water bottle, it's crucial to consider value-based pricing strategies, competitor price analysis, and price differentiation tactics.
These three key points will help you navigate the complexities of pricing in a competitive market, ensuring that your product stands out and attracts customers while also maximizing profitability.
Value-Based Pricing Strategies
Utilizing a value-based pricing strategy is essential for establishing competitive pricing in the market for selling water bottles.
This approach focuses on the perceived value of the product to the customer rather than solely on production costs.
To implement an effective value-based pricing strategy, consider the following:
Understand the customer's needs and the problem your water bottle solves. This insight helps in determining the value it offers to the customer.
Differentiate your water bottle from competitors by highlighting unique features or benefits that justify a higher price point.
Regularly assess customer feedback and market trends to adjust pricing in line with perceived value.
By aligning the price of your water bottle with the value it provides, you can effectively position it in the market and attract discerning customers seeking innovative solutions.
Transitioning into the subsequent section about 'competitor price analysis', let's now explore how to analyze and leverage competitor pricing strategies.
Competitor Price Analysis
To establish competitive pricing for selling a water bottle, it is crucial to analyze and leverage competitor pricing strategies. Conducting a competitor price analysis involves studying the pricing of similar water bottles in the market.
This analysis should consider various factors such as the quality of the bottle, brand positioning, and unique selling points.
By understanding the pricing strategies of competitors, a seller can set competitive prices that not only reflect the value of the product but also differentiate it in the market.
Leveraging this analysis allows for the development of innovative pricing models that can attract customers while maintaining profitability.
Additionally, it provides insights into consumer perceptions of pricing, enabling the creation of compelling value propositions.
Ultimately, a comprehensive competitor price analysis is essential for setting competitive pricing that drives sales and sustains market relevance.
Price Differentiation Tactics
Competitive pricing for selling a water bottle requires strategic price differentiation tactics that emphasize value and distinctiveness in the market.
To achieve this, consider the following tactics:
Tiered Pricing: Offer different versions of the water bottle at varying price points, such as a basic model, a premium model with added features, and a limited-edition version.
Bundling and Cross-Selling: Create value by bundling the water bottle with related products or offering discounts for purchasing multiple bottles.
Dynamic Pricing: Implement dynamic pricing strategies based on factors like demand, time of purchase, or customer segments to optimize revenue and competitiveness.
Step 5: Develop a Marketing Strategy
How can a company effectively position and promote a water bottle in the saturated beverage market? To stand out in the crowded market, a creative and innovative marketing strategy is essential.
Leveraging social media platforms, influencer partnerships, and experiential marketing can create a unique brand identity and generate buzz.
Emphasizing the health and sustainability benefits of the water bottle through compelling storytelling and engaging visual content will resonate with eco-conscious consumers.
Additionally, implementing personalized marketing campaigns and targeted advertisements can effectively reach specific consumer segments.
By establishing a strong brand image and communicating a compelling value proposition, companies can differentiate their water bottle from competitors and capture the attention of discerning consumers.
Moreover, once the marketing strategy is in place, the next crucial step is establishing distribution channels to ensure widespread availability and accessibility of the product to the target market.
Step 6: Establishing Distribution Channels
Successfully establishing distribution channels is crucial for ensuring the widespread availability and accessibility of the water bottle to the target market.
To achieve this, innovative strategies must be employed to maximize the reach and impact of the distribution channels.
This can be accomplished by:
Leveraging e-commerce platforms: Utilize online marketplaces and platforms to reach a wider audience and provide convenient access to the water bottle.
Partnering with retail chains: Collaborate with established retail chains to secure shelf space and increase visibility in physical stores.
Implementing direct-to-consumer sales: By selling directly to consumers through online channels or company-owned stores, it is possible to maintain control over the distribution process and build a loyal customer base.
Step 7: Providing Excellent Customer Service
To ensure customer satisfaction, providing excellent customer service is essential for selling a water bottle.
Innovative customer service goes beyond simply delivering a product; it involves creating a memorable and positive experience for the consumer.
Implementing responsive communication channels, such as live chat support or social media engagement, allows for immediate assistance and query resolution.
Personalization is another key aspect; understanding individual preferences and offering tailored recommendations fosters a strong customer-business relationship.
Additionally, providing post-purchase support, such as hydration tips or eco-friendly bottle care instructions, adds value to the customer's purchase.
Embracing technology, like smart bottle integration for hydration tracking, demonstrates a commitment to enhancing the customer's lifestyle.
Ultimately, exceptional customer service not only drives sales but also builds brand loyalty and advocacy, crucial for sustained success in the competitive water bottle market.
Conclusion
Selling a water bottle requires careful consideration of the following factors:
Target market: Understanding the specific needs and preferences of the target market is essential in determining the right features, materials, and design of the water bottle.
Product selection: Offering a variety of options, such as different sizes, colors, and materials, can cater to a wider range of customer preferences and increase the chances of making a sale.
Branding: Creating a strong and recognizable brand identity can differentiate the water bottle business from competitors and attract customers who resonate with the brand's values and image.
Pricing: Setting the right price for the water bottle is crucial in balancing profitability with customer affordability and perceived value. Conducting market research and analyzing competitors' pricing can help determine an optimal price point.
Marketing strategy: Developing a comprehensive marketing plan that includes online and offline advertising, social media engagement, influencer collaborations, and promotional activities can raise awareness and generate interest in the water bottle.
Distribution channels: Choosing the right distribution channels, such as online platforms, retail stores, or partnerships with other businesses, can ensure that the water bottle reaches the target market efficiently and conveniently.
Customer service: Providing excellent customer service, including timely responses to inquiries, resolving issues or complaints promptly, and offering warranties or replacements, can build trust and loyalty among customers.
By addressing these key factors, businesses can effectively sell their water bottles and meet the needs of their customers.
Just as a well-hydrated body is vital for overall health, a well-executed sales strategy is crucial for the success of a water bottle business in the market.