Pennies in Water Bottle to Train Dog: 8 Easy Steps!
Using a water bottle filled with pennies as a training aid for dogs is a simple yet effective behavioral correction technique.
The noise created by shaking the bottle with coins inside acts as an auditory deterrent, capturing the dog's attention and discouraging unwanted behaviors.
The premise behind this method is to create a sudden noise that interrupts the dog's current action without causing harm or fear.
It works by associating the negative sound with undesirable behaviors, thereby encouraging the dog to avoid repeating them.
Here are some quick steps:
Fill a plastic water bottle with a handful of pennies or similar coins.
Seal the bottle tightly to prevent any escape of the coins.
When your dog exhibits an unwanted behavior, shake the bottle vigorously to produce a loud rattling sound.
The unexpected noise distracts and startles the dog, leading to the cessation of the behavior.
Immediately after shaking the bottle, redirect your dog to a positive behavior and reward them.
For example, if your dog is jumping on guests, shake the bottle as they jump, and when they stop, ask them to sit and then give them a treat for obeying.
While the penny-filled water bottle technique can be a helpful training tool, it's critical to use it judiciously and complement it with positive reinforcement to promote a trusting and happy relationship with your dog.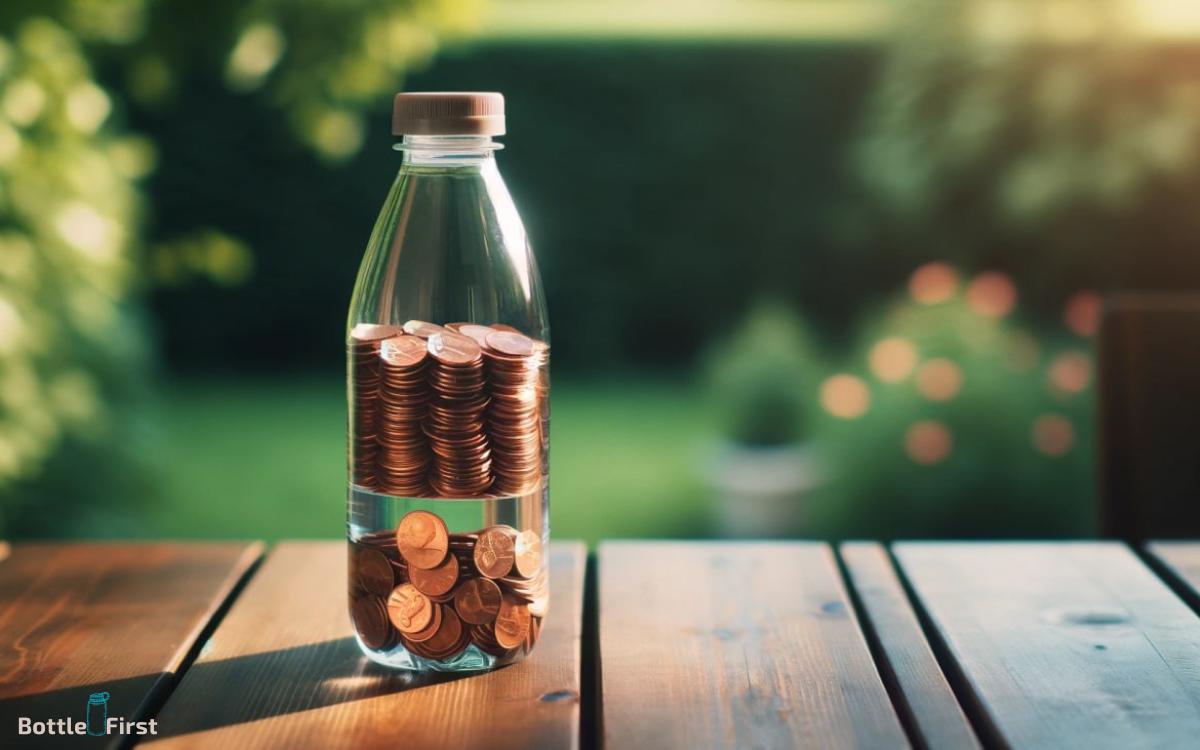 Key Takeaway
Using pennies in a water bottle creates a sudden noise as an auditory deterrent to discourage unwanted behaviors.
The sound of rattling pennies can be used to redirect unwanted behavior and associate negative sounds with undesirable behaviors.
Timing, consistency, and patience are crucial for effective correction and behavior change.
Positive reinforcement, such as treats or praise, should be paired with the correction to promote a positive relationship with the dog.
The Basics of Pennies in Water Bottle Training
When implementing the technique of pennies in a water bottle to train a dog, it is essential to understand the basics of this method.
This innovative approach utilizes the sound of rattling pennies in a water bottle to redirect a dog's unwanted behavior. The key lies in the timing and consistency of the correction.
When the dog engages in undesirable behavior, a swift shake of the bottle produces a sharp, attention-grabbing sound. This interrupts the behavior and allows the trainer to redirect the dog's focus.
It's crucial to pair this correction with positive reinforcement when the dog responds appropriately. Training sessions should be short and frequent to ensure the dog comprehends the desired behavior.
Understanding the fundamental principles of this technique is vital for its effective implementation and successful behavior modification.
Step 1: Choosing the Right Water Bottle and Pennies
To effectively implement the technique of pennies in a water bottle for training a dog, it is essential to carefully select the appropriate water bottle and pennies.
The choice of these tools plays a crucial role in the successful application of this training method. When selecting a water bottle, opt for one that is durable and has a secure cap to prevent leaks.
Additionally, consider the size of the bottle, ensuring it is large enough to hold an ample amount of pennies.
As for the pennies, choose ones that are clean and free of rust, as the sound they produce is a key factor in this training method.
Below is a table summarizing the key considerations for choosing the right water bottle and pennies:
| Water Bottle | Pennies |
| --- | --- |
| Durable and leak-proof | Clean and rust-free |
| Appropriate size | Produces clear sound |
Choosing the Right Water Bottle and Pennies
With the appropriate tools in hand, the next step is to implement the training technique and observe its impact on the dog's behavior.
Step 2: Implementing the Training Technique
Having carefully selected the appropriate water bottle and pennies, the next step is to implement the training technique with precision and consistency.
Begin by observing the dog's behavior that needs modification. When the undesired behavior occurs, shake the water bottle filled with pennies to create a sharp, attention-grabbing sound.
Immediately following this, provide a clear command or cue to redirect the dog's focus onto a more acceptable behavior.
Consistency is key; ensure that the sound of the pennies is consistently associated with the unwanted behavior and followed by redirection.
It's crucial to remain patient and persistent throughout this process. Over time, the dog will learn to associate the sound of the pennies with the undesired behavior and will respond to the redirection cues, ultimately leading to a positive change in behavior.
Step 3: Addressing Common Behavioral Issues
Now let's shift our focus to addressing common behavioral issues that many dog owners encounter.
Excessive barking can be a source of frustration, but there are effective solutions that can help mitigate this behavior.
Additionally, preventing aggressive chewing is crucial for both the well-being of your dog and the safety of your belongings.
Excessive Barking Solutions
Addressing common behavioral issues in dogs often requires a combination of training methods and consistent reinforcement.
Excessive barking is a prevalent behavioral problem that can be effectively managed through innovative approaches.
One such method involves using a citronella collar that emits a harmless burst of citronella spray when the dog barks excessively. This acts as a deterrent, discouraging the behavior without causing any harm to the dog.
Additionally, training techniques such as teaching the 'quiet' command and rewarding the dog for obeying can also help address excessive barking.
Another innovative approach involves utilizing interactive toys or puzzle feeders to mentally stimulate the dog, reducing boredom and the likelihood of incessant barking.
Aggressive Chewing Prevention
To prevent aggressive chewing in dogs, implementing appropriate chew toys and providing sufficient mental and physical stimulation is essential. Dogs often resort to aggressive chewing due to boredom, excess energy, or anxiety.
By offering a variety of chew toys designed to withstand heavy chewing, such as rubber toys or nylon bones, dog owners can redirect their pet's chewing behavior towards more suitable items.
Additionally, interactive toys that dispense treats or require problem-solving can provide mental stimulation and alleviate boredom, reducing the likelihood of aggressive chewing.
Regular exercise and playtime are equally important, as they help to release pent-up energy and promote overall well-being.
Understanding the benefits of this method will empower dog owners to effectively address their pet's aggressive chewing tendencies and foster a healthier, more balanced relationship with their canine companions.
Understanding the Benefits of This Method
This method of using pennies in a water bottle to train a dog is based on sound aversion training, which has been shown to be effective in modifying undesirable behaviors.
By understanding the benefits of sound aversion training, dog owners can effectively reinforce positive behaviors and discourage negative ones.
This approach provides a humane and non-harmful way to train dogs, promoting a positive and harmonious relationship between dog and owner.
Sound Aversion Training Benefits
Sound aversion training benefits are often misunderstood by many dog owners, but when implemented correctly, they can be highly effective in modifying unwanted behaviors.
This method harnesses the power of auditory stimuli to shape a dog's behavior in a humane and non-invasive manner.
The benefits of sound aversion training include:
Effective Behavior Modification: Sound aversion training can effectively deter dogs from engaging in undesirable behaviors such as excessive barking, digging, or jumping on furniture.
Non-Physical Correction: Unlike some training methods, sound aversion training provides correction without physical punishment, making it a more humane approach.
Quick Results: When used consistently, sound aversion training can yield rapid results, helping dogs to quickly understand which behaviors are undesirable.
Suitability for Various Breeds: This method is versatile and can be tailored to suit the specific needs and sensitivities of different dog breeds.
Positive Behavior Reinforcement Understanding
Understanding the benefits of positive behavior reinforcement is essential for dog owners seeking effective and humane methods of behavior modification, building upon the principles of sound aversion training.
Positive behavior reinforcement focuses on rewarding desired behaviors, thereby increasing the likelihood of their recurrence.
This method is rooted in the psychology of operant conditioning, where positive consequences are used to encourage the repetition of a particular behavior.
Unlike aversive techniques, positive reinforcement fosters a positive relationship between the dog and its owner, promoting trust and cooperation.
Research demonstrates that dogs trained using positive reinforcement exhibit lower stress levels and are more eager to learn.
Furthermore, this method encourages dogs to think and make choices, leading to improved problem-solving skills and overall mental well-being.
Ultimately, understanding the benefits of positive behavior reinforcement empowers dog owners to cultivate a harmonious and fulfilling relationship with their pets.
Tips for Successful Training
A dog's successful training relies heavily on the owner's consistency, patience, and clear communication.
To achieve successful training, consider the following innovative tips:
Positive Reinforcement: Use treats, toys, or praise to reinforce desired behaviors.
Consistency: Stick to a regular schedule and be consistent in commands and expectations.
Patience and Understanding: Recognize that training takes time and be patient with your dog's learning process.
Incorporate Challenges: Keep training sessions engaging by introducing new challenges and gradually increasing difficulty.
Conclusion
In conclusion, the pennies-in-water bottle training method is a valuable tool for dog owners seeking to address behavioral issues.
Like a gentle reminder, the sound of the pennies in the water bottle can help redirect unwanted behaviors and encourage positive ones.
By choosing the right water bottle and pennies, implementing the technique with patience, and understanding its benefits, dog owners can effectively train their pets and foster a harmonious relationship.
Frequently Asked Questions
Can This Training Technique Be Used for Any Type of Dog, Regardless of Age or Breed?
Yes, this training technique can be effective for most dogs, regardless of age or breed, as it capitalizes on their sensitivity to sound. However, it's essential to consider individual temperament and adjust the approach accordingly.
How Long Should the Water Bottle With Pennies Be Used During Training Sessions?
During dog training, the water bottle with pennies can be used for a limited duration, typically for a few weeks. Constant use may desensitize the dog. Balancing aversive techniques with positive reinforcement is essential for effective training.
Are There Any Potential Risks or Negative Effects of Using This Training Method?
When using aversive training methods like the pennies in the water bottle, it's crucial to consider potential risks and negative effects on the dog's well-being and behavior. It's important to prioritize humane and positive reinforcement-based training techniques.
Can the Pennies in Water Bottle Technique Be Used to Address Specific Behavioral Issues Such as Excessive Barking or Jumping?
The pennies in water bottle technique, when used judiciously, can effectively address specific behavioral issues such as excessive barking or jumping in dogs. This innovative approach leverages sound aversion to modify undesirable behaviors.
How Can I Transition My Dog Away From the Water Bottle and Pennies Once the Desired Behavior Is Learned?
Once the desired behavior is learned, transitioning away from the water bottle and pennies can be achieved through positive reinforcement, redirection, and consistent training. Gradually replace the deterrent with rewards to reinforce the desired behavior.