Water Bottle Business Ideas: Top 10 Ideas
Engaging in the water bottle business can be a profitable venture.
Several ideas include: selling personalized water bottles, launching a reusable water bottle brand, distributing branded water bottles for corporate events, or starting a high-end mineral water brand.
The water bottle industry is a massive and still growing market due to increasing health awareness and the shift towards environmentally-friendly products such as reusable water bottles.
This creates numerous opportunities for entrepreneurs to explore different business ideas and niches within this industry.
Personalized Water Bottles: Offering custom designs and personalization options can attract a wide range of customers, from individuals to large corporations.
Reusable Water Bottle Brand: With a rising trend in sustainability, launching a reusable water bottle brand that resonates with eco-conscious consumers can be a lucrative idea.
Branded Water Bottles for Corporate Events: Businesses often need branded merchandise for promotional purposes. Providing high-quality water bottles with company logos can serve this market.
High-End Mineral Water Brand: The market for premium bottled water is growing. Starting a high-end mineral water brand can cater to the demand of consumers willing to pay more for superior water quality.
The growing trend towards health and wellness along with environmental consciousness is driving demand for water bottles, particularly those that are reusable.
This opens up a wealth of opportunities for entrepreneurs in the water bottle industry.
By tapping into the different segments of this market – be it through personalization, premium quality, or corporate branding – businesses can carve out their own niche and find success.
10 Types of Water Bottle Business Ideas
| S.No | Business Idea | Description | Potential Market |
| --- | --- | --- | --- |
| 1 | Personalized Water Bottles | Customizing water bottles for individuals and companies with logos, names or custom designs | Individuals, Corporate events, Weddings, Sports teams |
| 2 | Eco-friendly Water Bottles | Manufacturing water bottles made from sustainable or biodegradable materials | Environment-conscious consumers, NGOs, Schools |
| 3 | Water Bottle Retail Store | Starting a store that exclusively sells different types of water bottles | Local community, Online shoppers |
| 4 | Fitness Water Bottles | Designing water bottles with special features for fitness enthusiasts, like built-in straws or hydration trackers | Gyms, Health clubs, Fitness enthusiasts |
| 5 | Kids Water Bottles | Creating cute and creative water bottles designed specifically for children | Schools, Parents, Toy stores |
| 6 | Smart Water Bottles | Creating water bottles with built-in technology to track hydration and remind users to drink water | Tech enthusiasts, Health-conscious consumers |
| 7 | Designer Water Bottles | High-end water bottles using premium materials and unique designs | High-income individuals, Designer stores |
| 8 | Water Bottle Accessories | Selling accessories for water bottles such as handles, protective sleeves, and cleaning tools | Water bottle owners, Retail stores |
| 9 | Infuser Water Bottles | Creating water bottles with built-in fruit infuser to add flavor to the water | Health-conscious consumers, Fitness enthusiasts |
| 10 | Collapsible Water Bottles | Designing water bottles that can be collapsed or folded when not in use for portability | Travelers, Outdoor enthusiasts, Students |
10 Types of Water Bottle Business Ideas
Key Takeaway
The water bottle business is relatively easy to start with a range of products to choose from, such as custom-printed bottles, designer water bottles, or environmentally-friendly options.
The market demand for water bottles, especially reusable ones, is constantly growing due to the growing consciousness about the environment and the adverse effects of single-use plastics.
It presents a lot of opportunities for customization, providing a creative business platform for entrepreneurs.
Strategic planning, good marketing, understanding of supply chain dynamics, and customer preference awareness are crucial for success in this industry.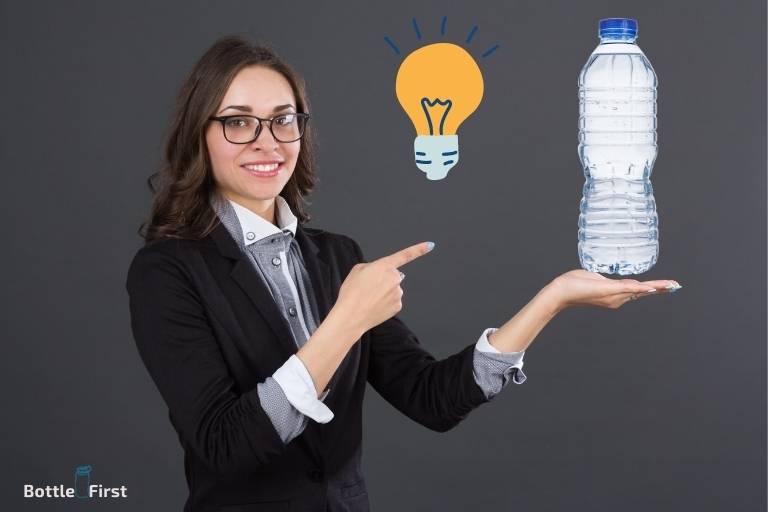 Interesting Facts About Starting a Water Bottle Business
The global reusable water bottle market size was valued at USD 61.3 million in 2018 and is expected to register a CAGR of 3.5% from 2019 to 2025. (Source: Grand View Research)
There are numerous types of water bottles like Insulated Water Bottles, Filtered Water Bottles, Collapsible Water Bottles, etc., thus providing various product ideas for business. (Source: Trekkn)
This growth can be attributed to the rising health consciousness among consumers and efforts to reduce the use of single-use plastic bottles. (Source: Grand View Research)
Custom water bottles, where you can print your designs or messages on the bottles, is a booming business idea and has found a consistent market in corporate personals, sports team, etc. (Source: Forbes)
The production process of a typical plastic drinking water bottle involves material extraction, material transportation, bottle production & delivery, bottle disposal, and recycling, offering a range of business opportunities along the supply chain. (Source: Water Footprint Calculator)
The Growing Demand For Water Bottles
Water Bottle Business Ideas
The water bottle industry has experienced a significant surge in demand in recent years, driven by factors such as the increasing global concern for environmental sustainability and individual health consciousness.
This section of the blog post will explore the reasons behind the growing popularity of reusable water bottles, backed by relevant statistics and market trends.
Global Increase In Demand For Reusable Water Bottles
Reusable water bottles have become a global phenomenon, with an ever-increasing demand worldwide.
Consumers are becoming more aware of the adverse effects of single-use plastic bottles on the environment, leading to a shift towards reusable options.
Countries across the globe are actively encouraging the use of reusable water bottles as part of their sustainability initiatives.
Health And Environmental Benefits Of Using Reusable Water Bottles
Reusable water bottles offer numerous health benefits, including proper hydration and reduced exposure to harmful chemicals commonly found in plastic bottles.
By choosing reusable bottles, individuals contribute to reducing the number of plastic bottles ending up in landfills or oceans, minimizing the environmental impact.
Statistics And Market Trends Supporting The Demand For Water Bottles
According to a market research report, the global reusable water bottle market is projected to reach a value of $10.4 billion by 2025.
A survey conducted among consumers highlighted that 75% of respondents prefer using a reusable water bottle over single-use options.
Major retailers and e-commerce platforms have witnessed a surge in sales of reusable water bottles within the last few years, indicating a strong market trend.
The demand for reusable water bottles is steadily increasing on a global scale.
With the rise in environmental consciousness and the health benefits associated with their usage, it is no surprise that consumers are opting for reusable alternatives.
The statistics and market trends further affirm this growing interest, making the water bottle business an attractive and profitable venture.
Unique Water Bottle Designs
Innovative And Eye-Catching Designs For Water Bottles
Water bottles are no longer just a practical tool for staying hydrated; they have become a fashion statement and a way to express one's personal style.
To stand out in the competitive water bottle market, having unique and eye-catching designs is essential.
Here are some key points to consider when creating innovative water bottle designs:
Shapes and sizes: Experimenting with different shapes and sizes can instantly catch the eye of potential customers. From sleek, cylindrical bottles to bold, geometric designs, the possibilities are endless. Offering various sizes, from small and compact to large and durable, caters to different lifestyle needs.
Color and patterns: Choosing vibrant and unexpected colors can make a water bottle truly stand out. Incorporating patterns, such as stripes, polka dots, or even abstract designs, adds an extra touch of uniqueness.
Textures and materials: Incorporating interesting textures and materials can enhance the overall visual appeal of a water bottle. Matte finishes, metallic accents, or even deep embossing can create a tactile experience for users.
Customization options: Providing customers with the option to personalize their water bottles with names, initials, or symbols allows them to create a one-of-a-kind product that reflects their individuality.
Innovative cap and lid designs: The cap and lid of a water bottle can be a great opportunity to showcase creativity. Think flip-top lids with built-in straws, ergonomic handles, or even multi-functional designs that can also be used as a cup or storage compartment.
Incorporating Eco-Friendly Materials In Water Bottle Manufacturing
As the world becomes more environmentally conscious, consumers are increasingly looking for sustainable products.
This presents a great opportunity for water bottle businesses to make a positive impact by incorporating eco-friendly materials in their manufacturing processes.
Here are some key points to consider:
Recycled materials: Using recycled materials, such as recycled plastic or glass, not only reduces waste but also helps conserve natural resources. Highlighting the percentage of recycled content in your bottles can further appeal to environmentally conscious customers.
Biodegradable and compostable materials: Consider using biodegradable materials, like plant-based plastics or bamboo, which can break down naturally in the environment, reducing the carbon footprint.
Durable and reusable options: Designing water bottles with durability in mind ensures they can withstand years of use, reducing the need for constant replacements. Encouraging and educating customers about the benefits of reusing water bottles can also support sustainability efforts.
Minimal packaging: Minimize the use of excessive packaging materials and opt for eco-friendly options, such as recycled cardboard or biodegradable wraps. Clearly communicate your commitment to reducing packaging waste to resonate with eco-conscious consumers.
Stand Out From Competitors With Unique Aesthetic Features
In a crowded marketplace, it's crucial to make your water bottle business stand out from competitors.
By incorporating unique aesthetic features, you can create a memorable brand identity and attract customers.
Consider the following points when designing your water bottles:
Artistic collaborations: Partnering with artists or designers to create limited-edition collections can bring a fresh, artistic perspective to your product line. This not only adds value but also creates a sense of exclusivity.
Inspiring messaging: Incorporating uplifting or motivational messages or quotes on your water bottles not only adds aesthetic appeal but also resonates with customers on an emotional level. Spread positivity while quenching thirst!
Innovative packaging: Eye-catching packaging can instantly grab attention. Consider using creative shapes, transparent windows, or decorative elements that align with your brand story.
Functional features: Integrate additional functional features into your water bottles, such as built-in filters, compartments for storing snacks or supplements, or even temperature control technology. These unique additions provide added value to customers.
By focusing on innovative designs, incorporating eco-friendly materials, and implementing unique aesthetic features, your water bottle business can not only attract attention but also make a positive impact on the environment and stand out among competitors.
Keep pushing the boundaries to create water bottles that are both visually appealing and functional, appealing to a wide range of customers seeking style and sustainability.
Targeting Niche Markets
Identifying Niche Markets For Specialized Water Bottles
In today's competitive market, it is essential for businesses to identify and target niche markets to meet the specific needs and preferences of customers.
When it comes to the water bottle industry, there are several niche markets that present lucrative opportunities for entrepreneurs.
By offering specialized water bottles that cater to the unique requirements of different customer segments, businesses can differentiate themselves and gain a loyal customer base.
Let's take a closer look at two such niche markets: water bottles for athletes and fitness enthusiasts, and customized water bottles for corporate branding and promotional events.
Water Bottles For Athletes And Fitness Enthusiasts
Athletes and fitness enthusiasts have distinct requirements when it comes to their water bottles.
They need bottles that are durable, easily portable, and can keep their water cool for extended periods during intense workouts.
Here are some key points to consider when targeting this niche market:
Design water bottles with leak-proof lids and sturdy construction to withstand rigorous use in the gym or outdoors.
Offer bottles with ergonomic designs that are easy to hold and fit comfortably in the hand, making it convenient for athletes to stay hydrated while training.
Incorporate features such as built-in straws or flip-top lids for easy drinking without interrupting workouts.
Utilize materials that are both bpa-free and dishwasher safe, ensuring the bottles are safe and easy to clean.
Promote the insulation properties of your water bottles, emphasizing their ability to keep water cold for longer durations, thereby meeting the needs of athletes who require refreshment during extended training sessions.
Consider partnering with fitness influencers or local sports teams to promote your specialized water bottles to this target audience.
Customized Water Bottles For Corporate Branding And Promotional Events
Customized water bottles offer a unique branding opportunity for businesses looking to increase their visibility and reach.
By providing personalized water bottles as promotional giveaways or corporate gifts, companies can effectively promote their brand while also offering practical value.
Here are the key points to consider when targeting this niche market:
Offer a range of customization options, including branding with company logos, slogans, or specific colors that align with the corporate identity.
Provide high-quality printing or engraving services to ensure the customization is durable and long-lasting.
Offer different bottle sizes and styles to cater to the specific needs and preferences of the target audience, whether it be employees, clients, or attendees at promotional events.
Emphasize the eco-friendly aspects of your water bottles, such as using sustainable materials or providing options for reusable bottles, appealing to businesses and individuals who prioritize sustainability.
Provide competitive pricing and quick turnaround times for bulk orders, as businesses often require large quantities of customized water bottles for events or employee gifting.
Collaborate with event planners, marketing agencies, or corporate partners to expand your reach and promote your customized water bottles to a wider audience.
By understanding the unique needs of each niche market and offering specialized water bottles, businesses can effectively target their offerings and create a loyal customer base.
Whether it's catering to the requirements of athletes and fitness enthusiasts or providing customized water bottles for corporate branding and promotional events, the opportunities in the water bottle industry are vast.
So, go ahead and explore these niche markets to tap into their potential and grow your water bottle business.
Establishing An E-Commerce Platform
Building a user-friendly and visually appealing online store for water bottles:
In today's digital age, establishing an e-commerce platform for your water bottle business is essential to reach a wider audience and maximize your sales potential.
Creating an online store that is not only user-friendly but also visually appealing can significantly enhance the overall shopping experience for your customers.
Here are some key points to consider:
User-friendly navigation: Design your online store with a clean and intuitive navigation system. Ensure that visitors can easily browse through different categories of water bottles, filter products based on their preferences, and locate important information such as shipping and payment options.
Responsive design: Optimize your e-commerce platform to be mobile-friendly, as a significant portion of online traffic comes from mobile devices. A responsive design will ensure that your website adapts seamlessly to various screen sizes, leading to a positive user experience and better conversion rates.
Eye-catching visuals: Use high-quality product images that showcase your water bottles in the best light. Professional photography, with multiple angles and close-ups of key features, will help potential customers make informed purchasing decisions. Additionally, consider utilizing lifestyle images to demonstrate how your water bottles can be used in real-life situations.
Clear and concise product descriptions: Craft engaging product descriptions that highlight the unique features and benefits of your water bottles. Use persuasive language to convey the quality, durability, and functionality of your products. Incorporate keywords naturally to improve search engine optimization (seo) and attract relevant organic traffic.
Trust-building elements: Implement trust-building elements such as customer reviews, ratings, and testimonials on your product pages. Positive feedback and social proof can instill confidence in potential buyers, increasing the likelihood of purchase.
Seamless checkout process: Streamline the checkout process to minimize cart abandonment. Provide multiple payment options, including secure online payment gateways, to cater to different customer preferences. Implement an optimized and straightforward checkout flow with as few steps as possible.
Integration with social media: Integrate your e-commerce platform with social media channels to expand your reach and leverage the power of social sharing. Enable easy sharing options for customers to promote your products on platforms like facebook, instagram, and twitter.
Personalized shopping experience: Utilize data analytics and customer segmentation to offer personalized product recommendations and targeted promotions. Tailoring the shopping experience to individual preferences can enhance customer satisfaction and drive repeat purchases.
Customer support and communication: Provide various channels for customers to reach out, such as live chat, email, or phone support. Prompt and friendly customer service builds trust and loyalty, ensuring a positive overall experience.
Regular testing and optimization: Continuously test and optimize your e-commerce platform to identify areas for improvement. Use analytics tools to analyze user behavior, identify bottlenecks, and implement changes that enhance the overall performance of your online store.
Building an e-commerce platform that is user-friendly and visually appealing can significantly contribute to the success of your water bottle business.
By combining a seamless shopping experience with eye-catching visuals and persuasive product descriptions, you can attract more visitors, drive conversions, and ultimately increase sales.
Implement effective marketing strategies to drive traffic and increase sales.
Collaborating With Influencers And Bloggers
Leveraging The Power Of Influencer Marketing To Promote Water Bottles
In today's digital age, influencer marketing has become an incredibly powerful tool for businesses to promote their products and reach a wider audience.
When it comes to water bottle businesses, collaborating with influencers and bloggers can significantly boost brand visibility and increase sales.
Here's how you can leverage the power of influencer marketing to take your water bottle business to the next level:
Partnering with fitness influencers and bloggers in the health and wellness niche:
Fitness influencers and bloggers have a dedicated following who value their opinions and trust their recommendations.
By partnering with these influencers, you can tap into their audience and promote your water bottles to a highly relevant demographic.
Seek out influencers and bloggers who are passionate about health and wellness and who align with your brand values.
Collaborate on sponsored content, giveaways, product reviews, or even guest blog posts to create a buzz around your water bottles.
Remember to disclose any sponsored content to maintain transparency and authenticity.
Encouraging user-generated content to increase brand awareness and credibility:
User-generated content (ugc) is like gold for any business, and the same goes for a water bottle brand.
Encourage your customers to share their experiences with your products on social media platforms using branded hashtags.
Ugc not only increases brand visibility but also acts as social proof, showcasing real people enjoying and recommending your water bottles.
Consider running contests or giveaways that encourage users to create content related to your brand.
Share and engage with user-generated posts, fostering a sense of community and building trust with your audience.
Maintaining authentic partnerships and building long-term relationships:
When collaborating with influencers and bloggers, it's crucial to choose partners who align with your brand's values and resonate with your target audience.
Look for influencers who have built trust and credibility over time rather than opting for those with a massive following but questionable authenticity.
Focus on building long-term relationships with influencers who genuinely love your water bottles and can authentically promote them to their audience.
Consider offering influencers exclusive discounts or sneak peeks of upcoming product launches to make them feel valued and invested in your brand.
Influencer marketing is a potent strategy that can help your water bottle business gain exposure, engage with your target audience, and increase sales.
By collaborating with fitness influencers and bloggers in the health and wellness niche and encouraging user-generated content, you can elevate your brand's visibility and credibility in the market.
The key is to establish meaningful and authentic partnerships that resonate with your target audience, ultimately driving growth for your water bottle business.
Are Cheer Water Bottles a Good Idea for a Water Bottle Business?
Cheer water bottles can indeed provide inspiration for a water bottle business. With their vibrant designs and durable materials, these bottles cater specifically to the needs of cheerleaders. Offering a product that resonates with a specific target audience like cheerleaders can help establish a niche in the market and potentially increase sales. So, considering cheerleading water bottle inspiration can be a great idea for a successful water bottle business.
FAQ About Water Bottle Business Ideas
What Are Some Unique Water Bottle Business Ideas?
Some unique water bottle business ideas include customizable bottles, eco-friendly bottles, and insulated bottles with unique designs.
How Can I Market My Water Bottle Business Effectively?
To effectively market your water bottle business, utilize social media platforms, collaborate with influencers, and create engaging content that highlights the benefits of your product.
What Are The Advantages Of Using Reusable Water Bottles?
Using reusable water bottles helps reduce plastic waste, saves money in the long run, and promotes a healthier lifestyle by encouraging hydration.
Where Can I Source High-Quality Materials For My Water Bottles?
You can source high-quality materials for your water bottles from reputable suppliers, trade shows, or online platforms that specialize in eco-friendly and sustainable materials.
How Can I Differentiate My Water Bottle Business From Competitors?
To differentiate your water bottle business, focus on unique designs, prioritize sustainability and eco-consciousness, provide exceptional customer service, and effectively communicate the benefits of your product to potential customers.
Conclusion
Starting a water bottle business offers immense opportunities for entrepreneurs. The growing awareness of the importance of hydration for health and sustainability has created a demand for innovative and eco-friendly water bottles.
By focusing on unique designs and materials, businesses can cater to different customer preferences and attract a wider audience.
Furthermore, leveraging social media platforms and influencer marketing can help establish brand recognition and reach a larger customer base.
Emphasizing the benefits of reusable bottles in reducing plastic waste and promoting sustainability can also resonate with environmentally conscious consumers.
In addition, offering customization options and targeting niche markets can provide a competitive edge in the market.
With the right marketing strategies and a commitment to quality, a water bottle business can thrive in today's market.
So, whether you're a seasoned entrepreneur or a beginner, now is the perfect time to dive into the water bottle business and make a splash in the industry.