Water Bottle Diy Ideas – Top 10 Ideas
Water bottle DIY ideas are creative ways to reuse and recycle old water bottles. They can range from simple crafts to more complex projects and are a fun, easy and sustainable craft project.
Water bottles DIY projects are not only an enjoyable activity but also a great way to reduce our environmental footprint.
It helps in minimizing waste by repurposing items that might otherwise end up in landfills. From garden decor to children's toys, there are countless ways to utilize these bottles.
Water bottle bird feeders: An easy way to attract birds to your garden.
Self-watering planters: A practical use for your old water bottles.
DIY chandelier: A creative and eye-catching decor item.
Water bottle snow globes: A fun and festive craft idea for the holidays.
Water bottle DIY ideas offer an effective means of recycling, which is beneficial for the environment. They also provide an opportunity for creativity and personalization.
Regardless of your crafting level, there are numerous ideas that you can try, making it a fun and engaging activity for all ages.
Top 10 DIY Water Bottle Ideas
| No. | DIY Water Bottle Idea | Material Required | Difficulty Level |
| --- | --- | --- | --- |
| 1 | Glittery Water Bottle | Glitter, glue, clear bottle | Easy |
| 2 | Painted Water Bottle | Acrylic paint, paintbrush, empty bottle | Medium |
| 3 | Wrapped Water Bottle | Twine, Glue, Decorative beads, empty bottle | Medium |
| 4 | Fabric Covered Bottle | Fabric scraps, glue, empty bottle | Medium |
| 5 | Bejeweled Bottle | Rhinestones, glue, empty bottle | Hard |
| 6 | Glass Etched Bottle | Glass etching cream, stencils, empty glass bottle | Hard |
| 7 | Bottle Terrarium | Small plants, gravel, soil, large clear bottle | Medium |
| 8 | Bottle Vase | Paint, empty wine bottle, colorful ribbons | Easy |
| 9 | Sand Art Bottle | Different colored sand, funnel, clear bottle | Easy |
| 10 | Bottle Bird Feeder | Empty bottle, wooden spoons, rope | Easy |
Top 10 DIY Water Bottle Ideas
Key Takeaway
Water bottle DIY projects are an excellent way to recycle plastic and help protect the environment.
Making a DIY water bottle craft project can be a fun-filled and educational activity.
These projects are not only helpful for the environment but also cost-effective.
There are numerous DIY ideas available that cater to different skill levels and purposes – from simple storage solutions to elaborate craft designs.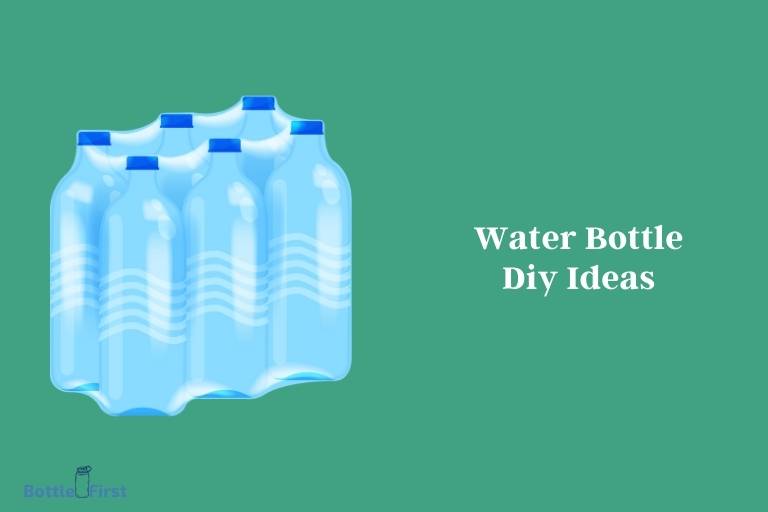 Five Facts About of DIY Water Bottle Ideas
DIY Water Bottle Craft Projects are an excellent way to keep kids entertained while also teaching them about the importance of recycling. They can learn how to transform waste material into useful and beautiful items. (Source: DIY Projects for Kids)
One popular DIY idea is transforming water bottles into plant containers. This creative reuse not only saves money on expensive pots but also promotes planting and greening, contributing to a healthier environment. (Source: The Spruce)
Another interesting DIY water bottle project is the creation of bird feeders. This project not only provides a beneficial resource for local wildlife but also teaches kids about the importance of taking care of nature. (Source: Jamie Sanders, Scattered Thoughts of a Crafty Mom)
One can also use the water bottle to create a watering can for indoor or outdoor plants. This project is simple and easy to make and encourages nurturing and caring for plant life. (Source: WikiHow)
Lastly, water bottles can be made into homemade terrariums. This is an excellent project that can help kids learn about the ecosystem and how different organisms interact with their environment. (Source: Green Kid Crafts)
Unleash Your Creativity With These Innovative Projects
Turn Your Old Water Bottles Into Beautiful Home Decor.
Do you have a collection of empty water bottles piling up in your recycling bin? Don't throw them away just yet!
With a little creativity, you can transform those unused bottles into stunning home decor pieces.
Here are some innovative projects that will unleash your artistic side:
Wall-mounted vases: Cut the top half of a water bottle and attach it to a wooden board with screws. Fill the bottle with water and add fresh flowers for a unique wall-mounted vase that will brighten up any room.
Hanging planters: Cut multiple water bottles at various lengths and secure them together with strings or colorful ribbons. Plant your favorite indoor plants in each bottle, and hang them near a sunny window for a whimsical touch of greenery.
Twinkle lights lanterns: Remove the labels from several water bottles and insert battery-powered twinkle lights inside each one. Arrange the bottles in a cluster or hang them from a tree branch to create a magical lantern display for your next outdoor gathering.
Bookshelf dividers: Cut off the bottoms of several water bottles and slide them onto a sturdy bookshelf to create dividers for books, magazines, or folders. The transparent bottles will add a touch of modernity to your home office or study area.
Discover Fun And Useful Diy Projects You Can Make With Water Bottles.
Looking for more ways to repurpose those empty water bottles?
Get ready to be inspired by these fun and practical diy projects that are both budget-friendly and eco-friendly:
Pencil holders: Cut off the top section of a water bottle and decorate it with colorful washi tape or paint. Use the bottom part of the bottle as a quirky pencil holder to keep your desk tidy.
Waterproof phone holder: Ever wanted to take underwater photos? Simply cut a hole in the side of a water bottle large enough for your phone and seal it with waterproof tape. Now you can safely capture those unforgettable moments while swimming or snorkeling.
Bird feeders: Create a cozy feeding station for your feathered friends by cutting out openings near the bottom of a water bottle. Attach a string to the bottle and hang it from a tree branch. Fill it with bird seeds and watch as your backyard fills with chirping visitors.
Seed starters: Cut the top off a water bottle and fill it with soil. Plant your favorite herbs or flowers in the bottle and place it in a sunny spot indoors. The transparent bottle will act as a mini greenhouse, providing the perfect environment for seedlings to thrive.
Get Inspired And Start Crafting With These Unique Ideas.
Ready to get your creative juices flowing?
Let these unique water bottle diy ideas inspire you to create one-of-a-kind masterpieces:
Jewelry organizer: Cut off the top part of a water bottle and use the bottom section as a compartmentalized jewelry organizer. Arrange your bracelets, rings, and earrings neatly in each section for easy access and a clutter-free vanity.
Bubble wands: Dip the bottom of a water bottle into a bubble solution and blow through the top to create giant bubbles. Experiment with different bottle sizes and shapes to see which produces the biggest bubbles.
Watering cans: Poke small holes in the lid of a water bottle and fill it with water. Use it as a makeshift watering can for your indoor plants, making sure to control the flow by covering or uncovering the holes with your fingers.
Toy boats: Cut a water bottle in half horizontally and attach a popsicle stick to the bottom half as the boat's base. Decorate the boat with markers or paint and watch as it sails across a pond or bathtub.
Now that you have an array of creative water bottle diy ideas at your disposal, it's time to roll up your sleeves and start crafting!
Get ready to make a positive impact on both the environment and your home decor.
Add A Touch Of Elegance To Your Home
Transform Your Empty Plastic Water Bottles Into Chic Vases
Ever wondered what to do with those empty plastic water bottles lying around your house? Instead of throwing them away, why not upcycle them into beautiful vases?
With a touch of creativity and a few simple techniques, you can transform your ordinary plastic bottles into elegant and stylish vases that will add a unique charm to your home decor.
Here are some key points on how to achieve this transformation:
Cut and shape: Start by carefully cutting the top part of the plastic bottle, just below the neck. You can experiment with different shapes – shorter bottles for a modern look or taller ones for a more traditional feel.
Smooth the edges: After cutting, make sure to file down any rough edges with sandpaper or a nail file. This will give your vases a polished finish and ensure that they are safe to handle.
Paint and decorate: Now comes the fun part – painting and decorating your vases. You can use acrylic paints, spray paints, or even fabric paints to add color and patterns to your vases. Get creative with techniques like stenciling, marbling, or creating ombre effects. Don't forget to let the paint dry completely before moving on to the next step.
Add embellishments: To take your vases to the next level, consider adding embellishments. You can use ribbons, lace, beads, or even seashells, depending on your personal style and the theme of your home decor. Glue them onto the vases using a strong adhesive, making sure they are secure.
Seal and protect: To protect your painted vases and ensure they last, consider applying a coat of clear sealant or varnish. This will prevent the paint from chipping or fading over time and make your vases more durable.
Learn Easy Techniques To Decorate And Customize Your Vases
Now that you have transformed your plastic bottles into chic vases, it's time to learn how to decorate and customize them to suit your individual taste.
Here are some techniques you can try:
Decoupage: Decoupage is a popular technique that involves decorating surfaces with cut-out paper designs. You can use decorative paper napkins, tissue paper, or even old magazines to create unique patterns on your vases. Simply apply a layer of decoupage glue onto the vase, place the cut-out paper, and seal it with another layer of glue. Let it dry and admire your custom-designed vase.
Glass staining: If you want to give your vases a stained glass effect, you can use glass staining paints. These paints come in various colors and can be easily applied to the surface of your vases. You can create intricate designs or simple abstract patterns – the choice is yours. Once the paint is dry, your vases will have a vibrant and translucent appearance.
Etching: Etching is a technique that involves creating designs or patterns on glass or plastic surfaces using an etching cream or gel. You can use stencils or create your own designs with adhesive vinyl or tape. Apply the etching cream to the exposed areas, let it sit for the recommended time, and then rinse it off. The result will be a frosted or matte design on your vases.
Explore Different Ways To Arrange Flowers In Your Upcycled Vases
Now that you have your stylish vases ready, it's time to showcase their beauty with carefully arranged flowers.
Here are some ideas to spark your creativity:
Single stem focus: For an elegant and minimalistic look, choose a single flower with a long stem, such as a rose or lily. Place it in your vase, allowing the beauty of the flower to take center stage. This simple arrangement can add a touch of sophistication to any room.
Wild and free: If you prefer a more natural and wild look, gather a variety of flowers and foliage from your garden or local florist. Arrange them loosely in your vase, allowing the stems to intertwine and the flowers to fall naturally. This arrangement will bring a sense of freshness and liveliness to your space.
Colorful combinations: Experiment with different color combinations to create striking floral arrangements. Choose flowers of contrasting or complementary colors and arrange them in a way that highlights their beauty. Play with different heights and textures to add visual interest and make a statement.
Seasonal themes: Embrace the seasons by creating themed floral arrangements. For example, during the spring, use pastel-colored flowers and delicate blossoms. In the fall, opt for warm hues and textured foliage. Incorporating seasonal elements into your arrangements will bring a sense of harmony and connection to the natural world.
With these ideas and techniques, you can turn your upcycled plastic bottle vases into stunning centerpieces that will add a touch of elegance to any space in your home.
Get creative, let your imagination soar, and enjoy the process of transforming ordinary objects into extraordinary works of art.
Grow Fresh Herbs In Your Own Kitchen
Want to add a touch of freshness to your cooking? Forget about buying expensive herbs from the store and start growing your own fresh herbs right in your own kitchen!
With just a few plastic water bottles and some simple steps, you can create a vertical garden and have an abundance of fragrant herbs at your fingertips.
Here's how you can get started:
Create A Vertical Garden Using Plastic Water Bottles:
Gather plastic water bottles: Begin by collecting empty plastic water bottles. Opt for bottles with caps as they will help retain moisture and reduce the risk of spills.
Clean the bottles thoroughly: Make sure to wash the bottles with warm soapy water and rinse them well. This step is crucial to remove any residues or impurities that may hinder healthy plant growth.
Prepare the bottles for planting: Choose the desired length where you want to cut the bottle. Using a pair of sharp scissors or a knife, carefully cut the bottle diagonally, creating two sections – one for holding the water and soil, and the other for supporting the plant. Make sure to leave the cap intact.
Create drainage holes: On the bottom section of the bottle, puncture a few small holes to allow excess water to drain out. Adequate drainage is essential to prevent waterlogging and root rot.
Fill with soil: Take the top section of the bottle (the one with the cap) and fill it with a nutrient-rich, well-draining potting soil. Leave a small space at the top to prevent overflow when watering.
Plant your herbs: Gently press the seeds or small herb cuttings into the soil, following the planting instructions specific to each herb. Ensure that the plants are positioned securely and don't overcrowd them.
Hang the bottles: Using string or wire, hang the bottles vertically in a location that receives sufficient sunlight. A sunny windowsill or a well-lit kitchen corner is ideal for herb growth.
Learn How To Prepare Your Water Bottles For Planting:
Cleanliness is key: Thoroughly wash the water bottles before repurposing them for planting. This reduces the risk of molds, bacteria, and other harmful contaminants that can affect plant health.
Remove labels and stickers: Peel off any labels or stickers on the bottles to allow for better light absorption and aesthetic appeal.
Sanitize for successful growth: To ensure a clean growing environment, consider sanitizing the bottles. Soak them in a solution of one part bleach to nine parts water for 30 minutes. Rinse thoroughly to remove any traces of bleach.
Discover Tips For Selecting The Right Herbs And Maintaining Your Indoor Garden:
Consider your needs: Think about the types of herbs that you commonly use in your cooking. Choose herbs that are suitable for indoor growing, such as basil, mint, rosemary, thyme, and parsley.
Light requirements: Most herbs require at least 6-8 hours of sunlight per day. Choose a location that receives adequate natural light or consider using artificial grow lights to supplement the light requirements.
Watering needs: Avoid overwatering as it can lead to root rot. Check the soil moisture regularly by inserting your finger about an inch deep into the soil. Water the herbs when the top inch of soil feels dry to the touch.
Pruning and harvesting: Regularly prune your herbs to promote bushier growth and prevent them from becoming leggy. Harvest the leaves as needed, ensuring that you always leave enough foliage for the plant to continue thriving.
Supplement with fertilizer: Indoor herbs may benefit from occasional fertilization. Choose a balanced, water-soluble fertilizer and follow the package instructions for application rates.
With these simple diy ideas, you can create your own indoor herb garden using plastic water bottles.
Enjoy the convenience and satisfaction of growing your own fresh herbs in your kitchen, elevating your culinary creations and adding a burst of flavor to your meals.
Attract Birds To Your Garden With This Simple Project
If you're a nature lover and enjoy the beauty of birds, then this diy project is perfect for you!
By building a bird feeder using a plastic water bottle and household items, you can easily attract birds to your garden and create a haven for these feathered visitors.
Not only will you get to enjoy the sights and sounds of various bird species, but you'll also contribute to their well-being by providing them with a food source.
Build A Bird Feeder Using A Plastic Water Bottle And Household Items:
Gather the necessary supplies: A plastic water bottle, scissors, string or wire, and a few wooden dowels or chopsticks.
Start by cutting a small hole near the base of the water bottle. Make sure the hole is large enough for birds to easily access the food.
Next, create perches for the birds by inserting the wooden dowels or chopsticks through the sides of the bottle, positioning them just below the hole.
Fill the bottle with bird feed or a homemade birdseed mix, leaving some space for the birds to perch and feed.
Close the bottle securely, ensuring that the food stays dry and protected from rain or pests.
Attach a sturdy string or wire to the top of the bottle, making sure it's long enough to hang from a tree branch or a hook in your garden.
Find a suitable spot in your garden where the bird feeder can be easily seen by both birds and yourself.
Hang the bird feeder securely, ensuring that it's at a height that birds feel comfortable accessing.
Learn How To Safely Hang And Attract Birds To Your Feeder:
Place the bird feeder away from any potential predator hiding spots, such as dense bushes or low-hanging branches.
Ensure that the feeder is positioned in a quiet and undisturbed area of your garden to attract more birds.
Keep the feeder clean and regularly refill it with fresh bird feed to encourage repeat visits from different bird species.
Provide a water source nearby, such as a birdbath or a shallow dish with water, to further attract birds to your garden.
Enjoy The Beauty Of Nature By Observing Your Feathered Visitors:
Take the time to observe and learn about the different bird species that visit your garden.
Keep a bird identification guide or an app handy to help you identify the birds you see.
Consider setting up a comfortable sitting area near the bird feeder, allowing you to relax and enjoy the sight of these beautiful creatures.
Capture stunning photographs or sketch the birds you encounter, creating lasting memories of your interactions with nature.
With this simple diy project, you can create a welcoming space for birds in your garden while enjoying the wonders of nature.
Remember to maintain the bird feeder and be patient. Before long, you'll be rewarded with a flurry of feathered friends that add joy, color, and life to your surroundings.
So, grab those household items and get ready to attract and observe birds like never before!
Engage Your Children With Sustainability And Creativity
Teach Kids About Recycling And Upcycling Through Fun Diy Projects.
Teaching children about the importance of sustainability and recycling is crucial for the future of our planet.
By engaging them in creative diy projects using water bottles, you can instill eco-consciousness in them from an early age.
Here are some key points to remember:
Start with a conversation: Talk to your children about recycling and why it matters. Explain how plastic waste can harm the environment and the benefits of upcycling.
Introduce diy projects: Show your children how they can turn simple water bottles into useful items through creative crafts. This hands-on experience will help them understand the concept of recycling and upcycling.
Easy crafts to try: Make piggy banks from water bottles by cutting a small slot for coins and decorating them with paint or stickers. Create planters by cutting off the top of a bottle, adding soil, and planting small flowers or herbs. These projects are fun and teach kids the value of repurposing.
Bring education into play: Use diy projects as an opportunity to teach your children about different materials and their recycling potential. Discuss the recycling symbols on plastic products, and encourage them to identify and sort different types of plastics.
Create Exciting Crafts Like Piggy Banks, Planters, And More.
Engaging your children in diy crafts can be a fun-filled and creative experience that also promotes sustainability.
Here are some key points to consider:
Make piggy banks: Transform water bottles into unique piggy banks that encourage kids to save money while also repurposing plastic. Let their imagination soar as they decorate the bottles with paint, markers, or even fabric.
Design planters: Turn water bottles into mini planters by cutting off the bottom and creating drainage holes. Let your children choose their favorite plants or herbs to grow, nurturing their love for nature and gardening.
Get artistic with wind chimes: Use water bottles as the base for wind chimes. Cut the bottles into different shapes and sizes, then string them together with colorful ribbons or fishing line. Hang them outside to enjoy the soothing sound of wind passing through.
Craft bird feeders: Cut a small opening on the side of a water bottle, pour in birdseed, and hang it outdoors. Watch as your children marvel at the different bird species that visit their homemade bird feeder.
Encourage Imagination And Eco-Consciousness In Your Children.
Engaging children in diy projects not only sparks their creativity but also nurtures their eco-consciousness.
By involving them in sustainable activities, you can help instill a sense of responsibility towards the environment.
Key points to consider are:
Foster imagination: Open the doors to your children's creativity by encouraging them to come up with their ideas for diy projects. Let them decorate the water bottles using various art supplies and design their own unique creations.
Promote eco-consciousness: Teach your children the importance of reducing waste and making conscious choices. Explain how repurposing plastic bottles helps reduce the environmental impact and encourage them to practice sustainable habits in their everyday lives.
Spread the message: Display the diy creations around your home or even encourage your children to gift them to friends and family. This helps spread the message of sustainability and inspires others to incorporate eco-friendly practices into their lives.
By engaging your children with sustainability and creativity, you can empower them to make a positive impact on the world around them.
Through fun and educational diy projects, they'll not only learn about recycling and upcycling but also develop a lifelong appreciation for the environment.
So grab those water bottles and let the imagination run wild!
What Are Some DIY Ideas for 5 Gallon Water Bottles?
Looking for ways to repurpose your 5-gallon water bottles? Check out these top 10 creative water bottle ideas! Transform them into planters for your garden, use them as storage containers, or create a DIY water dispenser for your pets. With a little imagination, these bottles can become the perfect materials for various DIY projects.
How Can I Make a Unique Water Bottle Costume?
Looking for water bottle costume ideas? Stand out this Halloween by creating a unique water bottle costume. Start by finding a large, clear plastic container. Paint it to resemble your favorite brand of water or get creative with unique labels and designs. Finish off the costume by adding a spout and handle.
FAQ About Water Bottle Diy Ideas
How Can I Decorate My Water Bottle?
You can decorate your water bottle by using paint, stickers, washi tape, or custom decals.
What Are Some Creative Diy Ideas For Water Bottles?
Some creative diy ideas for water bottles include turning them into planters, pen holders, or glitter-filled sensory bottles.
How Can I Personalize My Water Bottle?
You can personalize your water bottle by adding your name or initials using vinyl lettering or engraving tools.
What Materials Do I Need For A Diy Water Bottle Project?
For a diy water bottle project, you may need materials such as spray paint, adhesive, glitter, or any decorative materials of your choice.
How Do I Clean And Maintain My Decorated Water Bottle?
To clean and maintain your decorated water bottle, hand wash it using mild soap and water, avoiding soaking or scrubbing the decorations too vigorously.
Conclusion
To summarize, these diy water bottle ideas offer a fun and creative way to repurpose old bottles while reducing waste and promoting sustainability.
The possibilities are endless when it comes to transforming these everyday items into functional and beautiful objects.
Whether you're looking to create a herb garden, a unique centerpiece, or a personalized gift, these ideas provide inspiration for all skill levels.
Upcycling water bottles not only saves money, but it also helps to protect the environment by diverting plastic from landfills and preventing pollution.
Remember to always prioritize safety by using proper tools and materials. So, don't let those empty water bottles go to waste!
Start exploring these diy ideas and embrace your creativity to give your old bottles a new lease on life.
Happy crafting!