What to Do When Your Perfume Bottle Won't Spray? Solution!
If your perfume bottle won't spray, first try clearing the nozzle with warm water. If this doesn't work, you may need to check if there's enough perfume in the bottle as it could be empty or near-empty.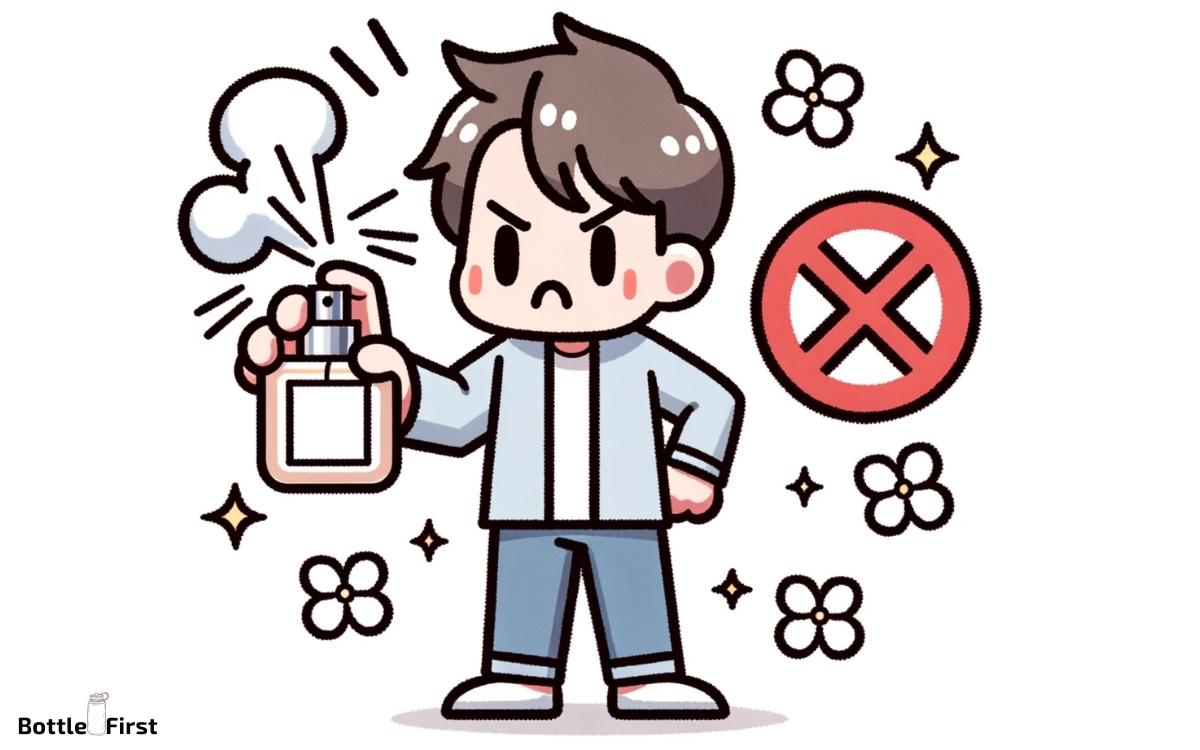 Key Takeaway
Clean the Nozzle: Sometimes, perfume residue can build up and clog the nozzle. You can clean this by removing the sprayer and rinsing it under warm water. Make sure to dry it thoroughly before reattaching.
Soak the Sprayer in Warm Water: If cleaning doesn't work, you could try soaking it in warm water for around 10 minutes. This might help dissolve any stubborn residue that's causing a blockage.
Replace the Sprayer: If neither cleaning nor soaking works, it might be that there's an issue with the sprayer itself. In this case, you may have to replace it.
Transfer Perfume to a New Bottle: As a last resort, if none of these methods work or if replacing is not an option for you, then consider transferring your perfume into a new bottle or atomizer.
6 Reasons for Perfume Bottle Spray Issues
| Reason | Explanation |
| --- | --- |
| Nozzle Clogging | Accumulation of dried perfume can block the spray nozzle. |
| Air Pockets in the Bottle | Trapped air may disrupt the spray mechanism's functionality. |
| Quality of the Spray Mechanism | Poorly designed or cheap components can lead to issues. |
| Bottle Not Upright | Spraying at an incorrect angle can cause uneven dispersion. |
| Low Perfume Level | Insufficient liquid may hinder the spray's effectiveness. |
| Temperature and Humidity | Extreme conditions can affect the consistency of the spray. |
This table provides insights into common reasons for issues with perfume bottle sprays, offering explanations related to clogging, air pockets, quality, usage, liquid levels, and environmental factors.
Troubleshooting The Spray Mechanism
When your perfume bottle won't spray, it can be frustrating. Before replacing it, try these troubleshooting steps to fix the spray mechanism.
By following these methods, you might be able to fix the issue and continue enjoying your favorite scent without any inconvenience.
Check The Nozzle
Sometimes, a blocked or clogged nozzle can prevent your perfume bottle from spraying properly. To check if this is the issue, remove the cap and inspect the nozzle.
Look for any visible residue or debris that might be blocking the opening. If you notice anything, use a clean cloth or tissue to wipe it away gently. Make sure to clean both the inside and outside of the nozzle.
Test The Pump Mechanism
If the nozzle appears clean and unclogged, the problem could lie within the pump mechanism. To test this, press down on the pump a few times to see if it releases any perfume.
If there is no resistance or if you don't feel any liquid being dispensed, the pump might be broken or damaged. In this case, it's best to move on to the next troubleshooting step.
Shake The Bottle
At times, settled liquid in the perfume bottle can cause spray malfunctions. To resolve this, gently shake the bottle to mix the contents.
This can help distribute the liquid evenly and allow for smoother spraying. After shaking, try pressing down on the pump again to see if it works properly.
Check The Liquid Consistency
Perfume liquid consistency plays a role in spray performance. If it's too thick or too watery compared to when you bought it, there might be an issue. In such cases, contacting the manufacturer or retailer for guidance is advisable.
Store Perfume Properly
The way you store your perfume can impact its functionality. Exposure to direct sunlight, extreme temperatures, and humidity can alter the perfume's composition, leading to spray issues.
To ensure your perfume stays in good condition, store it in a cool, dry place away from direct sunlight. This can help preserve the fragrance and prevent any potential damage to the spray mechanism.
Seek Professional Help
If all else fails and your perfume bottle still won't spray, it may be time to seek professional assistance. Contact the perfume brand's customer service or take your bottle to a specialized store.
Professionals can help diagnose the issue and offer suitable solutions or repairs, saving you from the hassle of replacing the bottle entirely.
Tips To Fix A Faulty Atomizer
When your perfume bottle doesn't spray, start by disassembling and then reassembling the atomizer.
Sometimes, the components inside the atomizer may have shifted or become misaligned, causing the spray mechanism to malfunction.
To fix this issue, follow these steps:
Hold the perfume bottle securely in one hand.
Gently twist the top part of the atomizer counterclockwise to loosen it.
Remove the top part of the atomizer from the bottle.
Inspect the tube that extends into the perfume bottle, ensuring it is properly aligned and not bent.
Place the top part of the atomizer back onto the bottle.
Twist it clockwise to tighten it, ensuring a snug fit.
Disassembling and reassembling the atomizer can realign its components and potentially resolve any issues causing it to malfunction.
Clean The Atomizer With Rubbing Alcohol
If disassembling and reassembling the atomizer didn't solve the problem, it's possible that it is clogged with residue or debris. Cleaning the atomizer with rubbing alcohol can help remove any blockages and restore its functionality.
Follow these steps to clean the atomizer with rubbing alcohol:
Detach the atomizer from the perfume bottle as described in the previous section.
Fill a small bowl or container with rubbing alcohol.
Submerge the tube and spray mechanism of the atomizer in the rubbing alcohol.
Let it soak for about 10-15 minutes.
Remove the atomizer from the rubbing alcohol and rinse it under warm water.
Dry the atomizer thoroughly with a clean cloth or let it air dry.
Reassemble the atomizer back onto the perfume bottle using the steps mentioned earlier.
By cleaning the atomizer with rubbing alcohol, you can dissolve any residue, dirt, or debris that may be hindering its functionality. This simple maintenance practice can help restore the spray mechanism to its full working condition.
Diy Solutions For A Non-spraying Perfume Bottle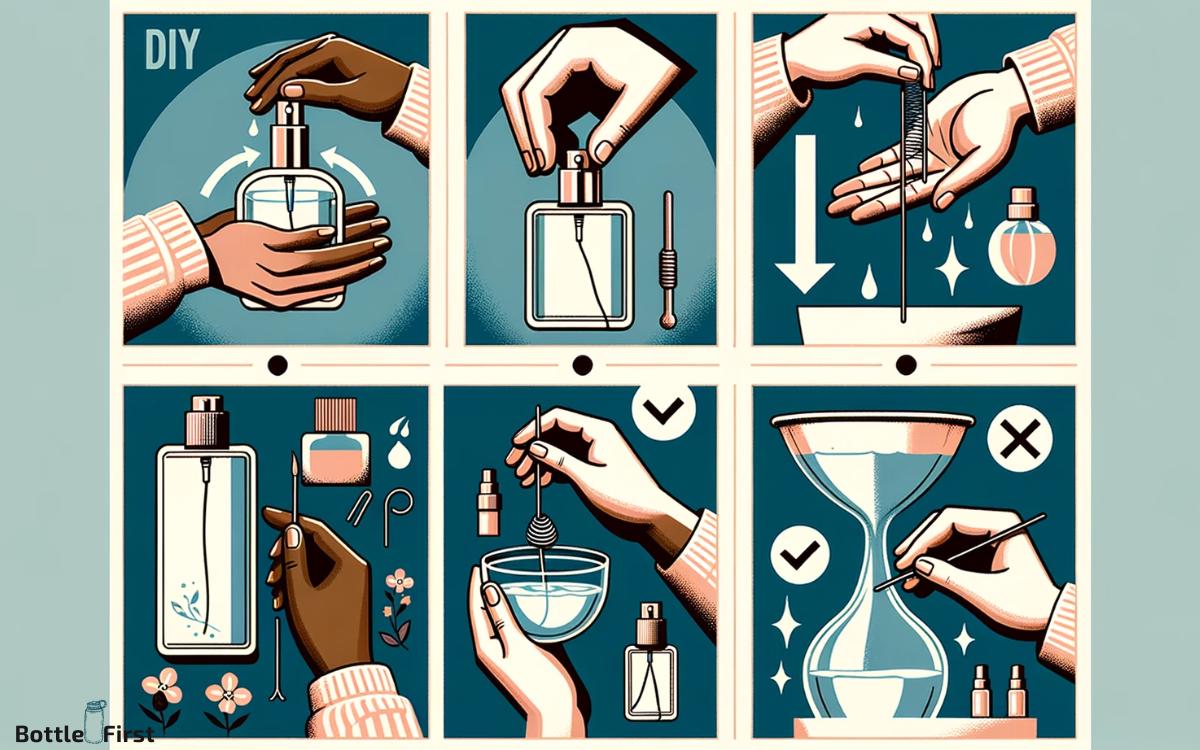 Having a perfume bottle that won't spray can be frustrating, but there's no need to panic. Instead of tossing it out or spending money on expensive repairs, try these DIY solutions to get your favorite fragrance back in action.
Checking The Liquid Level
If your perfume bottle won't spray, check the liquid level first. Hold it up to a light source to look for gaps in the liquid. If it's nearly empty, a simple refill may be the solution.
Mixing The Perfume With Water
If your perfume bottle has a good amount of liquid left but still won't spray, it might be clogged. One simple solution is to mix the perfume with a small amount of distilled water. Take a clean bowl or container and pour in equal parts of perfume and water.
Gently mix it together, ensuring it's well blended. Then, using a small funnel, carefully pour the mixture back into the original perfume bottle. The water will help to thin out the perfume and unclog any potential blockages.
Warming The Perfume Bottle
In some cases, the nozzle of your perfume bottle may be blocked by cold, thickened perfume. To fix this, try warming up the bottle. Fill a bowl or sink with warm water, making sure it's not too hot to handle.
Then, place the perfume bottle in warm water, ensuring the water level is below the cap. Let it sit for a few minutes to allow the perfume to warm up and become more liquid.
Afterward, take out the bottle, dry it off, and give the spray nozzle a test. It may start working again.
Transferring The Perfume To A New Container
If previous solutions don't work, consider transferring the perfume to a clean, empty container with a matching cap or stopper. Carefully pour the perfume, ensuring the new container is residue-free.
Test the spray nozzle to confirm proper flow, allowing you to continue using your favorite fragrance without inconvenience.
Tips For Salvaging Perfume From A Non-spraying Bottle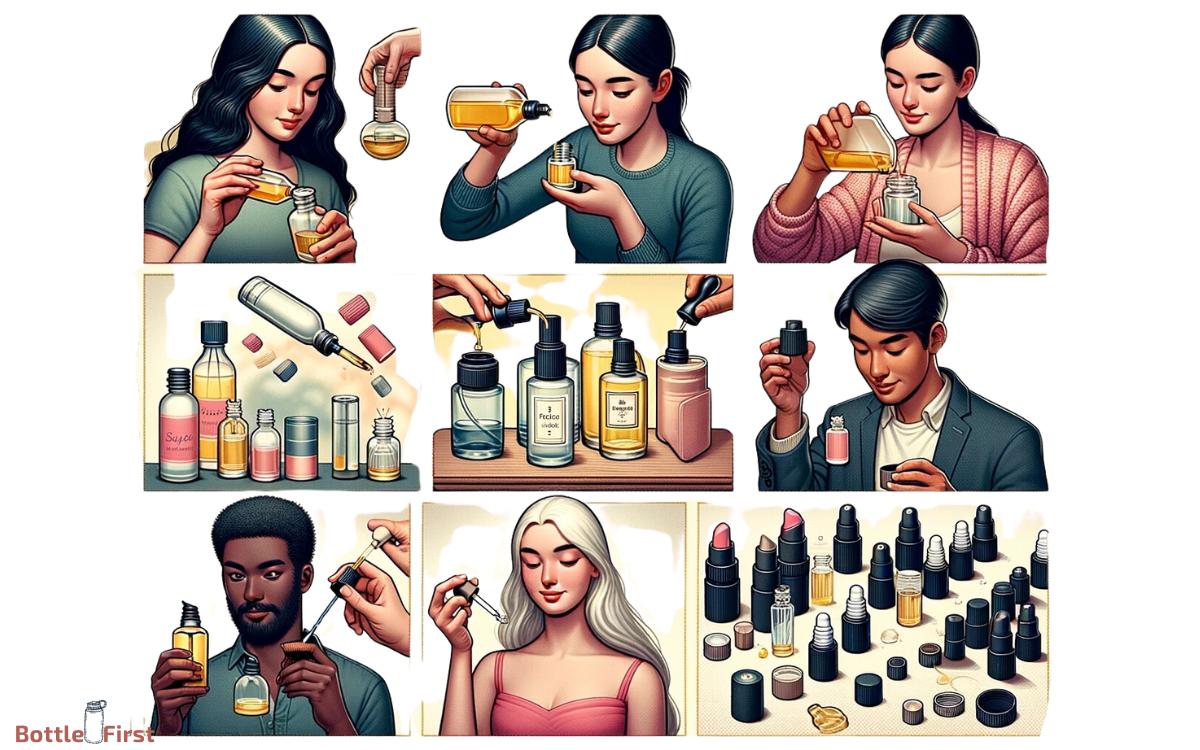 Nothing is more frustrating than having a beautiful bottle of perfume that simply won't spray. Fortunately, there are several ways you can salvage the perfume and make the most of its enticing fragrance.
In this article, we will explore three effective tips for salvaging perfume from a non-spraying bottle: opening the bottle and transferring the contents, creating a solid perfume or scented body lotion, and using the perfume as a room spray or fabric freshener.
Opening The Bottle And Transferring The Contents
If your perfume bottle won't spray, you can start by transferring the contents to a new container, ensuring you can continue using your favorite fragrance without any waste.
Here's how you can do it:
Find a small glass or plastic bottle with a spray nozzle, preferably an empty perfume bottle or a travel-sized spray bottle.
Carefully remove the cap of your non-spraying perfume bottle.
Using a small funnel, pour the perfume into the new bottle, making sure not to spill any precious drops.
Screw the spray nozzle tightly onto the new bottle.
Your perfume is now ready to be used with a fresh sprayer.
Creating A Solid Perfume Or Scented Body Lotion
If you're feeling a bit more adventurous, you can transform your non-spraying perfume into a solid perfume or scented body lotion. This way, you can still enjoy your favorite fragrance in a different form.
Here's how you can do it:
Melt a small amount of beeswax in a double boiler or microwave-safe container.
Once the beeswax has melted, stir in your non-spraying perfume, making sure the mixture is well-blended.
Pour the mixture into a small container, such as a lip balm tin or an empty lotion pot.
Allow the mixture to cool and solidify.
You now have a portable, hassle-free solid perfume or scented body lotion that can easily be applied whenever you desire.
Using The Perfume As A Room Spray Or Fabric Freshener
If you can't salvage the perfume for personal use, consider repurposing it as a room spray or fabric freshener, allowing you to enjoy its pleasant scent in your home.
Here's how:
Get a small spray bottle, preferably made of glass for better preservation of the fragrance.
Fill the spray bottle with distilled water or vodka, leaving some space at the top.
Add a few drops of your non-spraying perfume to the water or vodka.
Secure the spray nozzle tightly on the bottle.
Your perfume-turned-room spray or fabric freshener is now ready to be used to create a refreshing ambiance and delightful fragrance in any room or on any fabric.
By following these tips, you can salvage your non-spraying perfume and continue to enjoy its enticing fragrance in creative and practical ways. Don't let a malfunctioning spray nozzle stop you from indulging in your favorite scent!
Conclusion
To sum up, troubleshooting a non-spraying perfume bottle is not a complex task. By following these simple steps, you can easily fix the issue at home without any hassle. Don't forget to clean the nozzle, inspect the tube, and press the button firmly.
If these methods don't work, it's advisable to contact the perfume manufacturer for further assistance. Don't get disheartened; with a little patience, you can enjoy your favorite fragrance once again!
FAQ About What To Do When Your Perfume Bottle Won't Spray
How Do You Fix A Perfume Bottle That Will Not Spray?
To fix a perfume bottle that won't spray, check if the spray nozzle is clogged. Use warm water to clean it or remove the nozzle and soak it in rubbing alcohol.
Make sure the pump is working properly by pressing it a few times.
If these steps don't work, consider replacing the nozzle or contacting the manufacturer for assistance.
Why Is My Perfume Not Spraying?
There could be a few reasons why your perfume is not spraying. Check if the nozzle is clogged or dirty.
Ensure the bottle is not empty or the pump is broken. Try using gentle pressure or clean the nozzle to see if that fixes the issue.
Why Is My Perfume Spray Stuck?
The perfume spray may be stuck due to blockage in the nozzle or insufficient pressure in the bottle.
Try cleaning the nozzle with warm water or a pin. If that doesn't work, check if the bottle is properly pressurized by shaking it gently.
How Do You Remove Spray Nozzle From Perfume Bottle?
To remove the spray nozzle from a perfume bottle, gently twist it counterclockwise until it comes off.
Why Is My Perfume Bottle Not Spraying?
There are several reasons why your perfume bottle may not be spraying, including a clogged nozzle, a faulty pump mechanism, or an empty bottle.