Alternative to Spray Bottle for Cats! Train or Deter Cats
An effective alternative to using a spray bottle for deterring cats from unwanted behavior is utilizing motion-activated deterrents, environmental management, and positive reinforcement techniques.
While spray bottles are commonly used to stop cats from engaging in undesirable activities, they can have negative impacts on the pet-owner relationship, causing the cat to become aggressive or fearful. Instead, opting for alternative methods can be more beneficial for both the cat and owner.
Motion-activated deterrents: Devices such as air canisters or ultrasonic devices that emit a sound can be used to deter cats without the need for physical interaction.
Environmental management: Arrange the environment in ways that discourage bad behavior, such as using double-sided tape on furniture to prevent scratching or placing aluminum foil on countertops to avoid jumping.
Positive reinforcement: Rewarding good behavior with treats, praise, and attention can help cats understand which actions are desired.
Redirecting behavior: Providing alternative outlets for the unwanted behavior, such as offering scratching posts or toys for play, can help redirect the cat's energy in a more appropriate manner.
When considering alternatives to a spray bottle for disciplining cats, it's essential to choose methods that foster a positive pet-owner relationship and promote the cat's overall well-being.
By using motion-activated deterrents, managing the environment, and encouraging good behavior through positive reinforcement, owners can effectively address undesirable actions while maintaining a strong bond with their furry companion.
5 Alternative Spray Bottle for Cats: Pros & Cons
| Alternative | Description | Pros | Cons |
| --- | --- | --- | --- |
| Water gun | A small water gun used to squirt water at cats as a deterrent | More accurate than spray bottle, can hold more water | May scare the cat more than intended, not as discreet as a spray bottle |
| Ultrasonic device | Emits an ultrasonic sound that is unpleasant for cats | No physical contact, can be used from a distance | May not work on all cats, could annoy other animals in the area |
| Motion-activated air spray | Sprays a burst of air when motion is detected | Hands-free, discourages unwanted behavior without human intervention | Can be triggered by non-targeted movements, may need frequent refilling |
| Clicker training | Using a clicker to teach cats desired behaviors | Positive reinforcement, no need for deterrents | Requires patience and consistency, not a direct alternative to spray bottle |
| Scent deterrents | Use of scents that are unpleasant for cats to discourage them from certain areas | Non-invasive, can be effective in keeping cats away | May not work on all cats, could affect other animals and humans |
| Double-sided tape | Placing double-sided tape on surfaces where you don't want your cat | Non-confrontational, can prevent cats from scratching surfaces | Can leave residue, may need frequent replacement |
5 Alternative Spray Bottle for Cats: Pros & Cons
Key Takeaway
Using alternatives to spray bottles can provide more effective and humane methods of training or deterring unwanted behavior in cats.
Many of these alternatives involve techniques and tools that promote the cat's natural inclination to engage in positive behavior.
Some approaches include positive reinforcement, redirection, noise deterrents, and environmental changes.
Understanding your cat's unique personality and needs is essential for finding the best method to address unwanted behaviors.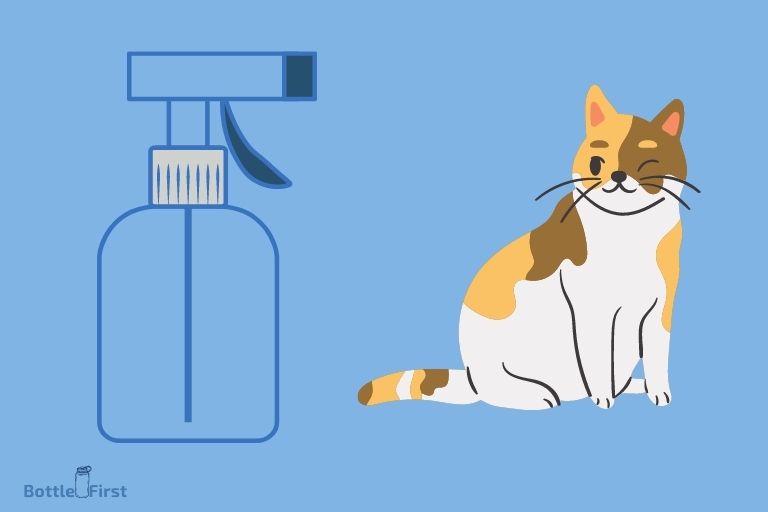 Five Facts About Using an Alternative to Spray Bottle for Cats
Positive reinforcement, such as treats or praise, can be an excellent alternative to using a spray bottle for training cats. This method encourages desired behavior and creates a stronger bond between the pet and its owner (source: ASPCA).
Redirection involves guiding your cat to engage in a more acceptable behavior, effectively replacing the unwanted action. For example, if your cat is scratching your furniture, provide them with a scratching post (source: Best Friends Animal Society).
Using noise deterrents, such as shaking a jar filled with coins or using a noise-making app on your phone, can effectively startle your cat and stop undesired behaviors. This approach works without causing harm or instilling fear in the cat (source: PetMD).
Altering the environment by blocking off certain areas, using scent barriers, or changing the texture of surfaces can deter unwanted actions. For example, using double-sided tape on furniture can discourage scratching (source: The Humane)
The Problem With Spray Bottles For Cats
Spray bottles have long been considered as a go-to tool for disciplining pets, but did you know that this method isn't entirely harmless?
Cats, in particular, are sensitive creatures that can be affected both physically and mentally by the use of spray bottles. Keep reading to find out why there are alternative methods to spray bottles for cats.
The Physical And Mental Harm Of Spray Bottles On Cats
Spray bottles may appear harmless, but it's time to debunk that myth.
Here are some reasons why it's time to say goodbye to spray bottles if you own a cat:
Using spray bottles can be painful and frightening for your cat, which can cause physical harm if you continue using this method.
Spray bottles can impact your kitty's mental health as well. This experience can be traumatic and can affect your cat's trust towards you.
This method only serves to stop bad behavior without providing the cat with alternative solutions. This can lead to confusion and excessive stress levels for your pet.
Overall, the use of spray bottles on cats can cause more harm than good. It's time to look for alternatives to help discipline your furry friend.
Safer And Effective Alternatives
Fortunately, there are plenty of alternatives to spray bottles that are safer and more effective.
Here are some suggestions:
Positive reinforcement to encourage positive behavior. Reward your cat with treats and compliments for good behavior.
Distraction methods, such as using toys to redirect your cat's focus when doing something wrong.
Providing your cat with a separate area or space that they can claim as their own. This will help them feel secure and help reduce stress levels.
Ultimately, it's vital to take a cat's nature and personality into account when looking for discipline methods. No two cats are alike, and what works for one may not work for the other. Experiment with different methods and find the one that suits your cat best.
The use of spray bottles on cats can cause physical and mental harm, which can lead to long-term trust issues and even medical problems. Thankfully, there are alternative methods available that are safer, more effective, and easy to implement.
By being patient and offering positive reinforcement, you can help your cat learn to behave better while maintaining a healthy and trusting relationship.
Alternatives To Spray Bottles
When it comes to keeping our furry friends from doing something they shouldn't, many cat owners turn to a trusty spray bottle. However, spraying your cat with water can create a negative association and may lead to anxiety and mistrust.
Thankfully, there are alternative methods to correct behavioral issues that are more effective and don't pose a risk to your cat's mental health.
Harnessing The Power Of Positive Reinforcement
Positive reinforcement is a training technique that rewards your cat for exhibiting good behavior. It promotes learning by encouraging your cat to repeat actions that lead to a positive outcome.
Here are some ways to harness the power of positive reinforcement when training your cat:
Use verbal praise and affection: Show your cat some love, pets, and verbal praise when they do something good.
Give your cat treats: Treats are an excellent way to reward your cat for positive behavior. Just be sure to give them in moderation.
Play with toys: Playtime is the perfect time to practice positive reinforcement with your cat. Use toys to redirect their focus and reward them when they play nicely.
The Use Of Automated Training Devices
Automated training devices can be an effective way to train your cat and prevent unwanted behavior. These devices emit a sound or vibration when they detect your cat engaging in a behavior that you want to avoid.
Here are a few examples of automated training devices:
Motion detectors: These devices can be set up near areas where your cat is not allowed. They'll emit a sound or spray of compressed air when they detect motion.
Automated feeder: If your cat is prone to overeating or begging for food, an automated feeder can be a useful tool. These devices dispense food at set times during the day, so your cat receives an appropriate amount of food.
Shock collars: While shock collars can be controversial, they are an option for some cat owners. These collars emit a small shock when your cat engages in unwanted behavior, such as scratching the furniture.
The Benefits Of Clicker Training
Clicker training is a training technique that uses a clicker sound to indicate when your cat has done something correctly. It's an excellent method for teaching your cat new tricks and behaviors.
Here are some of the benefits of clicker training:
Builds trust and confidence: Clicker training focuses on positive reinforcement, which can foster trust and confidence in your cat.
Encourages mental stimulation: Clicker training engages your cat's mind and keeps them mentally stimulated.
Strengthens the bond between you and your cat: Clicker training is a bonding experience for you and your cat. It requires teamwork, patience, and practice.
The Importance Of Catnip And Treats
Catnip and treats are two valuable tools when it comes to training your cat. They can be used to encourage positive behavior and discourage negative behavior.
Here are a few tips on how to use catnip and treats to train your cat:
Use different treats for different behaviors: Use treats that your cat loves to reward them for good behavior.
Choose healthy treats: Look for healthy treats that won't contribute to obesity or other health problems.
Use catnip to encourage good behavior: Catnip can be used to encourage positive behavior. Sprinkle a bit of catnip on a scratching post or a toy to help redirect your cat's attention away from destructive behavior.
There are plenty of alternatives to spray bottles that are more effective and don't pose a risk to your cat's mental health.
Whether you choose to harness the power of positive reinforcement, use automated training devices, practice clicker training, or use catnip and treats, there are plenty of options available to help you train your furry friend.
Remember to always stay patient, consistent, and reward good behavior to achieve the best results.
Training Your Cat Without Spray Bottles
Going Beyond Negative Reinforcement
Cats can be trained without the use of spray bottles, which can cause anxiety and stress to cats. It's important to consider positive reinforcement methods such as clicker training and treat rewards.
Here are some tips:
Use a clicker to mark the desired behavior and reward right after.
Use treats that your cat loves and only give them during training sessions.
Train in short sessions – 5 to 10 minutes – and gradually increase the duration.
Maintain a positive atmosphere and don't get frustrated if your cat doesn't behave as you want.
Don't physically punish your cat or use force, as it can lead to aggression towards you.
Understanding Your Cat'S Behavior
Understanding your cat's behavior is crucial when training them. Cats are independent animals and don't always do what we want them to, but they can be trained to behave in specific ways.
Here are some things you should know:
Cats respond to positive reinforcement better than negative reinforcement.
Cats have different personalities, and their behavior depends on their breed, age, and living conditions.
Cats are territorial animals and like having control over their environment.
Cats have a natural instinct to scratch, climb, and hunt.
Cats communicate through body language and vocalization. It's essential to learn how to read your cat's signals.
Establishing A Solid Relationship With Your Cat
Establishing a strong bond with your cat can make training easier and enjoyable for both you and your feline companion.
Here are some tips on how to strengthen your relationship:
Spend quality time with your cat every day, playing, petting, and talking to them.
Create a comfortable and safe environment for your cat by providing them with a cozy bed, a scratching post, and toys.
Establish a routine and stick to it, feeding your cat at the same time every day.
Respect your cat's boundaries and allow them to initiate contact when they feel comfortable.
Look for signs that your cat is happy and content, such as purring, relaxed body language, and seeking affection.
By going beyond negative reinforcement, understanding your cat's behavior, and establishing a solid relationship with your furry friend, you can train them without the use of spray bottles.
Remember to be patient and consistent, and you'll see positive results in no time.
Common Mistakes To Avoid When Training Your Cat
Training your cat can be a bit challenging at times. As a pet owner, it's important to avoid making common mistakes that might discourage your cat's progress.
Here are some common mistakes you should avoid when training your cat.
Being Inconsistent With Training
Being consistent is key when it comes to cat training. If you frequently change your methods, your cat might become confused and less motivated to learn. Consistent training will make it easier for your cat to understand what you want him/her to learn.
Consistency builds good habits and reinforces positive behavior
Repetitive training helps your cat understand what is being asked of him/her
Avoiding inconsistency will make training more efficient
Using The Wrong Kind Of Reinforcement
It's important to use proper reinforcement when training your cat. Using the wrong kind of reinforcement can be counterproductive and discourage your cat's progress.
Reinforce positive behavior with positive reinforcement
Avoid negative reinforcement, because it can make your cat feel stressed and anxious
Identify what motivates your cat and use it as a reward
Punishing Your Cat For Unwanted Behavior
Punishing your cat for unwanted behavior is not an effective method of discipline. Cats do not respond well to punishment, and it can damage your relationship with your furry friend.
Instead of punishing, redirect unwanted behavior
Use positive reinforcement to encourage the desired behavior
Avoid physical punishment as it can put your cat at risk of injury
Overworking Or Overtraining Your Cat
It's important to train your cat, but it's equally important not to overwork or overtrain your feline friend. Overtraining can lead to boredom and make your cat less receptive to learning.
Avoid long training sessions
Take frequent breaks to keep your cat engaged
Keep training sessions short but frequent to build on the previous session
By avoiding these common training mistakes, you'll be on your way to a successful training process with your beloved cat.
Remember, consistency, proper reinforcement, positive redirection, and appropriate training lengths are all key to effective cat training.
Are Spray Bottles Effective in Training Dogs and Detering Cats?
Spray bottles have gained popularity as a training tool, but their effectiveness may vary between dogs. Some dog owners claim that dogs' dislike of spray bottles helps modify their behavior. However, it's important to note that while spray bottles might be successful in deterring cats, every animal is unique and training techniques should be tailored accordingly.
FAQ About Spray Bottle For Cats
What Is An Alternative To Spray Bottles For Cats?
An alternative to spray bottles for cats is a handheld air puff deterrent.
Why Are Spray Bottles Bad For Cats?
Spray bottles can increase anxiety and fear in cats, leading to behavioral issues.
How Does An Air Puff Deterrent Work?
An air puff deterrent emits a burst of air to startle cats and discourage unwanted behavior.
Is An Air Puff Deterrent Safe And Humane?
Yes, an air puff deterrent is safe and humane. It does not harm cats in any way.
Where Can I Buy An Air Puff Deterrent For Cats?
Air puff deterrent products can be purchased online or at pet stores.
Conclusion
Cats often engage in unwanted behaviors, which can be difficult for pet owners to manage, especially when it comes to using spray bottles. Thankfully, there are alternative methods that can help redirect their behavior without using excessive force. Whether it's using a non-spray deterrent or providing your kitty with alternatives to scratching and biting, there are several options available to pet owners.
Using double-sided tape, scratching posts, and toys will help alleviate the stress of unwanted behaviors, allowing your cat to enjoy a happy and healthy life. Additionally, choosing to reward your cat's positive behavior can go a long way in encouraging good behavior.
By implementing these alternative methods, you can say goodbye to spray bottles and embrace a more humane approach to handling your cat's behavior. Remember, it's all about finding the right balance between managing your pet's behavior while also ensuring their happiness and wellbeing.