What Happens If You Drink from a Moldy Water Bottle?
If you drink from a moldy water bottle, you may experience symptoms such as vomiting, nausea, diarrhea, coughing, sneezing, and in severe cases, respiratory problems or allergic reactions.
Long-term exposure can even lead to more serious health conditions.
Maintaining proper hygiene with your water bottle is crucial for preventing these health risks. Ensure regular cleaning and drying of your reusable bottles to inhibit mold growth.
If you notice any signs of mold, thoroughly clean the bottle with hot soapy water or consider replacing it entirely if the contamination persists.
Remember that clear plastic bottles can harbor biofilms easier than stainless steel versions due to scratches on their surface serving as a hideout for bacteria and molds.
Thus, using high-quality stainless steel bottles and keeping them clean is an essential step towards healthy hydration habits.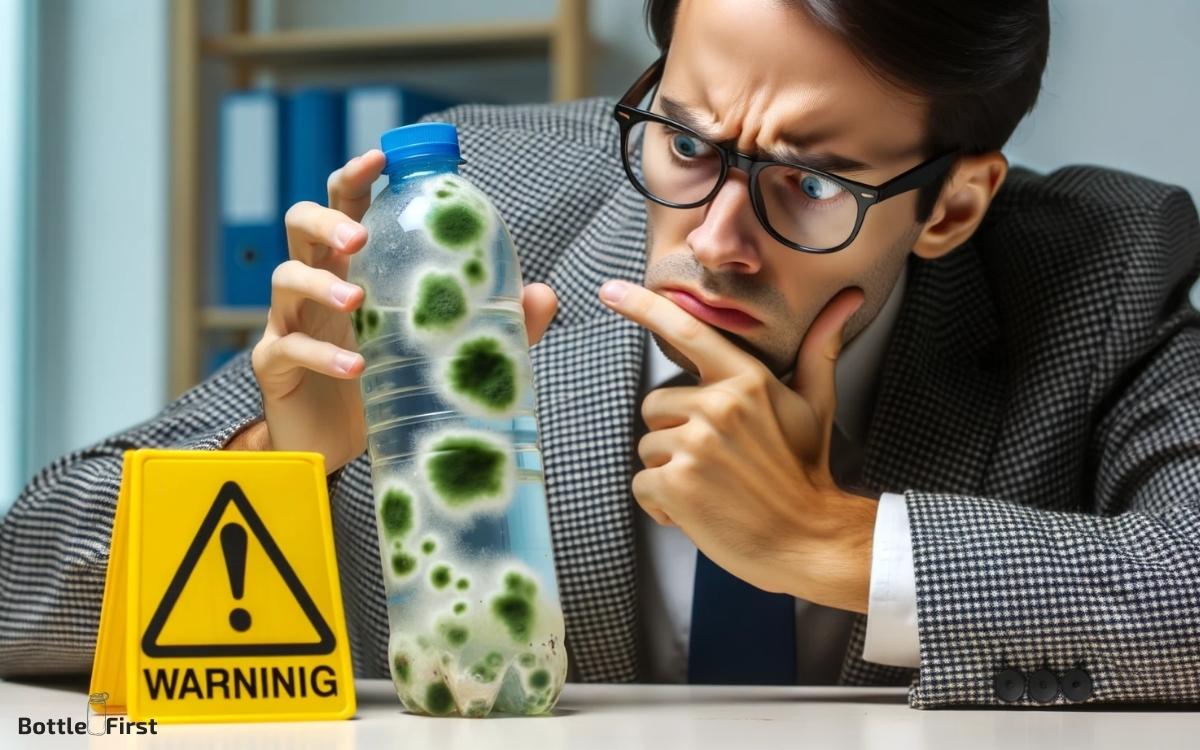 Key Takeaway
Drinking from a moldy water bottle is particularly dangerous because it directly introduces mold spores into your body.
The immediate effects include gastrointestinal issues like vomiting and diarrhea as the body tries to expel the foreign substances.
Prolonged exposure can cause allergic reactions and respiratory problems. This is because some types of mold produce toxins known as mycotoxins which can be harmful if ingested or inhaled.
Individuals with weakened immune systems or pre-existing lung conditions are at a higher risk of developing complications.
8 Issues of Drinking from a Moldy Water Bottle
| Issue | Explanation or Definition |
| --- | --- |
| Mold growth | Mold can grow in damp, warm, and humid environments. A water bottle that has been left with water in it for a long time can provide the perfect conditions for mold growth. |
| Ingesting mold | Drinking from a moldy water bottle can lead to ingesting mold spores. While not all mold is toxic, some types can cause adverse health effects. |
| Allergic reactions | Some individuals are allergic to mold and can experience symptoms such as sneezing, itching, rash, or difficulty breathing when exposed to mold spores. |
| Respiratory issues | Inhaling mold spores from a moldy water bottle can lead to respiratory problems, particularly in those with asthma or other pre-existing lung conditions. |
| Gastrointestinal issues | Ingesting mold can cause gastrointestinal issues such as nausea, vomiting, diarrhea, and stomach cramps. |
| Mycotoxins | Some molds produce toxic substances called mycotoxins, which can be harmful if ingested, inhaled, or come into contact with the skin. |
| Weakened immune system | Ingesting mold from a moldy water bottle can lead to a weakened immune system, making you more susceptible to infections and illnesses. |
| Prevention | To prevent mold growth in water bottles, clean and dry them thoroughly after each use, and store them in a cool, dry place. Regularly inspect water bottles for any signs of mold growth. |
Learn about the potential health risks and symptoms associated with consuming water from a moldy bottle. From digestive issues to allergic reactions, it's essential to be informed and take precautions.
Signs Of A Moldy Water Bottle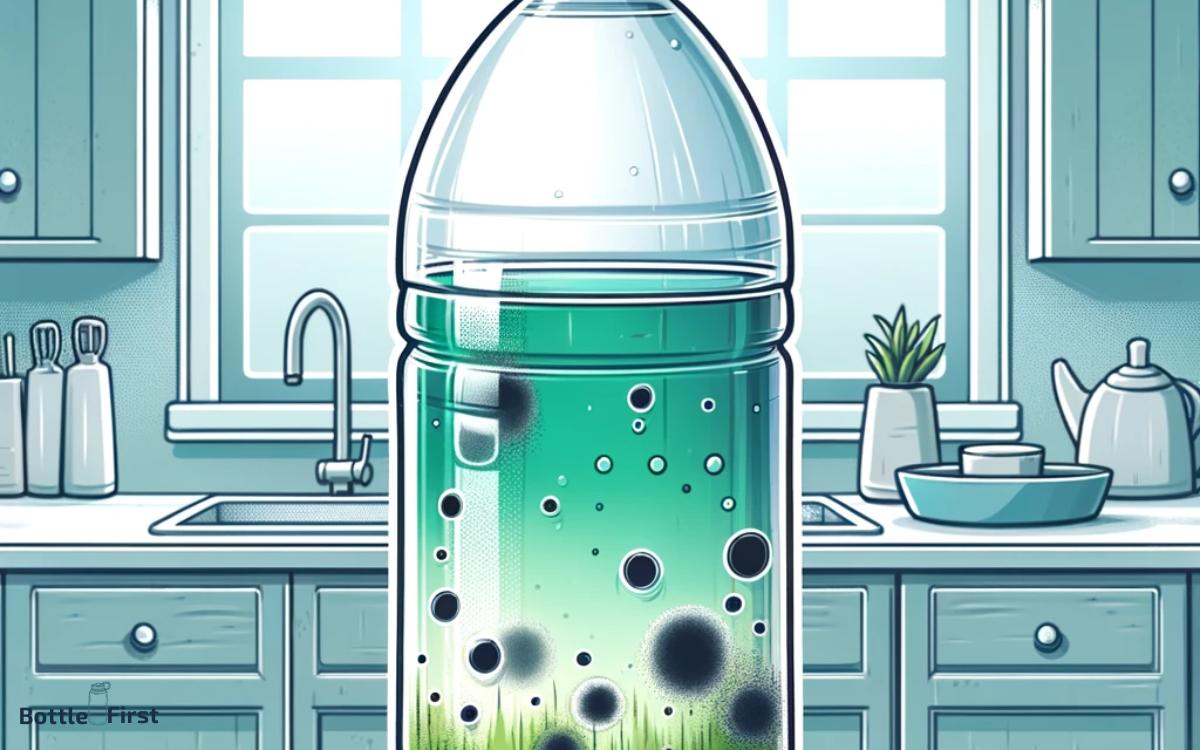 Recognize signs of mold in your water bottle to take appropriate cleaning or replacement action.
Here are the indications that your water bottle might be moldy:
Visible Mold Growth: Black, white, green, or even pinkish mold colonies may appear on the interior surfaces, especially in crevices or under the seal of the bottle cap.
Musty Odor: A strong, musty, or stale smell when you open the bottle is a common indicator of mold growth.
Slimy Texture: If the interior feels slick or slimy, it could be due to mold or bacterial growth.
Cloudy Appearance: The water inside the bottle looks cloudy or has floating particles.
Discoloration: Unusual staining or discoloration on the inner surfaces can be a sign of mold.
Respiratory Reactions: If you experience sudden sneezing, coughing, or a runny nose when using the bottle, it may indicate mold presence, especially if you're allergic to mold.
Taste: An off or unpleasant taste when drinking from the bottle, even if the water was freshly filled.
Frequent Illness: If you often feel sick or experience digestive issues after drinking from the bottle, mold or bacteria might be a culprit.
To prevent mold growth:
Regularly wash and thoroughly dry your water bottle.
Store it with the cap off to allow air circulation.
Avoid leaving water in the bottle for extended periods, especially in warm or humid conditions.
If you find mold in your water bottle, clean it thoroughly or consider replacing it, particularly if the mold is difficult to remove from crevices or under seals.
Health Risks Associated With Mold Ingestion
Ingesting mold, whether through food, water, or other means, can potentially lead to various health issues.
Here are the health risks associated with mold ingestion:
Digestive Problems: Consuming mold can lead to gastrointestinal symptoms like nausea, vomiting, diarrhea, and stomach cramps.
Allergic Reactions: Mold spores can provoke allergic responses in sensitive individuals, causing symptoms like itching, hives, sneezing, and a runny nose.
Mycotoxin Poisoning: Some molds produce toxic compounds called mycotoxins. Ingesting foods or drinks contaminated with these toxins can lead to symptoms like stomach upset, reduced appetite, and even more severe health problems over time.
Respiratory Issues: While inhalation is a more common route, even ingestion can sometimes lead to respiratory symptoms, especially in individuals with existing respiratory conditions like asthma.
Infections: For people with compromised immune systems, certain molds can lead to infections. Aspergillus, for instance, can cause aspergillosis, a disease that affects the lungs.
Neurological Symptoms: Some mycotoxins, like those from the mold Stachybotrys chartarum (often called "black mold"), can affect the nervous system and may lead to symptoms like headaches, dizziness, and in severe cases, memory loss or cognitive disturbances.
Liver Damage: Extended exposure to specific mycotoxins can lead to liver damage and increase the risk of liver diseases.
Immune System Suppression: Prolonged exposure to mold and its associated toxins can weaken the immune system, making the body more susceptible to other infections.
Carcinogenic Potential: Aflatoxin, a type of mycotoxin produced by certain molds, is known to be carcinogenic and can increase the risk of liver cancer when ingested in significant amounts over time.
Skin Irritation: In some sensitive individuals, ingesting moldy substances can also lead to skin rashes or irritations.
Health risks from mold ingestion vary depending on the type of mold, the quantity ingested, and individual health and sensitivities.
If someone suspects they've consumed mold or are experiencing unusual symptoms, they should seek medical attention.
Common Types Of Mold Found In Water Bottles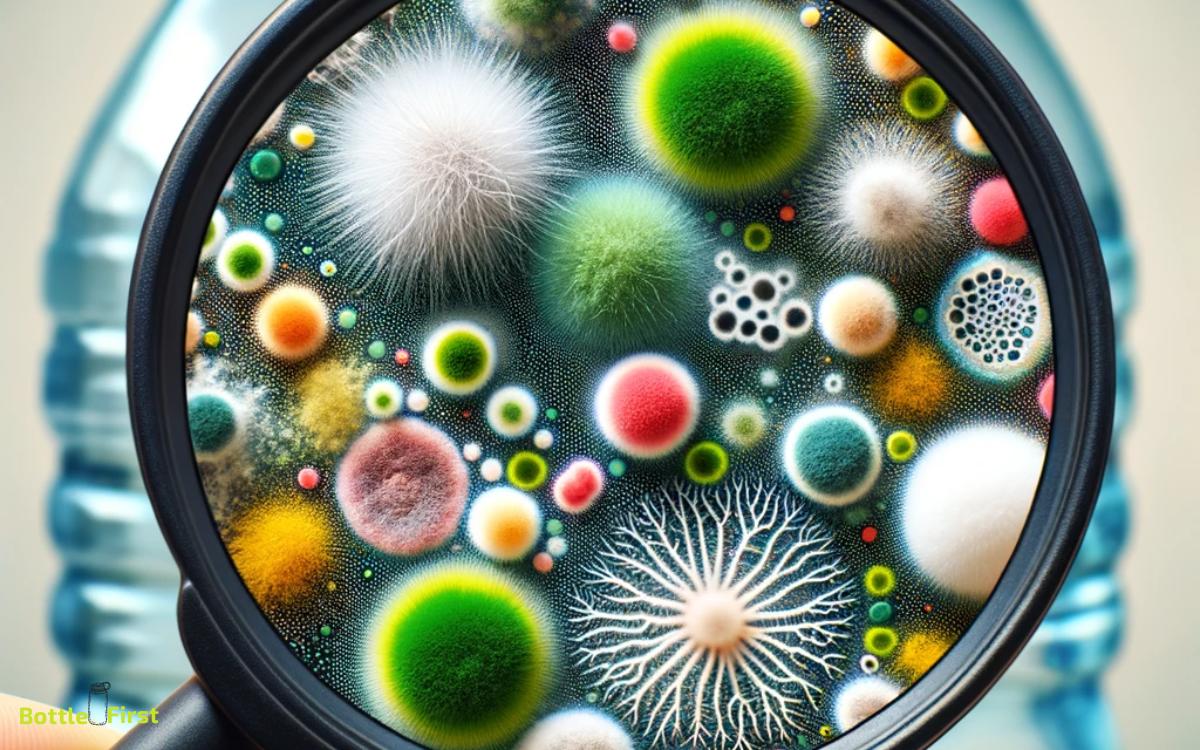 Water bottles, especially those not regularly cleaned and dried, can be breeding grounds for various types of mold due to the moisture and potential organic residues.
Here are some common types of mold that might be found in water bottles:
Aspergillus: One of the most common indoor molds. While many of its species are harmless, some can produce harmful mycotoxins or lead to infections, especially in immunocompromised individuals.
Penicillium: Known for its blue or green color, this mold is commonly found on food but can also thrive in water bottles. Some species produce mycotoxins.
Cladosporium: This mold can be found on dead plants, in the air, and in various indoor environments, including water bottles. It's often green or black and can cause allergic reactions.
Alternaria: A common outdoor mold that can also find its way indoors. It is one of the main causes of allergy-related symptoms.
Fusarium: Typically found in soil and plants, it can also grow in water bottles, especially in cooler environments. Some species produce mycotoxins that can be harmful if ingested.
Mucor: Often appears white initially, turning grayish with time. It grows rapidly in thick patches. While generally not harmful, it can cause infections in immunocompromised individuals.
Rhizopus: Often grows alongside Mucor (and sometimes mistaken for it), Rhizopus can lead to infections, particularly in individuals with weakened immune systems.
Aureobasidium: Often found behind wallpaper or on wooden surfaces, it can also grow in water bottles. It can appear pink or brown.
Stachybotrys chartarum: Often referred to as "black mold" or "toxic black mold," it produces mycotoxins that can be harmful to health. While it prefers to grow on high-cellulose, low-nitrogen surfaces like drywall, it can potentially be found in water bottles, especially if left damp for extended periods.
How To Prevent Mold Growth In Water Bottles
Preventing mold in water bottles is crucial for your health and access to clean drinking water.
Here are some tips to help you prevent mold growth:
Clean Your Water Bottle Regularly
Prevent mold in your water bottle by cleaning it regularly. After each use, wash with warm soapy water and a bottle brush to remove residue and bacteria, then rinse thoroughly.
Dry Your Water Bottle Completely
Proper drying is essential to prevent mold in water bottles. After cleaning, thoroughly dry it before storing. Mold thrives in moisture, so a wet bottle creates a breeding ground for mold.
Store Your Water Bottle In A Cool, Dry Place
Choosing the right storage location for your water bottle is key to preventing mold growth. Avoid storing your bottle in areas that are damp or humid, such as basements or bathrooms. Instead, find a cool, dry place like a kitchen cabinet or pantry to store your bottle.
Avoid Using Your Water Bottle For Drinks Other Than Water
Mold and bacteria thrive in sugary and acidic environments. Avoid using your water bottle for anything other than water, as sugary drinks can promote mold, and acidic drinks can damage the bottle's material, fostering bacteria growth.
Replace Your Water Bottle Periodically
Water bottles can deteriorate over time, despite proper cleaning. If you see cracks, scratches, or signs of wear, replace your bottle. Older bottles are more prone to mold due to rough, hard-to-clean surfaces.
Remedies For Health Issues Caused By Mold Exposure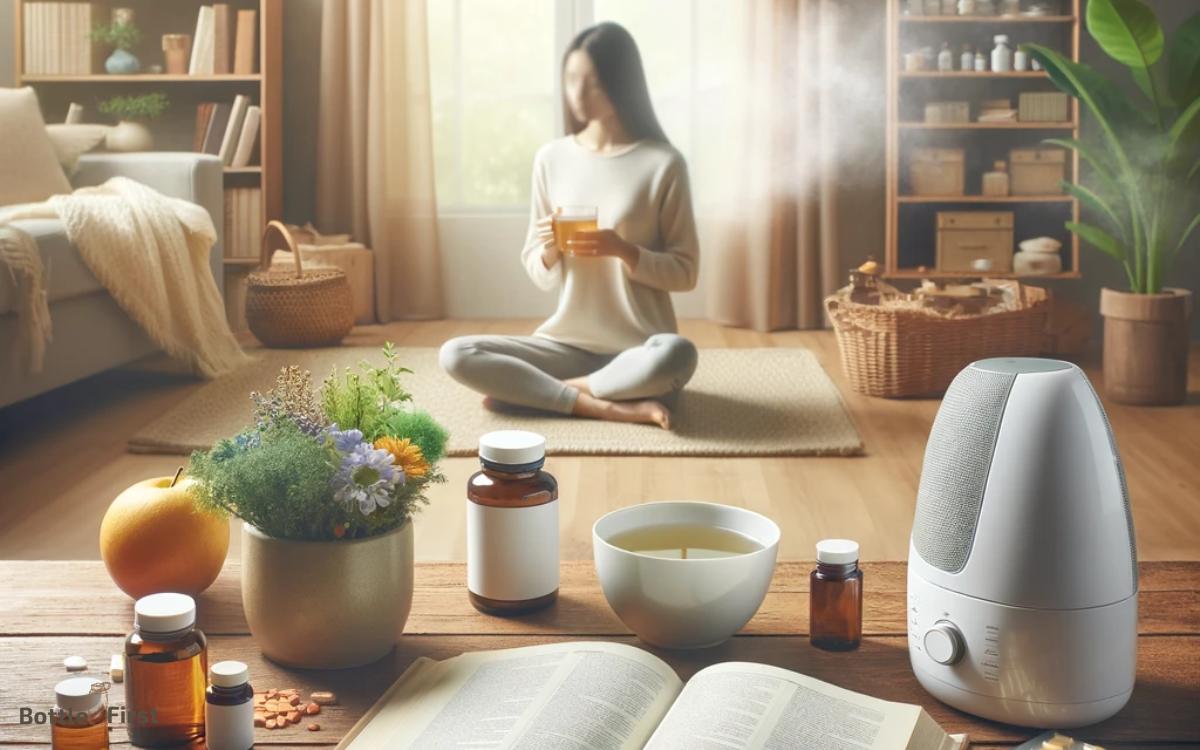 If you've accidentally consumed moldy water from a contaminated bottle, seek immediate medical attention. Mold contains toxins and spores that can cause serious health issues if ingested.
Here are some remedies and precautions you can take to alleviate the health issues caused by mold exposure:
Flush Your System
Drinking plenty of clean, filtered water can help flush out any toxins or spores that may have entered your system.
Proper hydration is essential for promoting overall health and supporting your body's natural detoxification process. Aim to drink at least eight glasses of water a day.
Consult A Healthcare Professional
If you experience any concerning symptoms such as respiratory issues, allergic reactions, or skin irritation, it is crucial to consult a healthcare professional.
They can assess your condition, provide appropriate treatment, and monitor your health to ensure a full recovery.
Support Your Immune System
Boosting your immune system can help your body better combat the effects of mold exposure. Focus on consuming a healthy, balanced diet rich in fruits, vegetables, and lean proteins.
Incorporate immune-boosting supplements such as vitamin C, zinc, and probiotics into your routine after consulting with a healthcare professional.
Clean And Sanitize Your Water Bottle
Clean and sanitize your water bottle regularly by scrubbing the inside with mild dish soap and warm water, paying attention to mold-prone areas. Rinse and air dry before reuse.
Store Your Water Bottle Properly
Store your water bottle properly to reduce mold risk. Make sure it's dry before storing, as moisture encourages mold. Keep it in a clean, ventilated spot away from direct sunlight.
Conclusion
Drinking from a moldy water bottle can have serious consequences for your health. Mold contains toxins and spores that can lead to respiratory issues, allergic reactions, and skin irritation.
If you accidentally ingest moldy water, it is crucial to seek immediate medical attention. Mold can weaken your immune system and cause a range of symptoms, including nausea, cramping, and diarrhea.
To protect yourself, always ensure that your water bottles are clean and free from mold. Stay hydrated, but prioritize your health by avoiding mold contamination.