How Does a Blender Bottle Work? 7 Easy Steps!
A blender bottle, often referred to as a shaker bottle, works by using a whisk ball, typically made of surgical-grade stainless steel, to break up and mix ingredients when the bottle is shaken.
This design allows for the easy mixing of powdered ingredients such as protein powders, making it an essential tool for health and fitness enthusiasts.
The blender bottle is designed with a secure, leak-proof lid and a blender ball that moves freely throughout the bottle when shaken.
As you shake the bottle, the ball whisks through the liquid and powdered ingredients, breaking them up and mixing them together to create a smooth, well-blended drink.
The whisk ball is especially effective at breaking up clumps that can form when mixing powders into liquids.
Whisk ball technology: The blender bottle utilizes a whisk ball to break up and mix ingredients.
Versatility: Blender bottles can be used for protein shakes, meal replacements, smoothies, and more.
Dishwasher Safe: Most blender bottles are safe for the dishwasher, making them easy to clean.
Leak-Proof Design: The lid of a blender bottle is designed to prevent leaks, allowing you to shake vigorously without worry.
Blender bottles are a convenient and effective tool for those who regularly consume drinks made from powdered ingredients.
Whether it's a protein shake after a workout or a meal replacement shake during a busy day, a blender bottle helps ensure you get a smooth, well-blended drink every time.
The whisk ball and leak-proof design make the process mess-free and the cleaning process is typically hassle-free as most models are dishwasher safe.
7 Steps to How Does a Blender Bottle Work
| Steps | Description |
| --- | --- |
| Step 1 | Add your ingredients into the bottle. This typically includes powdered supplements, protein powders or meal replacements. |
| Step 2 | Pour in the liquid. This could be anything from water, milk, or juice. The liquid is necessary to help incorporate all of the ingredients together. |
| Step 3 | Securely fasten the lid. Ensure that the lid is screwed on tight to avoid any spillage or leaks during the blending process. |
| Step 4 | Shake the bottle vigorously. The mixing mechanism in the bottle, often a wire whisk ball or mixing grid, helps to blend and break down the powdered ingredients. |
| Step 5 | Continue shaking until all the powder is fully dissolved. Make sure there are no clumps left; smoothness of the shake depends on the duration and intensity of shaking. |
| Step 6 | Once all the ingredients are fully blended, the shake is ready to be consumed directly from the bottle. |
| Step 7 | After use, clean the bottle thoroughly to avoid any residue buildup. Most blender bottles are dishwasher safe, making this step easier. |
7 Steps to How Does a Blender Bottle Work
Key Takeaway
Blender bottles are specially designed to enable efficient mixing of protein shakes, smoothies and other beverages.
The distinctive feature of a blender bottle is the stainless steel wire whisk that moves freely inside, mixing even the thickest ingredients with ease.
They are usually BPA-free, hence safe for holding our daily drinks.
The portability of blender bottles makes them perfect for on-the-go consumption enabling effective nutrient intake pre or post workouts.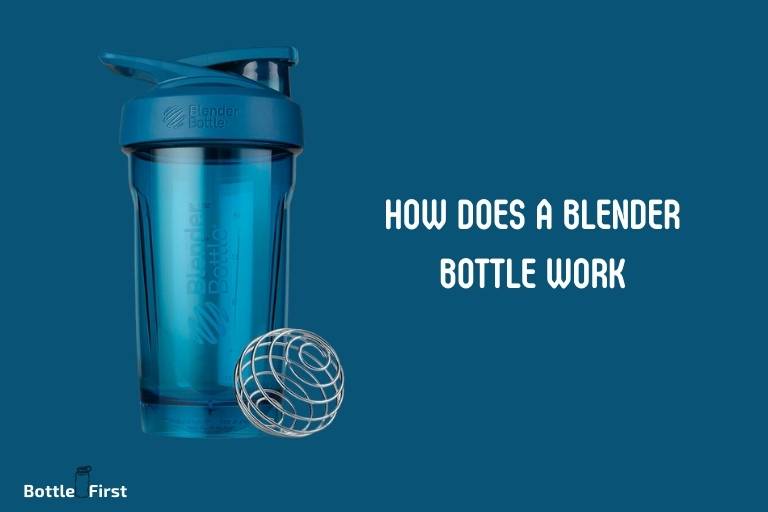 Five Facts About How a Blender Bottle Works
A blender bottle, also known as a shaker bottle, is a type of container designed for mixing protein shakes, dietary supplements, meal replacements, and other drink mixes. (source)
Their key feature is a stainless steel blender ball, a spherical whisk-like device that enhances the mixing process when the bottle is shaken. (source)
Blender bottles are often used by fitness enthusiasts and athletes to mix their post-workout shakes. The tight-seal lid prevents spillage, making it convenient to carry around. (source)
They are usually made from BPA-free plastic, making them safe for daily use. Moreover, many models are dishwasher safe for easy cleaning. (source)
Blender bottles not only provide a lump-free mix but also allow you to mix your drinks anywhere, anytime, without the need for electricity, batteries, or even a spoon! This feature makes them ideal for travel. (source)
What Is A Blender Bottle?
If you frequently prepare protein shakes, smoothies, or other mixed beverages, you may have come across the term "blender bottle. "
A blender bottle is a specialized container designed to efficiently mix ingredients and provide a smooth, well-blended drink.
It is an essential accessory for those seeking a quick and convenient way to prepare beverages on the go.
Let's take a closer look at blender bottles and how they work.
Definition And Explanation Of A Blender Bottle:
A blender bottle, also known as a shaker bottle or mixing bottle, is a portable and durable container specifically created for blending ingredients.
It typically consists of a bottle or cup made of sturdy plastic, equipped with a secure lid, a cap with a flip-top or drinking spout, and a mixing mechanism.
The primary purpose of a blender bottle is to blend and mix liquids, powders, and other ingredients effectively, resulting in a smooth and well-mixed beverage.
Blender bottles are widely used by fitness enthusiasts, athletes, and individuals who are always on the go and need to quickly prepare protein shakes, smoothies, or other drinks.
Overview Of Different Types Of Blender Bottles Available In The Market:
There are various types of blender bottles available in the market to cater to different needs and preferences.
Here are some popular options:
Classic blender bottle: This type features a standard design, including a plastic bottle with volume markings, a leak-proof flip cap, and a metal mixing ball. It is a versatile and commonly used blender bottle.
Insulated blender bottle: These bottles have double-wall insulation to help keep beverages cold for extended periods. They are perfect for workouts or outings when you want to enjoy a chilled drink.
Electric blender bottle: These innovative bottles come with built-in electric blending capabilities, often with rechargeable batteries or usb connectivity. They are ideal for blending ingredients at the touch of a button, eliminating the need for manual shaking.
Collapsible blender bottle: These bottles are designed to be collapsible, making them ideal for travelers with limited storage space.
Mini blender bottle: Smaller in size, these bottles are designed for single servings, making them convenient for portion control or when you only need a small amount of your drink.
Key Features And Components Of A Blender Bottle:
Blender bottles typically incorporate several features and components to ensure effective blending and user convenience.
Some key components include:
Bottle or cup: Made from durable bpa-free plastic material, the bottle or cup serves as the main container for holding ingredients.
Lid: The lid of a blender bottle is designed to provide a secure closure, preventing leaks and spills.
Flip cap: This component allows for easy access to the contents of the bottle without completely removing the lid.
Drinking spout: Many blender bottles have a drinking spout, which eliminates the need for pouring the contents into a separate glass or cup.
Mixing mechanism: The blender bottle is equipped with a mixing mechanism, typically a metal or plastic wire whisk ball, designed to blend and break up clumps as you shake the bottle.
Volume markings: Blender bottles often feature measurement markings on the side, allowing you to accurately measure liquids and powders for portion control or recipe precision.
Easy grip: Many blender bottles feature ergonomic designs with rubberized or textured grips, ensuring a secure hold while shaking or carrying.
Dishwasher safe: The majority of blender bottles are dishwasher safe, making it easy to clean and maintain hygiene.
Blender bottles are essential tools for efficiently blending various ingredients to create well-mixed drinks on the go.
With different types available in the market and key features like secure lids, mixing mechanisms, and easy grip, blender bottles offer convenience and versatility for fitness enthusiasts, athletes, and anyone seeking to quickly prepare delicious beverages.
So, if you're looking to streamline your drink preparation process, a blender bottle is a must-have accessory.
How Does A Blender Bottle Work?
Explanation Of The Mechanism Behind Blender Bottles
Blender bottles are a game-changer when it comes to quick and efficient blending. But have you ever wondered how exactly they work their magic?
Let's dive into the mechanism behind these handy kitchen companions.
Blender bottles are designed with a unique internal structure that facilitates mixing and blending.
The primary component responsible for this efficient mixing is the wire whisk ball.
This ball, often made of stainless steel, is placed inside the bottle and acts as a manual agitator.
When you shake the bottle, the ball moves around and mixes the ingredients, creating a smooth and homogeneous texture.
The wire whisk ball has strategically placed loops and wires that help break down clumps and disperse ingredients evenly.
The volume of the bottle allows for proper mixing without any overflow or spillage.
The lid of the blender bottle is equipped with a tight seal, preventing leakage during vigorous shaking.
Discussion On The Role Of The Wire Whisk Ball In Blending Ingredients
The wire whisk ball plays a vital role in achieving perfectly blended ingredients.
Here's why it's the star of the show:
The wire whisk ball works as a manual blender, ensuring ingredients are thoroughly mixed.
As you shake the bottle, the ball moves freely, agitating the contents and breaking up any clumps.
Its strategically arranged loops and wires help create turbulence, which promotes efficient blending.
The stainless steel construction of the ball ensures durability and corrosion resistance, even when used with acidic or high-alkaline ingredients.
The wire whisk ball is simple to clean and is dishwasher safe.
It can be easily removed from the bottle, making it convenient for storage and washing.
Step-By-Step Guide On How To Use A Blender Bottle Effectively
Using a blender bottle correctly will amplify your blending experience.
Follow these simple steps for optimal results:
Add desired ingredients to the blender bottle, making sure not to exceed the recommended fill line.
Place the wire whisk ball inside the bottle, ensuring it sits in the liquid and is not obstructed by ingredients.
Securely screw on the lid to prevent any spills or leaks.
Hold the bottle firmly and shake it vigorously, ensuring the ball moves around freely.
Continue shaking for about 30 seconds or until you've achieved the desired consistency.
Once blended, remove the lid, and enjoy your perfectly mixed concoction.
After use, wash the blender bottle, including the wire whisk ball, with warm soapy water or place them in the dishwasher for easy cleaning.
Make sure to dry all components thoroughly before storing to prevent any odor or bacterial growth.
Using a blender bottle is a quick and efficient way to blend ingredients, whether it's protein shakes, salad dressings, or pancake batter.
So, grab your blender bottle and start creating smooth, lump-free goodness!
Benefits Of Using A Blender Bottle
Overview Of The Advantages Of Using A Blender Bottle For Mixing And Blending
Blender bottles are versatile and convenient tools for mixing and blending various ingredients.
Whether you're a fitness enthusiast, a smoothie lover, or simply someone who enjoys a quick and easy way to prepare your favorite beverages, using a blender bottle has numerous benefits.
Here's an overview of the advantages you can enjoy when using a blender bottle:
Efficient and time-saving: Blender bottles come with a built-in blending mechanism, usually in the form of a wire whisk or a blender ball. This ensures that your ingredients are thoroughly mixed and blended in a fraction of the time compared to traditional methods.
Easy to use: You don't need any special skills or equipment to operate a blender bottle. Simply add your ingredients, attach the lid securely, and shake vigorously. The blending mechanism will do the rest, effortlessly creating a smooth and well-mixed concoction.
Portability: One of the significant benefits of a blender bottle is its portability. Designed with a leak-proof lid, you can safely carry your blended drinks wherever you go, whether it's to the gym, on a hike, or to the office. Say goodbye to lumpy protein shakes or unevenly mixed energy drinks!
Discussion On The Convenience And Portability Of Blender Bottles
Blender bottles offer unparalleled convenience and portability, making them a must-have for anyone on the go.
Here's why they are so convenient and portable:
Lightweight and compact: Blender bottles are lightweight and compact, making them easy to carry in your bag or backpack. They take up minimal space, ensuring you can bring them along wherever you need to go.
All-in-one solution: With a blender bottle, you no longer need separate containers for your ingredients and a blender or mixer to prepare your drinks. It's an all-in-one solution that simplifies your blending process and minimizes the number of items you need to carry.
No power source required: Unlike traditional blenders or mixers, blender bottles don't rely on electricity or batteries. You can use them anytime, anywhere, without the need for power outlets or charging cables. This makes them perfect for outdoor activities or situations where access to electricity is limited.
Easy to clean: Blender bottles are designed with convenience in mind, and that includes easy cleaning. Most blender bottles are dishwasher safe or can be easily cleaned by hand. With their removable blending mechanism, you can ensure every nook and crevice is thoroughly cleaned, maintaining hygiene and preventing any residue buildup.
Highlighting The Ability To Create Smooth And Lump-Free Drinks With A Blender Bottle
One of the standout features of a blender bottle is its ability to create smooth and lump-free drinks.
Here's why you can enjoy perfectly blended beverages with a blender bottle:
Blending mechanism: The blender ball or wire whisk inside the bottle helps break up any clumps or particles in your drink mix. As you shake the bottle, the blending mechanism works its magic, ensuring a smooth and consistent texture throughout.
Ventilation system: Some blender bottles feature a unique ventilation system that allows pressure to escape while shaking, preventing the buildup of pressure inside the bottle. This helps create a smoother blend without any unwanted clumping.
Customizable blending time: With a blender bottle, you have control over the blending time. Simply shake the bottle for a shorter duration if you prefer a slightly chunkier texture, or shake it more vigorously for a completely smooth result. It's all up to your personal preference.
Versatile usage: Blender bottles are not limited to just protein shakes or smoothies. They can be used for various drink mixes, including meal replacements, powdered supplements, salad dressings, pancake batters, and even cocktails. The blending mechanism ensures a consistent mix every time, regardless of the ingredients.
Using a blender bottle brings numerous benefits, from saving time and effort to enjoying perfectly blended and lump-free drinks.
Its convenience, portability, and versatility make it an essential tool for anyone who loves a quick and efficient way to mix and blend their favorite beverages.
Try out a blender bottle today and experience the difference yourself!
Tips And Tricks For Maximizing Blender Bottle Efficiency
Blender bottles have become an essential accessory for those who lead a busy and active lifestyle.
These versatile containers make it easier than ever to whip up a quick and nutritious meal or snack on the go.
However, to get the best results from your blender bottle, it's essential to know a few tips and tricks to maximize its efficiency.
From proper cleaning and maintenance to ensuring the perfect consistency for your recipes, here are some useful pointers to help you make the most of your blender bottle:
Proper Cleaning And Maintenance Procedures For A Blender Bottle:
Rinse immediately after use: To prevent the build-up of odors and stains, always rinse your blender bottle as soon as you finish using it. This will remove any lingering residue and make the cleaning process much easier.
Use warm soapy water: For a thorough cleanse, fill your blender bottle with warm water and a few drops of dish soap. Give it a good shake to ensure all surfaces are covered, then rinse thoroughly.
Don't forget the lid: Many people overlook this step, but the lid of your blender bottle is just as important to clean as the actual bottle. Pay special attention to the sealing ring and ensure it is free from any leftover debris.
Opt for a bottle brush: For tough-to-reach areas or stubborn stains, using a bottle brush can be incredibly helpful. These brushes are designed to fit perfectly into the bottle and can easily scrub away any residue.
Air-dry upside down: After cleaning, leave your blender bottle to air-dry upside down. This will prevent any water droplets from pooling at the bottom, which could lead to unpleasant odors or mold growth.
Recipes And Ingredients That Work Well With Blender Bottles:
Protein shakes: Blender bottles are particularly renowned for their ability to create perfectly mixed and creamy protein shakes. Simply add your favorite protein powder, liquid of choice (milk, water, or juice), and shake until well combined.
Smoothies: Blend your favorite combination of fruits, yogurt, and liquid, then transfer it to your blender bottle for easy sipping on the go. The blender ball inside the bottle will help ensure a smooth and well-mixed texture.
Salad dressings: Ditch store-bought dressings and create your own flavorful concoctions in your blender bottle. Combine ingredients such as oil, vinegar, herbs, and spices, then shake vigorously to emulsify and blend.
Pancake batter: Mix up your pancake batter directly in the blender bottle for a quick and mess-free breakfast. Once mixed, simply pour directly onto the griddle for hassle-free cooking.
Energy drinks: For a quick boost of energy during a workout or a long day, create your own energy drinks in your blender bottle. Combine ingredients like coconut water, honey, and citrus fruits, then shake well to combine.
By following these tips and tricks, you can ensure that your blender bottle remains clean, efficient, and produces the best results every time.
Experiment with different recipes and ingredients to unleash the full potential of your blender bottle and enjoy convenient and delicious meals and beverages wherever you go.
FAQ About How Does A Blender Bottle Work?
How Does A Blender Bottle Work?
A blender bottle uses a wire whisk to effectively mix and blend ingredients, creating smooth and lump-free drinks.
Why Should I Use A Blender Bottle?
Using a blender bottle ensures that your drinks are thoroughly mixed and free from lumps, providing a smooth and enjoyable texture.
Can I Use A Blender Bottle For Hot Liquids?
Yes, you can use a blender bottle for hot liquids, but it's important to release pressure before opening to prevent accidents.
How Do I Clean A Blender Bottle?
Cleaning a blender bottle is easy — simply rinse it immediately after use and use a bottle brush for a thorough clean.
Is A Blender Bottle Dishwasher Safe?
Most blender bottles are dishwasher-safe, but it's always best to check the manufacturer's instructions to be sure.
Conclusion
To sum it up, a blender bottle is an efficient and convenient tool for anyone looking to simplify their blending and mixing needs.
By utilizing an innovative design, with a mix of a secure lid and a wire whisk ball or blender ball, a blender bottle ensures smooth and evenly mixed contents every time.
This eliminates the need for a bulky blender and minimizes the mess to clean up afterwards.
The blender ball effectively breaks down clumps and helps to create a smooth consistency, whether it's for making protein shakes, mixing ingredients for pancakes, or preparing creamy salad dressings.
With its durability and portability, the blender bottle is a versatile addition to any kitchen or on-the-go lifestyle.
So, if you're looking for a practical solution to effortlessly blend and mix your favorite drinks and recipes, the blender bottle is definitely worth considering.
Its ease of use and ability to deliver consistent results make it a must-have tool.