How to Manufacture Water Bottles? 10 Easy Steps!
To manufacture water bottles, one must follow a series of steps including selecting a suitable material, designing the bottle, creating a mold, and executing the production process through blow molding or injection molding methods.
Water bottles can be made from various materials, such as plastic, stainless steel, glass, or aluminum.
The manufacturing process involves designing the bottle shape, size, and functionality, creating a mold to match the design, and using specific molding techniques to produce the final product.
Material selection: Choose from plastic (PET, HDPE), stainless steel, glass, or aluminum.
Bottle design: Consider factors like size, shape, ergonomics, and functionality.
Mold creation: Develop a custom mold based on the bottle design.
Production methods: Use either blow molding or injection molding techniques.
Material selection plays a significant role in determining the durability, cost, and eco-friendliness of the water bottle.
Bottle design should take into account user needs, such as easy-to-grip shapes and spill-free functionality.
Mold creation requires precision to ensure that the final product matches the design specifications.
Finally, the chosen production method, whether blow molding or injection molding, will impact the efficiency and quality of the manufacturing process.
10 Steps for Manufacturing Water Bottles
| Step No. | Steps for Manufacturing Water Bottles |
| --- | --- |
| 1 | Designing the Product |
| 2 | Choosing the Material |
| 3 | Procurement of Raw Materials |
| 4 | Preparing the Injection Mold |
| 5 | Performing Injection Molding |
| 6 | Cooling the Mold |
| 7 | Ejecting the Bottle |
| 8 | Testing Quality |
| 9 | Labeling and Packaging |
| 10 | Shipping and Distribution |
10 Steps for Manufacturing Water Bottles
Key Takeaway
Material selection plays a crucial role in water bottle manufacturing.
The Blow Molding Process is the most common method for producing plastic water bottles.
Manufacturing water bottles involves various regulations and certifications to ensure product safety and quality.
Sustainability is a growing concern in the water bottle industry, leading to innovations and eco-friendly alternatives.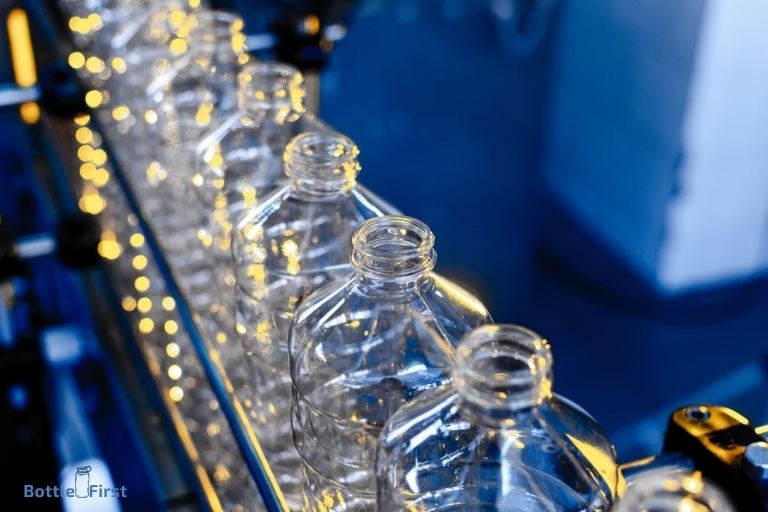 Five Interesting Facts About Manufacturing Water Bottles
The primary materials used in manufacturing water bottles are polyethylene terephthalate (PET), high-density polyethylene (HDPE), and stainless steel. Each material has its advantages and disadvantages in terms of durability, safety, and impact on the environment. (Source: HowStuffWorks)
The Blow Molding process involves heating plastic resin into a molten state and forming it into the desired shape using air pressure. This method is cost-effective and ideal for mass production of plastic water bottles. (Source: Rutland Plastics)
Water bottle manufacturers must adhere to strict regulations and obtain certifications from organizations such as the FDA, European Commission, and NSF International to ensure the bottles are safe for use and free from harmful substances. (Source: NSF International)
In recent years, manufacturers have focused on using biodegradable and recycled materials for producing water bottles to address environmental concerns and reduce the carbon footprint. (Source: European Bioplastics)
Some of the newest innovations in water bottle manufacturing include self-filling bottles that extract moisture from the atmosphere and edible bottles made from seaweed-based materials.
Understanding The Water Bottle Manufacturing Process
The Benefits Of Manufacturing Water Bottles In-House
Manufacturing water bottles on your own is a feasible option that yields various advantages.
By producing your own bottles, you have greater control over the manufacturing process, and you can ensure quality control.
Some benefits of in-house manufacturing are:
Increased flexibility and responsiveness to market changes
Cost savings through reduced transportation and overhead fees
The ability to customize bottle designs to meet consumer preferences
The Different Types Of Water Bottles That Can Be Manufactured
Water bottles come in different shapes, sizes, and materials. Understanding the various types of water bottles allows you to choose the most appropriate design for your needs.
Some types of water bottles are:
Pet plastic bottles
Glass bottles
Aluminum bottles
Stainless steel bottles
Collapsible bottles
Key Factors To Consider Before Starting The Manufacturing Process
Before starting the water bottle manufacturing process, it is crucial to keep in mind the following factors:
The initial cost of setting up a manufacturing plant
The manufacturing process and the materials required
The environmental impact
Regulatory guidelines and certifications
Compliance with building codes and industry standards
To ensure the best outcome, rely on expert advice and keep up to date with technological advancements.
Conceptualizing Your Water Bottle Design
When it comes to designing a water bottle, the first step is to come up with a concept.
Here are some key points to keep in mind while brainstorming and sketching the design:
List down all the features and characteristics you want your water bottle to have.
Brainstorm different shapes, colors, and sizes for the bottle. You can even take inspiration from other water bottles in the market.
Use a sketch pad to sketch out your ideas. Make sure the sketches are to scale and include measurements.
Don't be afraid to think outside the box and come up with unique designs.
Conducting market research to identify the right design direction:
Before finalizing the design, it's important to conduct market research to make sure your design is competitive and meets market demand.
Here are some key points to keep in mind while conducting market research:
Identify the target audience and their preferences when it comes to water bottles.
Look at the competition and see what designs they are using and how successful they are in the market.
Analyze market trends and identify what designs are currently popular in the market.
Collect feedback from potential customers and incorporate their suggestions in your design.
Using concept testing to refine the design:
Once you have a rough design in mind, it's important to test it out before investing in manufacturing.
Here are some key points to keep in mind when using concept testing:
Create a prototype of your design and test it out with potential customers.
Collect feedback on the design and identify any areas that need improvement.
Make changes to the design based on the feedback received and test it out again.
Refine the design until it meets the needs and preferences of your target audience.
Remember, a well-designed water bottle will not only attract customers but also be environmentally friendly.
So, take your time, conduct thorough market research, and use concept testing to refine your design to create a bottle that stands out in the market.
Creating Your Water Bottle Prototype
If you're planning on manufacturing water bottles, it's essential to create a prototype and optimize the design before moving forward with large-scale production.
Here are some key steps to creating an effective water bottle prototype:
Selecting The Right Material For Prototype Creation
Choosing the right material for your prototype is crucial as it affects the design, weight, durability and functionality of your final product.
Some materials to consider when creating a water bottle prototype include:
Polyethylene terephthalate (pet): A lightweight, transparent and durable plastic material that is widely used in the industry
High-density polyethylene (hdpe): A strong, lightweight, and fda-approved plastic, ideal for bottles requiring a high degree of durability and resistance to chemicals and moisture
Polypropylene (pp): A versatile, nontoxic, and lightweight plastic that is commonly used for bottle caps.
Glass: Its inert nature and sustainability, making it an environmentally friendly option, but heavier, less durable, and more expensive.
Stainless steel: A premium and long-lasting material commonly used for high-end reusable water bottles, offering superior durability and temperature retention.
Creating 3D Models Of Your Design
The creation of 3d models of your product design is pivotal to ensure precision and accuracy before moving on to the next step.
While creating 3d models, don't forget to focus on aspects such as:
Design coherence with targeted branding, color, shape and logo
Capacity requirement
Shape comparison with your target market demand
Dimension and weight
Feature adjustments for optimal functionality such as cap type, mouthpiece, bottle handle, keyring, etc.
Generating A Precise Prototype For Manufacturing
Once the 3d models of your design are ready, it's time to move on to create a physical prototype that will give you a good approximation of the final product.
Here are a few things to consider while generating a precise prototype:
Explore different manufacturing methods to identify the most suitable
Choosing the necessary tools and materials required for shaping
Testing the prototype for accuracy, durability, design functionalities, and potential defects
Improve the prototype by testing different design aspects
Establish a final prototype that adheres to your manufacturing specifications, and is ready for large-scale production.
Creating an effective water bottle prototype is essential when considering the need for precision in modern manufacturing.
Make the most of your prototype phase to ensure efficiency, minimize costs, and elevate the quality of your final product.
Preparing For The Manufacturing Process
Before starting the manufacturing process, it is essential to prepare. To ensure a smooth manufacturing process, you must follow certain steps and make adequate preparations.
In this section, we will discuss the three critical steps to prepare for the manufacturing process.
Choosing The Right Manufacturing Equipment And Suppliers
Choosing the right manufacturing equipment and suppliers for your water bottle production is essential to ensure a cost-effective and high-quality process.
Here are some key points to consider when choosing manufacturing equipment and suppliers:
Research and compare different suppliers to find the most suitable and cost-effective one for your needs.
Consider the equipment's quality, durability, and reliability to ensure consistent and quality production.
Check the supplier's certifications and credentials to ensure they meet industry standards and regulations.
Review the supplier's track record and customer reviews to ensure their reputation for delivering quality products and customer service.
Negotiate and finalize the terms of the deal to ensure you have the best possible deal for your production needs.
Planning Your Production Schedule And Workflow
Your production schedule and workflow must be adequately planned to ensure a timely and efficient manufacturing process.
Here are some key points to consider when planning your production schedule and workflow:
Determine the production capacity required to meet demand and set production targets accordingly.
Create a production plan and schedule to ensure efficient work processes and optimize production time.
Establish standard operating procedures (sops) and quality control measures to ensure consistent quality production.
Consider the production environment, factory layout, and warehouse management to ensure a smooth workflow process.
Review and adjust the production plan and workflow regularly to optimize the process and meet changing market demands.
Securing Funding For The Manufacturing Process
Securing adequate funding is crucial for the successful implementation of the manufacturing process.
Here are some key points to consider when securing funding:
Estimate the total capital required for the manufacturing process, including equipment, raw materials, labor, and overhead costs.
Identify different sources of funding, such as bank loans, private equity, and crowdfunding, and evaluate their respective benefits and drawbacks.
Create a comprehensive business plan to present to potential investors or lenders to secure funding.
Negotiate and finalize the funding terms, such as interest rates, repayment schedules, and equity or share ownership.
Monitor and manage cash flow to ensure adequate funding for ongoing production and operational expenses.
Proper preparation is essential for the successful manufacturing of water bottles. Following the steps discussed above can help ensure a cost-effective, high-quality, and efficient manufacturing process.
The Water Bottle Manufacturing Process
Manufacturing water bottles is a complex process that involves thorough preparation, molding and shaping, as well as labeling and packaging of the finished product.
We'll take you through the different stages of the water bottle manufacturing process with a specific focus on the following subheading:
Preparing The Raw Materials
Water bottles are typically made of either polyethylene terephthalate (pet) or high-density polyethylene (hdpe), both of which are sourced from crude oil.
Here are a few key points regarding the preparation of raw materials:
The first step involves blending pet or hdpe resin with other chemical additives, including colorants, stabilizers, and processing aids. This results in the formation of a polymer-based material known as 'polymer pellets', which is the base material for the production of water bottles.
The polymer pellets are then poured into a hopper, which stores and dispenses the pellets to the injection molding machine. The hopper helps to regulate the flow of pellets into the machine and ensures the right amount is dispensed each time.
The raw polymer pellets are then fed into the injection molding machine's screw, which melts the plastic at high temperatures until it becomes a molten state. Once the material is fully melted, it is injected into the mold cavity to form the shape of the bottle.
Molding And Shaping The Water Bottle
The second part of the manufacturing process involves molding and shaping the water bottle.
Here are a few key points about this process:
The injection molding machine uses molds to form the water bottle's shape. The mold cavity is designed to the exact specifications of the water bottle.
Once the molten plastic is injected into the mold, it is left to cool and solidify before it is ejected from the machine. The cooled water bottles are then removed from the mold, and excess plastic is trimmed from the edges.
After trimming, the water bottles undergo a series of additional finishing processes, including annealing and polishing, before they are ready to be labeled and packaged for the market.
Labeling And Packaging Your Finished Product
The final process in manufacturing water bottles involves labeling and packaging the finished product.
Here are a few things to keep in mind regarding this process:
Once the water bottles have been fully processed, they are labeled using printing machines. The printing process typically involves printing the brand name, product name, product details, and any other relevant information on the label.
After labeling, the water bottles are packed into boxes or crates and then shipped to their final destination. The boxes are usually designed to hold a specific number of water bottles, and have appropriate padding to keep the bottles secure during transportation.
Manufacturing water bottles is a multi-step process that involves preparation of raw materials, molding and shaping the bottle, and labeling and packaging the finished product.
By following these steps diligently, manufacturers can create high-quality water bottles that meet market requirements.
Establishing A Quality Control And Assurance System
How to manufacture water bottles: establishing a quality control and assurance system
Manufacturing water bottles is a high-demand business, but there is fierce competition in the market. In order to stand out, you need to prioritize quality control and assurance.
Establishing a qc system is a significant aspect in the manufacturing process to ensure the safety and accuracy of the products.
Here we will walk you through the key points of setting up a quality control and assurance system.
Understanding Quality Control Metrics
Before you start developing your quality control protocols, it's important to understand the metrics that you will use to evaluate your manufacturing processes.
These metrics help you to identify the key areas that need attention and resources to improve.
Some of the quality control metrics you should familiarize yourself with include:
Acceptable quality limit (aql)
Defect rate
Critical quality attributes (cqas)
Quality metrics for different processes
Knowing these metrics will help you to establish a strong quality assurance system with target objectives.
Developing Quality Control Protocols
Developing quality control protocols is where the rubber meets the road in terms of actually establishing a successful quality control and assurance system.
Here are a few things to keep in mind when developing quality control protocols:
Identify potential sources of errors
Set up procedures to deal with potential errors
Establish testing procedures for checking product quality
Create criteria for accepting or rejecting products
Develop tracking and documentation procedures to keep accurate records and make sure that issues are properly addressed
Following these protocols will help maintain the quality of your products and ensure the satisfaction of your customers.
Training Your Team To Implement Quality Control And Assurance
The final step in establishing a quality control and assurance system is to ensure that your team is properly trained to implement it.
Here are some key steps to take:
Create a comprehensive training program to ensure that everyone understands the goals and metrics of the qc system.
Have your team work directly with quality control professionals to gain hands-on experience.
Set up quick problem-solving procedures to make sure that errors are addressed immediately and efficiently.
Invest in continuing education to keep your team up-to-date on the latest qc techniques and technologies.
By properly training your team, you will instill a culture of quality in your manufacturing process.
To sum up, a solid quality control and assurance system is crucial for any manufacturing business to stay competitive.
Understanding the metrics, developing protocols, and training your team are all important parts of this system.
By following these key points, you will be well on your way to producing high-quality water bottles that will keep your customers coming back for more.
Quality Testing Your Water Bottles
Conducting Quality Control Testing During The Manufacturing Process
Before the water bottles hit the shelves, manufacturers need to conduct several quality control tests to ensure that the products are safe for consumer use.
Here are some key points to consider during the testing process:
Conduct air pressure tests to ensure that each bottle can withstand the pressure changes during storage and transportation.
Check the weight of each bottle to ensure that they meet the specified weight requirement.
Test for leaks to ensure that no water is leaking out of the bottles.
Conduct visual inspections to check for any defects, such as scratches or cracks.
Performing Quality Assurance Testing On Finished Products
Once the manufacturing process is complete, manufacturers need to perform quality assurance tests on the finished products to ensure that they are safe for consumption.
Here are some key points to consider during the testing process:
Conduct testing for chemical contaminants to ensure that there are no harmful chemicals in the water.
Test for bacterial and microbial contamination to ensure that the water is safe for consumption.
Conduct sensory testing to ensure that the water tastes and smells clean and fresh.
Conduct testing for heavy metals to ensure that the water does not contain any harmful metals.
Manufacturing water bottles is a complex process that requires careful consideration of several factors, including quality testing.
By conducting quality control tests during the manufacturing process and quality assurance tests on finished products, manufacturers can ensure that their products are safe for consumers to use.
Scaling Your Manufacturing Operations
Manufacturing water bottles can be a profitable business, but growth and success require scalable operations.
Here are some key points to consider when identifying opportunities for scaling and growth:
Evaluate your current production capacity and sales volume to determine if there is room for expansion.
Research the market to identify any gaps in product offerings or opportunities for innovation.
Develop a clear understanding of your target demographic to tailor your manufacturing strategies to their needs.
Consider partnering with other businesses or outsourcing certain manufacturing tasks to reduce costs and increase efficiency.
Choosing the best manufacturing strategies for your business:
Once you've identified opportunities for scaling and growth, it's time to select the best manufacturing strategies for your business.
Here are some key points to consider:
Determine the most cost-effective manufacturing processes while still producing high-quality products.
Stay up-to-date with new technology and industry developments to remain competitive.
Continuously monitor and analyze production data to identify areas of improvement and adjust strategies accordingly.
Don't overlook the importance of sustainability in manufacturing, as customers are becoming increasingly environmentally conscious.
Managing increased production volume and demand:
As your business grows and demand increases, managing production volume can become a challenge.
Here are some key points to consider:
Ensure adequate inventory control and stock management to prevent overproduction and reducing waste.
Implement a reliable production scheduling system to manage increased demand effectively.
Invest in additional equipment and resources to increase production capacity accordingly.
Maintain effective communication channels with suppliers, customers, and your manufacturing team to prevent bottlenecks in the production process.
Marketing And Branding Your Water Bottle Business
Crafting An Effective Marketing Strategy For Your Business
Marketing is all about making your brand visible and compelling to potential customers. An effective marketing strategy can make or break your business.
So, it's crucial to craft a strategy that will promote your business and attract loyal customers.
Here are some key points to consider:
Identify your target audience and determine the best way to reach them.
Determine your unique selling proposition (usp), which sets your business apart from competitors.
Utilize various marketing channels, such as social media, email marketing, influencer marketing, and content marketing.
Monitor your marketing strategies' effectiveness and make necessary adjustments.
Building Your Brand Identity Through Social Media And Other Channels
Having a strong brand identity is essential to creating a lasting impression and building customer loyalty. Social media is an increasingly popular way to build a brand identity.
Here are some key points to consider:
Establish a consistent brand voice and messaging across all channels.
Use high-quality graphics, images, and videos to create an engaging experience.
Utilize social media platforms and engage with your audience through conversations and personal connections.
Promote and interact with other social media users, including influencers in your industry or niche.
Consider using other channels such as advertising, events, and public relations to build your brand identity.
Developing A Sales Plan To Reach Potential Customers
A sales plan is critical for reaching potential customers and growing your business.
Here are some key points to consider:
Identify potential customers and determine their buying habits and preferences.
Establish sales goals and objectives and determine the best way to measure them.
Develop a sales strategy that aligns with your marketing tactics and usp.
Train your sales force to communicate your value proposition effectively.
Invest in good customer service practices that create repeat business and positive word-of-mouth.
What are the Steps to Manufacture a Water Bottle after Designing it?
Manufacturing a water bottle after designing it involves several crucial steps. Firstly, the design is passed on to a mold maker who creates a prototype mold. Next, this mold is utilized to produce a sample bottle that undergoes rigorous testing for durability and functionality. Once approved, the mold is mass-produced, and the bottle is manufactured using materials like PET or stainless steel. Finally, the bottles are inspected, labeled, and packaged, ready for distribution. Following a comprehensive designing a water bottle guide ensures a smooth and efficient manufacturing process.
FAQ About How To Manufacture Water Bottles
What Is The Material Used For Manufacturing Water Bottles?
Water bottles can be made from different materials like plastic, glass, aluminum, and stainless steel.
What Are The Steps Involved In Manufacturing Water Bottles?
The steps involved in manufacturing water bottles include molding, printing, trimming, assembly, and packaging.
How Do You Ensure The Quality Of Manufactured Water Bottles?
Quality can be ensured through regular quality control checks at every stage of production, including use of food-grade materials.
What Are The Different Types Of Water Bottles That Can Be Manufactured?
Different types of water bottles that can be manufactured include sports bottles, reusable bottles, foldable bottles, and insulated bottles.
What Are The Environmental Considerations In Water Bottle Manufacturing?
Environmental considerations include using sustainable materials, reducing waste through recycling and minimizing energy usage during production.
Conclusion
Manufacturing water bottles is a detailed process that requires careful planning and execution.
Understanding the different materials and their properties is crucial, as well as adhering to safety regulations and standards.
From the initial design to the final inspection, each step must be carried out with precision to ensure a high-quality product.
With the rising demand for eco-conscious and sustainable packaging, manufacturers must also consider the environmental impact of their production methods and materials.
By implementing innovative solutions and collaborating with suppliers and customers, manufacturers can continuously improve and streamline their processes.
At its core, the manufacturing of water bottles is essential to providing safe and accessible drinking water to individuals and communities worldwide.