How to Use Blender Bottle? Smoothies!
A blender bottle is a versatile kitchen tool used for mixing and whipping up protein shakes, smoothies, pancake batter, and other recipes.
Its key element is a stainless steel ball, also known as a "blender ball," which whisks the ingredients together when the bottle is shaken.
Using a blender bottle is simple and straightforward. First, pour your liquid base into the bottle. This can be anything from water or milk to juice or yogurt.
Next, add your powdered substances like protein powder or pre-workout supplements. Finally, drop the blender ball into the bottle, screw the lid on tightly, and shake vigorously.
The blender ball will mix the ingredients together, creating a smooth, lump-free drink.
Blender bottles are ideally designed for mixing powdered ingredients into liquids.
They feature a leak-proof seal to prevent spills during shaking.
The stainless blender ball is designed to reach every corner of the bottle for a thoroughly mixed drink.
Blender bottles are easy to clean and most are dishwasher safe.
Blender bottles are an excellent tool for fitness enthusiasts and anyone on the go.
They offer a quick and convenient way to make nutrition-packed drinks without the need for an electric blender.
Whether you're whipping up a protein shake after a workout, a meal replacement smoothie, or a healthy snack, a blender bottle can make the process easier and more efficient.
Step-by-Step Guide: How To Use a Blender Bottle
| Step Number | Instructions | Tips |
| --- | --- | --- |
| 1 | Remove the lid of the blender bottle. | Make sure your hands are clean before you start. |
| 2 | Add your desired liquid to the bottle. | The type of liquid depends on your preference. |
| 3 | Add in the protein powder or supplement. | Choose a supplement that suits your dietary needs. |
| 4 | Place the blender ball inside the bottle. | Ensure it sits flat at the bottom for effective blending. |
| 5 | Screw the lid back onto the bottle. | Make sure the cap is tightly secured to avoid spillage. |
| 6 | Shake the bottle vigorously. | Shake until all the powder is completely dissolved. |
| 7 | Check for any undissolved particles. | You can use a spoon to stir if needed. |
| 8 | Enjoy your drink. | Ideally, consume immediately after mixing. |
Step-by-Step Guide: How To Use a Blender Bottle
Key Takeaway
Blender bottles are specially designed for making smoothies, protein shakes, and blending other beverages that may require mixing before consuming.
These bottles can also be used for other kitchen tasks such as scrambling eggs or making pancake batter.
Blender bottles generally come with a wire whisk ball that helps thoroughly mix ingredients, preventing lumps and ensuring a smooth drink.
It's necessary to clean and maintain your blender bottle properly to avoid any unpleasant odor or residues.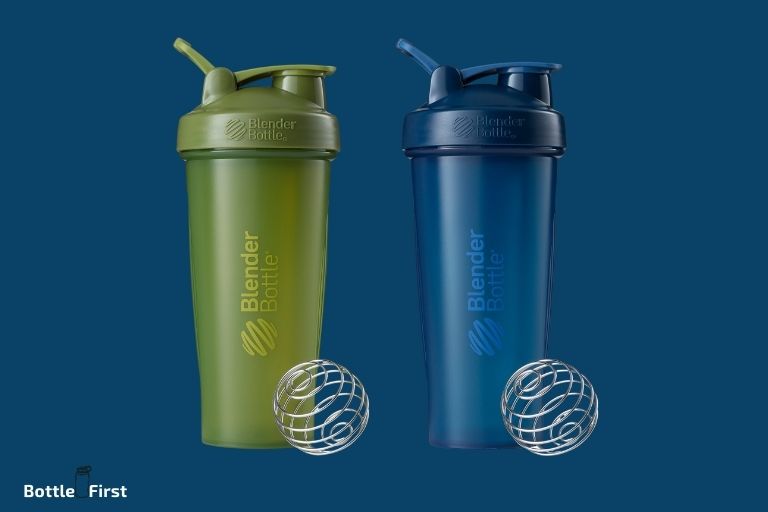 Five Facts About: Using a Blender Bottle Effectively
Blender bottles have a patented design that incorporates a stainless steel whisk ball, to remove lumps and produce a smooth mixed beverage when shaking the bottle. (source: Blender Bottle)
The wire ball whisk is super-efficient and can mix the thickest of drinks. It circulates as you shake the bottle, ensuring all ingredients are mixed thoroughly. (source: Blender Bottle)
The versatility of a blender bottle goes beyond just mixing protein shakes or smoothies. It's a useful tool in the kitchen for preparing quick and mess-free dishes like scrambled eggs or even pancakes. (source: Blender Bottle)
Cleanup of the blender bottle is easy. It's dishwasher safe. The whisk ball can be placed in the bottle itself during the cleaning process. (source: Blender Bottle)
The popularity of the blender bottle is vast. Its uses include making salad dressings, baby formula, marinades, and much more. Not only is it a vital product for fitness enthusiasts, but it is also a household necessity for those who love quick and hands-free mixing. (source: Blender Bottle)
Understanding Blender Bottles: A Quick Introduction
Blender bottles have become a staple in the health and fitness world, revolutionizing how we prepare and consume our favorite drinks.
These handy shakers are designed to mix powders and liquids seamlessly, ensuring a smooth and well-blended beverage every time.
In this section, we will explore the benefits of using blender bottles and provide an overview of their design and features.
Benefits Of Using Blender Bottles:
Efficient mixing: Blender bottles are equipped with a unique mixing system that effectively blends your ingredients, eliminating clumps and ensuring a consistently smooth texture. This feature is especially useful when preparing protein shakes, pre-workout formulas, or meal replacement drinks.
Portable and convenient: Designed with on-the-go lifestyles in mind, blender bottles are compact and easy to carry. Their leak-proof lids and secure flip caps make them perfect for tossing into gym bags, backpacks, or briefcases without worrying about spills or messes.
Versatility: Blender bottles are not limited to mixing beverages alone. They can also be used for preparing salad dressings, pancake batter, scrambled eggs, and other recipes that require efficient mixing or shaking.
Bpa-free and dishwasher safe: Blender bottles are typically made from bpa-free plastic, ensuring that your drinks stay chemical-free and safe for consumption. Plus, they are conveniently dishwasher safe, making cleanup a breeze.
Overview Of Blender Bottle Design And Features:
The bottle: Blender bottles are typically made of durable plastic and come in various sizes, ranging from 20 to 32 ounces. The transparent body allows you to see the contents inside, while measurement markings help you accurately portion your ingredients.
The lid: The lid of a blender bottle is responsible for creating a tight seal to prevent leaks and spills. Most blender bottles feature a flip cap that securely snaps shut, along with a rubberized carrying handle for ease of transportation.
The mixing ball: One of the key elements of a blender bottle is the mixing ball, usually made of stainless steel or plastic. This ball acts as a whisk, breaking up any clumps and ensuring that your ingredients are thoroughly mixed.
The spout: Blender bottles have a convenient drinking spout, allowing you to enjoy your beverages directly from the bottle without the need for additional cups or glasses. Some models even come with a straw attachment for added convenience.
The additional compartments: Some blender bottle models come with additional compartments, such as pill organizers or detachable storage containers for powders or snacks. These compartments make blender bottles even more versatile, allowing you to carry everything you need in one convenient package.
Blender bottles have undoubtedly earned their place in the health and fitness world due to their efficiency, portability, and versatility.
Whether you're a gym enthusiast, a busy professional, or simply someone who enjoys a well-blended drink, a blender bottle is an essential tool to have in your kitchen arsenal.
Key Components Of Blender Bottles
Blender bottles are a must-have accessory for anyone who enjoys making smoothies, protein shakes, or other blended beverages.
These handy bottles come with a range of features that make blending and drinking on the go a breeze.
In this section, we will explore the key components of blender bottles, including the bottle body and lid design, the blenderball wire whisk, and the leak-proof seal.
Bottle Body And Lid Design:
The bottle body of a blender bottle is typically made of durable, bpa-free plastic. This material ensures that the bottle is safe to use and can withstand frequent use without cracking or breaking.
Most blender bottles have a wide-mouthed opening, making it easy to add ingredients, scoop in protein powder, or clean the bottle after use.
The lid of a blender bottle is designed to provide a secure seal, preventing any leaks or spills even when the bottle is being shaken vigorously.
Many blender bottles feature an ergonomic design, with a comfortable grip that allows for easy handling and transportation.
The lid often comes with a flip-top spout or a straw, making it convenient to drink directly from the bottle without the need to transfer the contents to another container.
Blenderball Wire Whisk:
The blenderball wire whisk is a game-changer when it comes to blending ingredients in a blender bottle.
This unique stainless steel whisk is designed to break up clumps and mix ingredients thoroughly, ensuring a smooth and consistent blend every time.
The blenderball acts as a mixing mechanism when the bottle is shaken, effectively blending protein powders, meal replacement shakes, and other ingredients.
It is easy to use and clean, as it can be simply placed inside the bottle and washed along with the rest of the components.
Leak-Proof Seal:
One of the standout features of blender bottles is their leak-proof seal, which prevents any spills or leaks while on the go.
The seal is typically made of rubber or silicone and ensures that the bottle remains tightly sealed even when it is being shaken vigorously.
This feature provides peace of mind, allowing users to confidently carry their blender bottles in gym bags, backpacks, or when traveling.
The leak-proof seal also helps to maintain the freshness and integrity of the blended contents, preventing any accidental spills or messes.
Blender bottles are designed with convenience and functionality in mind.
The bottle body and lid design, along with the blenderball wire whisk and leak-proof seal, work together to provide a seamless blending and drinking experience.
Whether you're a fitness enthusiast, a busy professional, or simply someone who enjoys a well-blended drink, a blender bottle is an essential tool to have in your kitchen or on the go.
Using A Blender Bottle For Mixing Drinks
Blender bottles are handy tools that make it easy to mix your favorite drinks on the go.
Whether you're preparing a protein shake, a smoothie, or a pre-workout beverage, using a blender bottle can ensure that your ingredients are properly combined for a delicious and smooth drink.
Here's a step-by-step guide on how to use a blender bottle for mixing drinks:
Preparing Your Ingredients
Before you start using your blender bottle, it's important to have all your ingredients ready.
Here's what you need to do before you begin mixing:
Gather all the ingredients you want to include in your drink, such as protein powder, fruits, or any other flavorings.
Measure out the appropriate amounts of each ingredient based on your recipe or personal preference.
If using powders, make sure to remove any clumps by sifting them or breaking them up with a spoon.
Cut any fruits or vegetables into smaller pieces to ensure they blend easily.
Adding Liquids And Powders To The Blender Bottle
Now that you have your ingredients ready, it's time to add them to your blender bottle.
Follow these steps to properly measure and pour your liquids and powders:
Start by adding your liquid base, such as water, milk, or juice, to the blender bottle. Leave enough room for the other ingredients and for shaking.
Measure out the desired amount of powders, such as protein or meal replacement powders, and add them to the bottle.
If using any additional flavorings, such as cocoa powder or extracts, add them at this stage.
Securely screw on the lid of the blender bottle to ensure no leaks during shaking.
Proper Shaking Technique For Optimal Mixing
Now that your ingredients are in the blender bottle, it's time to shake things up for optimal mixing.
Follow these steps to ensure a smooth and well-blended drink:
Hold the blender bottle with one hand grasping the lid and the other hand around the base to prevent any spills.
Shake the bottle vigorously, moving it up and down and side to side. Aim for continuous shaking for about 20-30 seconds.
If your drink contains larger ingredients, such as fruits or ice cubes, you may need to shake for a bit longer to ensure they are fully blended.
Once you're satisfied with the mixing, open the lid carefully to release any built-up pressure before drinking.
That's it! You've successfully used your blender bottle to mix your favorite drinks. Enjoy the convenience and versatility of this handy tool for making on-the-go beverages.
Keep in mind that different recipes may require adjustments in ingredient amounts or shaking time, so feel free to experiment and find the perfect mix for your taste buds.
Cheers to a well-mixed drink in your blender bottle!
Additional Uses For Blender Bottles
Blender bottles are not just limited to making protein shakes and smoothies. They have a wide range of uses that you might not have considered.
Here are some additional ways you can put your blender bottle to good use:
Mixing pancake batter: Instead of using a whisk or large mixing bowl, you can save time and effort by mixing pancake batter directly in your blender bottle. The bottle's secure lid prevents any spills or messes, making it a convenient tool for whipping up a delicious batch of pancakes.
Making salad dressings: Creating your own salad dressings at home is healthier and more cost-effective than buying store-bought ones. With a blender bottle, you can easily combine various ingredients such as oil, vinegar, spices, and herbs. The tight-sealing lid ensures that the dressing stays properly mixed and can be easily poured onto your salads.
Storing and transporting drinks: Blender bottles are designed to be leak-proof, making them perfect for storing and transporting your favorite beverages. Whether you're heading to the gym, going for a hike, or simply want to have a drink on the go, a blender bottle is a reliable choice. You can easily keep your drinks cold by adding ice cubes or keeping the bottle in the fridge beforehand.
Mixing baby formula: Parents who use powdered formula can benefit from using a blender bottle to quickly mix it with water. The bottle's built-in whisk will ensure that the formula powder is properly dissolved, providing a smooth and clump-free feeding experience for your little one.
Whipping cream: Need whipped cream for your dessert but don't have a mixer on hand? A blender bottle can come to the rescue! Add cold cream, a touch of sugar, and any desired flavorings to the bottle, then shake vigorously. In just a few minutes, you'll have freshly whipped cream ready to top your favorite treats.
Mixing sauces and marinades: Similar to salad dressings, blender bottles can be used to mix various sauces and marinades. Whether you're making barbecue sauce, teriyaki marinade, or a creamy pasta sauce, the blender bottle's secure lid and mixing capabilities make it a versatile tool in the kitchen.
Creating infused water: Stay hydrated and add a refreshing twist to your water by creating infused water using a blender bottle. Simply add your preferred combination of fruits, vegetables, or herbs into the bottle, fill it with water, and let it infuse for a few hours. The resulting flavorful and nutritious water will keep you hydrated and satisfied throughout the day.
Mixing powdered drinks: From hot chocolate to meal replacement shakes, blender bottles can effortlessly mix any powdered drink. The bottle's integrated whisk eliminates any clumps, ensuring a smooth and evenly mixed beverage every time.
Prepping scrambled eggs: Start your day off right by prepping scrambled eggs in a blender bottle. Crack a few eggs into the bottle, add desired seasonings or mix-ins, and shake vigorously. Pour the contents into a heated pan, and you'll have fluffy and delicious scrambled eggs in no time.
Crafting homemade salad dressings: Impress your guests by creating homemade salad dressings using a blender bottle. Experiment with different combinations of oils, vinegars, herbs, and spices to create unique and flavorful dressings that will elevate any salad.
These are just a few of the additional uses for blender bottles. With their versatility and practicality, they prove to be an invaluable tool in any kitchen or on-the-go lifestyle.
Get creative and discover more ways to maximize the potential of your blender bottle!
Tips For Cleaning And Maintaining Blender Bottles
Proper cleaning techniques:
After each use, rinse the blender bottle with warm water to remove any residue. This will prevent the build-up of dried protein powder or other substances.
Use a mild dish soap and a bottle brush to thoroughly clean the bottle. Pay special attention to the blender ball, as it can accumulate protein powder and become difficult to clean.
Avoid using abrasive cleaners or scrub brushes, as they can scratch the interior of the bottle and create hiding places for bacteria.
If the cap or lid has a rubber seal, be sure to remove it and clean it separately to prevent mold and odors from developing.
Removing odors and stains:
To remove odors, soak the blender bottle in a mixture of warm water and white vinegar for 30 minutes. Then, wash it with dish soap as usual. The vinegar will help eliminate any lingering smells.
For stubborn stains, create a paste using baking soda and water. Apply the paste to the stained areas and let it sit for a few hours. Then, scrub the bottle with a brush and rinse thoroughly. The baking soda will help lift the stains without damaging the bottle.
Storing and maintaining the blender bottle for long-term use:
Air-dry the blender bottle completely before storing it to prevent moisture from causing mold or mildew.
Keep the bottle uncapped when not in use to allow air circulation and prevent odors.
Avoid placing the blender bottle in the dishwasher, as this can cause the plastic to degrade over time. Hand washing is the best method for maintaining the bottle's integrity.
Check the blender ball periodically for any signs of wear or damage. If needed, replace it to ensure optimal blending performance.
Store the blender bottle in a cool, dry place away from direct sunlight to prevent discoloration and plastic degradation.
By following these tips, you can keep your blender bottle clean, odor-free, and in great condition for long-term use. Happy blending!
FAQ About On How To Use Blender Bottle
How Do You Clean A Blender Bottle?
To clean your blender bottle, simply disassemble it and wash each part with warm soapy water.
Can I Put Hot Liquids In A Blender Bottle?
Yes, you can safely use your blender bottle with hot liquids, but be cautious as the bottle may become hot to the touch.
How Do You Use The Blender Bottle Ball?
Place the blender bottle ball inside the bottle, add your ingredients, close the lid, and shake vigorously to mix.
How Long Does A Blender Bottle Keep Drinks Cold?
A blender bottle can keep your drinks cold for up to 24 hours when used with the insulated version.
Can You Put The Blender Bottle In The Dishwasher?
Yes, the blender bottle is dishwasher safe. Simply place it on the top rack of your dishwasher for easy cleaning.
Conclusion
After learning how to use a blender bottle, you can quickly and conveniently blend your favorite drinks and stay hydrated throughout the day.
By following the simple steps of adding your ingredients, securing the lid, and shaking vigorously, you can enjoy smooth and well-mixed beverages without any hassle.
The portable and leak-proof design of blender bottles makes them perfect for on-the-go lifestyles, allowing you to enjoy your favorite shakes, protein drinks, or smoothies wherever you are.
With their versatile functionality, these bottles not only serve as blender substitutes but also double as portable water bottles.
The detachable blending balls or built-in agitators ensure that your drinks are smooth and clump-free. Its high-quality materials make blender bottles durable and easy to clean.
Overall, incorporating a blender bottle into your daily routine can enhance your hydration and nutritional goals, making it an essential kitchen and fitness accessory.