How to Use Water Bottles to Water Plants? 7 Easy Steps!
To use water bottles to water plants, simply fill the bottles with water, create small holes in the cap for slow-release watering, and insert the upside-down bottle into the soil near the plant's base.
Many gardeners face the challenge of keeping their plants well-watered, especially during hot summer months or while they are away for a few days.
One simple and inexpensive solution is to use water bottles as makeshift irrigation systems.
This DIY method ensures a consistent supply of water to plants, reducing the risk of dehydration and promoting healthy growth.
Upcycle plastic bottles to create an eco-friendly watering system.
Control the flow of water by adjusting the size and number of holes in the cap.
Ideal for use in container gardens, raised beds, and outdoor planting areas.
Save time and effort by providing plants with a steady water supply.
Upcycling plastic bottles for watering plants is not only an economical choice, but it also helps reduce plastic waste in the environment.
By reusing bottles as a simple irrigation system, gardeners can ensure that their plants receive a steady supply of water without requiring daily attention.
This DIY solution is especially beneficial for those who may not have access to a proper irrigation system or are looking for an easy and cost-effective way to manage their garden's hydration needs.
7 Steps to Use Water Bottles to Water Plants
| Step | Description | Tips |
| --- | --- | --- |
| 1 | Clean the water bottle | Wash the bottle thoroughly before using it for watering plants to ensure it's free of any contaminants. |
| 2 | Fill the water bottle | Fill the bottle with water. If possible, use room temperature water or filtered water to avoid shocking the plant. |
| 3 | Adjust the bottle cap | Poke small holes in the bottle cap if it's a screw-on type. This will help regulate the water flow when watering the plants. |
| 4 | Water the plants | Gently squeeze the bottle or turn it upside down to release water onto the soil around the base of the plant. Try not to wet the leaves, as this can cause diseases. |
| 5 | Monitor water flow | Observe the water flow and adjust the bottle pressure or the number of holes in the cap as needed. This will help ensure the plant receives the appropriate amount of water. |
| 6 | Water consistently | Establish a regular watering schedule based on the needs of your plants. Check the soil moisture regularly and adjust the watering frequency accordingly. |
| 7 | Store the water bottle | Empty and clean the water bottle after use. Store it in a cool, dry place to preserve its longevity and prevent the growth of algae or bacteria. |
7 Steps to Use Water Bottles to Water Plants
Key Takeaway
Efficient water usage when watering plants with water bottles.
Reduce waste by reusing plastic bottles for plant care.
Slow-release method ideal for plant growth and health.
Low-cost and eco-friendly alternative to traditional watering methods.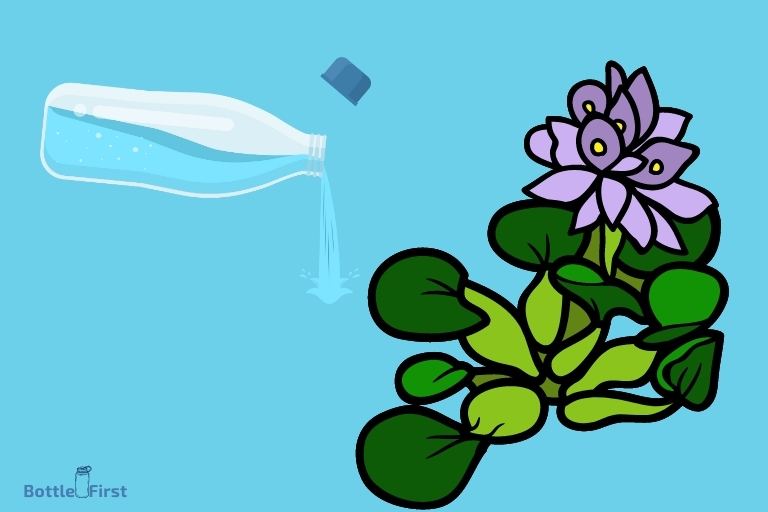 Five Facts About Watering Plants with a Water Bottle
Using a water bottle with holes poked in the cap or bottom can create a slow-release watering system, which mimics the natural process of gradual water absorption (source: Primaledge Health).
A drip irrigation system can be made by connecting multiple water bottles with small holes punctured in the caps and attaching to a larger water reservoir (source: The Spruce).
Reusing plastic water bottles in this way is an excellent example of upcycling, as it extends the life of the bottles and reduces plastic waste (source: Off Grid World).
This method can help prevent overwatering or under-watering, as it provides a constant and steady supply of water to the plants (source: Gardening Know How).
Utilizing water bottles to water plants is a cost-effective solution, especially for those with limited resources or budget; it also promotes a more sustainable and environmentally conscious approach to gardening (source: Cappers Farmer).
The Benefits Of Using Water Bottles For Plant Watering
Watering plants is essential for maintaining a healthy garden, but it can be frustrating to get water directly to the roots, especially in windy or dry conditions.
Using water bottles for plant watering can be a game-changer, and here's why.
Effective Irrigation
Water bottles are a handy tool to water plants effectively; here's how they can benefit you:
Plants can get the right amount of water without wastage; you can pour the right amount and only around the roots rather than spraying everywhere.
The bottles can reach the base of plants that are out of reach, and the water will be directed precisely to where it's needed.
Cost Efficient
You don't need to spend a lot of money on irrigation systems when the humble plastic bottle gets the job done.
Here are a few things you'll benefit from when you use water bottles to water your plants:
Water bottles are incredibly cost-efficient and readily available.
You can reduce water usage, saving money on your bills.
It's a perfect solution for water conservation.
Easy To Use
Watering plants using water bottles is a straightforward process, and here's how you'll benefit:
They have a simple design that doesn't require any technical expertise.
It's an easy thing to do in small patches when you don't want to get watering cans or hoses out.
Bottles are lightweight and easy to maneuver.
Versatile
Water bottles can be used in a variety of ways, and here's how you'll benefit:
They can be cut down to different lengths and sizes to fit difficult spots.
You can use them for all kinds of plants, flowers and, herbs.
From seedlings to large grown plants, a water bottle is a versatile tool that will provide a helping hand.
Using water bottles for plant watering is an excellent choice for your garden, and it has several benefits.
From cost-efficiency to versatility, they will make gardening an easy and enjoyable experience. Try watering your plants with water bottles and see the difference for yourself.
Preparing Your Water Bottle For Plant Watering
Watering your plants can be a tedious task, but with the help of water bottles, you can make the process more efficient and effortless.
We will guide you on how to prepare your water bottle for plant watering, including cleaning and sanitizing the bottle, and poking holes for easy and efficient watering.
How To Properly Clean And Sanitize Water Bottles Before Use
Cleaning and sanitizing your water bottle before use is essential for the health of your plants.
Follow these simple steps to ensure that your bottle is immaculate:
Rinse the bottle with warm water to remove any debris that might be present.
Scrub the inside of the bottle with a mixture of soap and warm water. Use a bottle brush or a soft sponge to clean the grooves and corners of the bottle.
Rinse the bottle again with warm water to remove any residual soap.
Disinfect the bottle by rinsing it with a mixture of white vinegar and water, or a small amount of bleach mixed with water. Leave the mixture in the bottle for about ten minutes before rinsing it again with warm water.
Allow the bottle to air dry completely before use.
How To Poke Holes Into The Water Bottles For Easy And Efficient Watering
Once your water bottle is clean and ready, it's time to create holes for the water to flow through.
Follow these steps to poke holes into your water bottle:
Use a sharp object, such as scissors, a hole puncher, or a nail, to make small holes in the bottle's cap. Larger plants may require several holes, while smaller plants may only need one or two.
If the bottle is made of plastic, be careful not to crack or damage it while making holes. You want to ensure that the bottle maintains its structure and does not leak water.
Once the holes are made, fill the bottle with water and screw the cap back on.
Turn the bottle upside down over the plant's soil, allowing water to slowly seep through the holes.
Voila! You have successfully prepared your water bottle for plant watering. Using water bottles to water your plants is a simple and effective way to keep them healthy and hydrated.
Give it a try and watch your plants flourish!
How To Effectively Use Water Bottles To Water Plants
Watering plants can be a fun and rewarding activity, but it can also be time-consuming and difficult if you don't have the right equipment.
Fortunately, something as simple as a water bottle can make all the difference.
Here's how to effectively use water bottles for plant watering.
Step-By-Step Guide On How To Use Water Bottles For Plant Watering
Choose a water bottle: Look for a water bottle that is large enough to hold the amount of water needed for your plant(s) and has a small mouthpiece or cap to control the water flow.
Clean the bottle: Before using the water bottle for plant watering, ensure it's clean and free of any harmful substances. Rinse the bottle thoroughly with warm water and soap.
Fill the bottle with water: Fill the bottle with water and leave some space at the top to prevent spilling or overflowing.
Cover the mouthpiece with your finger: Cover the bottle's mouthpiece with your finger and slowly turn it upside down.
Release your finger to water the plants: Release your finger to allow the water to flow out of the bottle and into the soil. Be careful not to apply too much water too quickly. Take your time and water each plant evenly.
Tips And Tricks For Getting The Best Results From Water Bottle Watering
Water the soil, not the leaves: When using a water bottle to water your plants, direct the water flow towards the base of the plant's stem. Avoid watering the leaves as it can cause fungal diseases or sunburn.
Water plants in the morning or evening: Water your plants in the cooler part of the day, either in the morning or evening, to create a more hospitable environment for your plants.
Monitor the water levels: Keep track of the water levels in your plants' soil to determine how much water they need. Underwatering or overwatering can damage your plants, so observe them regularly.
Use distilled or rainwater: Tap water can contain chemicals that may harm your plants. Consider using distilled or rainwater for plant watering instead.
Be gentle: Plants are fragile, and harsh or turbulent watering can be detrimental to their health. Take it easy and be delicate when watering your plants with a water bottle.
By following these simple tips and tricks, you can use water bottles to maintain healthy and happy plants with ease.
Happy planting!
Common Mistakes To Avoid When Using Water Bottles For Plant Watering
Tips On What Not To Do When Using Water Bottles To Water Plants
As an alternative to expensive irrigation systems, using water bottles to water plants is an easy and low-cost solution.
However, there are some common mistakes you should avoid to ensure your plants get proper irrigation.
Using the wrong type of bottle: Plastic water bottles may seem like an easy choice, but they can be harmful to your plants due to chemical leaching. Avoid using these bottles, instead, opt for glass or metal bottles to water your plants.
Overwatering or underwatering: Watering your plants too much or too little can hinder growth or even cause the plant to die. Adequate watering is necessary, so make sure you water your plants once the soil dries out.
Watering at the wrong time: The best time to water your plants is in the morning or late afternoon because too much evaporation can disturb plant growth. Avoid watering during noon when the sun is at its peak, as this can cause water droplets to evaporate as soon as they hit the soil.
Using dirty water: Plants are delicate; hence, they need clean, fresh, and filtered water. Do not use stagnant or dirty water as they may contain harmful bacteria or minerals that can damage your plant.
Placing the bottle in the wrong position: Position your water bottle in a manner that water reaches the roots of the plant. You can bury the bottle into the soil, place it near the roots or dig a small hole in the soil beside the plant.
Common Mistakes And How To Rectify Them
Watering your plants using water bottles is a simple method when done correctly.
Avoid making the common mistakes listed below to ensure your plants receive adequate water supply without causing any harm.
Mistake 1: Overwatering your plants – this causes the soil to be waterlogged, depriving the plant of essential nutrients and growth.
Rectify: Water your plants less frequently, or if you must water often, reduce the amount of water used each time.
Mistake 2: Forgetting to remove the bottle cap – it may seem obvious to avoid watering your plants with the bottle cap on, but it's a common mistake.
Rectify: Ensure you remove the cap before watering your plants; otherwise, the water won't flow out.
Mistake 3: Using cold water – plants are sensitive to water temperature; therefore, using cold water can damage root cells and prevent growth.
Rectify: Use room temperature or lukewarm water when watering your plants.
Mistake 4: Overcrowding plants – when plants are too close to each other, they end up competing for nutrients and water
Rectify: Separate your plants, or if you must plant closely, ensure there is enough space for growth.
Mistake 5: Underwatering your plants – not watering your plants enough stresses them and causes them to lose color and start wilting.
Rectify: Pay attention to the plants and adjust watering frequency accordingly.
Ensuring your plants receive adequate water supply can be achieved using water bottles.
Nonetheless, it is crucial to avoid the common mistakes discussed above to ensure proper irrigation.
By carefully following the guidelines provided, your plants will thrive, thanks to the ease and effectiveness of water bottles.
FAQ About How To Use Water Bottles To Water Plants
How Do Water Bottles Help Plants?
Water bottles help plants by providing a controlled and convenient way to water them evenly.
What Types Of Water Bottles Can Be Used?
Any plastic water bottle can be used as long as it has a cap that can be punctured and a small hole can be made in the bottle.
How Do You Make A Water Bottle Plant Irrigation?
Fill a clean water bottle with water, puncture holes near the bottom, and bury it next to the plant. Water will seep out slowly.
How Much Water Should Be Used In The Bottle?
The amount of water you use will depend on the size of the bottle and the plant's water needs. Start with a small amount and adjust as necessary.
Can Water Bottles Be Used For Indoor Plants?
Yes, water bottles can be used for all types of plants, including indoor plants. They are especially helpful for plants placed in hard-to-reach areas.
Conclusion
As you can see, water bottles can be a helpful tool when it comes to watering your plants.
The different methods discussed in this article allow you to use your empty bottles in a creative and eco-friendly way, whilst keeping your plants healthy and hydrated.
Whether you're using the inverted method, the drip method, or making your own diy watering globes, there are a variety of ways to utilise water bottles in your gardening routine.
Not only is this a cost-effective solution for watering your plants, it also provides an opportunity to repurpose plastic bottles and reduce waste.
So next time you have an empty bottle lying around, give it a second life and put it to good use in your garden.
Your plants (and the planet) will thank you for it!