How to Vortex a Water Bottle? 8 Easy Steps
Creating a vortex in a water bottle is a simple and fun process that requires just a few steps: fill the water bottle, swirl the bottle to create a flow, then quickly flip the bottle upside down.
You will see the water forming a vortex or a cyclone-like effect while it drains out.
A vortex in a water bottle is essentially created by centrifugal force. As you swirl the water inside the bottle, it begins to spin around the center of the bottle.
When you flip the bottle upside down, gravity pulls the water down while the rotational inertia keeps the water spinning, thus creating a vortex.
The vortex is created by the principle of centrifugal force and gravity.
The swirling motion causes the water to spin around the center of the bottle.
Flipping the bottle upside down allows gravity to pull the water downwards.
The combination of these motions results in a vortex, which looks like a mini cyclone.
Creating a vortex in a water bottle is a great way to understand basic principles of physics, such as gravity and centrifugal force.
This experiment is not only fun but also educational, making science intriguing and accessible to everyone.
8 Steps for Vortexing a Water Bottle
| Step | Instructions |
| --- | --- |
| 1 | Fill the bottle |
| 2 | Secure the cap |
| 3 | Grasp the bottle at the neck |
| 4 | Rotate your wrist quickly |
| 5 | Maintain the rotation speed |
| 6 | Observe the formation of the vortex |
| 7 | Stop rotating and watch the vortex continue |
| 8 | Repeat as necessary |
8 Steps for Vortexing a Water Bottle
Key Takeaway
A water bottle vortex, also known as a tornado in a bottle, is a simple and effective way to demonstrate the principles of vortex motion and centripetal force.
You can create a vortex at home using two plastic bottles, water, and a connector.
The vortex forges when water moves in a circle, creating a hole in the middle similar to a tornado.
Understanding the physics behind the water bottle vortex can enhance STEM education for students.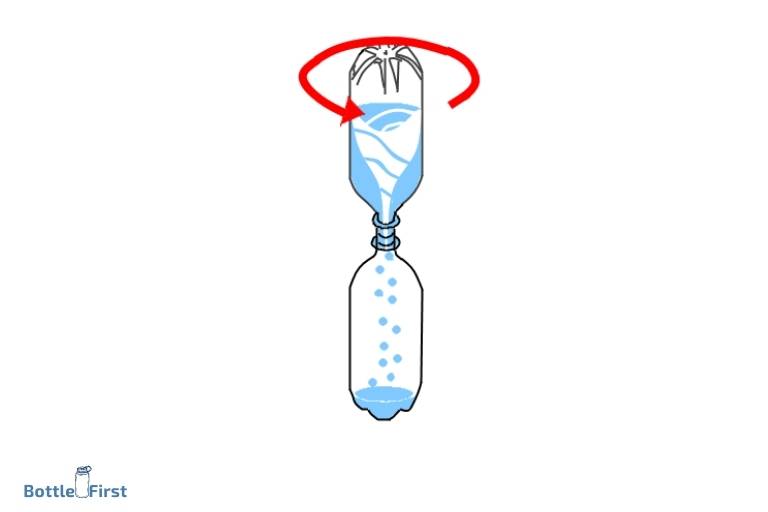 Five Facts About Vortexing a Water Bottle
A water bottle vortex or tornado in a bottle is a simple hands-on science activity that is commonly used in classrooms to demonstrate vortex motion. (Source: National Geographic Kids)
This experiment involves the use of a centripetal force, or the inward force that keeps an object moving in a circular path. (Source: Britannica)
The vortex is created when water swirls rapidly around a central axis, forming a funnel shape. The vortex resembles how a tornado or a bathtub drain operates. (Source: National Weather Service)
You can create your own water bottle vortex using two empty soda or water bottles, water, a washer or duct tape, and strong adhesive. (Source: Oregon State University)
Understanding the science behind water vortex can be important for students studying physical phenomena, as it incorporates concepts from physics, fluid mechanics, and earth science. (Source: Education.com)
Understanding The Science Behind Vortexing
Vortexing: An Introduction
Have you ever wondered how to achieve that mesmerizing vortex effect in a water bottle? Well, you've come to the right place! Vortexing water has become quite a popular trend lately, and for good reason.
Not only does it look visually stunning, but there is also science behind the mesmerizing whirlpool.
In this section, we will explore the phenomenon of vortexing and understand the science that makes it possible.
Vortexing occurs when water is rapidly spun in a circular motion, creating a whirlpool-like effect.
This motion causes the water molecules to circulate and align themselves in a specific pattern, inducing various changes in the water quality.
Let's dive deeper into the science behind vortexing and understand how it enhances water quality.
Improved oxygenation: When water is vortexed, it's exposed to the air, allowing oxygen molecules to dissolve into the water. This enhances the water quality by increasing its oxygen content, leading to improved taste and freshness.
Enhanced hydration: The swirling motion of vortexing breaks down water clusters, reducing their size and making it easier for our cells to absorb. As a result, when we drink vortexed water, our bodies are better able to hydrate effectively.
Altered ph balance: Vortexing can also impact the ph of water. By spinning the water in a vortex, it can help balance the ph levels and make the water slightly more alkaline. Alkaline water is known to have various health benefits and can aid in neutralizing acidity in the body.
Increased energy: It is believed that vortexing imparts energy to the water. As the water molecules are energized through the swirling motion, it is said to revitalize and invigorate the body when consumed.
Removal of impurities: The centrifugal force created during vortexing can help remove certain impurities from the water. Sediments and particles that have settled at the bottom of the container are pulled towards the center of the vortex and can be easily discarded.
Understanding the science behind vortexing allows us to appreciate the potential benefits it can have on water quality.
From improved oxygenation and enhanced hydration to altered ph balance and increased energy, vortexed water offers a unique twist to our drinking experience.
So, the next time you want to elevate your water game, give vortexing a try and witness the awe-inspiring whirlpool effect. Cheers to a glass of vortexed goodness!
Choosing The Right Water Bottle For Vortexing
Examining Different Water Bottle Designs
There are various water bottle designs available on the market today, each with its own unique features and benefits.
When choosing a water bottle for vortexing, it's important to consider the design and how it will affect your vortexing experience.
Here are a few different water bottle designs to examine:
Standard water bottle: This is the most common water bottle design, characterized by its cylindrical shape with a screw-on or flip-top lid. Standard water bottles are readily available and often come in different sizes, making them easily portable and convenient for everyday use.
Wide-mouth water bottle: As the name suggests, wide-mouth water bottles have a wider opening, allowing for easy filling and cleaning. They are also ideal for adding ice cubes or fruit slices to your water. The wider opening makes vortexing more effective as it allows for better circulation.
Sports water bottle: Sports water bottles are designed with athletes and active individuals in mind. They typically feature a built-in straw or sipper lid, allowing for easy drinking during physical activities. These bottles are often made from durable materials and are designed to be leak-proof.
Insulated water bottle: Insulated water bottles are designed to keep your drinks hot or cold for longer periods. They are made with double-wall construction, which provides insulation to maintain the temperature of your beverage. An insulated water bottle can be advantageous if you prefer your vortexing water to be at a particular temperature.
Features To Look For In A Vortexing Water Bottle
When selecting a water bottle for vortexing, there are specific features that you should keep in mind to enhance your vortexing experience.
Consider the following features:
Material: Water bottles are available in various materials, such as plastic, stainless steel, and glass. Each material has its own advantages and disadvantages. For vortexing, it is recommended to choose a material that is lightweight, durable, and bpa-free.
Capacity: The capacity of the water bottle determines how much liquid it can hold. Consider your personal water intake goals and how much water you would like to vortex at once. Smaller capacities are easier to carry, while larger capacities are suitable for longer vortexing sessions.
Leak-proof design: A leak-proof water bottle is essential to prevent any spills or leaks during vortexing. Look for bottles with a reliable and secure lid mechanism that ensures a tight seal, even when vigorously shaking.
Ease of cleaning: Vortexing can sometimes result in residues or flavors lingering in your water bottle. Choose a water bottle that is easy to clean or has dishwasher-safe components to maintain optimal hygiene.
Ergonomic design: An ergonomic design ensures a comfortable grip and easy handling during vortexing. Look for water bottles with non-slip surfaces or grip-friendly features that prevent slippage and enhance overall user experience.
Choosing the right water bottle for vortexing depends on your personal preferences and needs.
By considering the different designs and essential features outlined above, you can ensure that you find a water bottle that enhances your vortexing experience.
So go ahead and find your perfect vortexing companion!
Step-By-Step Guide To Vortexing A Water Bottle
Vortexing a water bottle might seem like a simple trick, but there are a few key steps you need to follow to achieve that mesmerizing swirl of water.
Whether you want to impress your friends or simply enjoy the fascinating motion, this step-by-step guide will help you become a master of water bottle vortexing.
Safety Precautions Before Vortexing
Before you begin, it's important to keep safety in mind.
Here are some essential precautions to take before attempting to vortex a water bottle:
Choose a sturdy water bottle: Opt for a durable water bottle that can withstand the swirling motion without breaking or leaking.
Clear the area: Ensure you have enough space around you to move the bottle freely without knocking anything over.
Avoid slippery surfaces: Perform the vortexing on a stable and non-slip surface to prevent accidents.
Be cautious with hot liquids: If you're planning to vortex a bottle filled with hot liquid, make sure to let it cool down first to avoid any burns.
Keep pets and children away: Vortexing can be fascinating for onlookers, but it's important to keep pets and children at a safe distance to avoid any accidents.
Filling The Water Bottle Correctly
Properly filling the water bottle is crucial for creating a successful vortex.
Follow these steps to ensure you have the right amount of liquid:
Fill the water bottle at least two-thirds full: Leave some space at the top to allow room for the swirling motion.
Use room temperature water: Avoid using extremely cold or hot water as it may affect the vortex formation.
Experiment with different liquids: While water is typically used for vortexing, you can also try other liquids like colored water or even light oil for different visual effects.
Creating The Perfect Vortex Motion
Now that your water bottle is ready, it's time to create that captivating vortex motion.
Follow these steps to achieve the perfect swirl:
Hold the bottle firmly: Grip the water bottle firmly with one hand around its center.
Start the motion: Begin swinging the bottle in a circular motion by moving your hand in large circles.
Increase the speed gradually: As you swing the bottle, gradually increase the speed to generate a stronger vortex.
Control the motion: Adjust your arm movements to control the size and intensity of the vortex. Experiment with different speeds and motions to find what works best for you.
Observe the mesmerizing vortex: Watch the water inside the bottle as it forms a beautiful swirling pattern. Enjoy the mesmerizing motion you've created!
Remember, practice makes perfect. It may take a few attempts to master the art of vortexing, but with time and patience, you'll be able to create impressive water bottle vortexes effortlessly.
So, grab a water bottle, follow these steps, and prepare to be amazed by your own vortexing skills.
Enjoy the awe-inspiring beauty of swirling water!
Maximizing The Benefits Of Vortexed Water
Water is not just a vital element for our survival; it also has incredible properties that can be enhanced through a simple process called vortexing.
By creating a swirling motion in a water bottle, you can unlock a wide range of benefits that go beyond the ordinary.
In this section, we will explore how vortexing affects water's molecular structure and how it enhances the taste and texture of vortexed water.
How Vortexing Affects Water'S Molecular Structure
The vortexing process breaks down larger water clusters into smaller ones, improving the water's ability to hydrate your body efficiently.
Vortexed water has a higher oxygen content due to the natural aeration that occurs during the swirling motion.
The swirling action introduces kinetic energy into the water, increasing its vitality and promoting a better flow of energy within the body.
Vortexed water undergoes a process called structuring, where the molecular arrangement becomes more organized, leading to improved biological compatibility.
Enhancing The Taste And Texture Of Vortexed Water
Vortexing improves the taste of water by increasing its alkalinity and reducing any unpleasant flavors or odors.
The swirling motion alters the water's surface tension, resulting in a smoother and silkier texture that is more refreshing to drink.
Vortexed water has a lighter and more refreshing mouthfeel, making it easier to consume and absorb.
The structuring of water molecules through vortexing enhances its ability to carry nutrients and flush out toxins from the body.
Incorporating vortexed water into your daily routine can have significant health benefits.
By optimizing water's molecular structure and enhancing its taste and texture, vortexing transforms ordinary water into a more vitalizing and enjoyable beverage.
Give it a try and experience the refreshing difference for yourself!
Integrating Vortexing Into Your Daily Routine
Incorporating Vortexing Into Your Morning Ritual
Starting your day off with a water bottle vortex can set a positive tone for the rest of your day.
By integrating this practice into your morning ritual, you can begin each day feeling refreshed and energized.
Here are some tips for incorporating vortexing into your morning routine:
Begin by filling a water bottle with clean, filtered water. Ensure that the bottle is specifically designed for vortexing.
Hold the bottle firmly with both hands and shake it in a circular motion. Visualize the water forming a beautiful vortex as you move your hands.
Take a few deep breaths as you vortex the water, allowing yourself to feel grounded and present in the moment.
As you continue to vortex, set positive intentions for your day. Focus on what you want to accomplish and how you want to feel.
Take a moment to express gratitude for the water and all the benefits it provides to your body.
Sip the vortexed water slowly, savoring each sip and allowing its energy to nourish you from within.
Vortexing Techniques For Optimal Hydration Throughout The Day
Incorporating vortexing into your daily routine goes beyond just your morning ritual.
By adding this technique to your hydration habits throughout the day, you can enhance the quality and energy of the water you consume.
Here are some techniques to optimize hydration using vortexing:
Carry a vortexing water bottle with you wherever you go. This ensures that you have access to vortexed water at all times.
Whenever you refill your water bottle, take a moment to vortex the fresh water before drinking it. This quick action will infuse the water with revitalizing energy.
If you're using a water cooler or dispensing from a large container, you can vortex the water inside the container by stirring it in a circular motion with a spoon or vortexing wand.
Experiment with different techniques to find what works best for you. Some people find success with gentle swirling motions, while others prefer more vigorous shaking or stirring.
Vortexing can also be done with other beverages, such as herbal tea or fruit-infused water. Explore different options to add variety to your hydration routine.
Remember to stay hydrated throughout the day by sipping water regularly. Vortexing can help enhance the taste and quality of the water, making it more enjoyable to drink.
By incorporating vortexing into your morning ritual and throughout the day, you can elevate your hydration experience and reap the benefits of energized, revitalizing water.
So why not give it a try and discover the positive impact it can have on your overall well-being?
Can I Use the Same Steps to Use a Tritan Water Bottle to Vortex a Water Bottle?
Yes, you can use the same steps for vortexing a water bottle using a tritan water bottle. Simply fill the tritan water bottle with water, secure the lid tightly, and vigorously shake it in a circular motion. This will create a vortex, enhancing the water's taste and refreshing qualities.
FAQ About How To Vortex A Water Bottle
How Do You Create A Vortex In A Water Bottle?
To create a vortex in a water bottle, simply spin the bottle quickly in a circular motion.
What Happens When You Vortex A Water Bottle?
Vortexing a water bottle creates a spinning motion that forces the water to form a whirlpool-like shape.
Why Would You Vortex A Water Bottle?
Vortexing a water bottle can be a fun and visually appealing way to entertain yourself or others.
Can Vortexing A Water Bottle Improve Water Quality?
Vortexing a water bottle does not have any proven benefits for water quality or purification.
Are There Any Safety Precautions When Vortexing A Water Bottle?
Be cautious when vortexing a water bottle to avoid spills and injuries. Perform the activity in a clear area.
Conclusion
Mastering the art of vortexing a water bottle is both fun and beneficial. By following the steps outlined in this blog post, you can elevate your hydration experience to new levels.
Whether you're looking to impress your friends or simply improve your water-drinking habits, vortexing is a fantastic technique to try.
Remember to start with a clean and filled water bottle, and use a powerful twist of your wrist to create the perfect vortex. With practice, you'll be able to create impressive spirals of water in no time.
Not only does this add an element of excitement to your daily routine, but it also helps to aerate the water and enhance its taste.
So, why not give it a try and discover the wonders of vortexing your water bottle today?
Cheers to a refreshing and mesmerizing hydration experience!