Water Bottle Name Stickers
As a parent, you want to make sure your child has everything they need for school. Part of that is making sure their water bottle has their name on it. Name stickers are the perfect way to do that.

They are easy to apply and last a long time. Plus, they come in a variety of colors and designs to match your child's personality.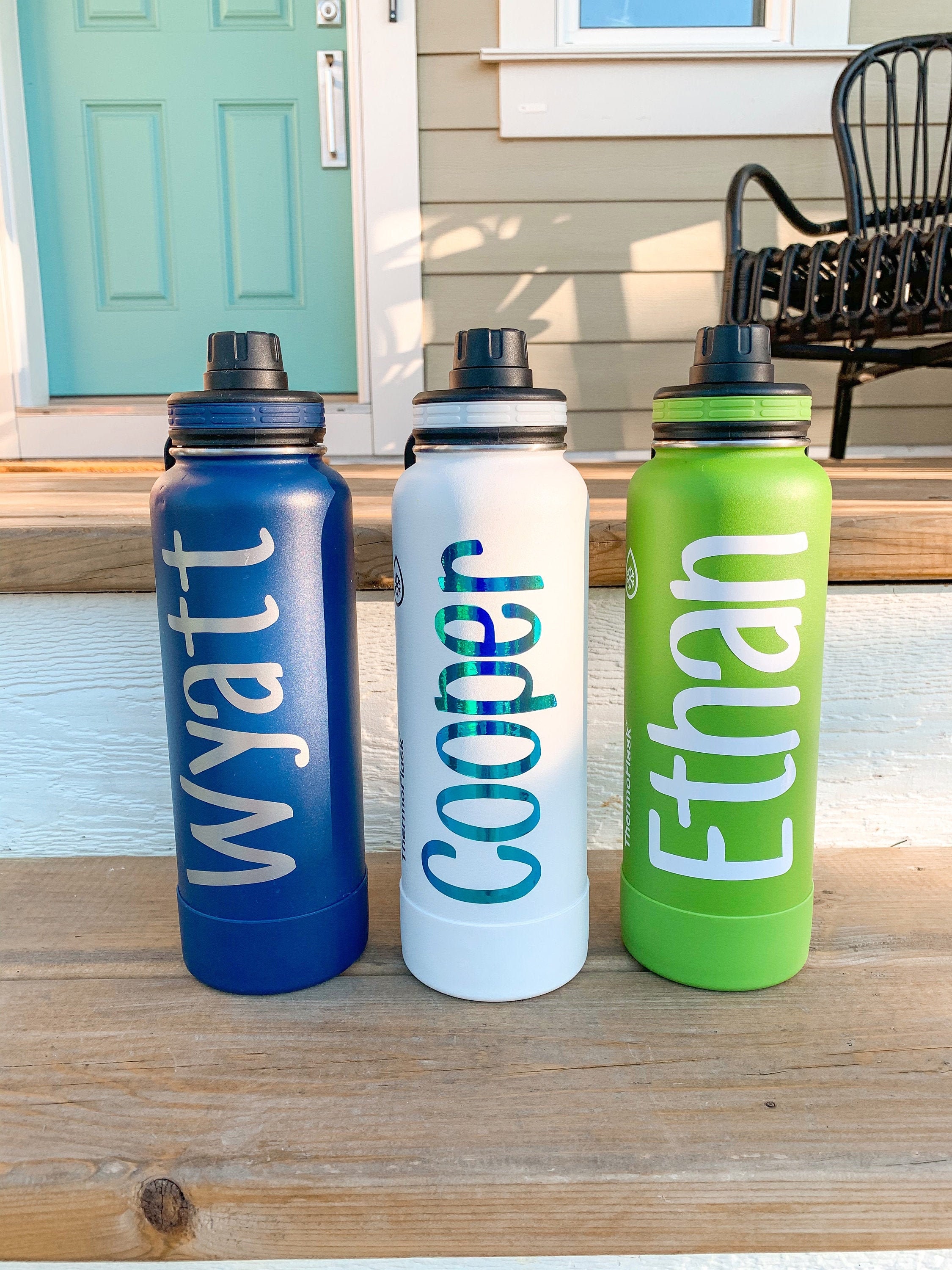 Do you ever get tired of people asking you for your name? Well, now there's a solution! Water bottle name stickers are the perfect way to make sure everyone knows who you are, without having to say a word.

These stickers are made from durable vinyl and can be customized with your name and favorite colors. They're perfect for water bottles, laptops, notebooks, or even your car window. So next time someone asks you for your name, just point to your water bottle and watch them smile.
How Can I Get My Name on a Water Bottle?
There are a few different ways that you can get your name on a water bottle. One way is to find a company that specializes in custom water bottles and contact them about getting your name printed on a bottle. Another way is to find a water bottle with a built-in personalization feature, such as some of the popular stainless steel water bottles.

Or, you could simply purchase stickers or decals to put your name on an existing water bottle. Whichever route you choose, make sure to do your research so that you end up with a high-quality product that will last.
What Kind of Stickers Can Go on Water Bottles?
There are a variety of stickers that can go on water bottles, including decals, labels, and wraps. Decals are made of vinyl and have a sticky back that makes them easy to apply. Labels are also made of vinyl but they do not have a sticky back.

Wraps are made of paper or fabric and need to be taped or glued onto the water bottle.
How Do I Make My Own Water Bottle Labels?
There are many ways to make your own water bottle labels. The most common way is to purchase a pre-made label kit that includes everything you need to create labels for your bottles. Another option is to use a piece of tape or stickers to create custom designs on your bottles.

If you have access to a printer, you can also print out labels from scratch using Avery labels or similar products. Whatever method you choose, be sure to measure the circumference of your bottle and the height of the label area before creating your design so that it will fit properly when applied.
Do Stickers Last on Water Bottles?
Stickers are a great way to show your personality and add some flair to your water bottle. But you might be wondering, do stickers last on water bottles? The answer is yes!

Stickers can last on water bottles for years with the right care. Here are a few tips to make sure your stickers stay looking great: -Wash your hands before handling the sticker.

This will help keep the oils from your skin from ruining the adhesive. -Be careful when peeling the sticker off of its backing. If you peel too slowly, the sticker could tear.

If you peel too quickly, you might not get all of the adhesive off of the backing. -Position the sticker where you want it before removing the adhesive backing completely. Once it's in place, gently smooth out any wrinkles or air bubbles.

-To keep your stickers looking their best, avoid putting them in direct sunlight or exposing them to excessive heat or cold. With these simple tips, you can enjoy your water bottle stickers for years to come!
How To Personalize A Water Bottle
Silicone Name Labels for Bottles
If you are looking for a way to keep track of your child's belongings, silicone name labels for bottles may be the answer. These labels can be placed on any type of container, including water bottles, sippy cups, and food containers. They are made from durable silicone that is dishwasher safe and can withstand being in the freezer or microwave.

Best of all, these labels are completely customizable with your child's name, favorite colors, and even pictures. There are many benefits to using silicone name labels for bottles. First, it helps to prevent mix-ups between your child's belongings and those of other children.

Second, if your child has allergies or sensitivities, this is a great way to ensure that they do not accidentally consume something that they should not have. Finally, these labels add a personal touch to your child's belongings that makes them feel special and loved.
You can also find many different designs and colors to choose from. With a little bit of research, you should be able to find the perfect label for your family!
Name Stickers Waterproof
Name stickers are an essential for any parent, whether you're sending your child to school for the first time or packing their lunchbox for a playdate. But with so many different materials and finishes available, it can be tricky to know which name sticker is right for you and your child. Waterproof name stickers are a great option if you want a durable sticker that can withstand daily wear and tear.

They're perfect for water bottles, lunch boxes, school bags and more, and they won't fade or smear if they get wet. Plus, they're dishwasher safe, so you don't have to worry about them coming off in the wash. If you're looking for a waterproof name sticker that also looks great, try our vinyl name stickers.

They come in a variety of fun colors and designs, and they're made from high-quality vinyl that can withstand years of use. Plus, they're easy to apply and remove, so you can switch up the look of your child's belongings whenever you want.
Stickers for Water Bottles
Most people don't think twice about the stickers they see on water bottles at the store. But have you ever wondered where they come from or how they're made? The process begins with a design.

This can be something as simple as a company logo or a fun pattern. Once the design is finalized, it's time to print the stickers. Printing stickers for water bottles is a bit different than printing other types of stickers.

The material needs to be waterproof and durable, so it can withstand being in contact with water all day long. After the stickers are printed, they're cut into individual pieces and then checked for quality. Once the quality control team gives their approval, the stickers are ready to be shipped out!

And that's how water bottle stickers are made!
Personalized Vinyl Stickers for Water Bottles
Vinyl stickers are a great way to personalize your water bottle and make it unique to you. There are many different ways that you can design your own vinyl sticker, and the sky is the limit when it comes to creativity. Here are a few tips to get you started:
1. Start by deciding on the size of the vinyl sticker that you want. Keep in mind that the larger the sticker, the more visible it will be. 2. Choose a design or image that you love and that represents you well.
If you're stuck, there are plenty of online resources that offer free clip art and images that you can use. 3. Once you have your design ready, it's time to choose the color scheme. You can either go with one solid color or mix and match different colors to create something truly unique.
4. When everything is finalized, all that's left is to print out your vinyl stickers and apply them to your water bottle! Make sure to smooth out any bubbles for a professional finish.
Conclusion
When it comes to packing for a trip, one of the most important things to remember is your water bottle. But even if you have the best water bottle on the market, it can be easy to forget which one is yours when it's sitting amongst a sea of other identical bottles. That's where water bottle name stickers come in handy.

Water bottle name stickers are a great way to personalize your water bottle and make sure that it doesn't get lost in the shuffle. They also make it easy to spot your bottle when you're thirsty and ready for a drink. There are lots of different styles and designs of water bottle name stickers out there, so you can find one that matches your personality and style perfectly.

So, if you're looking for a way to make your water bottle stand out from the rest, be sure to check out some water bottle name stickers!